In the NHL, the standings aren't always the best at determining team quality; there are often one or two teams that barely squeak into the playoffs, but happen to be one of the league's strongest teams.
That was the case for the Nashville Predators last season. Their record was held back by their inability to win games in overtime or in the shootout, which – along with a big swing in empty-net goals for and against – hampered their goal differential. The Predators entered the playoffs as an extreme underdog, and battled their way to within two wins of a Stanley Cup as a result.
Nashville is getting full value this year, or even better, leading the league in points alongside the Tampa Bay Lightning. Last season's Preds fit a profile of being not just strong in terms of possession, but they were excellent at controlling shot quality at 5-on-5 and on special teams.
That brings us to this season, and how many, if any teams are a little underrated by the standings. In order to figure that out, I looked at differentials for five different statistics across the league, both at 5-on-5 and special teams; high-danger scoring chances, scoring chances on net, scoring chances, score-adjusted shot attempts, and successful passes to the slot. Together, those statistics give a solid account of team performance in both control of play overall, and control of the quality of shots taken.
Livestream every single game of the 2018 Stanley Cup Playoffs—blackout free—plus the Toronto Blue Jays, key Raptors & NBA Playoffs matchups and the 100th Mastercard Memorial Cup, all in one subscription.
Since who will make the playoffs is not yet determined, I looked at teams within four points of a wild-card spot.
Even strength is more important than special teams in the regular season, and even more so in the playoffs when penalties begin to disappear, so we'll look at that first.
Six playoff teams hold positive differentials in all five statistics at even strength; Tampa Bay, Pittsburgh, Boston, Toronto, Nashville, and Winnipeg, while Dallas is four points out and is also positive across all five.
Vegas is the only playoff team positive in four of the 5-on-5 statistics, and St. Louis is also positive in four, sitting one point out of the playoffs and suddenly red hot after a terrible stretch.
Bringing special teams into the equation, only one team is positive in all 10 metrics; the Lightning, while Pittsburgh, Toronto, Vegas, and St. Louis are positive in nine, and Boston and Dallas are positive in eight.
Unfortunately for our entertainment, it looks like the teams that would be most likely to shock the world in Round 1 as an underdog, St. Louis and Dallas, are both on the outside looking in while weaker teams like Colorado and Anaheim look like relatively easy outs for the West's best.
The only team in playoff position that's strong across all areas at even strength that doesn't have home-ice advantage in Round 1 is the Toronto Maple Leafs, and unfortunately for them they're likely to face either the strongest overall team in Tampa Bay, or the best even-strength team by far in Boston.
Goaltending can throw a wrench into everything in the playoffs, leading to major upsets, but that's much more difficult to predict than team performance.
So let's say, against all odds, Dallas and St. Louis leapfrog Colorado and Anaheim and make it into the wild-card spots out West, how positive are those differentials? Are they enough to make a big difference?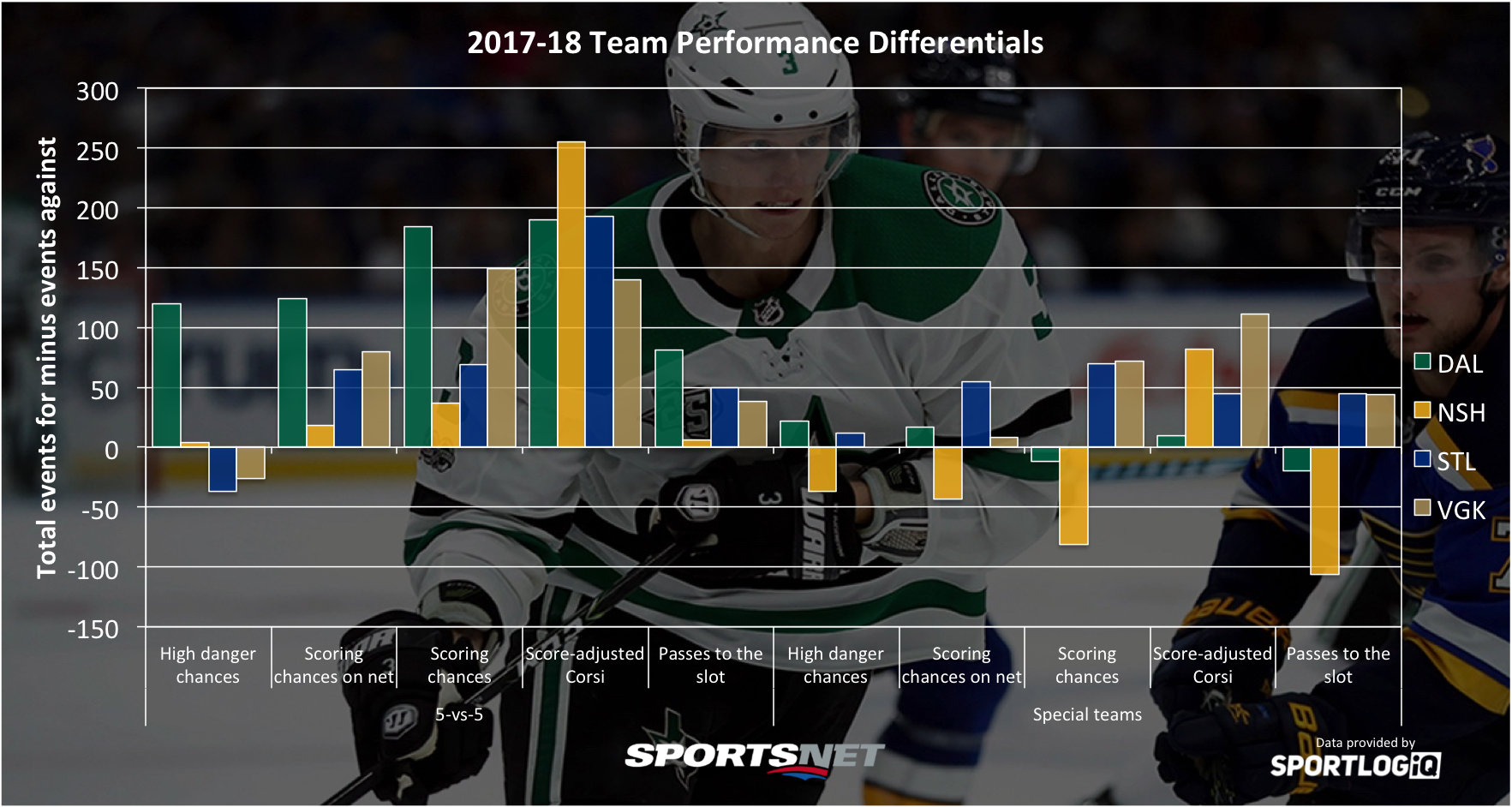 Nashville is a little underrated here by using season-long statistics, as its numbers weren't very pretty without Ryan Ellis, and have been much better since his return, but there's no doubt based on the strength of the Stars' ability to control shot quality that they would give the Predators a run for their money.
Should the Predators match up against St. Louis instead, the Blues wouldn't be as big of a challenge at even strength, but their dominance on special teams makes the Predators' weaker special-teams numbers an exploitable area.
For Vegas, the Blues are almost like looking in the mirror, as both are generally strong across the board but struggle in high-danger chances, while the Stars might be a bit of a nightmare when you juxtapose the high-danger scoring chance differentials.
Vegas dominates the high slot more than most teams in the league, but the Stars are the better even-strength team, so it would be a question of special teams and goaltending for Vegas to win that one.
All these scenarios are fairly unlikely, but if you want a highly contested first round, you're probably rooting for some last minute changes in the Western Conference playoff race.