With the news that Ryan Johansen is out for the remainder of the playoffs, the Nashville Predators are in serious danger in their series against the Anaheim Ducks.
Through 14 playoff games, Johansen was arguably the Predators' best player, leading the team in points with 13 while his line was continuously matched up against opponents' top defensive units.
Losing just Johansen's production isn't the most troubling thing though. The centres behind him in the lineup haven't produced much at all, which is a big problem for Nashville.
Mike Fisher has run the Predators' second line in the playoffs and has zero points. Even if he were due to break out, he suffered an injury in Game 4 as well and his status for Game 5 is unclear.
Calle Jarnkrok has looked good by the eye test in the playoffs, but has just one goal and one assist in 13 games.
Colton Sissons has been the best of the rest on the Predators' third line with two goals and four assists in 14 games, but the sophomore only had 10 points in 58 regular season games this year, so how much can we really expect from him?
Rounding out the centre group is 37-year-old Vernon Fiddler, who has been used sparingly in the playoffs with one goal in five games. Overall, without Johansen, this isn't a set of centres any playoff team would be envious of, let alone a conference finalist.
With that said, there's been a bit of bad luck so far for Nashville's centres who aren't named Johansen, so let's look at their play in the playoffs and see how big the gap is offensively, and how hard up the Predators really are.
Johansen hasn't shot much in the playoffs, preferring to leave that to his linemates Filip Forsberg and Viktor Arvidsson. He has instead played a bit of a quarterback role at even strength, not forechecking or shooting much, but distributing at an elite level from (mostly) the periphery in order to take advantage of his linemates' skillsets.
It's apparent, then, that the Predators aren't going to miss him from a pure shooting perspective, but more as a playmaker. Unfortunately for the Predators, none of their other centres can attack off the rush at anywhere close to the same level as Johansen, but Sissons has been surprisingly good at finding players in the slot.
Based on the breakdown of what each centre is doing, Sissons seems like the best bet to move up to that top line, with Fisher being more of a net-front guy — a role Arvidsson already fills — and Jarnkrok struggling to hit those high leverage passes.
There's no way Sissons can replace Johansen entirely, but the Predators might be able to insulate themselves a little bit by playing some of their more talented passers a bit more often to compensate for the loss.
Unfortunately for Nashville, the player with the closest playmaking profile to Johansen is also injured and not coming back. Kevin Fiala was having a brilliant playoffs before he broke his femur in an unfortunate collision with the boards.
So who can the Predators rely on to create that all-important pre-shot movement?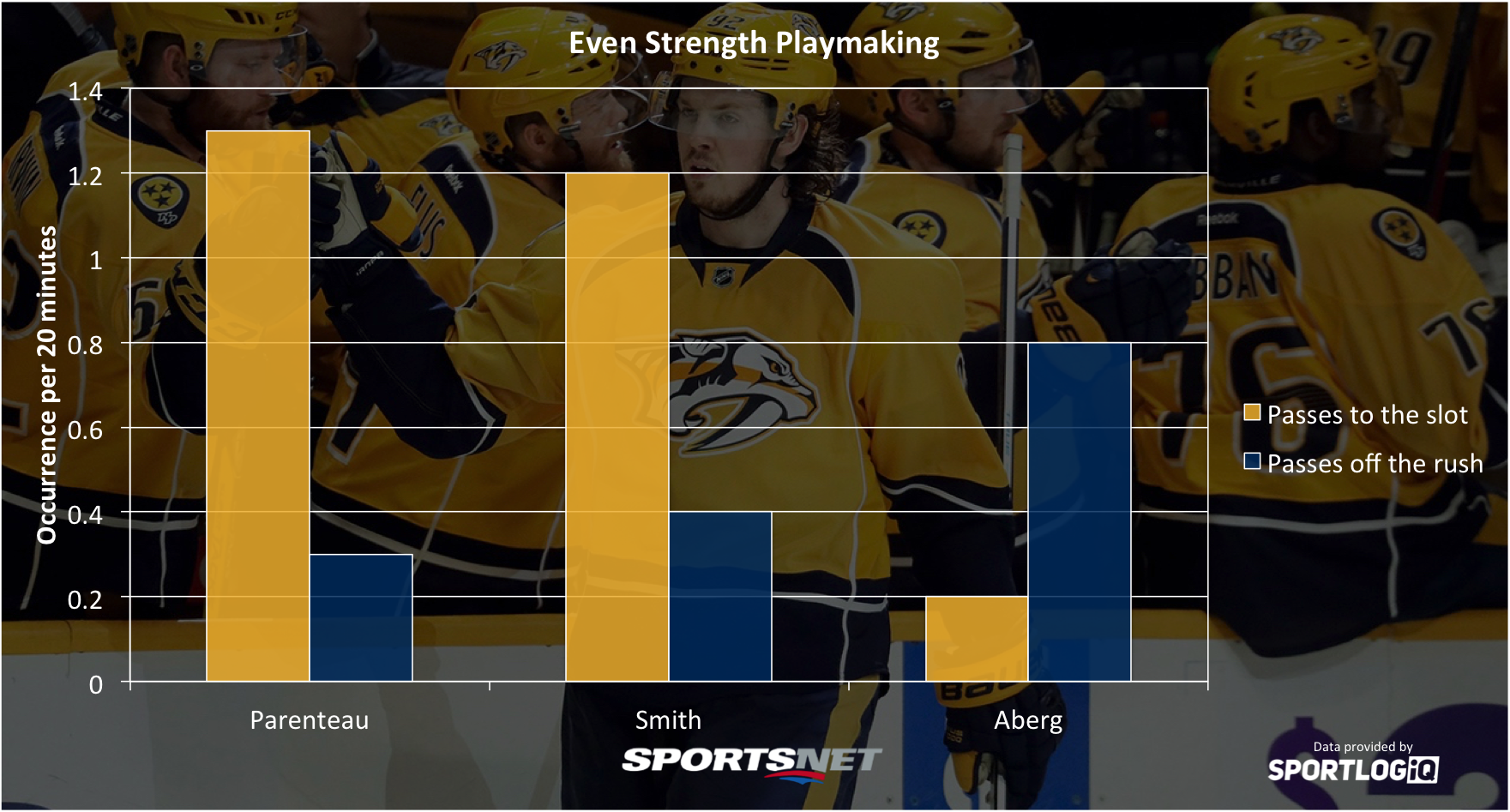 Craig Smith remains injured, but he's listed day-to-day so I'm including him here as a possibility. Smith has barely played in the playoffs, but when he's in the lineup he's been a very good playmaker, while getting a decent number of chances himself. He's not a player who creates much off the rush, but he can find teammates in the slot.
Similar to Smith is P.A. Parenteau, who has struggled to get into the Predators' lineup despite being healthy. Parenteau has his drawbacks on the defensive side of the puck, but even while playing almost entirely on the fourth line so far, he's managed to have good underlying offensive numbers, creating scoring chances for himself and teammates at the same rate. Like Smith, he's not great off the rush, due mostly to a lack of foot speed, but Parenteau gets things done everywhere he plays, and he can help the Preds.
On the opposite end of the scale is Pontus Aberg, who has also missed time in these playoffs due to injury, and has just one assist in eight games. Aberg isn't a high-end slot passer, but he attacks off the rush better than almost everyone else in the Predators lineup.
If Nashville hopes to make it past the Ducks and compete for the Stanley Cup, these are the guys who must step up the most in Johansen's absence.