Good things come to those who wait. Or, at the very least, those who wait can obtain the possibility of good things with much less risk.
Nineteen centres have been signed at an AAV of $1M or more since NHL free agency opened July 1. As happens every year, the bulk of those signings came in the first couple of days—15 by the end of July 3. David Legwand was the only centre to sign July 4. After that, there was almost a week of silence before Steve Ott re-upped with St. Louis July 10. Five days later, the Nashville Predators inked Mike Ribeiro (one year, $1.005 million) and Derek Roy (one year, $1 million).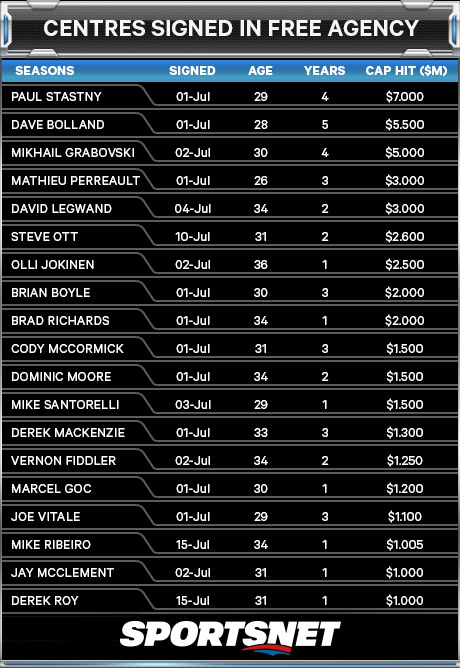 It was not a bumper free-agency crop.
But let's focus on the players who were signed for less than $2 million per season. When you do that, Roy and Ribeiro look pretty good.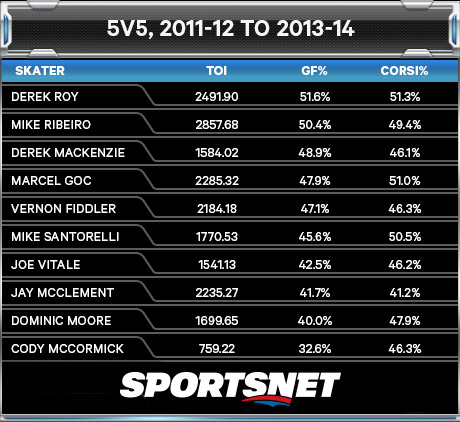 Roy and Ribeiro are the only two players in this group who have seen their teams outscore the opposition when they're on the ice. What's more, the outscoring has been supported by reasonably good underlying numbers—Corsi% tends to predict the share of goals that a player will see his team score going forward fairly well.
The only players on this list who are even close to Roy and Ribeiro in terms of their Corsi% over the past three years are Marcel Goc and Mike Santorelli. Everyone else is significantly behind them, while also coming with legitimate questions about whether or not they're offensively capable players.
You can't always trust Corsi% numbers just by looking at them—some guys are teamed with players who have been carrying the play for them. In Roy's case, though, they seem like a fair representation of what he's done. In two of the past three seasons, he's posted a Corsi% above that of his team when he's not on the ice. He didn't do that last year, but he was playing for a very strong possession team while spending about 40 percent of his time with players who aren't very good anymore.
Ribeiro is a bit of a different case in that he's not historically been an elite player but you can protect him in your lineup by avoiding the tougher matchups and starting him in the offensive zone. He has been a good to very good player on the power play—his 9.2 5v4 PTS/60 in 2012-13 led the NHL by a wide margin. It's perhaps easiest to understand why Nashville was able to get him on such a cheap deal—nothing will turn a player toxic quite like being bought out by a franchise with financial problems. If a team doesn't have money to throw around, it's easy to assume that the personal problems, in Ribiero's case it was his marriage, are severe.
Roy is a bit of a different case. He hasn't been the same player in terms of offensive production since his 2010-11 season was cut short by a quadriceps tendon injury. He's had a very specific problem since then—he hasn't put up points like he used to. However, as noted above, he's still been a reasonably good possession player. So even if he's not getting as many points on goals as he once did, his teams are still scoring enough and preventing enough that he's kept his head above water.
The odds are that one or both of Roy and Ribeiro can still play. They've certainly achieved more in the recent past than players who were signed for similar money. Even if you go a step up the ladder and look at players who signed for between $2 million and $3 million, Roy and Ribeiro look OK in comparison.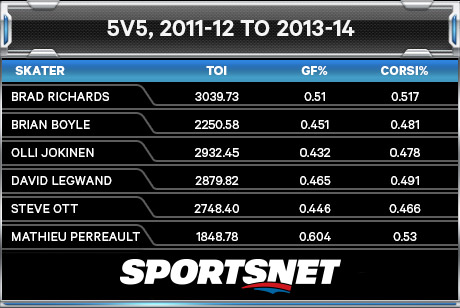 Matheiu Perreault is an intriguing player, but outside of him (and Brad Ricahrds, who has been sheltered in New York), it's hard to find anyone here who looks to have made a bigger contribution over the past few years than Roy and Ribeiro.
This happens every summer—players who, for whatever reason, come at a huge discount relative to similar players. Nashville is in the best division in hockey, so probably won't make the playoffs this year, but they wouldn't have increased their chances of doing so by handing out more money or years to most of the other available centres.
That being said, the Predators collected a pair of pivots who seem like pretty good bets to be worth more than their salary. Come next year's trade deadline, those could be valuable commodities. For a team in the process of rebuilding, it makes a lot more sense than paying Dave Bolland in the hopes that he'll be something he's never been.