In the narrow corridor of the 3,200-seat Appleton Arena in Canton, New York, home of the NCAA's St. Lawrence University Saints, Jimmy Vesey is faced with a question.
It's the afternoon of Feb. 27, before the Saints take on Vesey's Harvard Crimson. The immediate question facing Vesey on this day is whether he'd prefer to stand or sit for our interview. He opts to stand.
It was a relatively easy decision for Vesey to make, especially when compared to the one the still unsigned, 22-year-old Nashville Predators draft pick must make by the end of Harvard's playoff run.
The 2012 third-round pick will soon complete his fourth and final season at Harvard University. According to the NHL/NHLPA collective bargaining agreement, if Vesey leaves Harvard following the hockey season, but prior to graduation, and doesn't sign by Aug. 15th, 2016, he will become an unrestricted free agent, leaving Nashville with the possibility of losing one of its top prospects for nothing.
For months now, there has been speculation that should Vesey reach free agency, the North Reading, Mass. native will sign with the Toronto Maple Leafs.
In the meantime, Vesey is enjoying a stellar senior year at Harvard, where he is the Crimson co-captain, its leading scorer (41 points in 28 games), and on a team with seven seniors, a clear leader.
"When he gets to rink it's calming for the team," co-captain Kyle Criscuolo told Sportsnet before the St. Lawrence University game.
In the hopes of getting Vesey's name on the dotted line, Predators GM David Poile has already offered Vesey a spot in his lineup following the conclusion of Harvard's 2015-16 season.
It's understandable why. Since the 2012 draft, Vesey has blossomed into one of, if not the Predators' best prospect. On Mar. 3, Vesey was named Ivy League Player of the Year for the second consecutive season.
But the longer he remains unsigned, the more speculation about his future grows. Sportsnet's Damien Cox has reported that the Maple Leafs will pursue Vesey should be become a free agent. The Leafs drafted his brother Nolan in the sixth round in 2014. The following year they hired his father Jim as a scout.
In Canton on Feb. 27, before Harvard's final regular season game against a strong St. Lawrence University club, Vesey insisted his focus was on a strong finish with Harvard.
And with good reason.
The latest US College hockey RPI rankings ranked Harvard 11th in the country. On Mar. 11, they begin their quest to repeat as ECAC Champions, when they begin their best-of-three quarter-final series against Rensselaer Polytechnic Institute.
***
When Vesey was being recruited by Harvard, he spoke at length with men's ice hockey coach Ted Donato—himself a veteran of nearly 800 NHL games—about the improvements he needed to make to his game to play at an NHL level. Donato stresses that defensively, Vesey will have to get better.
But where Vesey has improved is in his off-ice qualities. As Harvard's co-captain, he is expected to lead the team, even with the distractions surrounding his decision to both stay at Harvard for his senior year and the heightened interest over where he will sign after university. Donato says these decisions have weighed on him, but not in the way many would believe.
"It's been challenging for him in the sense that he certainly has a target on his back," Donato says.
On the ice, Vesey has evolved into what Donato calls a "peripheral" scorer: a player who can find the net both off the rush and by entering the dirty areas of the ice.
In the second period against St. Lawrence, Vesey took a pass in the neutral zone, sped into the offensive zone, outmuscled his defender and went from his backhand to forehand to get a shot off.
He quickly gobbled up the rebound off his own shot and barely breaking stride, took the puck back out to the blue-line and again evaded defenders to get a quick wrist shot off for his 21st goal of the season.
Vesey is seeing time on both the Harvard penalty kill and power play and he isn't afraid to post up in front of the net.
"I think I'm a hybrid," he told Sportsnet when asked to assess his game. "I can play a skilled game or a gritty, power-forward game."
Many of his Harvard teammates will never play professional hockey, but college is a good place to dream. It's become common practice in the Crimson locker room for the team to compare each other to NHL players.
"A lot of guys in the room say Jake Voracek," says Vesey when asked which NHL player he is most often associated with.
But like many young players, there is still room for growth in his game. During face-offs, Vesey was instructing the referees to ensure his opponent was following protocol, a luxury he won't be afforded in his early years in the NHL.
And after being called for a blatant offside, Vesey fired the puck against the boards out of frustration.
Still, the Predators remain engaged and determined not to let Vesey reach free agency.
Through a Predators representative, Poile confirmed to Sportsnet that he openly offered Vesey a spot in the Predators lineup last season during their first round playoff matchup against the Chicago Blackhawks.
At the end of Harvard's last season, however, Vesey met with his family, weighed his options and decided it was best to finish his time in university. The process will remain the same this year.
"We've kept a spot open for him, and we've talked about when his season ends to bring him right onto our team put him right into our lineup," Poile told the Predators website of Vesey. "When you make a promise like that, you have to keep that promise. I didn't want to trade away his spot."
"I've been talking to Nashville and I have a good relationship with them, but it's going to be the same type of situation as last season," Vesey says.
"They've continued to tell me that whenever my season is over, there's a spot for me," said Vesey, who admits he wasn't mentally prepared to make the jump to the NHL last season.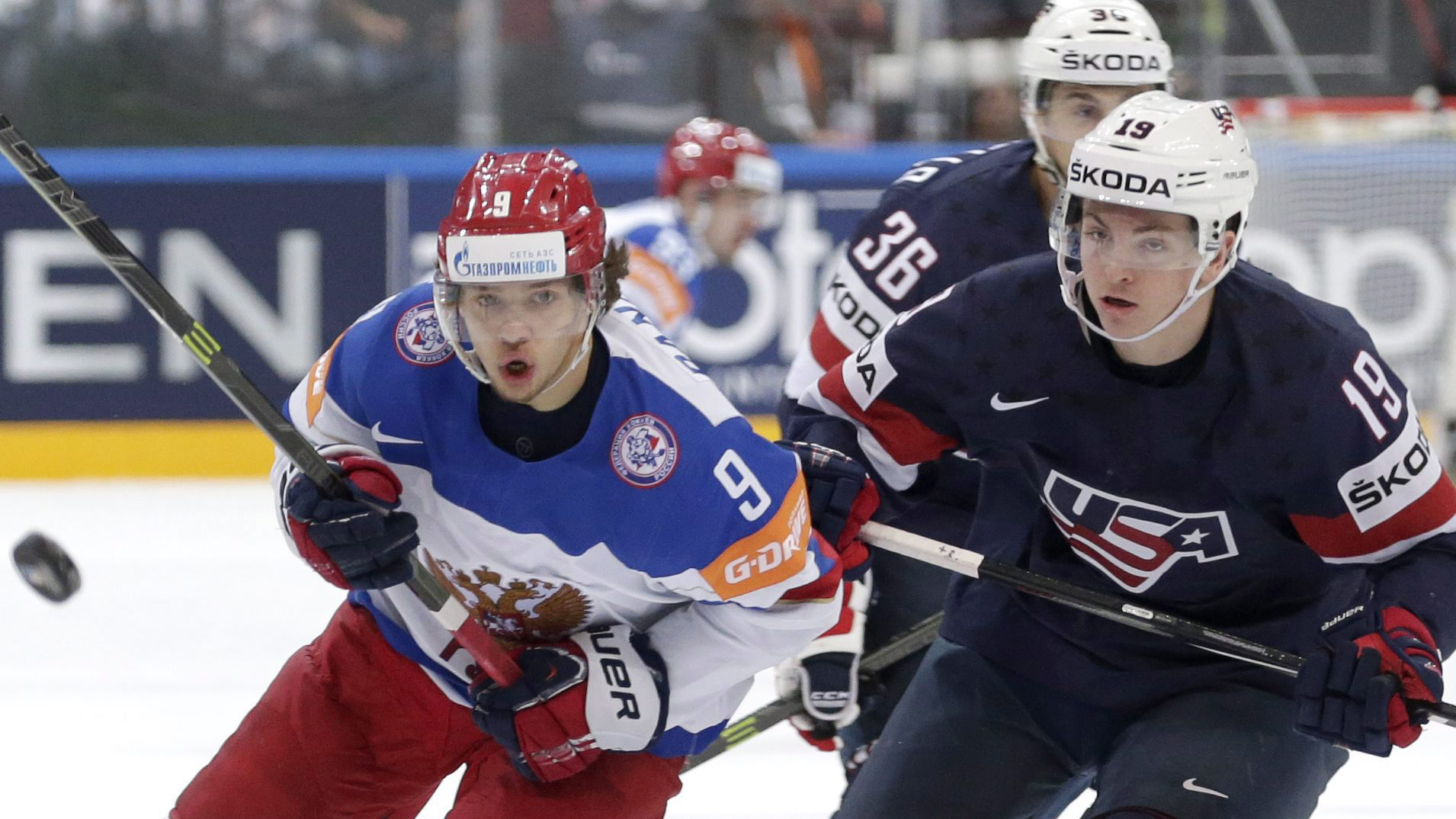 Another factor in his decision a year ago was his experience playing for Team U.S.A. at the world hockey championships. In what he describes as an "eye-opening" experience, the 6' 3"/205-pound Vesey says he found himself outmatched in a couple of ways.
"I saw these NHL stars and how much they prepare for every game: how serious they take it and how big and strong they are," he says.
As the tournament progressed, Vesey gained more confidence. And while it made the jump to the NHL a tempting one, he decided to hold off.
"It made me realize I could go back to college and improve my game so that when, hopefully, I get to the NHL, I can hit the ground running," he says.
And now, he's taking as much time as possible to prepare for that jump.
In the short-term, building off last season's ECAC championship would be a nice end to his college career.
After that, perhaps only the biggest decision of his life to this point awaits.
The hockey world awaits it too.