The first two games of this year's Stanley Cup Final have been two of the weirdest in the playoffs. It hasn't just been that the Pittsburgh Penguins haven't looked as good as the Nashville Predators by a little bit, they've looked totally gassed in both games, getting doubled up in shot metrics, but are up 2-0 after scoring at will.
As you might expect, the numbers for Pekka Rinne don't look very nice in this series. He's stopped just 77.8 per cent of the 36 shots he's faced, which include 15 scoring chances, seven of which are from the inner slot or high-danger area. Based on what we know about shot locations alone, a league average goaltending performance over the last two NHL seasons would have given the Penguins about three goals on their 36 shots. Rinne has allowed eight.
But maybe we're being a little unfair to Rinne. Let's compare what each team has done with pre-shot movement and scoring chances, and see if he's just drawn a bad card twice in a row.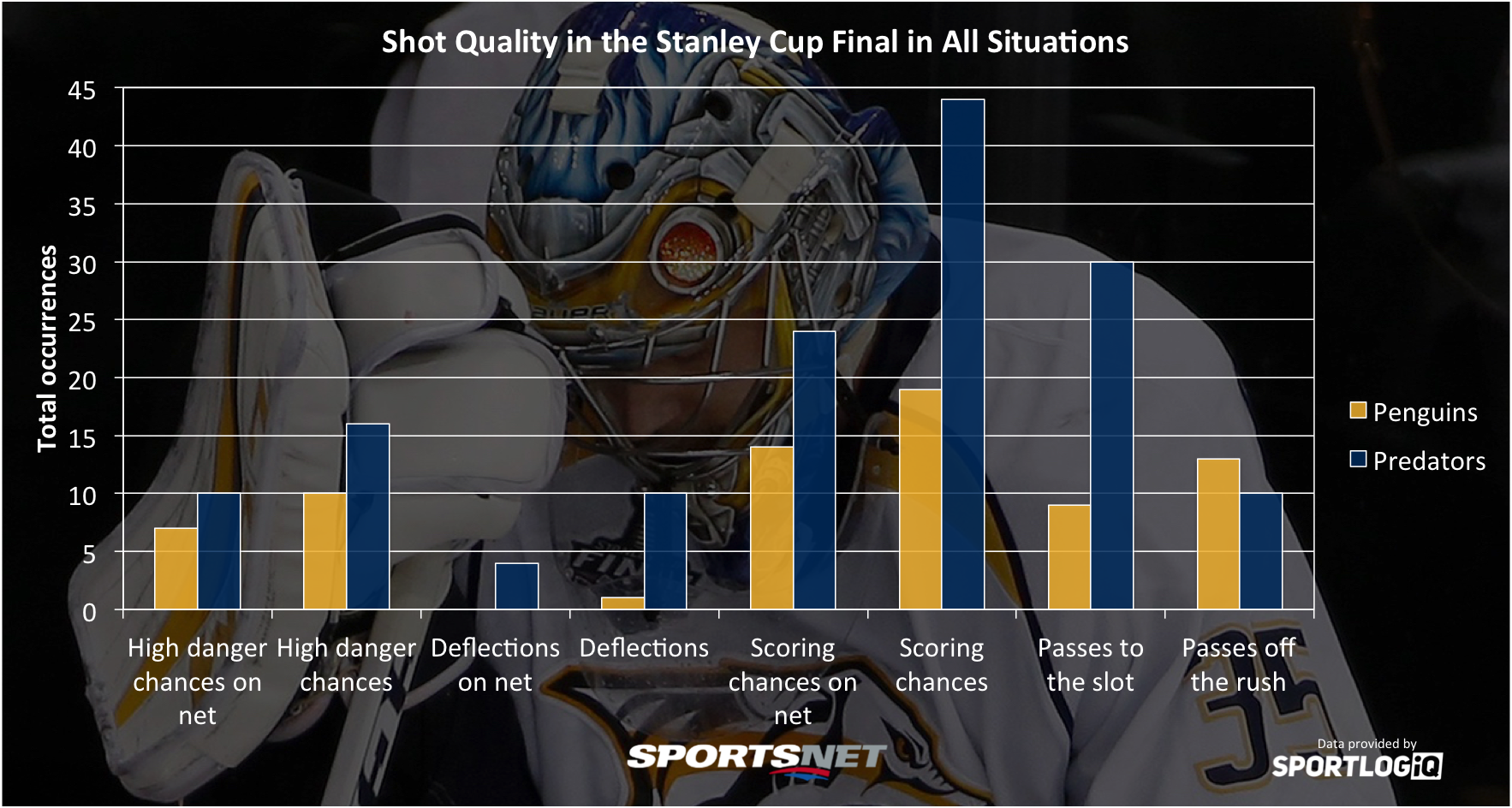 The only area where the Penguins are ahead is completed passes off the rush. We could assume that Pittsburgh's tendency to attack off the rush improves their shot quality slightly, but most of those passes have been nowhere close to the net, and they've struggled mightily to not only get shots off but to enter the slot with the puck at all.
The Predators, meanwhile, have produced over twice the scoring chances that the Penguins have with three times as much pre-shot movement on those chances. Add to this that the Predators have had far superior net-front presence with 10 deflections in front to the Penguins' one and four that have hit the net to Pittsburgh's zero.
You could argue that the gap in high-danger chances is smaller than the gap in overall chances, but that's the nature of events that are far more rare. The Predators have still produced 58.8 per cent of the high-danger chances on net, and 61.5 per cent of the high-danger chances overall. Those are dominating splits at this level of competition.
Let's not forget that these statistics are also in all situations, meaning they include the fact the Penguins have had more time to work with on the power play.
The Predators have simply not given the Penguins anything to work with offensively, and they're getting lit up anyway.
[relatedlinks]
When we factor in pre-shot movement or there lack of it, those three expected goals on 36 shots by the Penguins drops to two, meaning Rinne has given up four times as many goals as would be expected from a league average goaltender.
Rinne has had a great playoffs overall. He was phenomenal against the Chicago Blackhawks and St. Louis Blues before struggling with perimeter shots against the Anaheim Ducks, but he has seen his game continue to fall off little by little as the playoffs have gone on.
In terms of tracking the puck Rinne looks fine, but he has a tendency to lose his net due to overly aggressive pushes side-to-side and overactive feet that prevent him from being set. His rebound control has also been a serious problem, leading directly to two goals in two games.
The question then is can the Predators trust Rinne to regain at least average form in this series or should they go to Juuse Saros? A lot of people are looking at earlier in the playoffs as an example of what Rinne can do, but one hot streak doesn't define a goaltender, and Rinne has been below league average overall for the last five seasons.
For comparison's sake, let's look at Rinne, Saros and Matt Murray's numbers this whole season to see what we're dealing with.
There are two things that are important to point out here. One is that the defensive structure the Predators have displayed against the Penguins has been there all season long, and their goaltenders have faced the third-easiest workload in terms of shot quality after the Los Angeles Kings and Minnesota Wild goaltenders. The other is that this season Rinne was generally decent, better than his average over the last five.
What we can see here is that Saros is not a saviour, but also that Murray doesn't appear to be a world beater even though he's been absurdly excellent in the first two games of this series.
Saros is a much smaller goaltender than Rinne so that has built-in disadvantages, but he has been about the same from the high-danger area and better from a distance. Considering the Penguins have had trouble getting to the middle of the ice, Saros may be enough of an upgrade short term to change the series.
One statistic that isn't on the graph is how often each goaltender gives up rebounds. This season, Rinne and Murray overall have given up rebounds on 72 per cent of the shots they've faced, with the Predators recovering 92.8 per cent of Rinne's rebounds and the Penguins recovering 91.2 per cent of Murray's (this includes rebounds the goaltender personally recovers). In this series Murray hasn't been letting those rebounds out, while Rinne has.
Interestingly, Saros only allows rebounds on 66.9 per cent of his shots faced, of which the Predators also recover 92.8 per cent. Considering how many of the Penguins' chances and goals have come off of rebounds, this is another area that would make me lean towards Saros in Game 3.
As much as it's easy to pile on Rinne right now, one thing that is rarely brought up is that he may be exhausted. He's 34-years old and plays an extremely aggressive, dynamic style, and has played in 84 games this season. Maybe the Predators will decide the extra day off between games is enough for him to recover a bit and get back to form. But even if they're bent on going back to him, there's very little downside to starting Saros in Game 3 and resting him an extra two days.