Attempting to forecast how each playoff series will unfold with any sort of accuracy is a rather tricky task. Unlike the 82-game marathon in which you'd theoretically expect the cream to eventually rise to the top, the seven-game sprint we're about to break into leaves plenty of room for unpredictability. Whether it's injuries, a run of good shooting fortune, or questionable officiating during high leverage moments, there's a multitude of outside factors that can throw a monkey wrench into even the most well thought out plans.
That doesn't mean that we should stop trying. While it's still far from an exact science, we've been able to make life easier for ourselves by learning from history. How you've been playing as a team at five-on-five in the lead-up to the post-season is as good a predictor as we've got.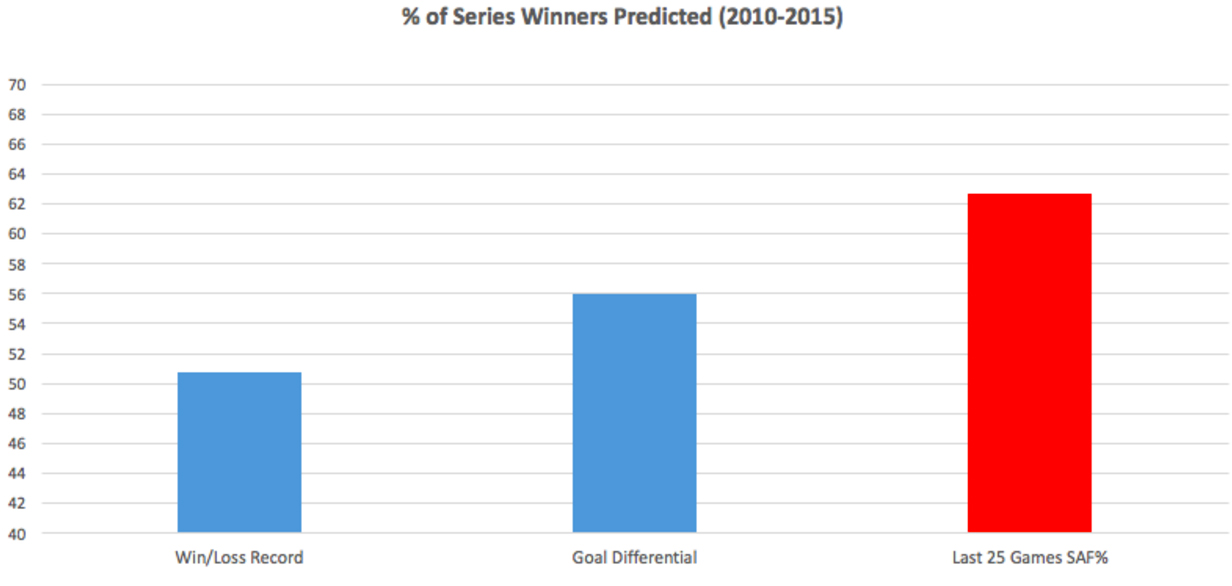 When people say a team is "getting hot at the right time" they probably aren't thinking of this stat, but it makes a ton of sense. Although we'd prefer a larger sample size to make a judgement off of, the year-long numbers don't provide us with the requisite context in this case. Nor do they account for fundamental changes teams have undergone between October and April.
A great example of this is are the Pittsburgh Penguins. If you were to only look at their cumulative totals, you'd overlook the fact they are a significantly more dangerous team now than they were at the start of the year under then-coach Mike Johnston.
Before we look into this year's data to help guide us in making our Round 1 picks, it's important to keep in mind these are educated guesses. You're playing the odds, and if you stick with it chances are that you'll get it right more often than not. Whereas using the regular season standings is essentially equivalent to flipping a coin, at least we're stacking the deck a bit here by paying particular attention to recent run of play.
A few notes on the first round matchups in no particular order:
1. I still like the Capitals to get by the Flyers in their series, even though Philadelphia's past 25 games were better. But the Capitals certainly have a legit beef with the new system. The NHL's obsession with creating rivalries in the post-season has ironically accomplished the exact opposite here.
Under the old 1-8 sedding structure, we would've been treated to Penguins vs. Flyers, Islanders vs. Rangers, and The Battle of Florida in Round 1. The Capitals would, deservedly, have played the Red Wings, who are the weakest team here. Now, their reward for running away with the Presidents' Trophy is a series against a very dangerous opponent that got into the playoffs after a sustained stretch of strong play.
---
STANLEY CUP PLAYOFFS:
First Round Series Previews | Broadcast Schedule
Stanley Cup Playoffs Fantasy Hockey
---
2. There's only two ways the series between the Penguins and the Rangers can unfold:
a) The Penguins use the trademark speed they've displayed under coach Mike Sullivan to pulverize the Rangers into submission on the shot counter. It's remarkable how much things have changed since the last two times these two teams met in the playoffs (2014 and 2015). From a stylistic perspective, Pittsburgh seamlessly rotates forwards and comes at you in unrelenting waves, which should spell disaster for a plodding Rangers blueline.
b) The Penguins use the trademark speed they've displayed under Sullivan to pulverize the Rangers into submission on the shot counter. Unfortunately, they've got Jeff Zatkoff in net and he's against the best goalie in the world. As a reminder of Henrik Lundqvist's excellence: he faced more shots than any other goalie this year and the Rangers still posted the best 5-on-5 save percentage in the NHL.
There's no question the Penguins have the better team, but whoever Lundqvist plays for always has a chance in a seven-game series. There's no doubt that he'll absolutely steal at least one game by stopping an ungodly amount of shots — the question is, how many times can he do it?
3. The Kings should be kicking themselves for blowing their final game of the season against Winnipeg. Sure, the Predators will challenge the Ducks, but they're still a more palatable opponent than the Sharks.
Not that hockey fans are complaining, because this Kings-Sharks series is a heavyweight bout. Just like the last time they met in the playoffs, they're two of the top four possession teams in the league and it wouldn't be remotely surprising to see it go the full seven games.
While the Kings are once again the gold standard at five-on-five, San Jose has a couple of things going for it. Joe Thornton has been playing out of his mind this season, with his 70.7 per cent on-ice goals for rate being rivalled only by Nicklas Lidstrom's 71.1 per cent from 2007-08 and Alex Ovechkin's 70.3 per cent in 2009-10.
The Sharks have gone step for step with the Kings with their ~54 per cent scoring chance rate. With the series expected to be a stalemate at even strength, San Jose's advantage on the power play (sixth in scoring efficiency, second in shot generation) could make a big difference.
4. Much like the Kings, the Blackhawks have built up so much equity over the years that it's become a "need to see it to believe it" relationship when wrestling with the idea of them losing a series early. The difference this time is that Chicago's play has tailed off towards the end of this season. Despite their deadline acquisitions up front, they've been relying too much on their goaltending and Patrick Kane's superhuman on-ice act.
The Blues, meanwhile, have improved as the year has gone along despite injury problems. A promising trend for them in particular has been the play of both Brian Elliott and Jake Allen, especially after the latter's implosion against the Wild last spring. With their team save percentage jumping from .912 to a league-best .919 they should be able to fall back on that if the scoring dries up.
There's a lot on the line here. If the Blues are eliminated early again, it's expected we'll see drastic changes this summer. Coach Ken Hitchcock's time could be up, David Backes could walk as a free agent, and they could trade Kevin Shattenkirk before he starts his final contract season.
If they can dethrone the Hawks, though, they'd bust the narrative around them. Just because they haven't yet broken through in the playoffs, doesn't mean they never will. And this could be the year because this looks like a better, more well-rounded team than the ones that have come before. On top of that, Chicago looks vulnerable.
5. With injuries to Steven Stamkos, Anton Stralman and Tyler Johnson, a severely depleted Lightning team is ripe for the taking. I'm just not convinced the Red Wings will be able to take advantage. The most indicting stat against the Wings is that since 2005, only 11 teams have qualified for the Stanley Cup Playoffs with a negative goal differential: 2005-06 Lightning, 2005-06 Canadiens, 2006-07 Lightning, 2007-08 Bruins, 2008-09 Rangers, 2008-09 Blue Jackets, 2009-10 Canadiens, 2011-12 Panthers, 2011-12 Capitals, 2012-13 Wild, 2013-14 Red Wings.
Of those 11 teams, only the 2009-10 Canadiens and 2011-12 Capitals won a playoff series.
6. The Florida Panthers' season-long number don't do them justice. After starting the campaign off rather dubiously, they made a couple of fundamental changes to their lineup: they sat Dave Bolland and they split up quite possibly the worst defence pairing in the league. It's no wonder they took off after. Then at the trade deadline, they addressed their last need by acquiring useful depth players in Jakub Kindl, Teddy Purcell and Jiri Hudler. In the 20 games since, they've controlled 52 per cent of shot attempts.
The Islanders have been on the complete opposite end of the spectrum, which is disappointing after the run they had last season. Not only has their play stagnated, it's actually been dropping for a while now.
They'd do well to take a long, hard look at the coaching landscape this summer. I've been growing more and more skeptical that Jack Capuano is the man for the job and with some intriguing bench bosses potentially available in the off-season, they should be looking at an upgrade. If they are eliminated early, the decision would be made much easier for them.