For months now, I've been getting people asking me what the Toronto Maple Leafs will do regarding the expansion draft.
I always tell them the same thing: "Dude – it's in June."
We're still just under two months away from Vegas' big day and a lot can change but let's look at all the different categories of Leafs and what the expansion draft could mean for them. We're going to need a little bit of help from CapFriendly.com's Expansion Tool, too.
THE EXEMPT FORWARDS
This is a list of 16 forwards the Leafs have signed to NHL contracts who are exempt from the expansion draft. In other words, Vegas can't claim them.
Nathan Horton
Auston Matthews
Zach Hyman
William Nylander
Mitch Marner
Nikita Soshnikov
Kasperi Kapanen
Frederik Gauthier
Trevor Moore
Sergei Kalinin
Andreas Johnsson
Tobias Lindberg
Dmytro Timashov
Jeremy Bracco
Carl Grundstrom
Miro Aaltonen
Three of the Leafs' top five leading scorers are exempt in the expansion draft and the entire Hyman-Matthews-Nylander line is exempt. That's a pretty spectacular position for a team to be in.
Nikita Soshnikov, Frederik Gauthier, and Kasperi Kapanen are also safe. The Leafs are at risk of losing a promising young forward to Vegas but it's none of the guys listed above.
Now there is one potential wrench: Nathan Horton.
CapFriendly currently lists Horton as exempt, but that hasn't been 100 per cent confirmed yet. Here is a snippet from a league memo regarding expansion that was sent out in June 2016.
Now, that sure sounds like Nathan Horton, doesn't it? It seems unlikely but it is still possible that the NHL could decide Horton isn't exempt. If that is the case, the Leafs will be forced to protect him, losing a spot they could use to protect another player. Even if this were to happen however, if Horton waives his no-movement clause, Toronto can expose him anyway.
EDIT: Nathan Horton is now confirmed as an exempt forward. Stephane Robidas is too, although he is a UFA anyway.
THE EXEMPT DEFENDERS
Nikita Zaitsev
Stephane Robidas (also UFA)
Travis Dermott
Rinat Valiev
Justin Holl
Andrew Nielsen
Nikita Zaitsev averaged 22:01 minutes of ice time on the Leafs' top pairing with Morgan Rielly this past season. Not many teams have a top-pairing defender exempt in June, but then again, not many teams had a rookie in their top pair this season either. The rest of the guys are young blood in the AHL who could knock on the NHL's door next year.
THE EXEMPT GOALIES
The Leafs' only exempt goalie is Kasimir Kaskisuo. He spent almost all season in the ECHL before his recent call-up for the Calder Cup Playoffs.
THE OBVIOUSLY EXPOSED
G – Garret Sparks
G – Antoine Bibeau
F – Joffrey Lupul
You can only protect one goalie and that will obviously be Frederik Andersen. As for Joffrey Lupul, surely there's no way he gets protected by the Leafs or taken by Vegas.
THE PENDING UFAs
F – Brian Boyle
D – Roman Polak
D – Matt Hunwick
G – Curtis McElhinney
F – Brooks Laich
F – Milan Michalek
F – Colin Greening
D – Andrew Campbell
D – Steve Oleksy
There isn't much point in protecting an unrestricted free agent. Forget Vegas – these guys can sign wherever they want. Besides, if Vegas signs one of these players during their advanced free agency period between June 18-20, they cannot claim another player from the Leafs.
We're not done with Ben Smith but we'll get to him later.
THE PROTECTED FORWARDS
These are the five forwards I think the Leafs will protect for sure, leaving two spots left.
James van Riemsdyk
Nazem Kadri
Tyler Bozak
Leo Komarov
Connor Brown
Does it make sense to lose any of these players for nothing? No, it doesn't. Even if you don't like one of these guys and would rather trade them – then trade them! Don't lose them for nothing.
THE PROTECTED DEFENDERS
Morgan Rielly
Jake Gardiner
No-brainer.
THE PROTECTED GOALIE
C'mon.
THE CHOPPING BLOCK
Here's the hard part.
The following is a list of players the Leafs may or may not expose and risk losing.
F – Matt Martin
F – Eric Fehr
F – Ben Smith
F – Josh Leivo
F – Seth Griffith
F – Brendan Leipsic
F – Kerby Rychel
D – Connor Carrick
D – Martin Marincin
D – Alexey Marchenko
G – Garret Sparks
G – Antoine Bibeau
Teams have two options:
Protect seven forwards, three defenders, and one goalie or
Protect eight skaters (forwards/defenders) and one goalie
The 7/3/1 option makes the most sense for Toronto and you'll see why.
Let's look at this on CapFriendly's Expansion Draft tool, starting with the forwards.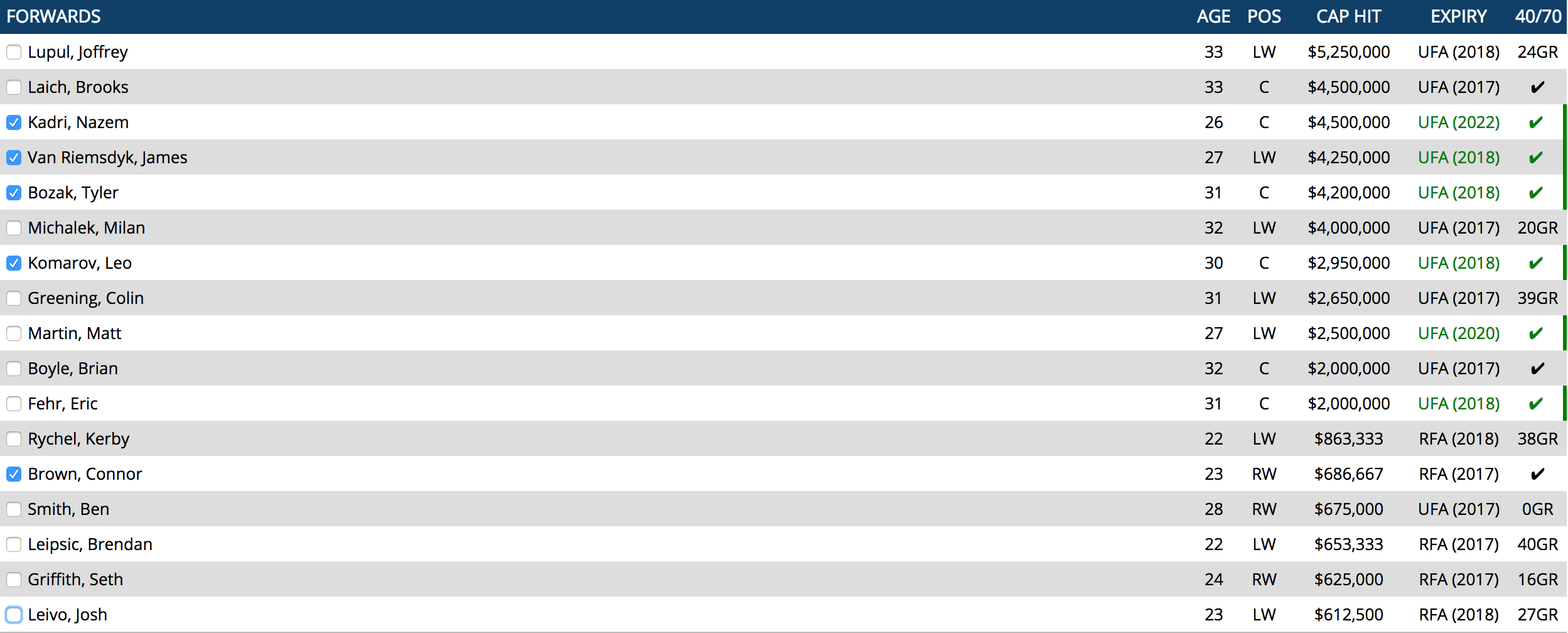 With Kadri, JVR, Bozak, Komarov, and Brown selected, we can protect two more guys.
Protecting any of Lupul, Laich, Michalek, Greening, or Smith doesn't make sense. You would only protect Boyle if you decide to re-sign him before the expansion draft.
That leaves us with six forwards – Matt Martin, Eric Fehr, Kerby Rychel, Brendan Leipsic, Seth Griffith, and Josh Leivo – and only two spots to protect them.
Protecting Martin or Fehr doesn't make sense to me. By the rules on CapFriendly…
"Two forwards must be left unprotected who are under contract in 2017-18 and have met one of the following two requirements:
Played 40+ games in the 2016-17 season, or
Played 70+ games in the 2015-16 and 2016-17 seasons.
None of Leivo, Griffith, Rychel, or Leipsic meet these requirements. Martin and Fehr do.
If the Leafs wanted to protect one of Martin or Fehr, one possibility could be to re-sign Ben Smith. Then the Leafs could expose Smith and, say, protect Martin, because Smith meets the exposure requirements.
Remember though, protecting one of Martin, Fehr, or Smith would mean exposing a younger player you might not want to expose. Who would that be? My bet is one of Leipsic or Leivo.
EDIT: The Leafs have re-signed Ben Smith to a one-year $650,000 contract.
Here's how I see things shaking out:
I would protect Leipsic because his AHL career has been stellar. Leivo was good in the NHL when he actually played. This means having to expose Rychel and Griffith, which is unfortunate, but if the Leafs lost one of them at least they have lots of young wingers in the system to replace them.
As for Martin, his contract likely scares Vegas away. The Leafs might be able to convince Vegas to take Fehr if they throw in a draft pick, which is a theory I've heard thrown around.
For defence…

I would protect Connor Carrick as my third defender, leaving Martin Marincin and Alexey Marchenko exposed. Carrick is younger and cheaper than either of those guys.
Over 45,000 people have created teams on CapFriendly's Expansion Draft Tool and the majority of them came up with the exact same team I did.
Will the Leafs lose Griffith or Rychel? Maybe a veteran like Martin? Maybe a defender like Marincin or Marchenko? Is it possible the Leafs could convince Vegas to take Fehr?
There are many questions. Luckily for the Leafs, they have almost two months to try to come up with the answers.