Goaltenders have one job and they can only do it from their cold blue office, so when they have to leave the crease none of them do it lightly. The situation has to be desperate (trailing late in a game), or nearly foolproof (a delayed penalty), for them to take the giant leap of faith required to skate to the bench for an extra attacker.
So it was odd to see Minnesota Wild goalie Devan Dubnyk leave his crease Monday night when neither of these examples were the case. Just what happened?
THE PLAY
Dubnyk surprised everyone when he sprinted to the bench for an entirely different reason. Take a look.
Confused? You aren't alone. However, our ignorance doesn't make Dubnyk's outside-the-box thinking any less impressive.
You see, there's a little known part of rule 63.2 that makes Dubnyk's gambit far less risky than it looks: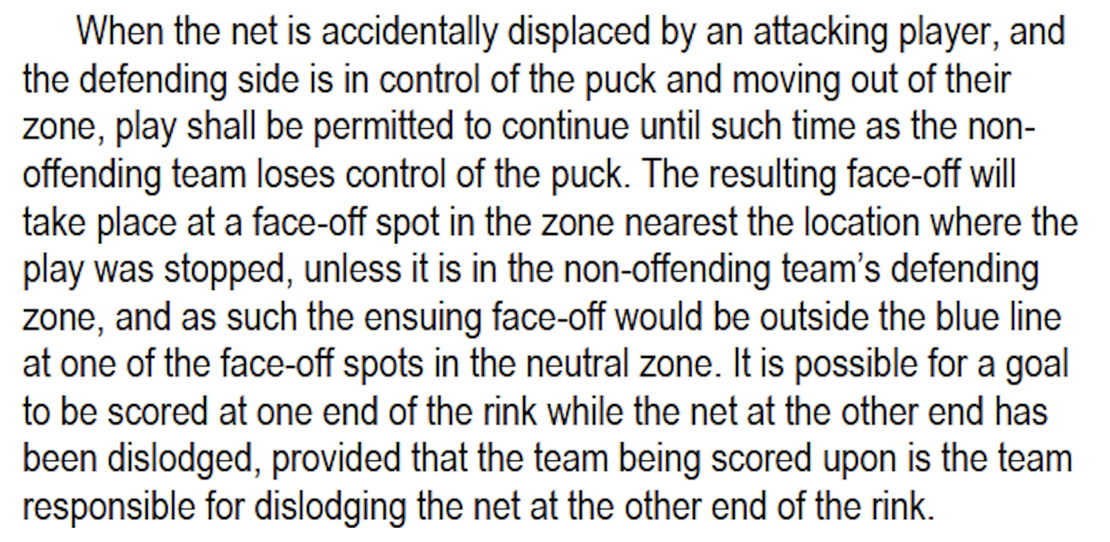 Basically, as long as an attacking player (PK Subban in this case) knocks the net off, the whistle won't go until the team that knocked it off (Nashville) touches the puck again.
This gave the Wild a delayed-penalty type of advantage — the play would be blown dead as soon as the Predators took back possession, so Minnesota is (virtually) guaranteed to not be scored on.
So, it looks like Dubnyk's decision is brilliant, rather then baffling. As it turns out, he got the idea from a fellow netminder's similar brainwave a couple of weeks ago:
The "weirder" outcome was that Dubnyk returned to the ice and Minnesota got hit with a too-many-men penalty as a result (all of which was complicated by players returning to the ice after a 4-on-4 situation just ended). It didn't work out for Dubnyk and nothing came of Georgiev's attempt except confusion, but there's a legitimate benefit here for a team that can execute properly.
Senior Writer Ryan Dixon and NHL Editor Rory Boylen always give it 110%, but never rely on clichés when it comes to podcasting. Instead, they use a mix of facts, fun and a varied group of hockey voices to cover Canada's most beloved game.
THE PROS:
1. Getting an extra attacker on the ice. Any time you can create even a brief manpower advantage, you take it. It could effectively have been a quick power play, very similar to a delayed penalty situation.
2. The element of surprise. Nashville did not see this coming, and when you can outsmart an opponent so well they have no idea what you're doing, you gain a competitive edge.
3. Breaking new ground. It's rare for a goalie-specific innovation to have a potential positive influence on a team's offence, but this one certainly does. By making this bold decision, Dubnyk is helping to start a trend that adds an interesting new wrinkle to the game as a whole, if other teams adopt the same tactic.
THE CONS:
1. Overhelpful officials. The rule states that the whistle will be blown when the team that knocked the net off its moorings regains possession. However, this is only true as long as the net remains dislodged. Linesmen and referees sometimes replace loose nets during play, and in fact Elliotte Friedman noted in this week's 31 Thoughts that the NHL has encouraged its officials to be more diligent in replacing nets. Whether or not this tactic becomes effective depends on the standard of net replacement. If officials have more of a focus on putting the nets back on during play, it'll become far riskier for a goalie to attempt this move.
2. The element of surprise. In both Dubnyk's and Georgiev's situations, their own team seemed just as, if not more confused than, the opposition. This isn't a standard play as of yet, so most people don't know what the rule is or how to exploit it. As a result, their teammates likely thought Dubnyk and Georgiev had made some kind of mistake. Unless everyone is on the same page, you're more likely to have a neutral to bad outcome than a good one.
3. Own goals. They are a possibility whenever a goalie is pulled, but I believe this situation makes them more likely. The play has to start from your own end, and the goalie has to leave as the puck moves out of the zone. One errant pass or bad bounce off the goalie's skate or pad and the puck is in the wrong net. It's still unlikely, but all the ingredients are there for a disaster.
THE VERDICT
Without a team-coordinated plan, Dubnyk's brilliant idea was doomed to be a failure. He ended up being too clever and it cost his team.
Next time, however, has the potential to be different. If a team expects this play and has a plan for it, it's a potentially winning strategy, so long as the linesmen don't go out of their way to replace the net. If the officials do become more mindful of putting nets back on, though, goalies are playing chicken with elements outside their control and the risk will far outweigh the reward.