In 2010, Quinton Howden was taken 22nd overall by the Florida Panthers after a 65-point season for the Moose Jaw Warriors. Now, younger brother Brett finds himself in a similar situation, projected to go in the late first round or early second round of the 2016 NHL Draft, after posting 64 points for the same Moose Jaw franchise.
Howden set out to improve at the defensive end this year and he did just that. Now, find out why his GM is comparing him to Ryan Kesler. Here's what you need to know about Brett Howden.
Age on June 24: 18
From: Oakbank, Man.
Current Team: Moose Jaw Warriors, WHL
Position: Centre
Shoots: Left
Height: 6-foot-2
Weight: 193 pounds
Twitter account: @B_Howdy21
NHL Central Scouting Rank (North American): 22nd
Jeff Marek's Take: Teammates love him because he never mails in a shift. Plays a traditional north/south game. As his strength improves could be a solid pro.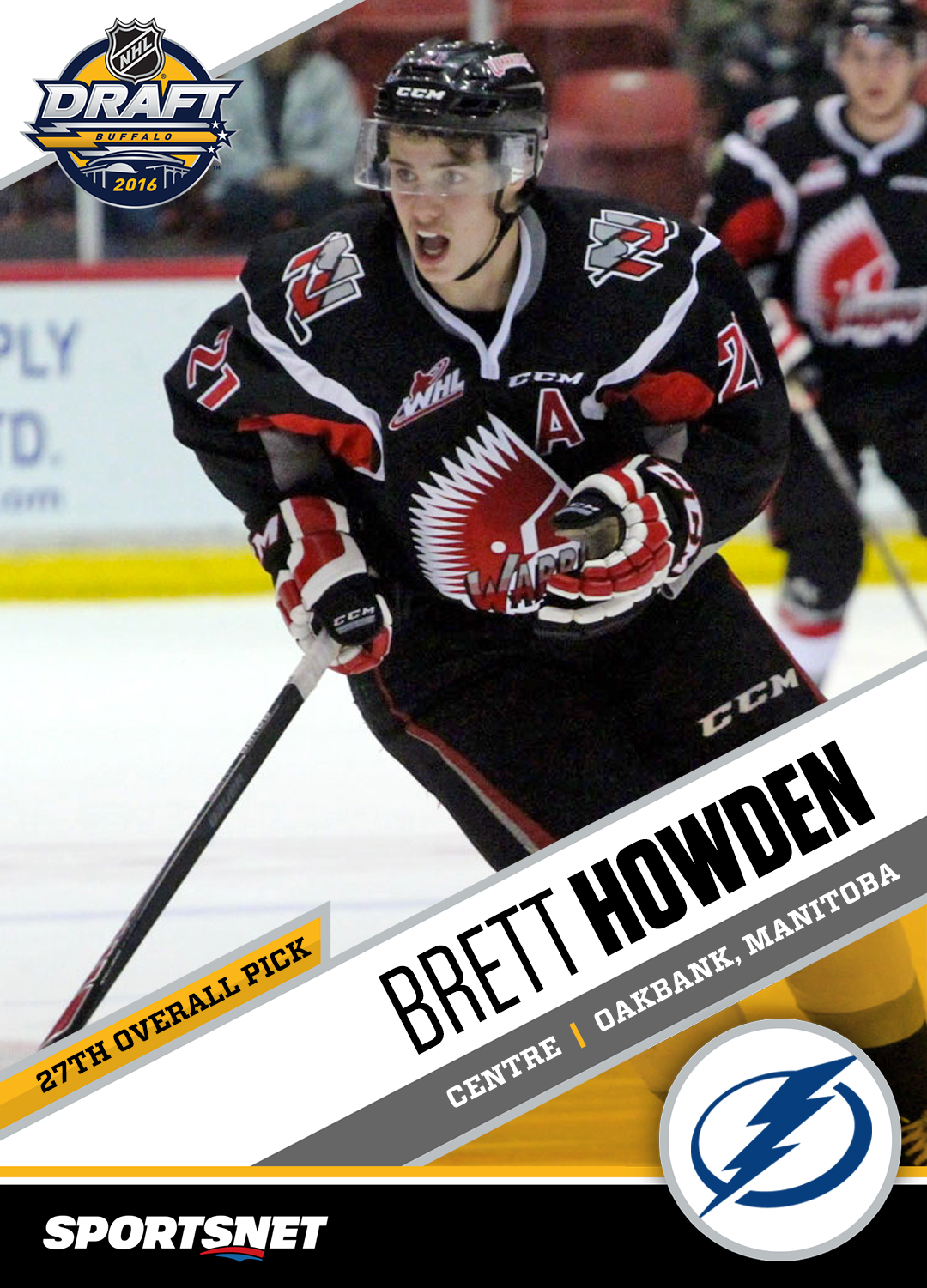 His brother has been here before…
As mentioned off the top, Howden's older brother Quinton was a first-rounder of Florida's back in 2010. Quinton spent two more seasons after that in the WHL and then bounced back and forth between the AHL and NHL for a couple more seasons. This year, he played 58 games with the Panthers, scoring six goals and 11 points.
"He's been key in my career and is the reason why I am where I am today. He's always been there for me and has been helping me every step of the way. He's talked to me about the draft and has told me there would be stuff said on social media and stuff and to just not worry about it. He told me to just block that stuff out and work hard and focus on what's on the ice," Brett told Yahoo Sports about his older brother.
What are the chances the Panthers take the other Howden? Well, they do pick 23rd overall, but a year after taking power forward Lawson Crouse in the first round, it's believed Florida may target a defenceman with their pick this year.
International experience…
Howden has played three times for Canada – at the U17 and U18 tournaments last year and again at the U18 this year. At the two U18 events, he combined for 11 points in nine games and was named as one of the top three players on his team in this year's tournament.
Unfortunately, this year's ended on a sour note for Canada, as they dropped the bronze medal game to the USA by a 10-3 score.
"It was definitely not the way we wanted to end it, but it happened and we take full responsibility for that. We're going to learn from it and reflect on it and then move on and make sure it doesn't happen again," Howden said.
Howden was also captain of Canada's 2015 gold medal-winning Ivan Hlinka team, scoring one assist in four games.
Two-way abilities…
Sure, plus-minus is a stat you need to be careful of reciting, but Howden's minus-31 in 2014-15 was the worst on his Moose Jaw team. After that season, he made it a goal to improve on his defensive game.
With the Warriors returning to the post-season for the first time in four years, Howden improved that stat to minus-7 and he noticeably improved in the defensive end.
"He's a complete player," Warriors GM Alan Millar said of Howden. "He's got offensive upside, but also understands his responsibilities in the defensive end. He's a big guy, strong, works hard down low, kills penalties, he does it all. He's a very smart player."
"It's difficult to compare some of these young players to some current NHL players, but he has the upside of a Ryan Kesler. We'll find out in about 10 years."