He's a New York kid who worships New York heroes. He honed his skating skills on rollerblades and has now become one of the most mobile defencemen available in this year's NHL Draft.
Here's a detailed look at 2016 NHL prospect Charlie McAvoy.
Age on June 26: 18
Current Team: Boston University Terriers (NCAA)
Position: Right Defence
Shoots: Right
Height: 6-foot-1
Weight: 211 pounds
From: Long Beach, NY.
Twitter: @CMcAvoy44
NHL Central Scouting Rank (North America): 6th
Jeff Marek's Take: Tireless skater, puck moving defenceman who can anchor a power play.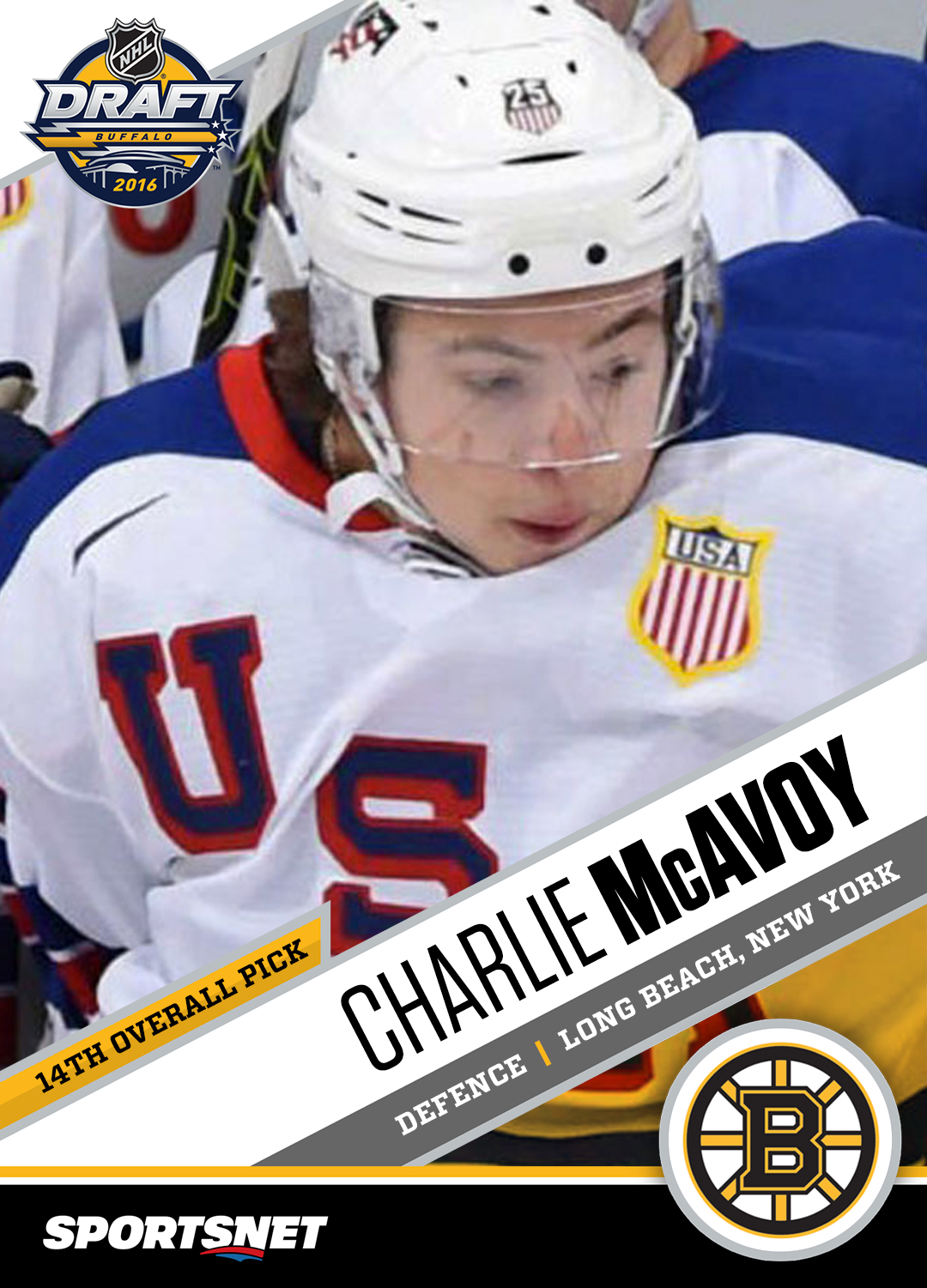 He's speedy in more ways than one
The NHL game is about speed and McAvoy has it in spades. At 6-foot-1 and 211 pounds, he can motor with the best of them.
"McAvoy is a superb skater with smooth, powerful strides. He can often be found jumping into plays or leading the rush," reads one prospect report at hockeysfuture.com. "Because McAvoy transitions exceedingly well, he is rarely caught out of position when the play is coming into his zone."
McAvoy is also known for having a set of blisteringly fast hands, which enables him to create space for himself.
He's a wise young man
He was the youngest player in the NCAA this season, but McAvoy was far from out of place there.
"Charlie has been an elite player for a long time," McAvoy's coach at Boston, David Quinn, told NHL.com back in December. "He's got the great skills and vision and he's a big, strong kid that skates well. He's one of the top freshman defenceman in college hockey."
McAvoy proved Quinn right, going on to earn three goals and 22 assists in 25 games with the Terriers this season.
But it was the defensive part of the game that McAvoy sought to work on during his first year of playing college hockey.
"My offensive game is there, but defence comes first," he told SB Nation. "I want to sharpen up my defensive skills. I want to be responsible in my own zone and be trusted to be on the ice at the end of the game."
He's doing USA proud
McAvoy has put together an impressive international resume, spending two years with the national development team and playing big roles in gold medal wins for USA at the World U17 and World U18 tournaments.
He also helped the Americans capture a bronze medal at the 2016 World Junior championship.
It's always good to have role models
He may be a product of Long Island, but McAvoy's a long-time New York Rangers fan who idolizes Hall-of-Famer Brian Leetch and considers current Rangers captain Ryan McDonagh to be his favourite player.
He's been on scouts' radars for a while
If NHL central scouting has McAvoy ranked as high as sixth among North American prospects (third among North American defensive prospects), it's because they've spent years studying what he's all about.
"Charlie has been on the NHL scouts' radar for the past two seasons," Dan Marr, director of NHL Central Scouting, told NHL.com. "As one of the youngest defencemen with the USNTDP, he was a strong contributor at every game and was expected to step right into a big role at Boston University."
There's a sense this kid is only going to get better having gained such valuable experience at the college level this season. Now with a few other draft eligible prospects making their way to Boston University next fall, he'll have many more weapons at his disposal to help him show off his ability.