Auston Matthews and Matthew Tkachuk aren't the only highly-skilled American forwards available in the 2016 NHL Draft. Clayton Keller, who spent this past year in the U.S. National Team Development Program, is another who will draw plenty of NHL interest.
Keller is one of the most fascinating prospects this year and has drawn some comparisons to Toronto Maple Leafs' Mitch Marner, who went No. 4 overall in the draft last year.
Here's everything you need to know about Keller:
Age on June 24: 17
From: Swansea, Illinois
Current Team: United States National Team Development Program
Position: Centre
Shoots: Left
Height: 5-foot-10
Weight: 168 pounds
Twitter: @ClaytonKeller37
NHL Central Scouting Rank (North American): 8th
Jeff Marek's Take: A creative playmaker who does it consistently. Despite his smallish size he gets inside and is dangerous either passing or shooting.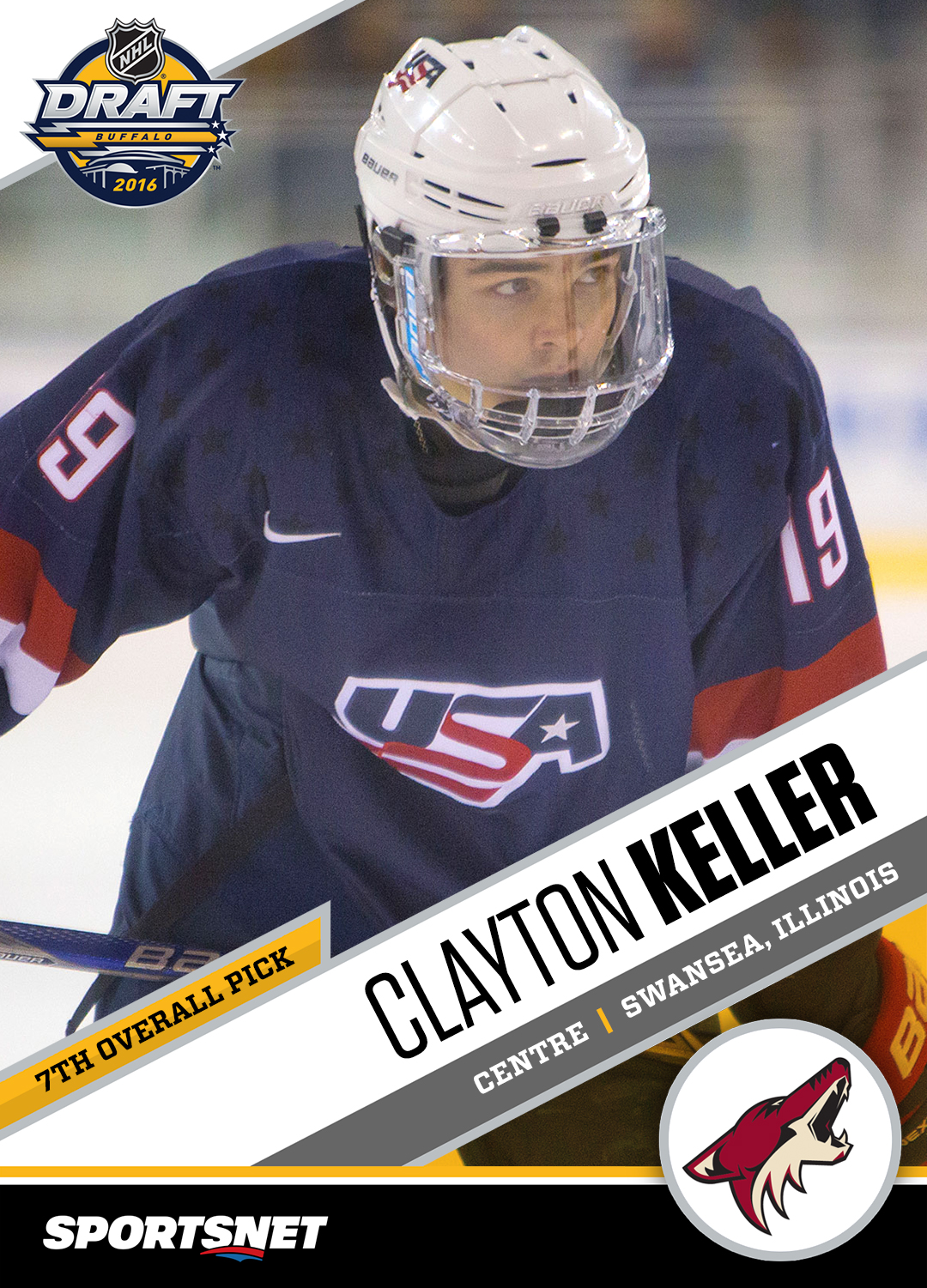 Smaller than the typical first-round forward…
Similar to Marner or Patrick Kane, Keller isn't built like a Joe Thornton or Evgeni Malkin.
At 5-foot-9 (or 5-foot-10, depending on who you ask) and 168 pounds, Keller relies on his impressive skill set rather than his size.
That hasn't deterred him as he has learned to protect the puck against bigger players and has shown an innate ability to create offence in tight areas of the ice. He is also one of the best passers in the draft class.
Given he is a bit undersized, it's unclear whether he projects as a centre or winger at the next level.
Dynamic offensive threat…
Keller is one of the most exciting prospects available, because of his offensive upside. He models his game after Kane and you can see the comparison.
The American is a natural playmaker with slick hands, a solid shot, and even better vision. Keller has consistently been able to create offence for his linemates with crisp passes in open areas of the ice and excelled at making the cross-ice pass in all three zones.
As Sportsnet's Damien Cox wrote in his final draft rankings, "it looks like he has the puck all the time."
Keller has been a point-per-game player at almost every level, and this season he scored 37 goals and 70 assists in 62 games with the US Development Team. At the Under-18 tournament, Keller led the Americans with 14 points in seven games, which was one point shy of Canada's (and draft eligible) Tyson Jost for the tournament scoring lead. Of note: Jost broke Connor McDavid's record for points by a Canadian at the event.
Committed to Boston University…
Keller has committed to play for Boston University next season, but if he decides to go down the OHL route, the Windsor Spitfires hold his major junior rights and he could still end up playing there as well.
Asked at the NHL Combine if he was 100 per cent committed to BU, Keller answered "I'm 99 per cent committed."
The Terriers could have quite a roster next year as defenceman (and draft eligible) Charlie McAvoy will return and another highly regarded 2016 draft prospect, Kieffer Bellows, has also committed to the program.
If, as expected, he does go to Boston University, Keller thinks that after one NCAA season, he'll be ready to take the next step to the NHL.
You can't say he doesn't have confidence.
Combine Performance: Among the best at pull-ups…
Keller was one of the smaller players at the combine and only finished among the top 10 in one drill — but it's the one that made Sam Bennett famous in his draft year!
Keller was able to do 12 pull-ups, which tied for third overall at the combine, behind only Sam Steel (13) and Jonathan Ang (15).
Here he is on the Wingate — one of the two most dreaded combine tests — where he finished outside of the top 25.