Dante Fabbro is a speedy, dependable and quick-thinking defenceman who's drawn comparisons to Colorado's Tyson Barrie.
After closing out an impressive couple of seasons in the BCHL, where he played in order to keep himself eligible to go the U.S. college route, he'll debut with Boston University next fall.
Here's everything you need to know about the 2016 NHL prospect.
Age on June 24: 18
Current Team: Penticton Vees (BCHL)
Position: Right Defence
Shoots: Right
Height: 6-foot-1
Weight: 185 pounds
From: Whistler, B.C.
Twitter: @17Fabbro
NHL Central Scouting Rank (North America): 18th
Jeff Marek's Take: Puck moving defenceman with a great feel for the game. Very calm, doesn't panic and transitions pucks quickly.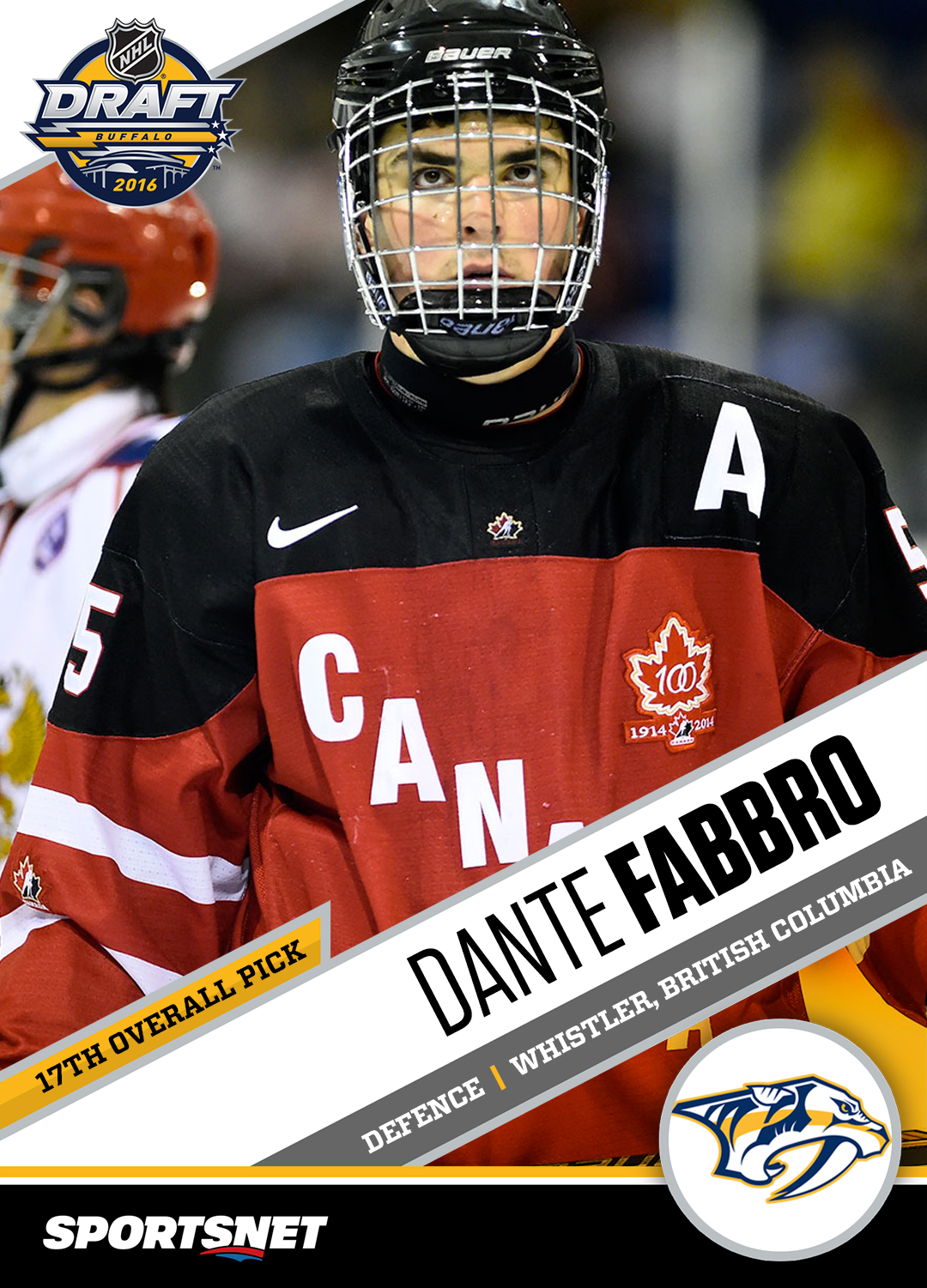 He's the complete package
Fabbro may not overwhelm you with his size, but his versatility will certainly impress you.
The blueliner combines poise, an excellent shot, and strong two-way ability to offer one of the more unique packages of any of the defencemen slated to go in the first round of this year's draft.
"All-in-all, [Fabbro is] a complete defenceman that plays a refined game at both ends of the ice," reads the prospect report at eliteprospects.com.
He's a leader
Fabbro was a key cog in what was a dream season for the Penticton Vees this season.
He notched 14 goals and 53 assists in 45 games, making him the top-scoring defenceman in the BCHL and helping the Vees go unbeaten for 23 consecutive games.
He was also among the leaders of Team Canada, helping them win U-18 tournament in 2015.
He's mature beyond his years
There are very few defencemen who can make the jump from junior to the NHL straight out of the draft. Fabbro is committed to going to university next fall, but he may just be one of those players.
One scout told The Hockey News that Fabbro is "basically like an NHL player already."
That's high praise, and it's probably based on Fabbro's decision-making.
"He's a great positional player and is almost always in the right place at the right time and has good instincts in terms of when to take risks and when not to," according to hockeywriters.com.
He shares a special bond with a fellow prospect
Fabbro and fellow 2016 NHL prospect Tyson Jost weren't just teammates in Penticton and with Team Canada — they also share the same billet family.
Now both players are jockeying for position in Round 1 of this year's draft.
"If Dante goes higher than me, I'm going to be really happy for him," Jost told NHL.com. "I'll be just as happy if he gets drafted higher than I do. It's a cool experience to have a buddy with you."
The next test will tell the tale
Fabbro has all the tools to be a fine NHL player, but scouts will want to see what he can do at the next level of hockey.
A year at Boston University alongside a few other ace prospects like Clayton Keller and Kieffer Bellows is going to give Fabbro a chance to show he can maintain his pace against stiffer competition.
NHL central scouting currently has him ranked at 18th among this year's North American draft-eligible prospects and sixth among North American defenceman. Considering what the scouts see in him, he might be flying slightly under the radar.
All signs point to Fabbro being a late first-round steal.