It's pretty remarkable for any player playing Tier II hockey to be ranked among the first 30 prospects eligible for an NHL Draft, but remarkable is exactly what Dennis Cholowski is.
He had a phenomenal year in the BCHL and now he's prepared to take his talents to St. Cloud State, where he'll star on the NCAA circuit.
Here's a deeper look at one of 2016's most promising prospects.
Age on June 26: 18
Current Team: Chilliwack Chiefs (BCHL)
Position: Left Defence
Shoots: Left
Height: 6-foot-1
Weight: 165 pounds
From: Langley, BC.
Twitter: @dcholowski27
NHL Central Scouting Rank (North America): 23rd
Jeff Marek's Take: Fantastic skater with a great transition game. Has a huge upside but scouts say he needs to work on developing his defensive game.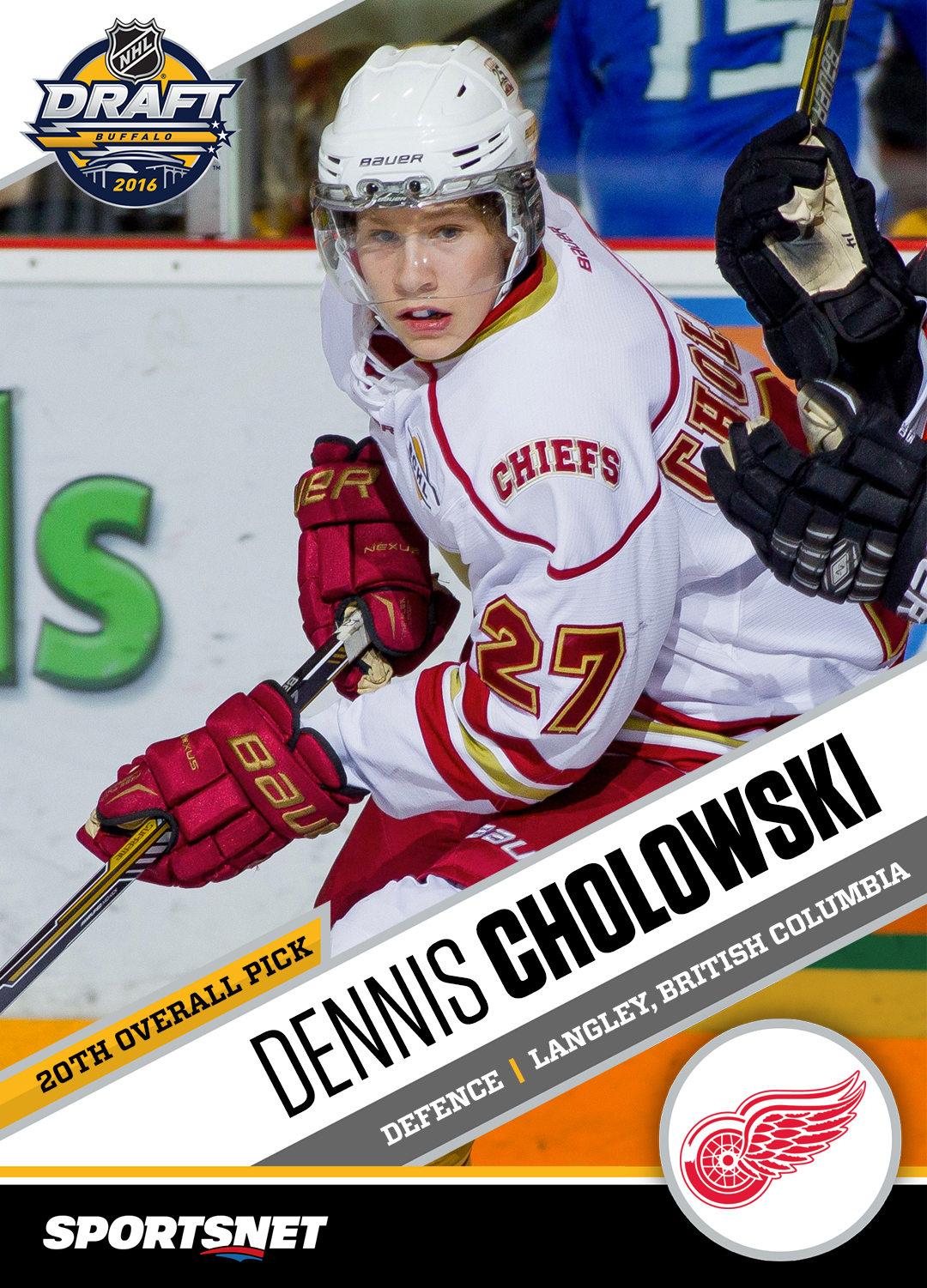 He does everything well
Cholowski plays a 200-foot game, even if his offence was the most notable part of an impressive season.
Yes, he produced the fifth-most points of any defenceman in the BCHL (12 goals, 28 assists, 40 points in 53 games), but he also got the job done in his own end.
Lastwordonsports.com scouted Cholowski and noted, "He seems to always be in the right position. He keeps attackers to the outside, keeping himself between the puck and the net at all times."
The report also added that Cholowski always keeps a good gap control, adding that final dimension that would have any scout consider him stalwart.
Smart thinking
A big part of being a professional is being mature, and NHL teams tend to see a player committed to getting an education as a sign of maturity.
For Cholowski, going to college was always the plan, which is why he opted for the BCHL rather than the WHL.
"My whole family has been good at school and I like going to school," he told BCHL.ca.
Cholowski will attend St. Cloud State in the fall, where he said he's likely to study electrical engineering.
Holy Jumpin'
When the initial rankings from NHL Central Scouting were revealed last fall, Cholowski was given a 'C,' indicating he was likely to be a fourth to sixth-round pick in the upcoming draft.
He placed 48th among North American skaters in the mid-term rankings, but as he helped Chilliwack to the top of their division and to the second-best record in the BCHL, he just kept climbing the rankings.
Currently ranked 23rd, Cholowski has obviously made an impression.
He has an NHL connection
According to the Vancouver Province, Cholowski grew up playing spring hockey on a team coached by former Vancouver Canuck Cliff Ronning.
Ronning's son Ty, who plays for the WHL's Vancouver Giants, is also slated to be a 2016 NHL draftee.
He's a winner
Cholowski may not have had as impressive a showing as BCHL standouts Tyson Jost and Dante Fabbro at this year's World Junior A Challenge, but he won the tournament alongside them with Team Canada West.
He also brought his Chiefs to the Fred Page Cup finals, while Jost and Fabbro's league-leading Penticton Vees were dismissed in Round 2 of the playoffs. Along the way, Cholowski led all defencemen in scoring with four goals and 11 assists in 20 games.