Jesse Puljujarvi hasn't gotten quite as much attention as Patrik Laine in the months leading up to the draft, but the two are very similar players. Both giant, skilled right-shot wingers dangerous in all areas of the ice – one of the only differences is Puljujarvi plays on the right side at even strength while Laine prefers to be on his off wing.
"Puljujarvi is the ultimate power forward package," says director of NHL Central Scouting Dan Marr. "He is a big, mobile, highly skilled, well-rounded winger who is both a scorer and a playmaker. He is a powerful skater with excellent offensive instincts, puck skills and determination."
His numbers don't really tell you how gifted he is in the offensive zone. He put up a modest 13 goals and 28 points in 50 regular season games with Karpat in Finland's Liiga, but continued to improve as the season progressed. He finished with nine points in 10 playoff games.
Locked in as a top-five pick, here's what you need to know about the Finnish standout:
Age on June 24: 18
From: Tornio, Finland
Current Team: Karpat
Position: Right Winger
Shoots: Right
Height: 6-foot-4
Weight: 203 pounds
Twitter account: @JessePuljujarvi
NHL Central Scouting Rank (European): 3rd
Jeff Marek's Take: Perhaps the best player off the rush of anyone in the draft.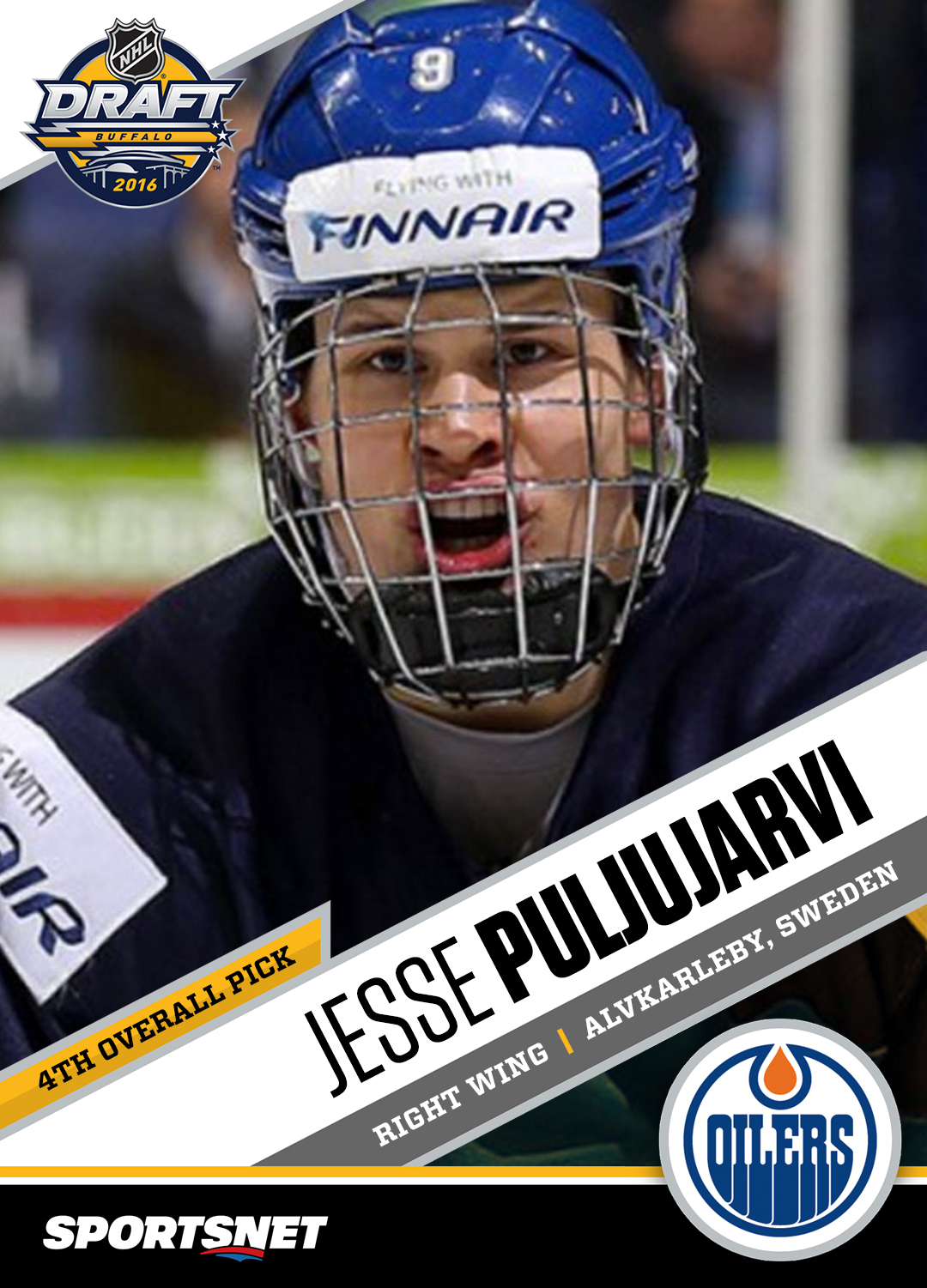 He shone in the spotlight at world juniors…
Playing on a line with Sebastian Aho and Laine, Puljujarvi was a destroyer for the Finns at the world juniors as they won their second gold medal in three years. Puljujarvi was a tournament all-star, deemed the top forward and was named MVP as a 17-year-old after registering five goals, 12 assists in seven games. His 17 points tied Wayne Gretzky and Eric Lindros for second-most all-time from a player under the age of 18. Only Jaromir Jagr's 18 points in seven games at the 1990 tournament was better.
In December, prior to the world juniors, Sportsnet's Jeff Marek exchanged emails with Finnish hockey writer Risto Pakarinen, who had this to say about Puljujarvi.
"[Puljujarvi] was physically a grown man last season already, and he knows how to use his size to his advantage. He needs more core strength so that he can hold on to the puck even better. His big advantage is his skating straight forward, but the stop-and-go skating that you need to stay inside the game still needs work.
"His shot is world class, but it has to be noted that inefficiency is very much present in his game. He's very eager to learn more about his own game and hockey in general. Naturally, he's got ways to go in his 200-foot game but I've never seen as complete a 17-year-old player as him."
He displays shades of Selanne…
It's a lofty comparison, but Puljujarvi has been mentioned in the same breath as Teemu Selanne on more than one occasion. He can blow by defenders with his speed and sees the game well, just like Selanne. Oh, and he has a knack for the net.
"Teemu always wanted to score, wanted to go to the net and always tried to create scoring chances. I like to do all of that, and be dangerous all the time. So I guess in that way we're the same," he told NHL.com last November. "I want to continue to play a versatile game, stay on the puck and go hard to the net."
He was snubbed of a World Cup roster spot…
Although he was born in Alvkarleby, Sweden – his family moved to Finland when he was four – Puljujarvi has always represented Finland at international tournaments and routinely excels. In addition to his success at the WJC, he was also a star at the 2016 IIHF U18 World Championship.
That's why it was an interesting decision by Team Finland general manager Jere Lehtinen to leave him off the World Cup roster. Lehtinen did add Puljujarvi's world junior linemates, Laine and Aho, despite the fact Puljujarvi is considered a more complete player than both of them.
He looks up to Ovechkin…
Just like his countryman, Laine, Puljujarvi's favourite player is Alex Ovechkin and you've been able to see it in the way he plays for years. Check out this goal from a 16-year-old Puljujarvi. Doesn't he resemble Ovechkin here? He's even wearing No. 8.
He's full of personality…
Whichever team ends up with Puljujarvi, they're getting more than just a player who's physically mature beyond his years. They're getting a likeable character. Puljujarvi has become known for his friendly personality and is always donning a huge smile.
"I just like to smile. I feel like laughing all the time," Puljujarvi told The Hockey News back in 2014.
He's not averse to hijinks either. Here he is pranking a group of youth hockey players in the same vain as Kyrie Irving's Uncle Drew.
And here he is in an acting class with some teammates. He's so friendly he even had difficulty pretending to get angry.