He's a self-described man-child. Chalk it up to good genetics. His father, a bodybuilder, was named Mr. Canada in 1984. His grandfather was named Mr. Canada in 1964 and was also a runner-up in the Mr. Universe contest. And his uncle, 6-foot-3, 224-pound defenceman Denis, blazed the NHL trail for him.
Julien Gauthier has the size, conditioning and scoring touch to be one of the top prospects at this year's draft. Here's everything you need to know about him.
Age on June 24: 18
Current Team: Val d'Or Foreurs
Position: Right Wing
Shoots: Right
Height: 6-foot-4
Weight: 224 pounds
From: Pointe-aux-Trembles, QC.
Twitter: @Ju_gauth12
NHL Central Scouting Rank (North America): 12th
Jeff Marek's Take: The frame of a power forward with a goal scorer's touch. Great release in stride and is hard to knock off the puck.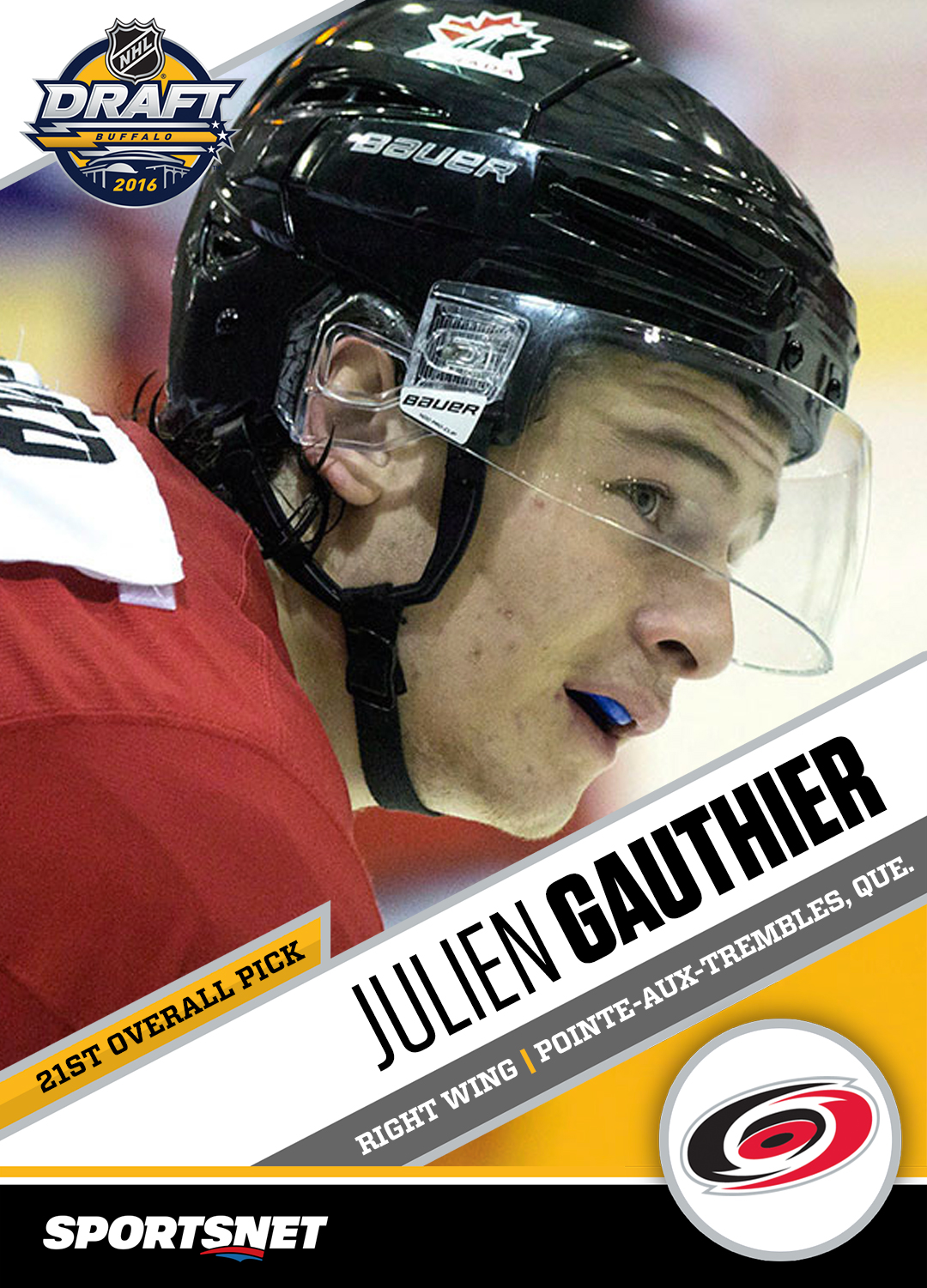 GOALS, GOALS, GOALS…
This kid knows how to score. That's why management for the Canadian World Junior Championship team made him the only draft-eligible prospect to participate in this year's tournament.
No one on Team Canada had scored more goals coming into the tournament than Gauthier. He had 29 goals in his first 30 games of the season and because of that great start, Central Scouting had him ranked as high as fourth among North American prospects on their mid-term report. At that point, he was ranked only behind Matthew Tkachuk, Alex Nylander and Jacob Chychrun.
Gauthier finished the season with 41 goals in 54 games.
GREAT SHOT, SILKY MITTS
According to this report from eliteprospects.com, Gauthier's the complete package. Elite-level stick skills, rocket of a shot, vision, hockey sense and a willingness to play physical.
He's got speed, too. Comparisons to New York Rangers forward Rick Nash seem to fit. With a right-hand shot, Florida's Nick Bjugstad comes to mind as well.
PUMPED UP
No team is going to have to teach this kid how to properly condition himself.
As mentioned above, Gauthier's father and grandfather are world-class body-builders, and he's been working out since he was nine years old.
"Training has always been a big part of my life," Gauthier told David Brien of hockeycanada.ca. "My father never forced me to do it, but he told me when I was younger that if I wanted to play hockey, it would be good for me to work out. I've never stopped since that day."
THE NHL IS IN HIS GENES
On top of his muscle-building father and grandfather, Gauthier has an uncle who played in the NHL who you may remember. Denis Gauthier was a hulking 6-foot-3, 224-pound defenceman who played a total of 554 NHL games. He suited up for the Calgary Flames, Philadelphia Flyers, Phoenix Coyotes and Los Angeles Kings, totalling 17 goals, 77 points and 748 penalty minutes.
It's fair to say Julien is expected to be a different kind of player than his uncle.
A SLIP IN THE RANKINGS
Gauthier dropped from fourth to 12th in Central Scouting's final rankings, which may have something to do with the fact he scored just 12 goals over the final 24 games of the season.
Still, Gauthier scored 41 goals this season, a mark only five QMJHL players topped — and all of them played at least six more games than Gauthier.
Another reason his ranking may have dropped is that he didn't score a goal in five world junior games.
Gauthier's built a strong case to be among the top 15 players selected in this year's NHL draft, accumulating 79 goals and 51 assists (plus seven goals and eight assists in 23 playoff games) over his last two years in the QMJHL.
If he continues on the course he's set out on, it looks like Gauthier has a bright future ahead in the NHL.