A giant prospect who has moved up in the draft rankings all year, Logan Brown has good speed for a player of his size — and he's the son of a former NHLer who played 747 games in the league.
Brown is one of the most intriguing NHL prospects of the 2016 draft class. Here's a detailed look at his profile.
Age on June 24: 18
Current Team: Windsor Spitfires
Position: Centre
Shoots: Left
Height: 6-foot-6
Weight: 218 pounds
From: Raleigh, NC.
Twitter: @21LBrown
NHL Central Scouting Rank (North America): 7th
Jeff Marek's Take: Early this season had scouts wondering what the big deal was, but halfway through the year he turned it on. Scouts drool over the prospect of a 6-foot-6 centre who can really snap the puck. Still has developing to do though.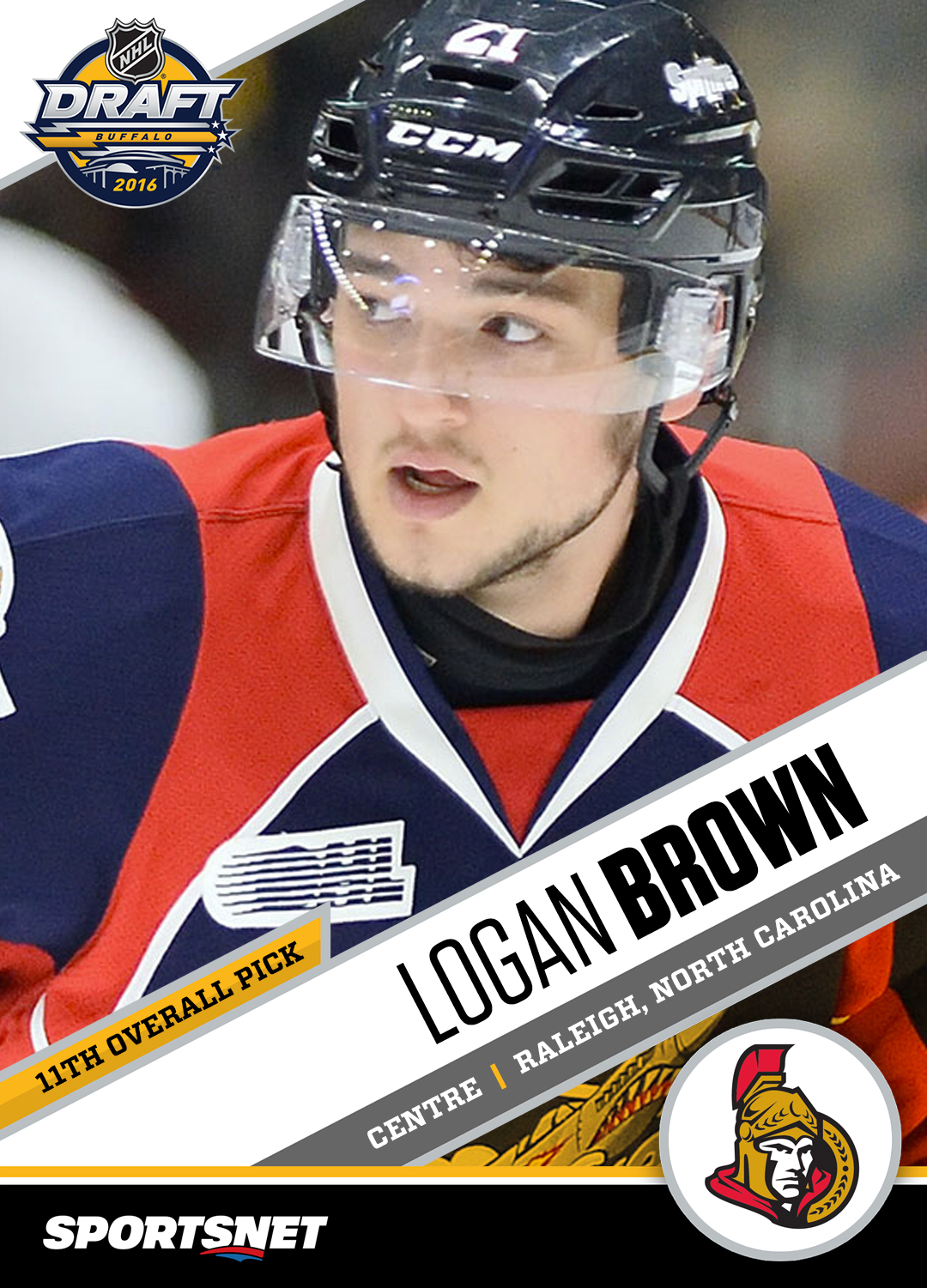 Complete package…
At 6-foot-6, Brown's not a player you have to search for on the ice, but his size is just one of a number of things that make him stand out.
Speed? He's got it in spades. Skill? He owns it in every department. Hockey sense? You bet. Wrap it all up with good work habits, and it's easy to see why Brown has turned heads in his draft year.
"He is a kid with unlimited potential, good size, a lot of skill and a high hockey IQ," Spitfires general manager Warren Rychel told Mike Morreale of NHL.com. "A player like Logan is hard to find."
The student becomes the master…
In addition to being the son of Jeff Brown—a man who racked up 585 points in 747 NHL games—Logan is a graduate of the Jr. St. Louis Blues.
His father coached him for years, and he did it with help from all-star friends Al MacInnis and Keith Tkachuk.
While Logan now plies his trade with the Windsor Spitfires under the guidance of former NHL veteran Bob Boughner, Jeff has lent his tutelage to the Ottawa 67s—serving as their head coach since 2014.
Could Logan end up playing in the same city his father coaches? In mid-June, the Ottawa Citizen's Bruce Garrioch wrote that the Senators "have genuine interest" in Brown, but pointed out they'd probably have to trade and move up a few spots to get him. Ottawa picks 12th overall.
A playmaker…
The prospect reports all make note of Brown's impressive shot, but statistics point more to his ability to be patient with the puck and make plays.
They say centres need to make the players around them better, and it would seem that's Brown's forte. That's why he collected 79 assists in 115 games with Windsor over the past two seasons.
A dual citizen…
Not only is Brown a dual citizen of Canada and the United States, he has now officially played for both countries.
At the 2015 Under-17 World Hockey Championship, Brown scored two goals and two assists in five games with Canada. Later in the year he was among the last players cut for the Ivan Hlinka tournament.
So at the 2016 World Under-18 Hockey Championship in April, Brown decided to play for the U.S. He scored three goals and nine assists in seven games to help them capture a bronze medal.
Scouts impressed…
Brown jumped from 14th to seventh on NHL Central Scouting's final ranking of North American prospects, probably because he racked up 42 of his 74 points in the final three months of the season.
Brown has steadily progressed since he entered the OHL in 2014, and the scouts clearly believe he's going to keep getting better as a professional.
"He's still growing, which is amazing because he's already as big as it is," Central Scouting's Dan Marr told NHL.com. "When he has the confidence and assertiveness to play to his size and play a little more selfishly, then his numbers will rise and good things will begin to happen."
Don't be surprised if Brown's name is one of the first 10 called at this year's draft.