He's a gifted playmaker with highlight-reel hands and exceptional hockey sense. Hailing from Missouri, he grew up with 2016 top-five hopeful Matthew Tkachuk, and has lived with Type 1 diabetes since age 12.
Here's what you need to know about 2016 NHL prospect Luke Kunin.
Age on June 24: 18
Current Team: Wisconsin Badgers (NCAA)
Position: Centre
Shoots: Right
Height: 5-foot-11
Weight: 188 pounds
From: Chesterfield, MO.
Twitter: @LukeKunin9
NHL Central Scouting Rank (North America): 11th
Jeff Marek's Take: A fun player to watch, has a high revving engine. Wisconsin's team was decimated this season, but Kunin stuck it out and never showed signs of quitting. Finished the season strong, scoring just shy of a goal per game.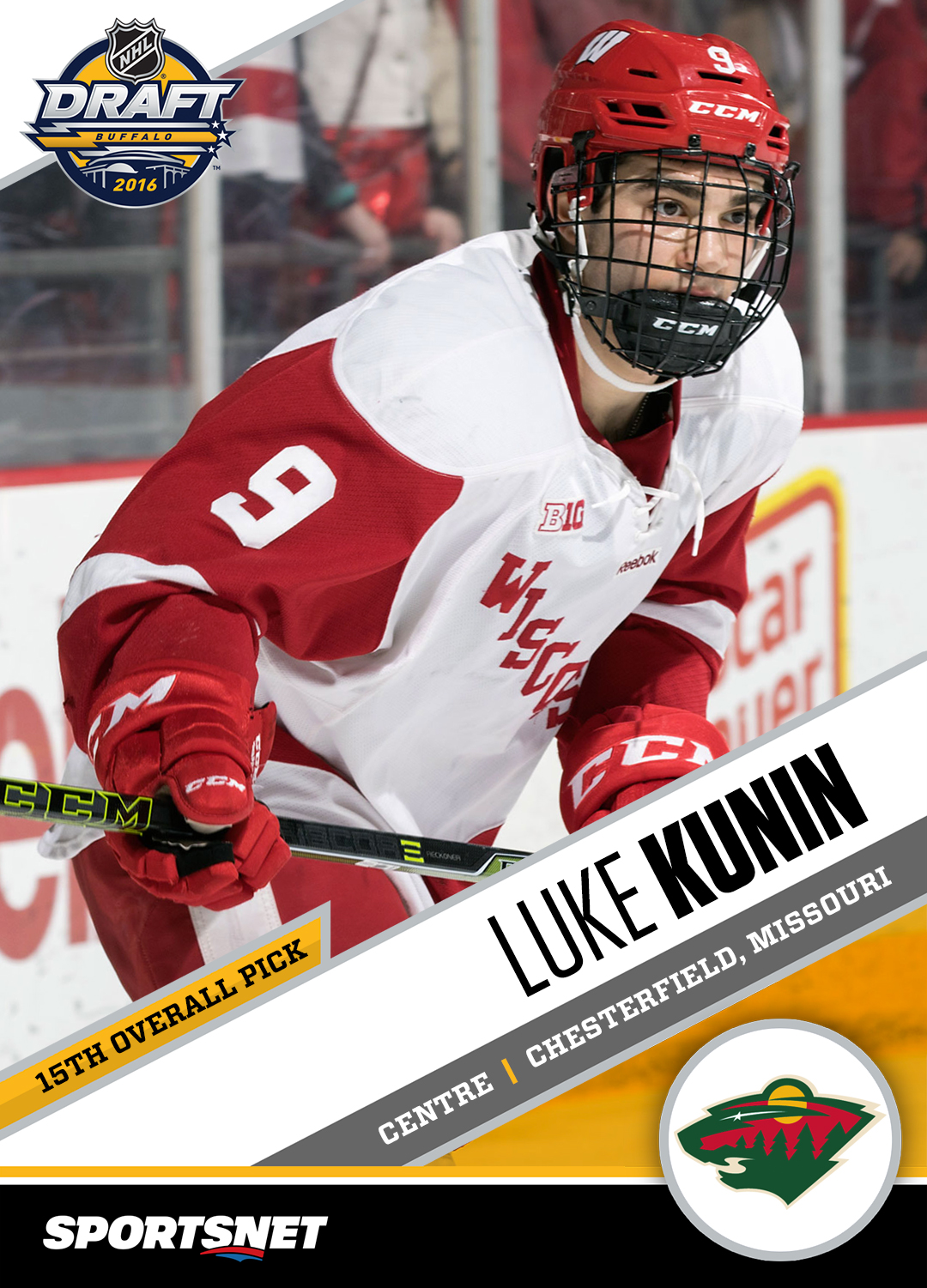 He's fun to watch
Kunin's defensive game is a work in progress, but the balance he displays on offence makes him one of the most entertaining players available at this year's draft.
According to the scouting report at eliteprospects.com, Kunin is "a highly intelligent and offensively gifted forward. Has a keen eye for scoring opportunities and has shown flashes of elite-level finishing capability."
Kunin can set up goals just as easily as he can score them — he did a fair amount of both this season, notching 19 goals and 13 assists as a freshman with the Wisconsin Badgers of the NCAA.
He's accountable
"Accountable" is how the scouts want to be able to describe a prospect they're interested in, so hearing Wisconsin coach Mike Eaves refer to Kunin as just that must be enticing.
"He came back to the bench (after a blocked shot) and said, 'I deserve that because I lost the faceoff so clean,'" Eaves told NHL.com following a game between the Badgers and the Penn State Nittany Lions.
"That's the kind of lad he is," Eaves added. "That's taking responsibility."
Kunin's sense of accountability and his yearning to become a more complete player saw him draw penalty-killing duties for Wisconsin this season.
USA is A-OK
Kunin is one of several Americans slated to go in this year's draft. He nurtured his skills with the U.S. National Development Team for two years and captained the country's 2015 entry in the World Under-18 tournament to a gold medal.
Life with Type 1 diabetes
He's not the first hockey player to have diabetes, and he probably won't be the last. Add Kunin's name to a list that includes Hall-of-Famer Bobby Clarke and standout 2015 NHL rookie Max Domi as players constantly forced to check their insulin levels.
"I test it 8 to 10 times a day, maybe more on game days," Kunin told the Wisconsin State Journal. "I'm always keeping it under control, counting my carbs, taking my shots before I eat."
He's a student of the game
By all accounts, Kunin is very serious about his hockey career.
"He's the type of guy who wants to sit and watch his shifts after every weekend," said coach Eaves.
It's that type of attitude, mixed with a unique skillset, that makes Kunin one of the most intriguing prospects at this year's draft.
NHL central scouting has him ranked 11th among North American skaters, which makes him a virtual lock to go in Round 1.