Maxime Comtois didn't have as much scoring success as scouts predicted this year, but that doesn't mean it was a disappointing season for the promising forward prospect.
The skilled winger has learned to play with an edge and use his size, which complements his strong hockey sense and all-around two-way game. His stock has dropped, but he could turn out to be a late first-round steal.
Here's what you need to know about him.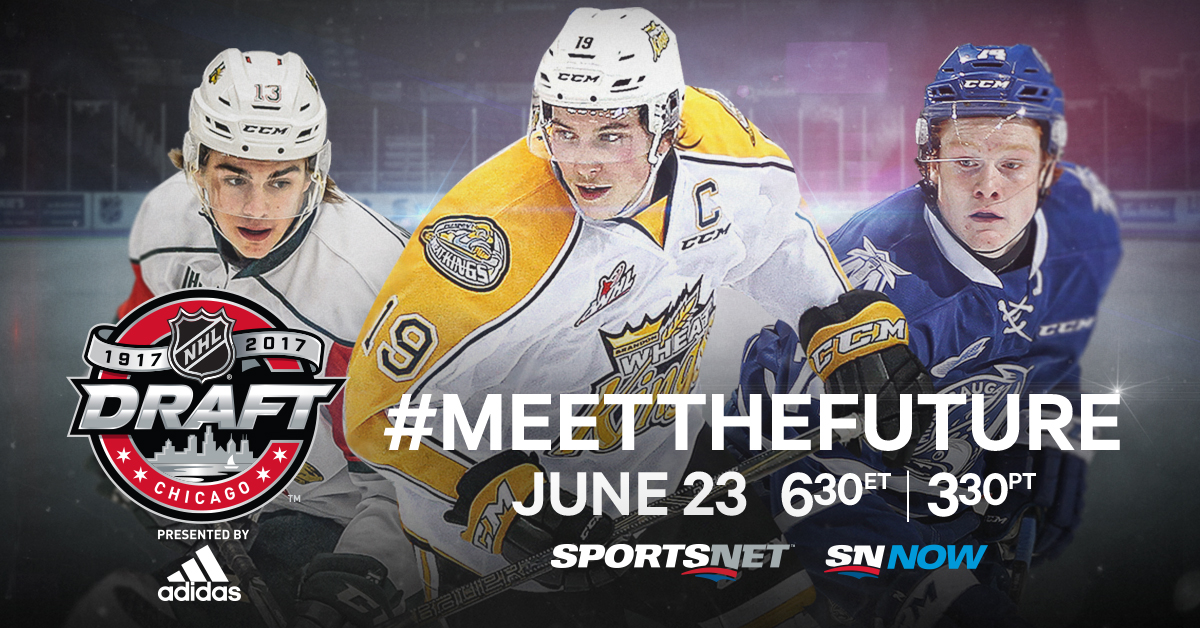 Team: Victoriaville Tigres (QMJHL)
Position: Left wing
Shoots: Left
Age: 18
From: Longueuil, Que.
Height: 6-foot-2
Weight: 200 pounds
NHL Central Scouting ranking (North American): 30
Jeff Marek's Take: "Had a tough season in Victoriaville, but still has the tools to become a legit power forward in this game."
He couldn't meet his high-scoring expectations
Scouts had high hopes for Comtois entering 2016-17 after the big forward enjoyed a breakthrough rookie QMJHL campaign in 2015-16 (26G and 34A for 60 points in 62 games) and brought an unexpected physical edge the club didn't know he had.
"I'm expecting Comtois to score 50 to 60 goals in the 'Q' this year if he stays healthy and has a halfway decent team around him," one NHL team's scouting director told Sportsnet's Gare Joyce back in October. "He's a pure scorer, a power forward. He's a little like [2016 No. 3–overall pick] Pierre-Luc Dubois—not in any aspect of the game, but in how he broke through.
"At about the same time last season when Dubois shot up like no one saw coming, Comtois was an entirely different player than Victoriaville thought they had," the scout said, referencing how he was able to round out his game by adapting to become a more physical player. "He's a kid with a big body, pro size at almost 6-foot-3, but those who had seen Comtois in midget AAA thought he didn't have any physical aspect to his package."
Comtois didn't come close to that 50-goal mark, instead tallying 22 goals and 29 assists for 51 points in 64 games and finishing fourth in Tigres scoring, but he is happy with how his season went regardless.
"I think my year was better than last year even if I didn't have the points," he told Sportsnet's Daniel Nugent-Bowman back in April.
"A little bit before Christmas I started putting up points. My offensive asset came back. I'm just happy the way I played."
As Sportsnet's Jeff Marek pointed out in an earlier power rankings, Comtois' game may have been affected by the absence of his linemate Pascal Laberge, who suffered an injury—though his drive and all-around game was still on display.
"His play has picked up since Pascal Laberge returned, but his scoring is still off," Marek wrote in his March prospect rankings. "Still, scouts see a lot of potential here."
Speaking of which…
Potential? He's got plenty
Despite a down scoring year, Comtois still demonstrated that he's got all the tools necessary to make it to the NHL if he can land with a team that takes a patient approach with his development.
He was among the first players named to Team Canada's entry at the U18 World Championships and was part of the leadership group as assistant captain.
Darren Rumble, head coach of Team Canada, sees a bright future for him as a power forward on a team's second or third line, and made a pretty impressive comparison:
"Stevie Yzerman became a better player when his points went down," Rumble told Nugent-Bowman. "He became a 200-foot guy. He became one of the top team players of all time."
Comtois has also been compared to Rick Nash and Blake Wheeler in terms of his development, and says his favourite player is Boston Bruins centreman Patrice Bergeron.