There is always a demand for an offensively-gifted forward with a physical presence, so the appeal for Pierre-Luc Dubois is understandable.
Between his production (although numbers tend to be a bit inflated in the QMJHL), pedigree, and skill set, Dubois is a very likely bet to land among the top-10 picks of this year's NHL draft.
Here's everything you need to know about the ascending prospect:
Age on June 24: 18
From: Ste-Agathe-des-Monts, Quebec
Current Team: Cape Breton Screaming Eagles, QMJHL
Position: Centre/Wing
Shoots: Left
Height: 6-foot-2
Weight: 201 pounds
NHL Central Scouting Rank (North America): 1st
Jeff Marek's Take: Big, strong, skilled and versatile. Played half the season on the wing then the rest at centre without ever having played the position. And was excellent. A hockey rat, he eats and breathes the sport.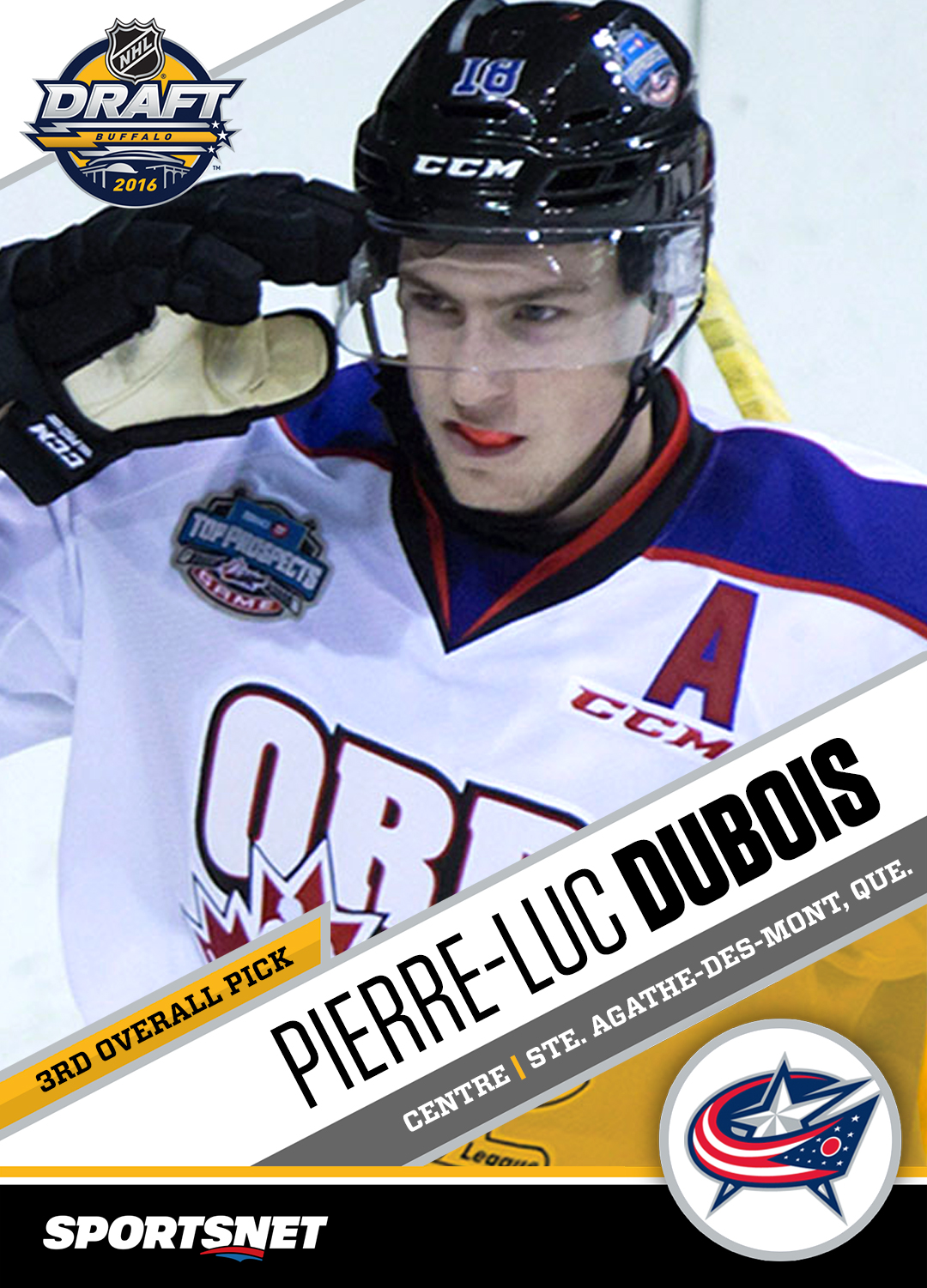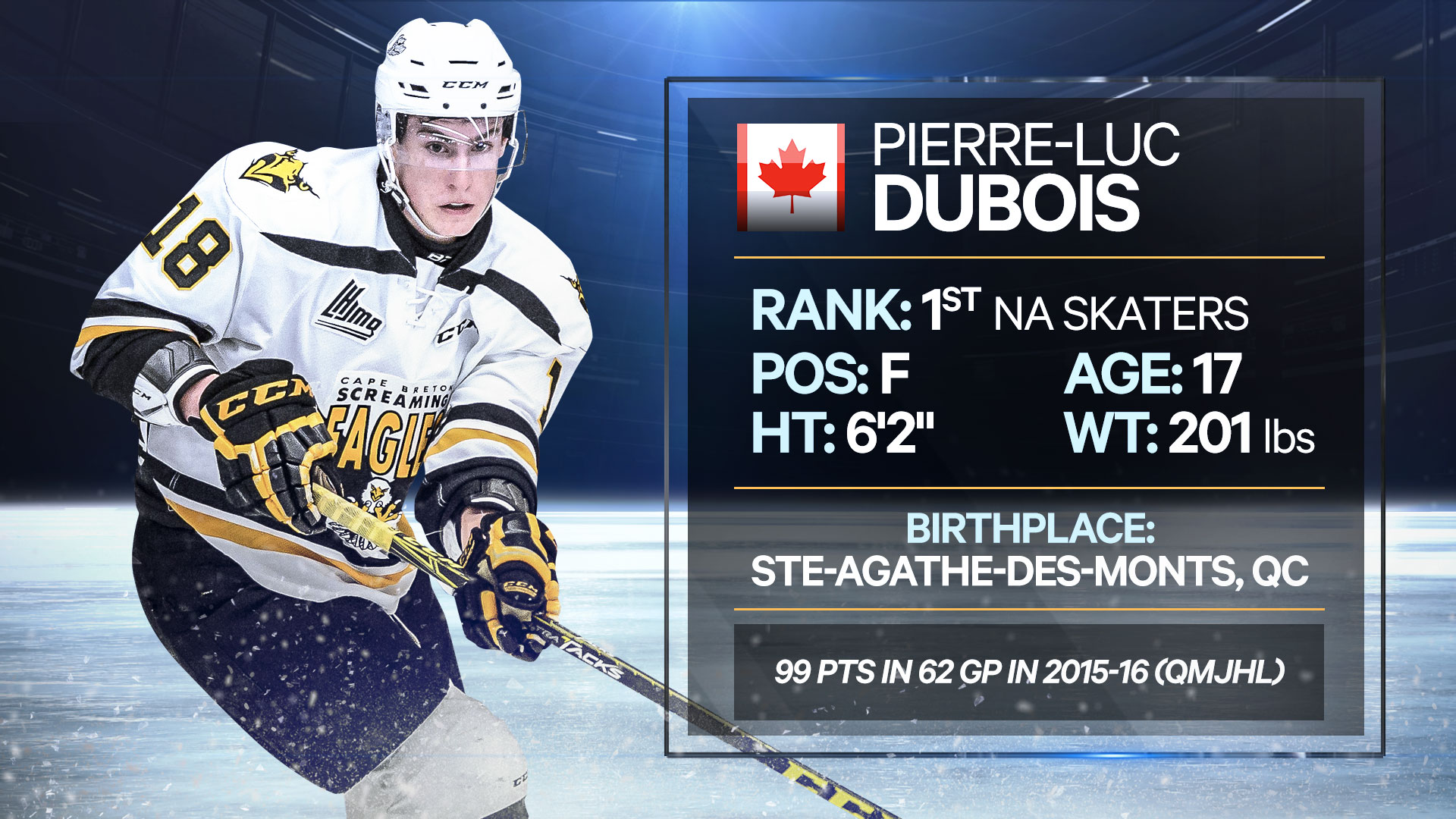 Flew up the Central Scouting rankings
The Cape Breton forward became the first QMJHL player in over 10 years (the last was Sidney Crosby) to finish No. 1 on Central Scouting's final rankings of North American prospects after a breakout season.
He finished third among QMJHL players in scoring, with 42 goals and 57 assists in 62 games before adding seven goals and five assists in 12 playoff games, and was named to the second all-star team. He also earned the Mike Bossy Trophy as the league's best pro prospect.
Dubois gained traction after being ranked No. 7 among North American prospects in the mid-term rankings in January due to his playmaking ability, puck skills, hockey sense, and quickness.
He credited his improved second-half performance — averaging 1.93 points per game in his final 16 games of the regular season — to increased motivation after being one of the final players cut from Canada's world junior team.
However, according to Sportsnet's Gare Joyce, some NHL scouts were a bit surprised with the ranking.
"You'll see players move up six slots in the top 20 but not in the top 10," one veteran scout told Joyce this past April. "You'll even see a kid from the 40s move into the 20s or even in the high teens. You might see a big shift for a Tier II player who was seen a lot. You don't see that type of movement right at the top of the class, no.
"I never saw it coming and I had seen Dubois a fair bit. He was a priority for us in the second half of the season."
Has the skill set of a power forward
Dubois offers the versatility to play all three forward spots, but is best suited to play the role of a power forward at the centre position.
He won 50.4 per cent of his face-offs last season and has potential to be a valuable defensive presence.
"If you need someone to check the other team's top line and be a shut-down forward, he's a guy who can do that," NHL Director of Central Scouting Dan Marr said via NHL.com. "If you need someone to generate scoring opportunities, he has the skill, speed and hands to do that too. He's a very all-around player."
He compares his skill set to one of his favourite NHL players, Jamie Benn of the Dallas Stars.
Dubois believes he will develop into a player who can be trusted in all situations and can provide value on special teams.
Comes from a hockey family
He isn't the first in his family to be an NHL prospect as his father, Eric, was drafted 76th overall by the Quebec Nordiques in the 1989 NHL Draft.
The 46-year-old never played in an NHL game, but has transitioned well into coaching.
Dubois spent four seasons as the head coach of Baie-Comeau Drakkar (QMJHL) and three years as the head coach of the Acadie-Bathurst (QMJHL) prior to his current role as an assistant coach with Rimouski Oceanic.
"My dad [Eric Dubois] coached Samuel Morin [Philadelphia Flyers, No. 11] in his draft year [2013]," he told NHL.com. "Sam went up the rankings in the second half so I wanted to kind be like that. I wasn't No. 1 [at the midterm], so I pushed and worked to get higher… My dad always told me to have fun, and when I have fun, that's when I play my best hockey. I've always been known, even when younger, to get better as the season went on, and he told me to keep the pace."
Because of his dad's pro career, he had to spend some time playing in Germany as a youngster.
"I don't remember a lot," he told NHL.com of his time in Germany. "I remember the coaches yelling at me in German and I was kind of confused trying to understand. After that, I remember playing games with the orange ball instead of a puck. I'm just really happy my dad was there, because without him I think they would have just kept speaking German, and that would have created more confusion. I was three years old when I started playing, so I was a little kid. When I turned five years old, I started playing in North America."