Just call him Minnesota's Mr. Hockey.
He's a product of the State of Hockey; a high-school senior who compares himself to Florida Panthers forward Nick Bjugstad. With a huge frame and a knack for scoring goals, the comparison fits.
He is also one of two potential first-rounders slated for the 2016 NHL Draft forced to deal with Type 1 diabetes.
Here's the skinny on big prospect Riley Tufte.
Age on June 24: 18
Current Team: Blaine High School/Fargo Force (USHL)
Position: Left Wing
Shoots: Left
Height: 6-foot-5
Weight: 190 pounds
From: Ham Lake, Minn.
Twitter: @rileytufte27
NHL Central Scouting Rank (North America): 17th
Jeff Marek's Take: Scouts are very much on the fence here. His size, speed and hands are very good, but we're still waiting for a consistent game which leaves many wondering about his ceiling.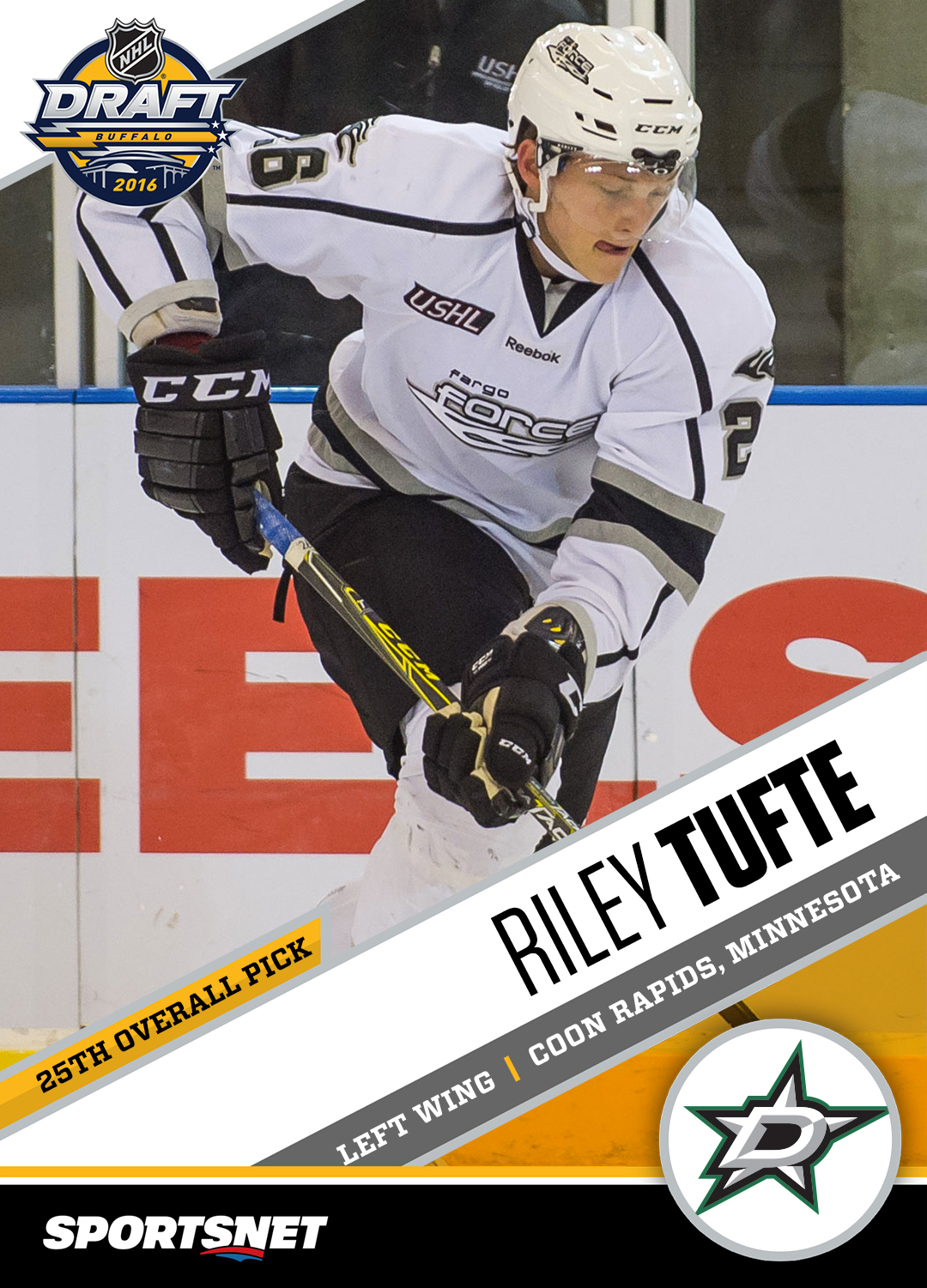 Skilled hands and feet…
"Soft hands and strong skating ability," wrote Kelly Friesen at Yahoo Sports. It's not the type of description you expect to hear about a 6-foot-5 player, but it's the one he applies to Tufte.
"I do see a big advantage to having size," Tufte told Friesen. "I obviously have long reach and can use my body to win battles."
Here's a sample of what Tufte's talking about.
'Mr. Hockey' Minnesota…
The award is annually given to the best high school hockey player in the state, and Tufte might not have taken it had he stuck in the USHL where he began the season.
Tufte was 12 games in with the Fargo Force when he decided to return to Blaine High School for his senior year.
"When I found out he was coming back to high school I knew he'd be good on the ice, but the gift he brings off the ice is amazing," Blaine coach Chris Carroll told Aaron Westendorf of USHL.com.
"Everyone knows how special he is on the ice, but it meant more to our program about who he is off of it. To have the gifts that he possesses will be the intangibles he'll take with him to the NHL."
On the ice, Tufte scored 47 goals and added 31 assists in just 25 games with the school, allowing him to win the 'Mr. Hockey' award—as selected by a group of NHL scouts, Division I and III coaches and USHL scouts.
Former winners of the award include New York Islanders defenceman and Stanley Cup winner Nick Leddy and New York Rangers captain Ryan McDonagh.
Dealing with diabetes…
There have been many players in the past who've dealt with Type 1 diabetes—Arizona's Max Domi and Philadelphia Flyers legend Bobby Clarke among them—but Tufte and Luke Kunin are two potential first-rounders who live with it.
But all the poking and testing hasn't stopped Tufte from blowing the scouts away.
A changed player…
Tufte may have struggled in those 12 games with the Fargo Force before the high school season began, but he thrived in the 15 games he played to close out the season with the USHL team.
"Riley's got a great future ahead of him," Fargo coach Cary Eades told Joe Yerdon of NHL.com. "He's almost 6-foot-6 and can skate like the wind. His game was maturing and growing here. He's adding some more stop and start to his game, a little more physicality, winning more puck battles, utilizing his size, speed, and strength to go to the net and getting to the net creating scoring chances.
First-round game…
Tufte's mitigated his early-season stumble out of the gate with explosive production at the high-school level. There's no telling how he'd have fared against some of the best prospects who could go in Round 1, but his Central Scouting rank of 17th among North American skaters suggests he'll be among one of the first 30 players called in Buffalo.