Tyson Jost became a likely first-round NHL draft pick playing and developing in the BCHL and he's committed to move on to the University of North Dakota, alma mater of his hero Jonathan Toews.
Jost is a speedy, shifty, productive left winger who's not afraid to get his nose dirty — and he broke a record set by Connor McDavid. Let's take a closer look at this draft prospect.
Age on June 24: 18
Current Team: Penticton Vees
Position: Left Wing
Shoots: Left
Height: 5-foot-11
Weight: 192 pounds
From: St. Albert, AB.
Twitter: @josty_17
NHL Central Scouting Rank (North America): 16th
Jeff Marek's Take: Fantastic player who's been hidden more than other prospects by playing in the BCHL. Absolutely loved by his teammates. Able to do everything at top speed.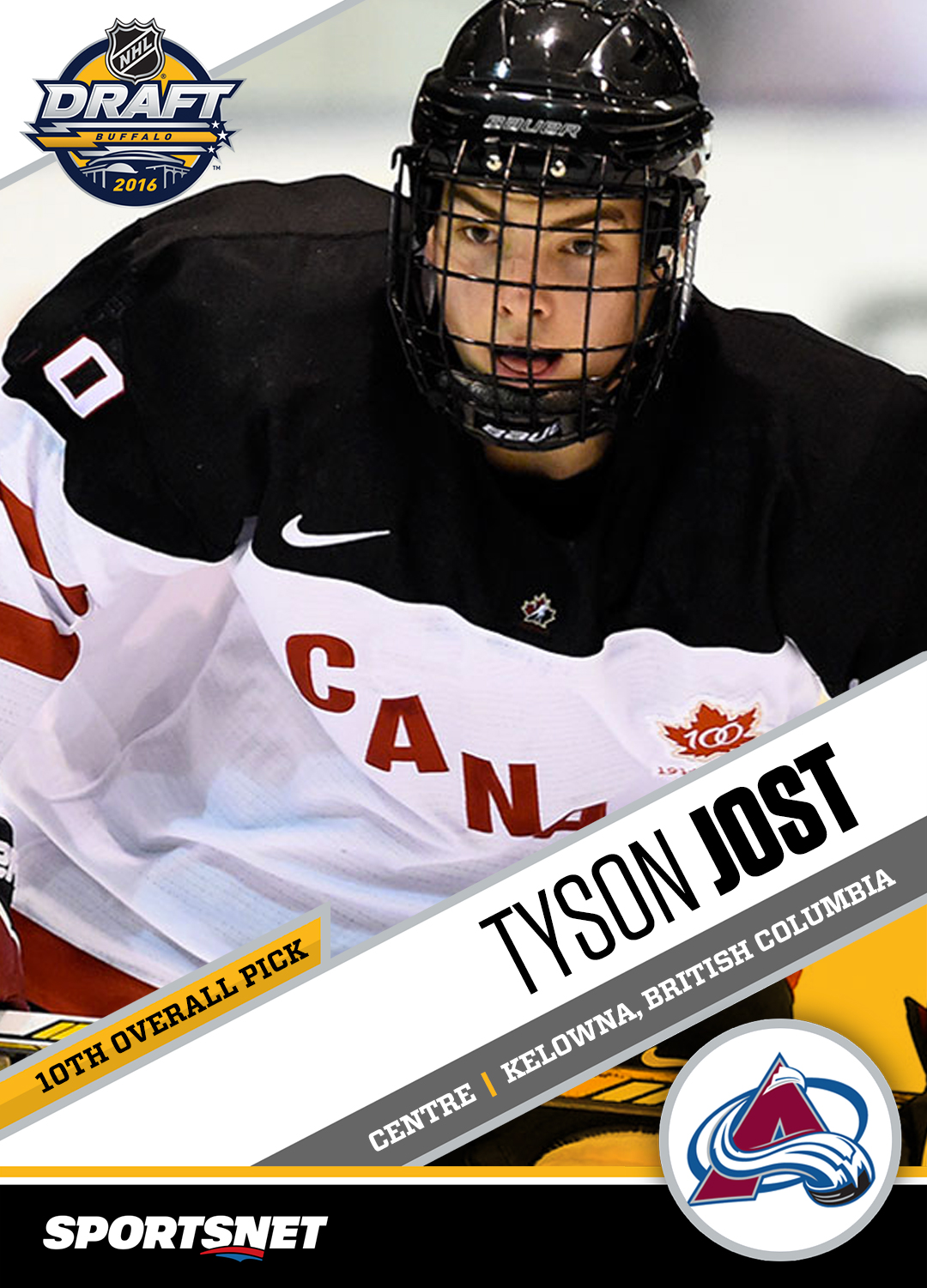 HE GETS TO THE DIRTY AREAS
Jost didn't lead Penticton through a 23-game unbeaten streak earlier this year by playing on the perimeter. Nor is that how he earned MVP honours as part of a gold medal bid for Canada West at the World Junior-A Challenge.
Jost goes to the hard areas. His speed and shiftiness had him turning heads at the Ivan Hlinka World Under-18 tournament in April.
Here's what one scout recently told Sportsnet's Gare Joyce about Jost:
"Yeah, he's not as skilled as [Ottawa Senators centre Kyle] Turris but he does go to the net and work through hold-ups and contact—he gets in a much better position to use his skill than Turris did," said the scout. "And he did that against much better and more developed players than he was used to playing against in the BCHL."
HE BROKE A RECORD SET BY CONNOR MCDAVID
Jost followed up an outstanding BCHL rookie season of 23 goals and 22 assists by more than doubling his production to 42 goals and 62 assists (104 points) in 48 games this season.
Granted, the BCHL isn't the toughest league for draft eligible players, but Jost excelled against other competition as well. He led all scorers at the WJAC with nine points in four games, but was perhaps most impressive at the Under-18s. There, he scored six goals and nine assists, which not only led the tournament and nearly doubled the production of the next highest scorer on his team, but it set a new record for scoring by a Canadian at the event.
The previous record holder? Connor McDavid.
HE'S GOT MOVES
There's no doubt Jost can dangle. But he can also cut a rug with some slick dance moves.
Here he is getting in on the running man challenge.
A LOCK FOR THE FIRST ROUND
Central Scouting ranked Jose 16th among North American skaters on its final list. That slots him somewhere between 15th and 30th in Round 1 of the NHL draft.
The leadership he's shown in his young career is a testament to his commitment level. Modelling himself after Toews is one thing, serving as Penticton's captain and as the captain of Canada West at the WJAC is another.
Jost is committed to joining a North Dakota program that just won its first NCAA national championship in 16 years. Joining such a strong program should only help him further develop into the player he wants to become.
"I was getting shivers and my leg was shaking when I was watching [the Frozen Four]," Jost recently told Eric Burton of thehockeywriters.com.
"I am hoping to go back-to-back with the national championship. It's really special. Looks like we're going to have a great group of guys next season."
HE'S ALREADY A DECORATED PLAYER
Apart from the international competitions he's participated in, Jost was named CJHL MVP and top forward of the year and in February was named MVP of the BCHL.
In mid-May, Jost added another award, when he was named Hockey Canada's RBC Canadian Junior Hockey League National Player of the Year. Jost became the first BCHL player to win the national award since Kyle Turris in 2007 and was the second Penticton player to win it — after Paul Kariya earned the honour in 1992.
"It means a lot to get recognized," Jost said. "I was playing with a pretty special group. And that had a lot to do with my personal success. I have to give a lot of credit to Penticton. They developed me into a better person and player."