Here is what you need to know about 14th-ranked North American prospect Travis Konecny.
Age on June 26: 18
Birthplace: London, Ont.
Current team: Ottawa 67's, OHL
Position: Centre
Shoots: Right
Height: 5-foot-10
Weight: 175 pounds
Twitter account: @traviskonecny
North American Central Scouting rank (North American): 14th
Marek's Take: Strong 200-foot player who works hard in all situations. Thinks the game very well. Not the biggest player out there but makes up for it with high-end work ethic and skating. Comparable: Matt Duchene
Height doesn't measure heart
Travis Konecny is not your typical small, skilled forward.
The Ottawa 67's centre is a dangerous offensive threat — blending blazing speed with great hands and a wicked wrist shot. But it's what else he brings to the table that makes him such an intriguing prospect.
Simply put, Konecny is a pain to play against. He's a fearless competitor with a tireless work ethic and he's more than willing to throw his weight around — rare qualities for a player of his skillset.
"He's a highly skilled forward who never quits," said Chris Edwards of NHL Central Scouting. "He skates very well, has excellent speed, is not afraid to get involved in battles and has no fear of taking the puck to the net."
Konecny didn't take the step forward offensively that many had expected this season, but he still finished with 29 goals and 68 points in 60 games, along with another 10 points in five playoff games.
Coaches love him
Konecny was named captain of the 67's prior to the 2014-15 season, becoming the youngest captain in the league.
But it wasn't the first time he was thrusted into a leadership role. Konecny also captained Canada at the 2014 Ivan Hlinka Memorial Tournament and Ontario at the 2014 World Under-17 Hockey Challenge.
Outside of the letter on his sweater, Konecny was recognized this year when he was voted the Eastern Conference's best skater and second best stickhandler in the annual OHL coaches poll. He was also named the East's second hardest-working player in 2013-14.
Top pick to top rookie
The 67's made Konecny the face of their franchise when they selected him with the first pick in the 2013 OHL Priority Selection. He was chosen ahead of fellow top NHL draft prospects Dylan Strome (No. 2), Lawson Crouse (No. 5) and Mitch Marner (No. 19).
The selection paid immediate dividends for the 67's, as Konecny led all first-year players in 2013-14 with 70 (26-44) points to take home OHL rookie of the year honours.
He put the league on notice with ridiculous goals like this: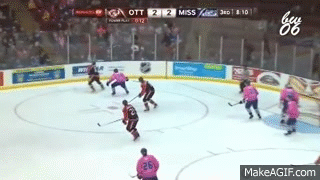 Riding the rankings rollercoaster
After a strong first season, Konecny entered 2014-15 as a potential top-10 pick for the NHL draft. But after a slow start, the Clachan, Ont., native fell all the way to 26th among North American skaters in NHL Central Scouting's midterm rankings.
Konecny turned it on in the second half of the season, including an MVP performance at the CHL/NHL Top Prospects Game. Central Scouting took notice, moving him to 14th on their final rankings list. Only Everett Silvertips defenceman Noah Juulsen made a bigger jump among the top-30 North American skaters.
The more you know…
Konecny is second cousins with Vancouver Canucks centre Bo Horvat.