BROSSARD, Que.— The whistle blows and Victor Mete pivots backwards, collects the puck, turns 180 degrees on a dime and fires a cross-ice bank pass off the boards to Max Pacioretty to start a 3-on-2 rush drill. In another sequence, he straddles the blue line at full speed, playing pitch and catch with his defence partner before taking a one-timer, and then he sneaks down into the crease and finishes off another pass—this one into the opposing corner of Michael McNiven's net.
On breakout drills, Mete's motoring, his skates crossing over frenetically as he transitions the puck efficiently to the forwards. On break-ins, when the puck's coming towards him, he's well-positioned to defend the rush, punching his stick into the passing lanes, his head swivelling to ensure he's marked his opponents.
Two days into Montreal Canadiens camp, the 19-year-old defenceman from Woodbridge, Ont., who has shown considerable improvement in each of his three seasons with the OHL's London Knights, is offering everyone in attendance a glimpse of why he's become one of the team's most intriguing prospects. He has an NHL skating stride, makes confident decisions with the puck, and he hasn't looked remotely out of place on a pairing with superstar Shea Weber.
[relatedlinks]
It's not a stretch to say that there isn't another defenceman in attendance at this camp that fits Mete's profile, and therein lies the rub. While this kid may very well prove over the next three weeks that he's prepared to be an NHL-calibre player, the chances that he's prepared to log over 20 minutes a night, play in all situations and play against the best opposing forwards on every shift—as he'd have to do as Weber's partner—are astronomical.
"It's really good to play with him for the reason of being able to compete against top guys on other teams and see how I can do against them," said Mete after Saturday's workout.
But no simulation—not an intra-squad scrimmage like the Canadiens will have on Sunday, or an exhibition game like they'll have on Monday—will give Mete a true sense of what that challenge will resemble when the puck drops on the regular season and the games begin to matter. And while Canadiens coach Claude Julien said after the team's first on-ice session Friday that you always want to evaluate a player by putting him in a position where you can best evaluate him, it seems apparent that part of the reason Mete's stationed where he currently is has to do with the fact that his skills fit well (probably better than anyone else's) with what Weber brings to the table.
"Ideally, if you had a player who's a puck carrier, that's always nice to pair with a guy like Shea, who's capable of moving the puck well and is capable of being so reliable that his partner won't be scared to start the rush because he knows Shea is there," said Julien.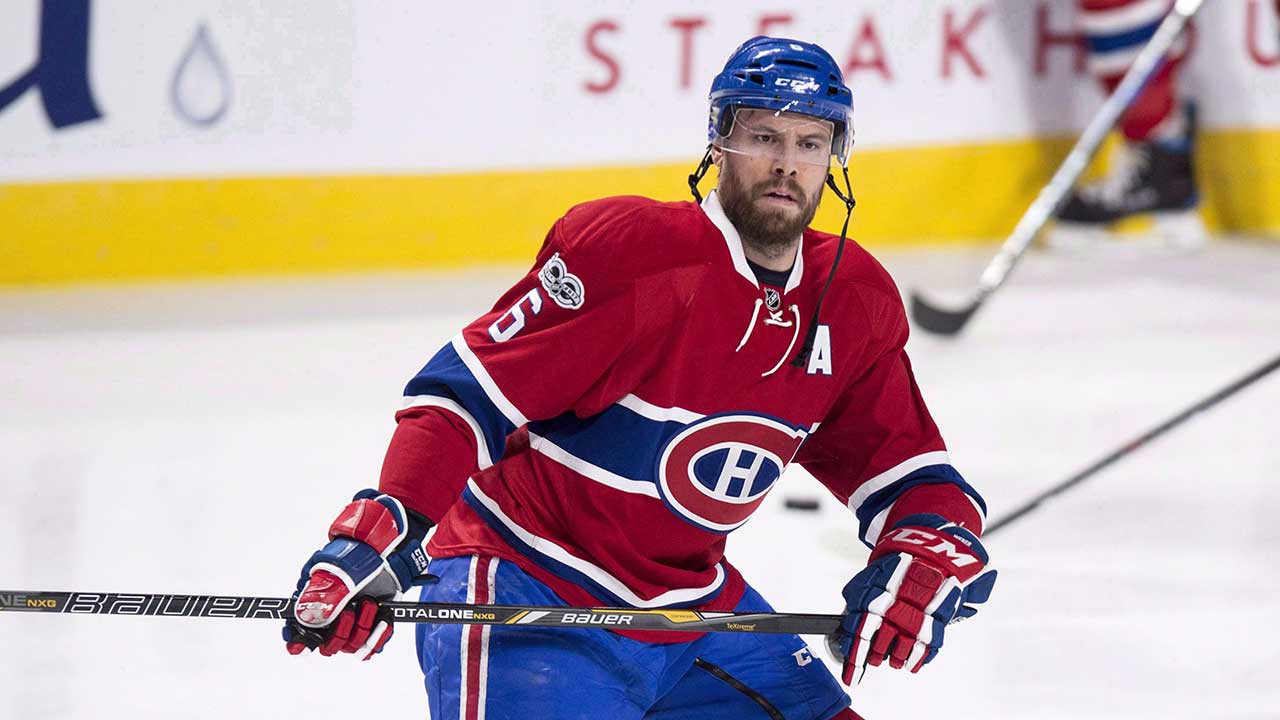 You look at David Schlemko, who the Canadiens acquired from the Vegas Golden Knights, and it's hard to say he fits that description—even if his advanced statistics suggest he's a reliable puck mover. Ditto for Karl Alzner, who signed as a free agent and will likely serve as a defensive anchor for the more offensive Jeff Petry.
Joe Morrow was signed to be a depth puck mover and is currently practising alongside Brandon Davidson. Both of them appear to be on the fringe of the roster.
Eric Gelinas is on a tryout and is currently paired up with Zach Redmond, who spent the majority of last season as a member of Montreal's AHL affiliate. And Jakub Jerabek, a prolific offensive defenceman who signed out of the KHL this summer, has also been paired with an AHL regular in Brett Lernout.
And while Mark Streit was signed to show he can still be a valuable contributor at this level, it would be inconceivable that his 39-year-old body could handle the rigours of being a top-pairing defenceman on a nightly basis. That's probably why he's started camp on what most have presumed would be the team's third pairing, alongside Jordie Benn.
"We want to see different players play with [Weber] and we'll go with the best combination," said Julien.
When Weber was asked on Saturday who the ideal fit would be, he smirked and said, "Bobby Orr."
[snippet ID=3322139]
Picking arguably the greatest defenceman to ever play the game is obviously a comment made in jest, but in picking Orr, who was known for his explosive skating and his elite and unique decision-making ability, Weber reveals that he's well aware of what made his previous partnership with Nashville's Roman Josi such a success.
He can see how Mete could be a fit.
"He's good," said Weber. "I didn't realize how young he was. He's really good with the puck, he's mobile, and at that age it's pretty good. I thought he was older than he was. For him to be that young, he should have a good career ahead of him."
Perhaps it'll start sooner than anyone expected.
But if Mete isn't ready for all that comes with playing as Weber's partner, it seems clear the Canadiens are going to have to find someone with a similar profile who can handle that duty. And even though they have $8.4 million available to spend under the salary cap, they have no guarantees such a player will be available anytime soon.