The NHL-less Olympics means plenty of potential for underdog stories and tales of redemption at the rink from some familiar faces of NHL games past. It also means we'll be getting a small glimpse of the future, too.
It's not often we get to see hockey players suit up on the Olympic stage before hitting NHL ice, but that's the case for a handful of NHL prospects this month. Here are some notable recent draft picks to keep an eye on in South Korea, and why their NHL fanbases should be excited about their impending arrival in the pros.
Jordan Greenway, LW, Team USA
NHL team: Minnesota Wild
Drafted: Second round, No. 50 overall (2015)
Current team: Boston University
Age: 20 (he'll turn 21 during the Olympics)
Hometown: Canton, N.Y. 
Height: 6-foot-6
Weight: 227 lbs


Minnesota Wild fans should be excited about the arrival of Jordan Greenway. The big power forward is about as NHL-ready as a prospect can get, but opted to stay at BU for one more year to further hone his skills and ensure a seamless transition into the NHL — which could happen as early as this spring, depending on where the Wild stand in the playoff race once his NCAA season is over.


He has nine goals and 16 assists through 28 games with Boston University so far this year, and has shown significant progress over the course of his college hockey career. 


"He's starting to learn what his strengths really are," Wild director of player development Brad Bombardir told NHL.com back in August. "Taking pucks to the net. Forcing himself to the front of the net. Living in the blue paint as much as he can. Those are his strengths. He would do that maybe once in a while a couple years ago. Now he's really starting to realize that that's where his game lies, and he has to play that way night in and night out."


When he hits the ice in Pyeongchang, Greenway will also skate into the history books as the first African American to represent USA Hockey at the Olympic Games. 




Greenway has previously helped USA Hockey win three junior hockey gold medals, with his best international performance coming (so far) in the 2017 world juniors where he ranked third in team scoring with three goals and five assists in seven games while helping Team USA claim gold.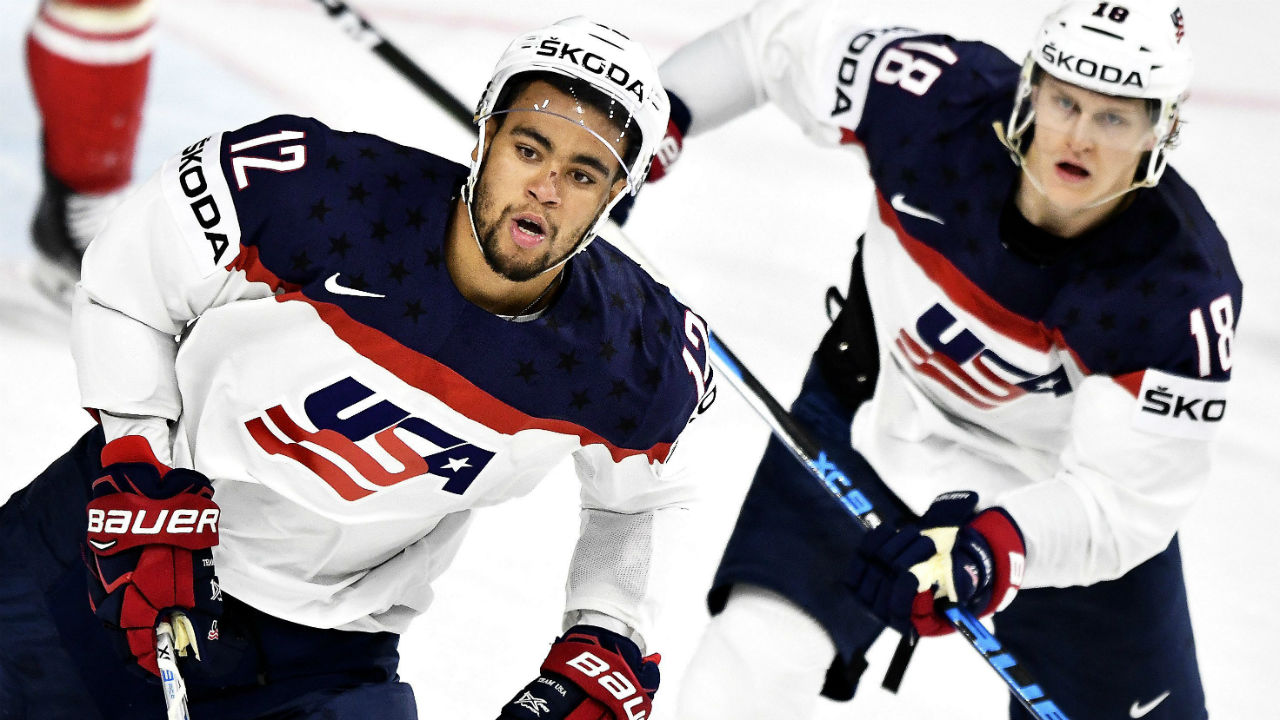 Troy Terry, C, Team USA
NHL team: Anaheim Ducks
Drafted: Fifth round, No. 148 overall (2015)
Current team: University of Denver
Age: 20
Hometown: Highlands Ranch, CO
Height: 6-foot-1
Weight: 174 lbs


Remember T.J. Oshie's incredible shootout feat during the 2014 Olympic Games in Sochi? Don't be surprised if Troy Terry carries that torch to the rink for Team USA this year. As many hockey fans will recall, Terry showed off his shootout prowess during the 2017 world juniors when he boldly went five-hole not once, not twice, but three times against Russia to propel the Americans to the gold medal matchup vs. Canada, which they won thanks to — you guessed it — another five-hole shootout goal from Terry. (He wrote about the tournament in a great piece for The Players' Tribune last spring.)
The shifty forward was a surprise inclusion on the 2017 WJC team, one year after he played third- and fourth-line minutes on a deep U.S. National Team Development Program roster that included Auston Matthews, Colin White and Matthew Tkachuk. But his spot on the NHL-less Olympic roster is no surprise this time around.  
Terry had an incredible 22 goals and 23 assists for 45 points in 35 NCAA games with the Pioneers last season while helping his hometown team to a national championship. So far he's followed that up with 11 goals and 32 points in 28 NCAA games this year, and he'll no doubt be a favourite to watch in Pyeongchang. 


Ryan Donato, C, Team USA
NHL team: Boston Bruins
Drafted: Second round, No. 56 overall (2014)
Current team: Harvard University
Age: 21
Hometown: Scituate, MA
Height: 6-foot
Weight: 181 lbs


Boston hockey is in Ryan Donato's blood. Harvard's leading scorer has been following in the footsteps of his father, former Bruin Ted Donato, since being drafted in the second round by his hometown NHL team. 


Now, the father-son duo will soon have another hockey honour in common: representing the United States at the Olympic Games. The senior Donato, who currently coaches his son at Harvard, suited up in stars and stripes at the 1992 Olympic tournament in Albertville, France, placing fourth. 


Bruins general manager Don Sweeney said during last summer's development camp that he believes Boston's 2014 second-rounder is "awfully close" to jumping into the pros, and Donato hasn't given him a single reason to doubt his words. 


Donato has been simply unstoppable this season, his third at Harvard, beginning with a career-high 12-game point streak. He closed out the calendar year by being named the National Division I Player of the Month for December — no surprise, considering he's got an NCAA-best 21 goals and 31 points through 23 games. 


Will Borgen, D, Team USA
NHL team: Buffalo Sabres
Drafted: Fourth round, No. 92 overall (2015)
Current team: St. Cloud State University
Age: 21
Hometown: Moorhead, MN
Height: 6-foot-2
Weight: 187 lbs


While he certainly knows how to jump into the play with a good wrister (see the tweet, below), defenceman Will Borgen isn't known for his offensive prowess — and that's just fine with Team USA. Borgen is at his best when he's playing a physical game to shut down opponents and is able to use his speed to generate plays from his own zone. 

WATCH: St. Cloud State D Will Borgen jumps into the play and slings a wrister home for his second goal of the season #Sabres pic.twitter.com/X7zPUryKpR

— Kris Baker (@SabresProspects) January 29, 2017
Rasmus Dahlin, D, Team Sweden
NHL team: Stay tuned this June
Drafted: Projected No. 1 overall pick
Current team: Frölunda HC (SHL)
Age: 17
Hometown: Trollhattan, Sweden
Height: 6-foot-2
Weight: 183 lbs
Hockey fans were lucky enough to see Rasmus Dahlin dazzle during the world juniors over the holidays, and we don't have to wait much longer to see the dynamic defenceman at work on an even bigger international stage doing things like this:
The consensus No. 1 overall pick can make something out of just about every kind of play, with stellar passing skills and excellent vision that has earned him comparisons to fellow Swedes like Erik Karlsson and Nicklas Lidstrom.
It's extremely rare to get a look at a top prospect on the Olympic stage before the NHL Draft, but then again, Dahlin is a special talent.
Miro Heiskanen, D, Team Finland
NHL Team: Dallas Stars
Drafted: First round, No. 3 overall (2017)
Current team: HIFK (Liiga)
Age: 18
Hometown:  Espoo, FIN
Height: 6-foot
Weight: 170 lbs
Miro Heiskanen earned himself a reputation as the top defenceman in last June's draft, and so far he's living up to the hype that comes with being the No. 3 overall pick.
Another testament to Finland's growing status as an elite defenceman factory, Heiskanen is a smooth-skating, two-way rearguard with a long NHL career ahead of him. His panic-free game makes him a smart Olympic selection, even at such a young age.
The confident puck mover has dealt with injuries for much of the 2017-18 season, but ranks second in points per game among all Finnish League defencemen (11 goals, eight assists) and didn't miss a beat upon returning from his latest upper-body, injury-induced absence.
You don't need to speak Finnish to appreciate this gorgeous goal:
Eeli Tolvanen, LW, Team Finland
NHL team: Nashville Predators
Drafted: First round, No. 30 overall (2017)
Current team: Jokerit (KHL)
Age: 18
Hometown: Vihti, Finland
Height: 5-foot-10
Weight: 181 lbs
Tolvanen fell in last June's draft due to some uncertainty about his near future (he was reportedly supposed to attend Boston College), which is how the Predators picked him up at No. 30.
Playing against grown men, some of whom are twice his age, won't phase this young Finn; the left winger has been doing just that all season with Jokerit of the KHL — and excelling. In fact, with 17 goals and 34 points through 47 games this season, he's the best 18-year-old the league has ever seen. Those numbers also rank him second in team scoring and third among his fellow Finns in the entire league.
His elusiveness with the puck, NHL-calibre shot (complete with a deadly release) makes Tolvanen a serious goal-scoring threat every time he's on the ice. In other words, Predators fans are in for a treat.
Ilya Sorokin, G, Olympic Athletes from Russia
NHL team: New York Islanders
Drafted: Third round, No. 78 overall (2014)
Current team: CSKA Moscow (KHL)
Age: 22
Hometown: Mezhdurechensk, Russia
Height: 6-foot-2
Weight: 176 lbs
Islanders fans worried about the state of their crease will be interested to see how Ilya Sorokin fares at the Olympic Games. Named the KHL's goalie of the month for December, Sorokin currently has a 1.58 goals-against average and .930 save percentage through 36 games with CSKA Moscow.
It's unclear, however, if he'll be Brooklyn-bound anytime soon, as the Russian is under contract with the KHL through 2020.
Igor Shestyorkin, G, Olympic Athletes from Russia
NHL team: New York Rangers
Drafted: Fourth round, No. 118 overall (2014)
Current team: SKA St. Petersburg (KHL)
Age: 22
Hometown: Moscow, Russia
Height: 6-foot-1
Weight: 183 lbs
Another Russian goalie, another New York prospect — this time, with the Rangers. The Henrik Lundqvist comparisons are aplenty, and rightly so — Igor Shestyorkin is fun to watch, thrives in one of the KHL's biggest markets and shows off his impressive athleticism with gorgeous glove saves. Plus, we already know he looks good in a blue shirt:
Shestyorkin has a 1.77 goals-against average and .930 save percentage through 27 games in the KHL this year. Like his Russian crease counterpart Sorokin, he's also still under contract with the KHL for at least one more season so his arrival on the NHL stage remains up in the air for now.