Kerry Bubolz sits in a fine suit without a tie at a hip restaurant, the Beer Haus, in Las Vegas' trendy new pedestrian mall, The Park – sitting equidistant from the iconic New York-New York and Monte Carlo hotels. It's a mild mid-January day and the sparkling T-Mobile Arena is in his sights behind a tray of Belgian fries and pretzels with beer cheese dip.
He goes unrecognized, but that's likely to change as the Vegas Golden Knights ramp up operations on their inaugural season. Bubolz is the team's president.
The newest NHL franchise operates more like a start-up business for now, according to vice president of communications and content Eric Tosi – who spent the last 10 seasons with the Boston Bruins – but that hasn't held back Bubolz, Tosi, and the rest of the skeleton staff from taking on the challenges of running an NHL team without, well, a team.
Bubolz spent a few minutes with Sportsnet.ca to chat about the whirlwind start to his role, what it was like winning an NBA Championship with the Cleveland Cavaliers, and what his expectations are for the season ahead.
What's been the coolest part of being involved with the Vegas Golden Knights so far?
The number of hockey fans and just how excited people are. Sometimes (you) take that for granted. I always tried to not take it for granted (working for the Cavs), but I think it's natural that you do. When you get out there and talk to people and they find out what you do – "I work for the NHL team," "I just came from the Cavs" – there is incredible excitement and enthusiasm and energy.
There's a lot of excitement right now for ice hockey in the middle of the desert I guess?
This is an exciting opportunity. It's brand new. There's a lot of excitement around that, but there's a lot of responsibility as well. I really want our business team to embrace that and feel comfortable with that expectation that goes along with that. There's been 16 years since there has been an expansion team in professional sports, so it's a pretty exciting responsibility.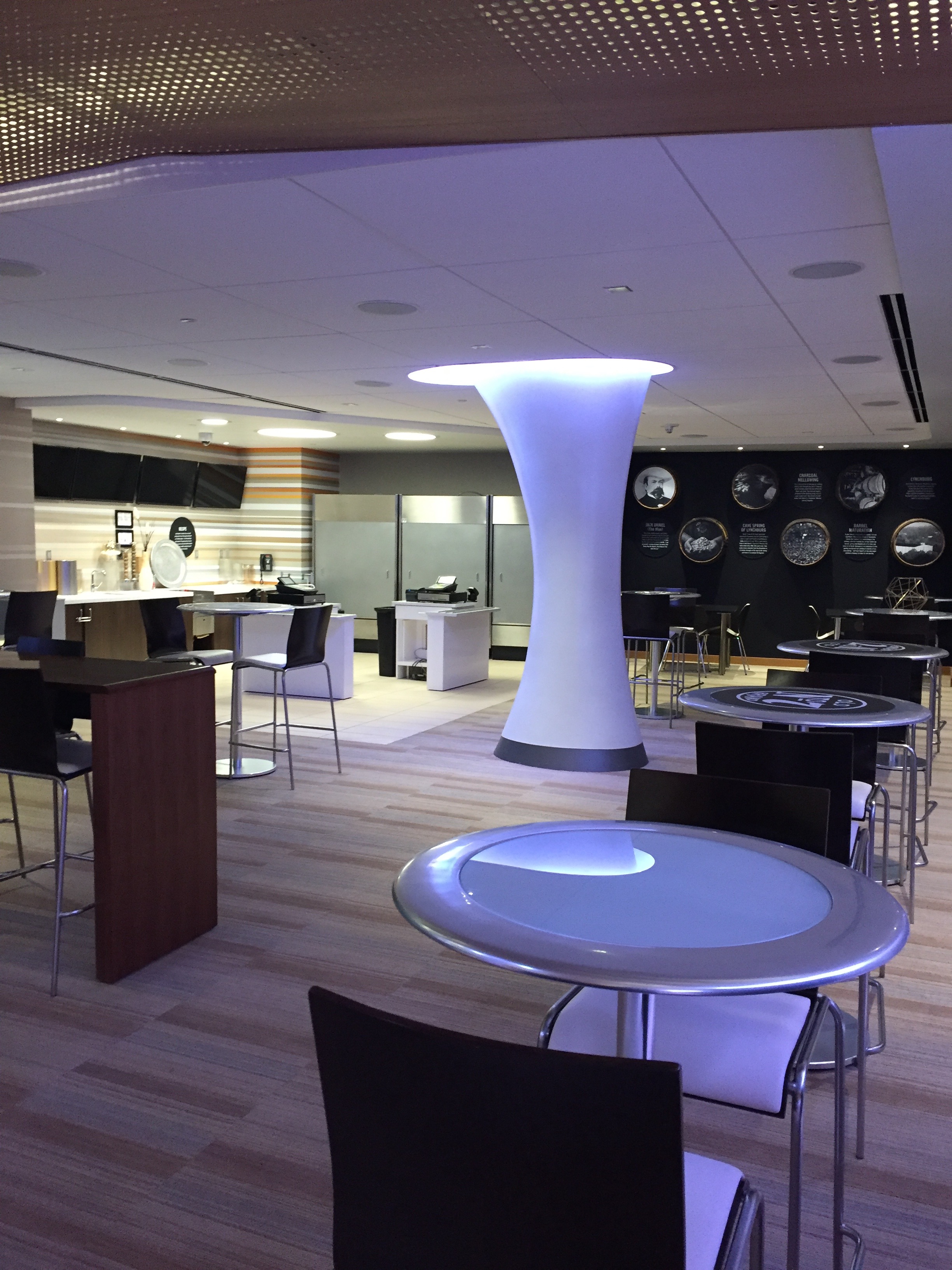 It's not the 'Las Vegas' Golden Knights – why is that?
A lot of that process had already been completed before I got here, but one of the first things I remember saying was that I liked it because it was shorter. That was something I understood before I got to the market, and I realized, yeah, I referred it to as Vegas quite often, I don't say "Las Vegas." I remember at first, gosh, we'd be the Las Vegas Golden Knights. Off the top of my head I can't think of one other name that's four words. If you're in the market, you see it. People here refer to it as Vegas. It's really a brand unto itself. It makes the team feel more national, and international.
Vegas is arguable the biggest tourist destination in the world – how are you going to get locals to feel like this is their team?
I know based on the people who have bought the tickets that if you were to ask me what the make-up of our crowd demographic is, it's going to be 85-90 per cent local. They may be transient-local (as in, they moved to Las Vegas now from another town). We are setting aside some of our ticket inventory for that convention or leisure traveller, but the vast majority of our inventory is going to be sold locally. The local who happens to be from another market, maybe their hometown is Philadelphia or Boston or Chicago… we're going to be embracing the fact that they may be fans of another team. But we're going to encourage them to join our team as well. You can only play those other teams once a year.
Is there extra pressure to have quick success to help grow awareness of the team?
I don't know if there's extra pressure other than the pressure our hockey group has put on themselves from a success perspective.
There are so few people actually from Las Vegas who are still there, is it going to be a hurdle to get over the 'new-kid-in-town' scenario?
Early on in our franchise, embracing that isn't a bad thing. But it doesn't mean that we're not going to try to create our own home-ice advantage. The person from Philadelphia may have kids who were born here, and we want the Golden Knights to be their hometown team. I think it's easier to teach someone to be a fan of your team than to teach him or her a game. The fact that there's so much knowledge about the NHL gives us a terrific advantage.
The Park and the area are a pretty unbelievable as well.
There are such great resources in terms of technology and how it's configured… all of that gives us a terrific opportunity to give us a home-ice advantage and a great fan experience.
You spent more than a decade with Cleveland in the NBA. How unbelievable was the atmosphere there when they won the championship last year? Where did you watch the final game?
There's a place inside the Quicken Loans Arena that we called The Arena Club, which was basically a hospitality space in the arena. We had all of our business team and guests there to watch the game. Most of the playoff games were sold out, but we watched it from inside the club and it was just an unbelievable experience. It was a blast. And to do it with the people you work with was great. It was a little different experience (laughs).
But you're no stranger to hockey, having worked in Dallas and Carolina. How have you noticed the game has changed since you were last involved?
I think about it more from the business perspective. I appreciate what the league has done with some of the young stars coming up in the league right now and paying more attention to that part of it. Before I'd watch the games but didn't see how they were marketed. It's noticeable for me, the visibility of some of these other players – Sidney Crosby, (Connor) McDavid, (Auston Matthews), (Jack) Eichel in Buffalo – I see more visibility of the younger stars, which is a great thing.
Can you expand a little bit on what you're looking for in a head coach?
I'm not focused on that at all, but in the few conversations I've had with George McPhee (general manager) we want to hire the best coach available. We want to make sure that the full breadth of coaching candidates out there and we have the best opportunity. They want to find the best coach, and they're going through that process. They're focused on it.
And players. You don't have a team yet, so things are going to be happening pretty fast when you get some players especially from a marketing standpoint?
We're going to be very team-oriented in how we position the brand. Even coming from where I came from, with the most high-profile athlete in the NBA and then three of the top-20 in the league, we were still very focused on 'team' in terms of how we positioned our players. The media is already going to position LeBron, Kyrie, and Kevin as the 'Big 3' or whatever, but it was our job to position the entire organization. At the end of the day those three couldn't do everything.
Does anyone recognize you on the street yet?
When we start having more games and events I'm going to be very visual with our stakeholders, our season-ticket holders, premium buyers and sponsors, so I'm certainly going to see and recognize faces out there, but to me that would be a mutual recognition but not because of my role here (laughs).
This interview has been edited and condensed for clarity.