Darcy Tucker, who stood five-foot-10 and weighed less than 180 pounds during his playing days, not only survived but thrived courageously in an era when size and toughness in the NHL meant almost as much as speed and skill.
So it's fitting then that the former Toronto Maple Leafs fan favourite is among the NHL alumni in Swift Current, Sask., celebrating the 19th annual Scotiabank Hockey Day in Canada where courage is the theme.
Tucker is there with Lanny McDonald, Wendel Clark, Sheldon Kennedy, Bryan Trottier, Cassie Campbell-Pascall, plus the Stanley Cup itself, with many more hockey personalities set to make appearances on Saturday, including Don Cherry and Ron MacLean.
Sportsnet recently caught up with Tucker, who has been involved in every Hockey Day since 2013, to chat about the 2019 event, what courage in hockey can look like, the current edition of the Maple Leafs, his "crazy eyes" and rivalry with ex-Ottawa Senators enforcer Chris Neil, his most underrated former teammate, favourite modern players to watch and more.
Celebrating heroes of the game, Sportsnet and Scotiabank unite to bring a 4-day hockey festival to Swift Current, Sask., and a 12-hour national NHL broadcast to Canadian fans coast-to-coast on Feb. 9.
What's the most rewarding part of Hockey Day and this entire week?
The amount of times we get to see the kids and the smiles on their faces, for me. I remember being a kid and getting the opportunity to meet Lanny for the very first time and that changed the outlook of how I felt, not only about the game of hockey, but you could reach out and touch somebody that had played the game at the highest level. So, it wasn't like a dream for me anymore. It was actually a reality, and to get the opportunity to do that for kids now is very very special.
You probably meet a lot of kids that weren't even alive to have seen you play.
It's interesting, the way the world is now with social media, the opportunity to look back at players that played before us. For myself it was in the moment. For these young kids now, you can look back on former players and the people their parents talk about and who daddy watched as a kid. Getting to meet us and see who their father's hockey hero was is pretty special because when I look back on it my dad was a huge Bryan Trottier fan. They're relatively the same age but he enjoyed the way Bryan played and Bryan's out with us out here. I've relayed that to Bryan numerous times. It's interesting to see how these young kids interact and react to us because a lot of them leave and go: "I gotta get to a computer to see exactly what this guy was all about."
I did a little glance at the weather forecast and I hope you brought a scarf. It's staying around minus-20 where you are. What's the coldest weather you've ever played in?
Well I'm from Alberta, so need I say more? [laughs] No, there's something special about Western Canada and the fact you get the chance to skate on frozen lakes and ponds and things of that nature. People where I grew up we skated on little sloughs and things of that nature that has little amounts of water in it. We found a way to shovel them off and make an ice rink and whether it was with our boots on or our skates we'd have a hockey game. Seemed like everybody from the community would show up and be involved. That's what I find when you get the opportunity to come to a place like Swift Current for Scotiabank Hockey Day in Canada. It's that small-town feel. Everybody's here.
I'm talking to Travis Moen [earlier this week], we're doing the clinic together and he knows all the kids' names because he's from this area and that's just an amazing opportunity for these kids to have and to meet Lanny McDonald and Wendel Clark and others.
from @City_SC!

We're at École Centennial with former @AnaheimDucks forward Travis Moen, who surprised the kids with a visit from the #StanleyCup! #HockeyDay pic.twitter.com/7HEvqJceTB

— Sportsnet (@Sportsnet) February 7, 2019
You mentioned growing up out West and the theme for this year's Hockey Day is courage. You played in the WHL in the early 90s. It was the wild West. Literally. What was it like playing in that era in "The Dub" when it was common for guys to have triple-digit PIMs. Some kids in the NHL today have never experienced that type of hockey.
My dad taught me the game based on what he was like as a player and he said you have to play in the tough areas of the ice if you're going to be a goal scorer to help your team win games. I don't think courage is something about being able to survive playing the WHL. I think courage is the fact you leave home as a 15-year-old boy and you have the courage to make an attempt and give everything you have to try to live your dream. That was me as a kid. If I was ever going to make it I had to leave home. That's more what I'd call courage than having to fight my way through the WHL my first couple years.
And the game changing—I think it's changed so much for the better. You look at the skill and talent level. Fans want to see people with the puck. They don't like to see the physical part of it the same way some older prognosticators like to see it. I like to see guys with the puck and skating at top speed and being able to do the things they do.
Sticking with the topic of courage, what are some examples that stick out in your mind of teammates being courageous either on the ice or off?
I played with my brother-in-law, Shayne Corson. He struggled with anxiety and panic attacks and it takes a lot of courage to go through that and talk about it and say that you're having problems like that. For Shayne to come and bring that to the forefront later in his career was a courageous thing. I just believe that you run across teammates and people you played against that are just courageous human beings. Not because they've done anything super courageous. Just the way they live their life and treat people.
Were they any guys you butted heads with during your career that you became tight with later in life?
Well, last year I was at a Scotiabank event in Corner Brook, N.L. Chris Neil, who I obviously had The Battles of Ontario with, was there and to get the opportunity to just…I never got to know him as a person and to have that opportunity to sit with him in a locker room. We played together on the same line at the alumni game and then we did the clinics together.
Chris and I would be passing pucks to young kids and laughing and joking and it's amazing how hockey transcends through generations of guys that have battled hard against each other and can go and have a laugh and put their best foot forward to help young kids achieve their goals and dreams. That's what's important to Chris and important to myself as well. We have a good laugh about some of the things that happened throughout our careers for sure.
You and Chris both had intimidating stares, especially when you were standing up for a teammate. Where do your "crazy eyes" rank among the hockey greats?
Well, I got them from my mother [laughs]. It's just the trait that seems to be in my family. It's fortunate that I still have both my parents today and I definitely get that part from my mother. And you talk about courage. That woman has the most courage you could find in one human.
Why is that?
She's always been that way. She beat pancreatic cancer five years ago and she's going strong now. She's a tough cookie. I remember growing up as a kid I used to skate with my brother and I'd be deking him out and stickhandling between his legs and she'd get sick of it and put her skates on and tune me up pretty good just to make sure I knew she was boss. It's just the way we were. You never got away with anything around her. You always had to be on your toes and do the right things because she was a very detailed sort of lady. Most of my characteristics come from my mom.
Switching gears a bit, I had the opportunity to sit down with your old pal Mats Sundin last year and we chatted about the Leafs teams you guys were on together and the deep playoff runs. What are your fondest memories from that time of your career?
I think just the players. We had some outstanding hockey teams. The characters we had on our team. If you ask anybody, that was probably the most character-filled group of players ever assembled when you look at the names. With characters and character players comes the opportunity to get hurt and we battled through a lot of playoff series. We were a little bit long in the tooth and guys got injured and we just couldn't finish the job. But at the end of the day I look back at it with fond memories. [Playing with those guys] kind of shaped and formed who I became in retirement more so than anything.
When you're young and going through the battles you don't really understand what life after hockey is going to be like, but guys like Shayne Corson, Gary Roberts, Joe Nieuwendyk, Mats Sundin, Tie Domi, Bryan McCabe, these are the sorts of guys that sort of moulded what I became as a player post-career. Just to respect the game and love the game and give back to the game.
I always like asking former players which of their teammates they felt were most underrated. Mats said Alexander Mogilny. I can't believe he's not in the Hall of Fame yet but he might get there soon. What was he like as a teammate and then who was another former teammate of yours that doesn't get the level of respect they deserve?
The two most underrated, most skilled guys I ever played with was Alex Mogilny and Tomas Kaberle. They both probably didn't get the accolades they deserved, they both won Stanley Cups (Mogilny with New Jersey, Kaberle with Boston), both were outstanding skilled hockey players. If they played in today's game they would be looked upon as amazing skilled athletes that do so much on the ice, but they played in an era where they were overshadowed by guys that were power wingers or big rugged defencemen.
Love the Kaberle shout-out. I'll take a Tomas Kaberle outlet pass over a Bobby Orr end-to-end rush any day of the week.
I still skate with him on Thursday mornings and he can still make that outlet pass.
Really? That's awesome. Do his cheeks still change colour like five minutes after stepping onto the ice?
They would if it was as cold as it is here [laughs].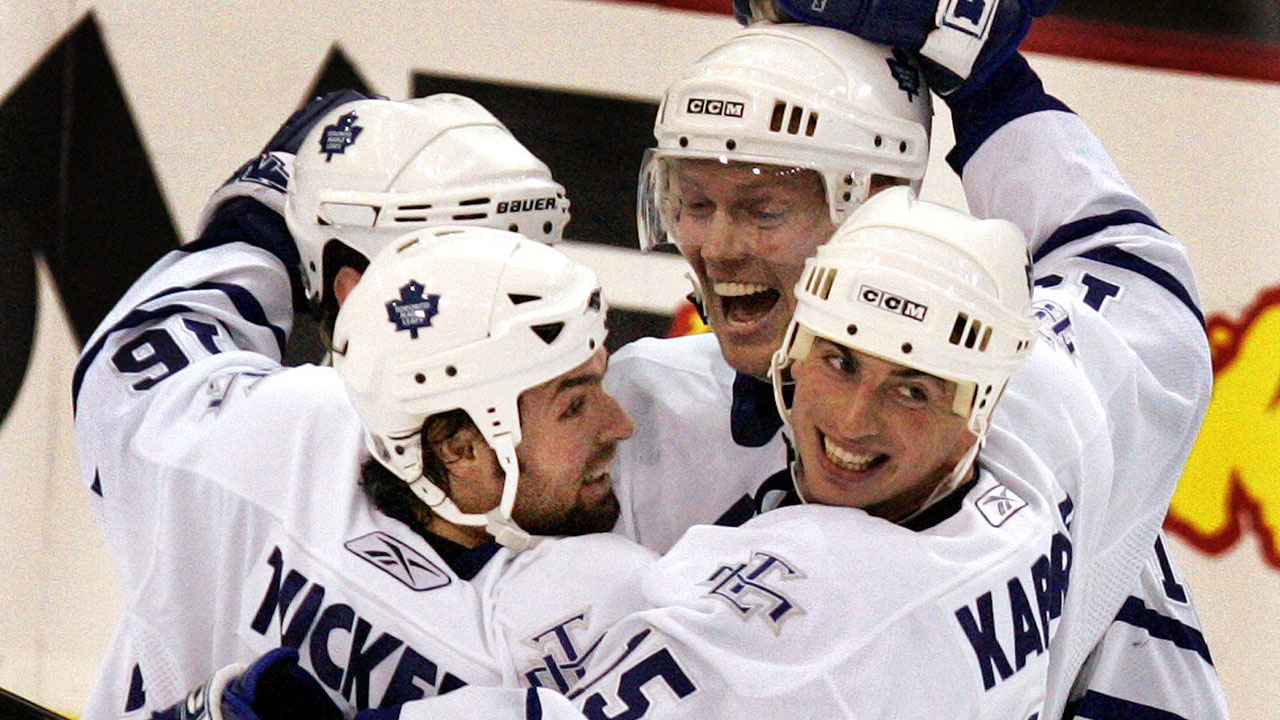 Leafs vs. Habs is one of the featured games this year on Hockey Day, so I'm curious to get your take on the rivalry since you've experienced it from both sides. Which building, which city has the more hostel or electric atmosphere?
Well Toronto fans might not want to hear this but it's a difficult place to play in Montreal in that building. They have an atmosphere there that is crazy. I've played there in the playoffs for the Canadiens so I know what it's like. I know what it's like to play in the playoffs in Toronto as well and I think we can get there with this team that we have right now. I think Scotiabank Arena goes off the charts during playoff time. Fans come and put their jerseys on and make it very loud in there because we're looking for this place to explode come playoff time and I can kind of get that feeling that the stars are aligning, everything seems to be moving in the right direction. I want to be there in Scotiabank Arena when we blow the roof off that place because it's so loud.
The stars are aligning and the Leafs stars are signing as well. They nearly shut down parts of the city when they took the subway to an outdoor practice. Having experienced winning playoff series here, what do you think the city would be like if the Leafs can actually win it all with in the next five, six years when they have Tavares, Matthews, Marner, Nylander all under the cap?
I think they'll have to sleep at Scotiabank Arena that night because I remember we won a series against Ottawa and it took me two-and-a-half hours to get [a few blocks from the arena], so I can't imagine if they actually won the Stanley Cup because there'd be nobody leaving there. Nobody would leave the building. It would be utter chaos.
And you want to be in the building if it happens?
I enjoy chaos so I'm fine with that.
I saw you did Ice Surfing the other day, so you keep up to date on everything around the league. Who are your favourite players to watch today and why them?
It's tough for me because I look at players as a totality so I want a player if he's going to be my No. 1 centreman I want him to play at both ends of the ice, on the power play, on the penalty kill, take faceoffs in the last minute of the game whether in his own zone or offensive zone and Jonathan Toews is just that guy. I've thoroughly enjoyed over the course of his career watching his maturity and how he's grown into a three-time Stanley Cup champion, how he's handled himself as a professional. You have a kid and you say, "Hey listen, you can be one player in the NHL," for me that's the guy you want to be.
And then the new era of the game Auston Matthews for me is just an amazing athlete and player. He's such a humble human being. He's a teammate of ours at Scotiabank and to have him and signed now in Toronto, that's the next guy I would look at to fill that role or move into that role as a two-way guy and be your No. 1 centreman.
If you had a time machine and could be on a line with two current NHLers, who are your linemates?
Well Toews and [Patrick] Kane because it would probably mean I'd have a Stanley Cup [laughs]. Those guys have three. The one thing that's missing from my career was not getting my hands on the Cup.
Are there any current players that remind you of you? Who would you be compared to if you were in today's NHL?
That's a tough question. I really had to change my game. I spent a year in the American Hockey League (where he won rookie of the year), playing in the National Hockey League, if I looked at my career coming out of junior I probably would have been in the Doug Gilmour sort of category but I maybe wasn't able to get to that level because I had to change my game so much just to survive to get in the NHL. I changed it so much I was never able to get to what I was when I was a junior. So, I don't really know if there is a guy in the National Hockey League right now that played my style of game, or as close to that.
Brad Marchand is a higher-calibre player, better skater than I was, maybe I was a little tougher I'd like to think than that in the aspect of the physicality part of it, but similar characteristics I would have to guess.
Did you see last year when he licked that guy's face?
Yeah, I was saying similar characteristics, not exact characteristics [laughs].
One last one for you. Looking at the standings right now, if you had to put your money on one team to hoist the Cup this year, who would it be?
Well, obviously I'm a Leafs fan and continue to be a Toronto Maple Leaf so I'm going to put all eggs in one basket and say the Leafs. But at the end of the day there's many great teams out there and the National Hockey League is what it is and you have to win four rounds of the playoffs and that's not an easy task. That's what makes hockey so good. You start the playoffs, you got 16 teams and let's get after it and see who's left standing at the end of the day.