Thursday marks an important day for Jujhar Khaira. That's when Edmonton Oilers training camp begins and the prospect officially commences his fight for a full-time job with the club.
The B.C. native has played 25 games for the NHL team over the past two seasons, but spent the majority of that period with the AHL's Bakersfield Condors.
The promising Oilers — coming off a successful campaign that ended a long playoff drought — are loaded with talent, so it won't be an easy path for the 23-year-old Khaira to accomplish his goal. Of course, traversing difficult routes is nothing new for the physical left-winger.
When Khaira made his debut in November, 2015, he became only the third player of Indian descent to ever play in the NHL, joining Manny Malhotra and Robin Bawa. It's a feat that already has Khaira etched in the record books, but he wants to be known for more than just that.
We caught up with Khaira over the phone to chat about his goals, off-season work, support system and much more.
SN: What do you hope to accomplish or prove during training camp this month?
Khaira: During training camp I want to prove that I deserve a spot on the team. Not just a spot on the team, but a spot as a guy who's going to play regular minutes and get in almost every game.
I'm going to go there and try to make the team. I'm going in there and I'm not taking anything for granted. I'm going to go in there and prove myself.
SN: Is there anything specific you've been working on improving this off-season?
Khaira: I've been working a lot on my hands and in tight areas [on the ice] — behind the net, by the net. Just the little areas, so I'm a lot quicker coming out of those spots while protecting the puck.
I'm always trying to get stronger and more powerful. This was a big summer for me. I don't think you can ever be fast enough or quick enough — I always strive to be quicker in tight areas. This year I emphasized my legs. A lot of quick feet drills, that kind of stuff. Ladders, plyos, parachute sprints and all that.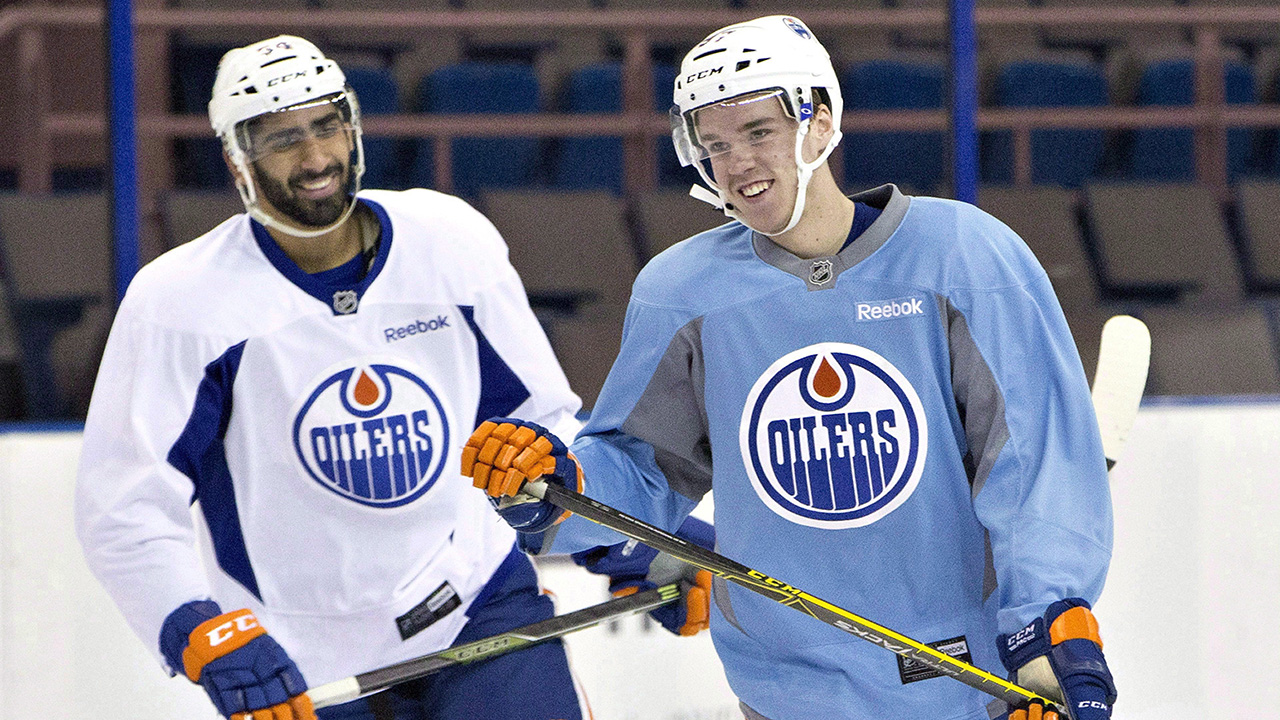 SN: You've played in 25 NHL games over the past two years. What were the main on-ice lessons you learned?
Khaira: The main thing is just believing in myself and knowing I could play at that level. When I'm in there and I'm comfortable, I know I can play that game. The biggest thing for me is going into camp and knowing that I deserve a spot. I deserve to be in the NHL.
SN: Is there one player on the Oilers who took you under his wing during your brief time in Edmonton?
Khaira: All the guys were great to me; really welcoming, really encouraged me. A guy I spent a lot of time with, because he was [with the Oilers] for a while, was Matt Hendricks. He was always there, always encouraging me, happy for me. I'm not selling anyone else short — everybody else was the exact same way — but I just think he really made an impact on me.
I remember in my first training camp, I played an exhibition game against Vancouver and I was fortunate enough to play with Matt Hendricks. We had a good game. Then a year later, when I finally got to play in my first NHL game, I was quite nervous going into it. But when I was in the dressing room and we were getting ready for the game, Hendricks looked at me and reminded me of that exhibition and how well we played. He really, really made me feel like he wanted to play with me. Having a guy who's been a consistent NHL player looking forward to playing with me right off the bat, that calmed my nerves and really helped me.
SN: You mentioned Vancouver. If you do make the Oilers out of camp, your second game of the season is against the Canucks in Vancouver. What would it mean for you to finally play an NHL game at home?
Khaira: It would be really special just to have my grandparents come out. I think that would be a huge thing. They came over [to Canada from India] and worked so hard to put my parents in a position to be successful and then my parents carried that on and gave me a better life and gave me more opportunity to succeed. Just having family like that around would be special. To play in front of them and for them to watch me.
My grandparents have seen me in a couple of exhibition and junior games, but they've never seen me live in a regular-season NHL game.
SN: B.C. obviously has a massive Punjabi community. Do you feel any pressure to represent that group and the larger South Asian diaspora?
Khaira: No, I don't think so. The only pressure is on myself. Obviously having the South Asian support I have around here is huge and you always want to try to make the best impact you can on them, but I wouldn't say it's any extra pressure.
SN: Can you describe what that support is like?
Khaira: Social media is so huge these days; the messages I get there, the tweets I get are very supportive. And just around the Lower Mainland here, there's always young kids and a lot of South Asian kids playing. You see them after and they're always so excited to meet me. It's pretty special.
SN: Do you think your success can have, or has had, an impact on parents from the same background allowing their kids to pursue hockey?
Khaira: It definitely does. Just growing up and seeing my South Asian friends, cousins, I feel like a lot of people who come over from India, the main goal they have in mind is school and work and try to be successful. My parents, they really grinded and got me to a place where I could be successful. I think for other parents, just seeing that it is possible; it's not all about getting a job early. You can follow your dreams. That gives hope to a lot of young kids and parents. Seeing that, I think they can spend a little bit of extra time having their kids play sports for longer and give them a better opportunity to be successful.