Players had no idea this was coming. The women who founded the CWHL didn't even know. All six general managers were caught completely off guard, too.
On Sunday, CWHL players and staff found out via a conference call that their board of directors has decided to cease operations of the 12-year-old Canadian-based league. The CWHL is folding, effective May 1.
Toronto Furies GM and CWHL co-founder Sami-Jo Small found out that the league she helped start was now finished the same way nearly everybody else involved did: On a Sunday morning phone call.
"Shocked, deeply saddened," the two-time Olympic gold medallist told Sportsnet, while she was cleaning up the Furies dressing room at Mastercard Centre. Players had moved their things out just days earlier.
"It's something I just never expected," Small said. "I thought the season was great and we just had no inclination that this was coming down the pipeline. It's hard to not have been part of that conversation."
Players and team staff members became a part of it on March 31, or at least they listened, a week after the league's championship final, during two separate calls. That's when the board of directors announced they'd decided to discontinue operations. Chair of the board, Laurel Walzak, says the decision was made officially on Friday night through a board-wide vote (she wouldn't disclose the details).
It became clear the league wasn't financially viable since it couldn't secure additional funds for next season, even though the CWHL just had its most successful Clarkson Cup weekend ever.
"We made a decision based on our model here and our desire to advance the women's game," interim CWHL commissioner Jayna Hefford told Sportsnet, calling the announcement "heartbreaking" and "very difficult."
"We think the game deserves more, we think this current model cannot advance the game in the way we hope," Hefford added. "We hope that there's something better in place for a sustainable model."
Hefford, a four-time Olympic gold medallist and former CWHL star herself, said the league informed players and teams of the decision as soon as it could. "It was a priority to us to make sure the players heard it from us first and that they were the first to know," she said.
Players are wondering, though, why they weren't part of initial conversations. Could anything more have been done to save the CWHL?
"As players, we're shocked," said CWHLPA co-chair and Markham Thunder goalie, Liz Knox, an all-star this year. "We were largely unprepared for this. I've had an hour to process all of it. It's very shocking news for us, unfortunately."
Asked why the players weren't consulted before the board made the final decision, Knox just laughed. "If I had to guess?" she began… "Yeah, I honestly don't really know."
"How did the six GMs of the six franchises have no idea?" Small asked. "That's a great question."
It's one of many now facing the women's pro game in Canada.
"It's unfortunate that it had to come down to a half-hour conversation," Knox said. "Players are left with a lot of questions. My primary concern of course is the players and where does that leave us? And what are some of our next steps? I mean, we're blindsided by it and we don't really have a plan, so I was trying to seek out some information. There was a lot of dialogue, there was a lot of frustration on the players' end, there's a lot of confusion."
It was Walzak who led the conference calls Sunday, first with team GMs and representatives of the CWHLPA, and then on a call for the 120 or so players in the league who were given a call-in number. Players and GMs were encouraged to asked questions on both calls, but weren't given much time to do so.
"We didn't really have the opportunity to say much. It was more a dissemination of information," Small said. As for questions, players and GMs asked good ones, "but they didn't have any answers," she said. "I think it just left people frustrated without knowing what the future really holds."
[relatedlinks]
Small says the GMs met just a week ago to discuss plans for next season, to talk about improvements they could make to their teams and share best practices. And then boom, Sunday's news hit.
"At least we're all on the same page that we're kind of left in the dark," Small said.
What a mess. Not only did the announcement come out of nowhere for teams and players, but it comes on a Sunday morning, and while national team players are in Finland preparing for the world championships, which start April 4.
The news that wasn't news to players is the fact the league wasn't making money, wasn't seeing increases in attendance year-over-year, "and we're not seeing the game grow as quickly as it should," Knox said. "But you have 120 women who have moved cities or have missed job opportunities. There's a lot of sacrifice that goes into playing what we know as pro women's hockey. It's not just a matter of, 'OK, there's nowhere to play right now, find something else.' These girls sacrificed their lives for this because they just want to play hockey and they play for pennies. And then we're told the league no longer exists."
If you want your heart to break a little, check out what one of the best players on the planet — maybe the best, period — Tweeted out, just after she found out the CWHL was done. Marie-Philip Poulin, whose Montreal team lost in the final last Sunday (she couldn't play, due to injury) is currently in Finland, preparing for world championships. This identical Tweet was sent out by numerous CWHL players on Sunday.
This morning we were informed the #CWHL is folding. As players, we will do our best to find a solution so this isn't our last season of hockey but it's hard to remain optimistic. #NoLeague
No league in Canada, at least.
This leaves a lot of questions for players wanting to play pro hockey in this country. As for the NHL's involvement, commissioner Gary Bettman has said the league will step in and start a pro women's league of its own, but only if there isn't a women's league in existence in North America. And of course, there still is: The five-team U.S.-based NWHL will open its fifth season in October, after its most successful year yet. And in that case, the NHL won't be making a move.
"We want to be supportive of women's professional hockey," NHL deputy commissioner Bill Daly told Sportsnet, in an e-mail. "It's important and we recognize its importance. But at this point, there continues to be professional opportunities for women in hockey. We endorse those opportunities."
The NWHL has never said it would fold so that the NHL could take over, and the league underscored that point in a statement Sunday, after expressing sadness in seeing its Canadian-based counterpart cease operations.
"We had an excellent meeting with the CWHL in January, where we presented significant proposals to them about forming one league, and we agreed to meet again in April. We are sorry to know those talks will not continue. We wish the best to Jayna Hefford and everyone involved in the CWHL," the NWHL's statement reads.
"The NWHL wants to assure the players, fans, staff and supporters that our season is confirmed to start in October. As we have since our first season in 2015, we remain committed to building the value of women's professional hockey players — not just in the U.S., but around the world."
In response to whether the NWHL would look to expand to Canada, you bet it will. NWHL commissioner Dani Rylan said, in a follow-up statement: "We will pursue any and all opportunities to ensure the best players in Canada have a place to play. Those conversations have started already and have quickly become a priority."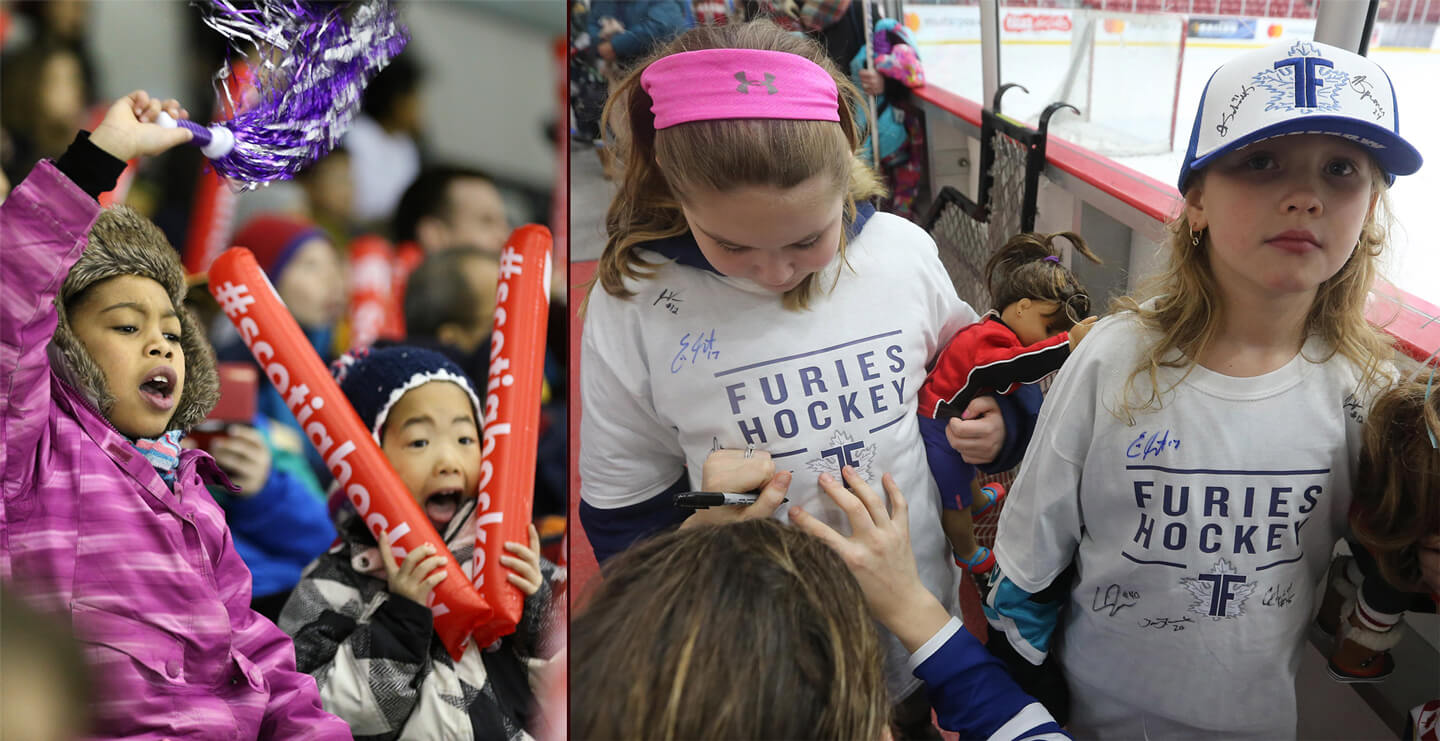 From Small's standpoint, her hope is that the Furies organization remains. And if there are no viable options for women to play pro hockey in Canada, the GM says there's no reason why players couldn't once again start a league themselves. That's what happened in 2007, when owners walked away and players, including Small, came together to start the CWHL.
"We were able to start this 12 years ago, and we have the information of how to get the league to this point," Small says. "I think we can do that together. I'm not fearful there won't be a league, I just don't know what iteration it will be.
"I want what's best for the game and I want the best for my team and I want the best for my organization," Small adds. "The biggest question is the conversations the CWHL has had with people. They keep having these optimistic outlooks, but what is coming down the pipeline? That's my biggest uncertainty, is I have no idea. I really await whatever announcements come out."
There are no announcements coming from anyone on the CWHL board, however. Hefford says they aren't having conversations with interested stakeholders. "At this point, no," the interim commissioner said. "I think that there's a number of organizations that have declared their support for women's hockey and expressed their desire to see the sport continue to grow," and it's her hope that these people step in to help create a viable pro women's league.
"We wouldn't be surprised if things were to occur now that we have announced we're discontinuing operations," Walzak added, though she didn't want to speculate.
The CWHL put in a call to NHL commissioner Bettman earlier Sunday to let him know they were folding. "I think he's saddened," Hefford said. "It's a disappointing thing when you have to discontinue an operation."
Hefford has lost in an Olympic final before, had to wear a silver medal around her neck on that stage (just once, though), and at the world championships. But the Hall of Famer admits she's never had a day quite like this.
"I've had difficult days on the ice, you know, and certainly some difficult outcomes," she said. "But I think having to deliver difficult news like this to the number of people we had to do today — I would say this has probably been one of my most difficult days in terms of that side of things."
Players are still processing what all this means. For her part, Knox is choosing to see the silver lining.
"You can see where the women's game is at the Olympics and on the world stage and the attention that it gains there," she said. "We should be competing with that market, that should be what our professional league looks like. And I think that in a way, if the CWHL thought that maybe they were standing in the way of that happening, maybe it was the noble thing to do — just say this isn't working, we'll have to figure something out… If the end goal is to have a pro league that's widely recognized as such, this is a painful step, but hopefully one that leads to decades of something better.
"We have no league, OK, so immediately, what's our next step, what are we going to do?" Knox asks. "Because women's hockey isn't just going to stop."
The CWHLPA group has been texting, discussing options. Their first step, Knox says, will be to get anybody around the table who wants to discuss how to go forward: Hockey Canada, USA Hockey, the NHL, the NHLPA, other interested stakeholders.
"There is a certain amount of responsibility, I feel, on those who profit from the women's game at least every four years, if not in between, to say, 'OK, you ladies and gentlemen have been doing this for 100 years, now's the time," Knox said. "There's an opportunity here and the players who are your product are looking for your help. I would hope they would see that as an opportunity."
Small is still in shock, and she hasn't cried yet about the news or really registered many emotions aside from disbelief.
"Maybe I'm just steadfastly moving forward and trying to remain positive so that my players and my staff also don't jump ship. We have this amazing organization that we've created here in Toronto. I don't want that to go away," she says. "I'm optimistic for the future, that there's something great out there and we're going to find it together."
Women's pro hockey today in Canada is full of a whole lot of optimism and hope and shock and uncertainty.
About an hour after players had been informed that they've played their final games in the CWHL, Small got a text from Furies and Team Canada forward, Natalie Spooner, all the way from Finland. It was night time there.
"Can you make sure that we still rent ice next year?" Spooner asked. "We still want to play."