A quick mix of the things we gleaned from the week of hockey, serious and less so, and rolling four lines deep.
1. The long-term forecast for the Summer of JVR is sunshine for as far as the eye can see.
Financially, things couldn't be shaping up brighter for James van Riemsdyk's walk year. The 28-year-old has produced dutifully and reliably the past six years on a team-friendly $4.25-million cap hit, but never has he scored this many goals — 31 and counting, despite slipping from first-line to third-line usage in Toronto.
"You soak up these runs no matter what your situation is," said van Riemsdyk, preparing for one last good run in Toronto before signing off on the biggest business deal of his life.
Fitting that the night JVR's presumed "replacement," Andreas Johnsson, was called up to make his NHL debut, the big winger with the duvet hands erupted for a hat trick (and may or may not have gotten a piece of the game-tying Patrick Marleau tip) in a win over Dallas.
"He was competitive right from the start, right through," coach Mike Babcock said Wednesday. "Any time you get three goals and you're at the net for the fourth too, you've done something pretty special."
JVR, who has surpassed injured Auston Matthews for the club goal lead, kept rolling Thursday in Buffalo, scoring twice and adding an assist. Six points in 48 hours, and still no extension talks.
"He has obviously been real hot here since the trade deadline," Babcock said.
"Now, I don't know if it's just you get to concentrate on hockey and not think about all the other things. He's been good for us, obviously has real good hands around the net and he's an important player for us."
If you assume John Tavares ultimately re-ups with the Islanders, van Riemsdyk will be the most coveted unrestricted free agent on July 1.
No other UFA winger scores like him. Michael Grabner, Rick Nash and James Neal are older, more injury-prone, and their best days are likely behind them. Evander Kane, 26, is younger, but if the Sabres' underwhelming deadline return is any indication, Kane's injury history and dressing-room reputation will affect any bidding war.
Cap comparables for van Riemsdyk may be Cam Atkinson (seven years times $5.875 million) and T.J. Oshie (eight years times $5.75 million), but both those scoring wingers re-upped with their own teams and the cap ceiling has risen.
It's not crazy to think JVR could fetch closer to $7 million than $6 million per, depending on term and the number of bidders.
So many possible suitors: Home state New Jersey? The cost-clearing Rangers? How about a brothers reunion in Carolina, which suddenly looks like it'll get aggressive? Minnesota, where JVR spends his summers? Perhaps a 2018 surprise like Colorado or Vegas pushes all-in?
And watch out for San Jose. Doug Wilson has money to burn, great setup centres in Logan Couture and Joe Pavelski, and needs more scoring on the wings.
Complimenting JVR this week, Mitch Marner said, "He's very good at sliding back-door silently."
True, but there will be nothing quiet about his off-season.
[relatedlinks]
2. Jamie Benn is not backing down from the tweet he fired off during Saturday's Maple Leafs–Penguins game questioning the goaltender interference penalty whistled on Pittsburgh's Brian Dumoulin as he appeared to score a legitimate goal.
2 mins for scoring. Huh?

— Jamie Benn (@jamiebenn14) March 11, 2018
It's rare that an active NHL star publicly calls out a ruling in a game, let alone one in which he's not involved. Benn's tweet was recirculated 2,500 times and liked more than 7,600 times.
"I wasn't looking for a response or anything. I just thought it was a good goal," Benn told us Wednesday.
The Dallas Stars captain said he didn't hear from the league, nor did he feel pressure to delete his comment. The reason I asked, I explained, is that the NHL is isn't pleased that players and coaches have been openly criticizing the goalie interference calls.
"Good," Benn said. "They should be."
The Stars squared off against Pittsburgh less than 24 hours after Benn's tweet. Did any Penguins talk to him about it?
"Maybe."
3. Matthews is always the last Maple Leaf to leave the ice after warmups, when he's healthy of course. Marner has been bumped from second-last to last with Matthews sidelined. The two of them routinely scoop up a puck and lob it over the glass to a front-row fan before heading off the dressing room. Marner said the habit stretches back to his junior days.
"London has a big support group for fans, so I started doing that there. They really appreciate that gift. It goes a long way," he said.
"You try to scope out a certain person, but the throw isn't always perfect. People try to reach in and swipe it from the person you're trying to throw it to. Sometimes it takes a few extra seconds to stay around and make sure the person you were trying to throw it to gets it. It's a nice little gift for people to go home with."
4. Big week for hockey hair.
When two-time Stanley Cup champion Phil Kessel wasn't adding to his career-high pile of 50-plus assists, he was setting the Internet a-frizzle with this pre-helmet photograph.
Not to be outdone, the next generation of flow was present and accounted for in the 2018 Minnesota State High School All Hockey Hair Team, a lovely annual tradition:
Maybe Bart Simpson was wrong, after all. You can win friends with salad.
5. On the topic of expanding the number of teams that qualify for the Stanley Cup Playoffs: Do. Not. Do. It.
As the inevitability of a 32nd team draws closer, The Athletic's Pierre LeBrun reported this week that general managers would favour widening the playoff pool beyond 16 teams.
This is a horrible idea for a number of reasons.
As is, half the teams make the post-season. That's plenty. Any more, and you cheapen the regular season. If you can't outperform 50 per cent of the league after 82 games, you don't deserve the extra gate revenue. Make your team better in the summer.
If the playoffs were expanded by just two more clubs today, we'd be including a team that has lost more games than it's won (Anaheim) and a team that has allowed more goals than it has scored (Florida). Too generous.
Also, how long do you want this tournament to drag on? Unless the league chops its regular season (not a bad idea), expanded playoffs would mean either a more truncated schedule (a bad idea) or dragging the post-season even deeper into late spring. I love hockey. Love it. But by June I'm ready to watch and do summer things.
6. Here's a dose of coaching fraternity respect.
Asked what makes the Maple Leafs so dangerous this season, Dallas coach Ken Hitchcock, who worked alongside Babcock with Team Canada, chose to speak on strategy over personnel.
"Mike has them playing with speed without the puck. That's the new NHL. They're as good as it gets in the National Hockey League where they use their speed and tenacity to create problems for you. Whether it's the flip game or the push-the-pace game or the quick-up game — we call it the three-quarters-ice game — he's got them playing at a tempo without the puck that's high and hot and can break you down," Hitchcock explained.
"It causes problems on every little detail. If you don't change properly, he burns you. If you don't have the right read when you think you're forechecking, next thing you know, he's airmailed something over top of you and you're in trouble. He's done a great job of getting this team to buy into speed without the puck."
During his tour of the Eastern Conference, Hitchcock noticed a significant different in a style of play that favours speed over the West's physicality. The idea is to anticipate where the puck is going and arrive in that area first and with numbers. Tampa, Pittsburgh, Toronto — they're among the league's best at this.
"Where it's really quick is the reckless play without, and he's got this team on top of it – especially [at home]," Hitchcock said. "Speed is without the puck, that's speed."
7. A moment of appreciation for Patrik Laine, who bested Nathan MacKinnon's record for longest point streak by an NHL teenager Thursday when he made his mark on the scoresheet for the 14th consecutive game.
The young Jets winger has 24 points over that stretch and his 41 goals put him smack on the heels of Alex Ovechkin (42) in the "Rocket" Richard race.
The most remarkable thing about Laine's scoring is where he's doing it from. Here's a map of Laine's goals compared to the rest of the league (via icydata.com):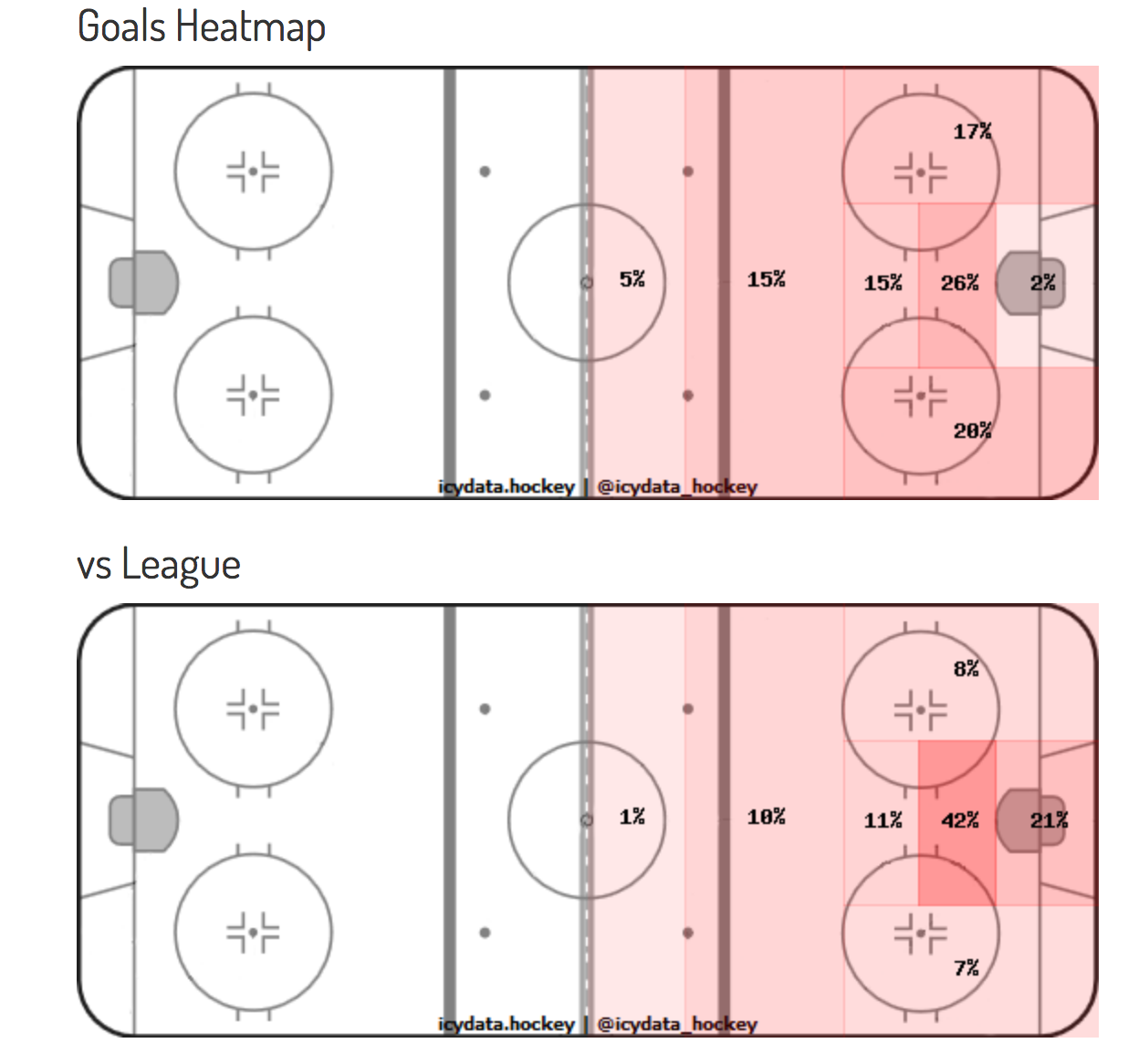 Note that the typical NHLer scores 63 per cent of his goals from the hash marks in. Laine scores just 28 per cent of his from that close. Incredible. Also, he has a 20-17 per cent split from the left and right circles.
8. When Morgan Rielly's defence partner, Ron Hainsey, was asked yet again about the development of his younger half this season, the veteran with the arid sense of humour paused before saying he'd try to make his response longer than the "the other 100 or so times I've answered it."
Rielly's emergence as a confident, offensive threat at age 24 is splashed all over his stats page.
With Hainsey's help in the D-zone and Babcock's bumping him to the power-play, Rielly has already crushed career highs in assists (37), points (43) and plus/minus (minus-5 against the opposition's toughest forward lines). He's also taking fewer penalties than the past two seasons, indicating his improved positioning and more time with the puck on his stick.
Still, he bristles when it's suggested that 2017-18 is his breakout year.
"I don't think you want to be in a position where you're having a breakout year, if that makes sense, because you want to be consistent," explained Rielly, who prefers continual, gradual progress.
"I think I can play better. I think there's room to grow. I don't think I'll ever be a guy walking around telling reporters that I'm in a breakout year."
Frank in his assessment, Hainsey says the pairing is much better with the puck on the fun side of the red line and still needs to improve the speed of its D-zone breakouts.
Ever humble, Rielly says he doesn't view himself as the first piece of Toronto's rebuild, even though he was a fifth-overall pick in 2012 and remains the youngest homegrown piece of Toronto's top four.
"I feel lucky to be a Maple Leaf," he said. "The team has come a long way for sure, and it probably has nothing to do with me."
9. Of all the NHL's forwards, none log more ice per night than Florida Panthers centre Aleksander Barkov (22:17), who rightly finds himself on the outskirts of a wide-open Hart Trophy debate and should be a Selke nominee.
"He's out there all the time," conceded head coach Bob Boughner.
With Florida in the thick of the wild-card hunt, it's difficult to see his minutes dwindling anytime soon.
Here's a crazy Barkov stat: The guy has the same number of power-play goals as he does short-handed (five, an NHL-best with the man-disadvantage).
"He takes a lot of our important draws [54.31 per cent win rate], penalty kills, he runs the power play, he's that last-minute guy you want on the ice," Boughner boasted.
"He keeps himself in great shape. We'll give him maintenance days, days off, to give him his rest more than anything."
10. Quote of the Week goes to Winnipeg bench boss Paul Maurice during this eight-minute discussion of all the Jets injuries.
"If my car doesn't blow up when I start it, I'll take that as a positive," Maurice quipped.
Paul Maurice has Stastny in tonight, Trouba possible, Hutchinson diagnosed with a concussion, Hendricks out 6-8 weeks, plus additional updates on Scheifele, Kulikov, Enstrom, Lowry and Mason, ahead of tonight's game against the Blackhawks. #CHIvsWPG pic.twitter.com/U83wVRl4kZ

— Winnipeg Jets (@NHLJets) March 15, 2018
The Jets, remarkably, have won four of six since centre Mark Scheifele went down again. In 10 months, Maurice has leapt from "Will he get fired?" chatter to worthy of a Jack Adams finalist spot.
11. Roman Polak has played some of his best hockey in Toronto since Nikita Zaitsev fell ill and he hopped into the top four alongside Jake Gardiner.
With Zaitsev out of the lineup, the Leafs have won three straight. Polak averaged more than 20 minutes, is a plus-2, and set up a goal over this three-game sample. (Zaitsev hasn't had a primary assist in more than 30 games.)
Polak got nasty versus Pittsburgh Saturday, to the point that Sidney Crosby was jawing at him, and registered 60 per cent possession versus Dallas Wednesday.
"I thought Polie had his best game since I've been here," Babcock said after the Penguins affair. "I thought he was real effective, real hard."
Nazem Kadri was recently asked to name the toughest Leaf to battle in practice and didn't hesitate.
"Roman Polak," Kadri said. "He's a big beast out there. His structure is good, he plays physical, and he competes hard."
Expect the bruising, fearless Czech to get plenty of run in the post-season, Twitter mentions be damned.
12. Travis Dermott's reaction to the NHL's $100,000 dip into the esports tournament world is probably exactly the kind of enthusiasm the league wants to hear.
"Hundred grand? Worldwide? That's awesome!" said the 21-year-old defenceman, when we explained the concept. He falls into the target market for this kinda thing.
"I wish I was good enough at 'Chel to get in on that. I'm not a huge 'Chel guy, but all hockey players play 'Chel enough. I'm not one of the elite. I'm more of a shoot-'em-up COD player.
"You look at that amount of money, even if you're a younger kid, you're thinking about how many gum balls you can buy with a hundred grand. That's definitely some incentive to get in the game. You know your hockey more, then maybe you're watching more hockey. It's a great idea. Beautiful."