A quick mix of the things we gleaned from the week of hockey, serious and less so, and rolling four lines deep.
1. Once Mitch Marner grabbed it, he refused to let go.
The Dr. Kill stick — a totem crafted to honour the Maple Leafs' penalty killing — was stuffed in his locker for well over a week, carried by Marner from city to city until Toronto surrendered a goal with the man-disadvantage Wednesday in Buffalo.
Marner had been in possession of Dr. Kill for season-best six consecutive games and 12 straight kills, literally putting his stamp on the D.J. Smith–created trophy a half-dozen times.
Dr. Kill is a taped-up shaft of sharpened lumber that would come in handy if a forechecker even needed to snuff out a vampire. It gets passed from killer to killer, but only after games in which Toronto allows a goal on the opposition's power-play.
[snippet id=4509989]
For every clean sheet the stick is in your hands, you get to mark it with a logo of your choosing. Kasperi Kapanen used his initials. Connor Brown his sweater number. Frederik Gauthier drew a goat, naturally.
"A little twist. Something new," says Brown, explaining that the PK unit used a rotation of full-length hockey sticks last season.
They didn't carry quite the mystique, prestige or portability of Dr. Kill.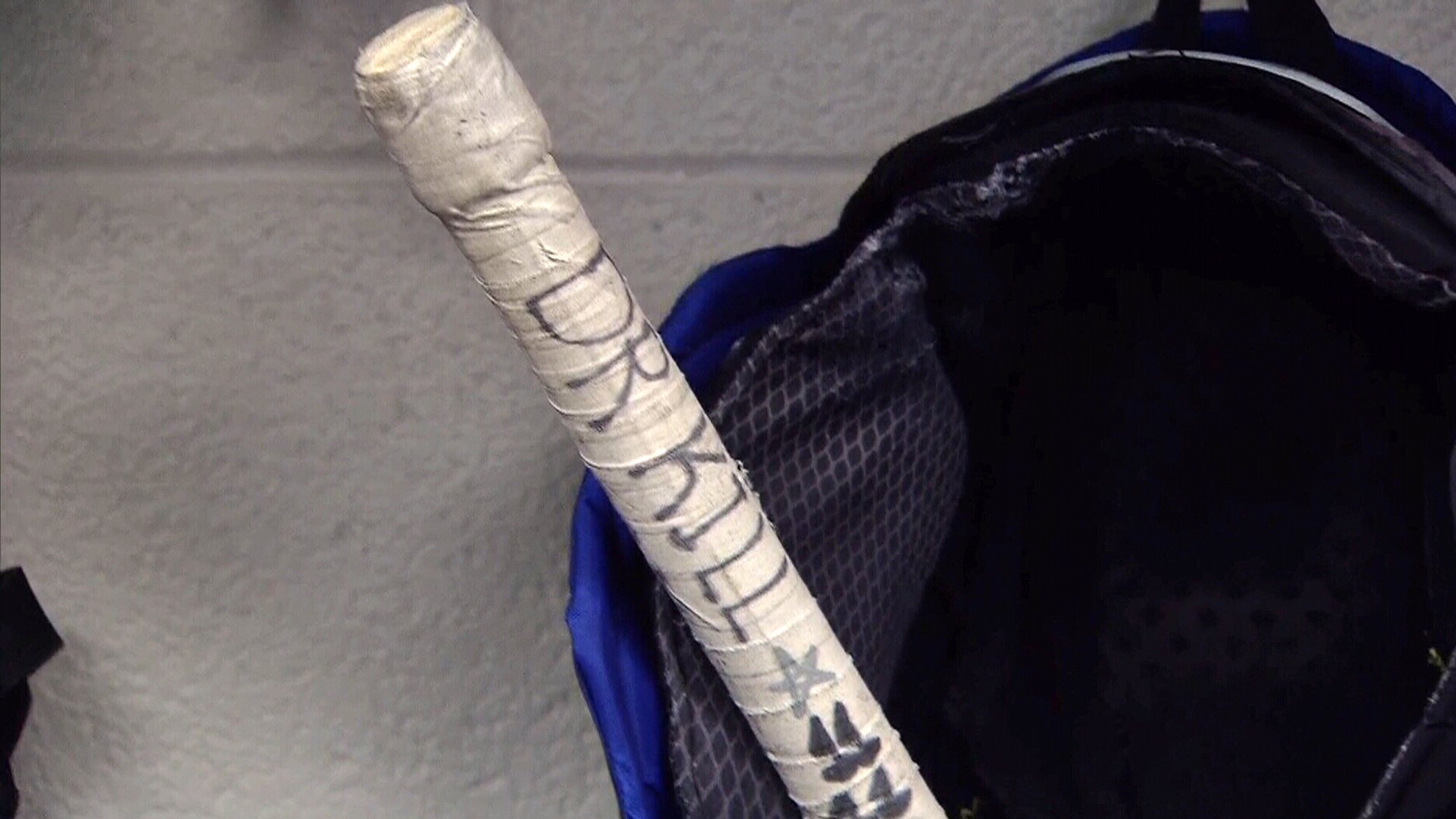 (Image courtesy Mark Masters/TSN.ca)
"It's big. If you go clean, you get to hang onto the stick," Brown says. "Mitchy had a bit of a run going here…. I had a poor one. I don't think I got it back."
Even amidst Toronto's troublesome play last week, the PK has been killing it, rising to top 14 league-wide.
Marner, who'd served on the kill in two of his three junior year, approached Smith prior to the season and asked to join the unit. It's all about reading plays, hustling back, making passes difficult on enemy forwards.
"Yeah, it's something I wanted to do. Something I thought would be a cool challenge. Something I'd done before at other levels and something I wanted to try. For me personally, it's not about getting scoring chances on the penalty kill; it's just trying to make sure I'm doing the right thing," Marner says.
"As a guy who plays the power play, you know what frustrates you. I'm trying to make it hard on them getting into the zone, and when they're in the zone, not letting them get set, trying to just pressure as much as I can."
[relatedlinks]
2. Elias Pettersson's trumping Pavel Bure's 60-point scoring record for a Vancouver Canucks rookie this week is impressive.
What's more impressive is that he did so in fewer games, without being sheltered by a deep, playoff-ready roster, and at the centre position.
The slightly built Pettersson had tremendous success skating the wing last season for Vaxjo HC in Sweden, piling up 56 points in 44 outings, but Canucks coach Travis Green called him early in the summer and chatted with the prospect about moving back to the middle.
So many productive rookie forwards take the Tyler Seguin route, where they start on the wing and ease their way to middle ice, but Vancouver always envisioned the kid at centre when it drafted him. Why wait?
Green's argument went like this: In jumping to the narrower ice surface, the 40 Car would get the puck on his blade more often at centre than he would rushing up and down the wall.
Pettersson agreed to switch and focus his off-season training to playing the pivot, but Green still spotted positioning flaws at camp.
"But he's very smart and figures things out fast," Green said. "He's almost feeling his oats a little bit within the league."
Green gives the other 30 teams something scary to ponder.
"We're just starting to see what he can do," the coach said.
"We didn't want to just put him on the wing because he was light [176 pounds] and hadn't played centre in North America. We wanted to give it a real chance because we needed a centre — and he's pretty good."
Uh, yeah.
Elias Pettersson with a slick move. pic.twitter.com/B8wZCEZADE

— Robert Söderlind (@HockeyWebCast) March 19, 2019
"All eyes are on Petey," said linemate Brock Boeser, who is seeing the benefits of having two shooters hop the boards at the same time. "They're both good shots but different. He kinda pulls it back and shoots it, and he's got a good one-timer and slap shot. They're different, and we can use it in a positive way."
Boeser believes it's Pettersson's mind that sets him apart from other skilled players.
"He learns as he goes. He makes sure he doesn't make a mistake twice," Boeser explains.
"He's a humble kid. He's quiet around people he doesn't know, but once he opens up to you, he's a super-nice kid. He kinda reminds me of myself a little bit. He's awesome. He just respects everyone.
"He's just a normal kid. He doesn't act like a superstar."
3. Buffalo defenceman Rasmus Ristolainen is crushing the field in most miserable plus/minus, his dash-39 rating 10 goals worse than runner-up Drew Doughty (minus-25) and the lowest of his six-year career.
Even more troublesome: Of the 12 NHLers with the worst plus/minus, only Ristolainen (39 points) and Ottawa rookie Maxime Lajoie (15 points, minus-25) haven't amassed more points than dashes.
Risto, who's never been a plus, is a total minus-141 over his career, and teammates have commented that it's weighing on him.
The Sabres are the rare club with four right-shot defencemen under contract for 2019-20.
4. In the wake of a few accidental-on-purpose incidents of goaltenders nudging the net off its moorings and negating possible goals, the NHL has reminded its officials to check the security of the posts between whistles.
It's a tricky balance, making sure the posts give when necessary for safety (see: Steven Stamkos's horrific broken leg incident) but remain sturdy enough for the modern goalie to use them as springboards as they slide cross-crease.
"I definitely use it. I think every goalie is using it for leverage. Do a little bump off the post," Toronto's Frederik Andersen says.
He points to a lack of consistency across NHL venues. That's where the standard could be improved.
"I do think it's different from rink to rink what those rubber pegs look like and how well they're drilled in or how much ice is taken away for them to get a little deeper and better anchored," Andersen says.
"Most of the time we have a pretty good setup in our rink."
5. Brett Connolly scored 20 goals for the first time in an NHL season Tuesday night, and then he did something much more admirable.
He stood by his decision to skip Monday's White House invitation and not let his presence be photographed as a silent historical record of tacit support for the U.S. President.
Connolly, who is Canadian, is taking a stand, even if that means not joining Alex Ovechkin and Nicklas Backstrom and the majority of his fellow champions.
Good on Connolly and Devante Smith-Pelly, the first Capital to speak out, for choosing the right thing over the easy one.
"I respectfully decline," Connolly told reporters post-win. "That's all I'll say about it. Everyone is entitled to their opinion. It's obviously a big deal, and it gains a lot of attention. I've been in full support of an old teammate that I'm really good friends with who I agreed with and a guy who will be back here, I'm sure, at the end of the year. That's all I'll say."
Connolly offered a little more in August when we asked he and Smith-Pelly about their White House boycott while training in Toronto.
"I just don't think it's the right thing to do," Connolly said then.
"It has nothing to do with politics. It's about what's right and wrong."
Goaltender Braden Holtby (also Canadian) won't be going either, stating Friday that he needed to remain true to his values. Bravo.
6. The NHLPA's released its annual player poll Wednesday, and it's always a fun survey.
Of the top five snipers rated with the game's best shot, four terrorize the East, Winnipeg's Patrik Laine being the lone exception.
Holtby — who faces the scariest of the bunch, Alex Ovechkin, daily — knows these guys well.
I asked Holtby specifically about fourth-ranked Auston Matthews' release, the one where he toe-drags the puck into his body and snaps it off fast.
"Any change of angle makes it tough on guys. When he does it quick enough, it opens up that little bit more space. That's why you see him score glove-side more. He's pulling it into his body to open up a couple more inches glove-side," Holtby said.
"A lot of shooters do that. Stamkos does it a lot. Ovie does it a lot too. It's not a new thing. He's just good at doing it quick."
Why does it feel like we're witnessing an emphasis on the rapid, angle-altering shot release in recent seasons?
"It goes hand in hand with the sticks getting better," Holtby explained.
"Guys can do it quicker without exerting as much force and body movement to get a lot on the puck. I think they can bring it in, snap it and use the kick from the stick more than their strength. Before, it had to be slower."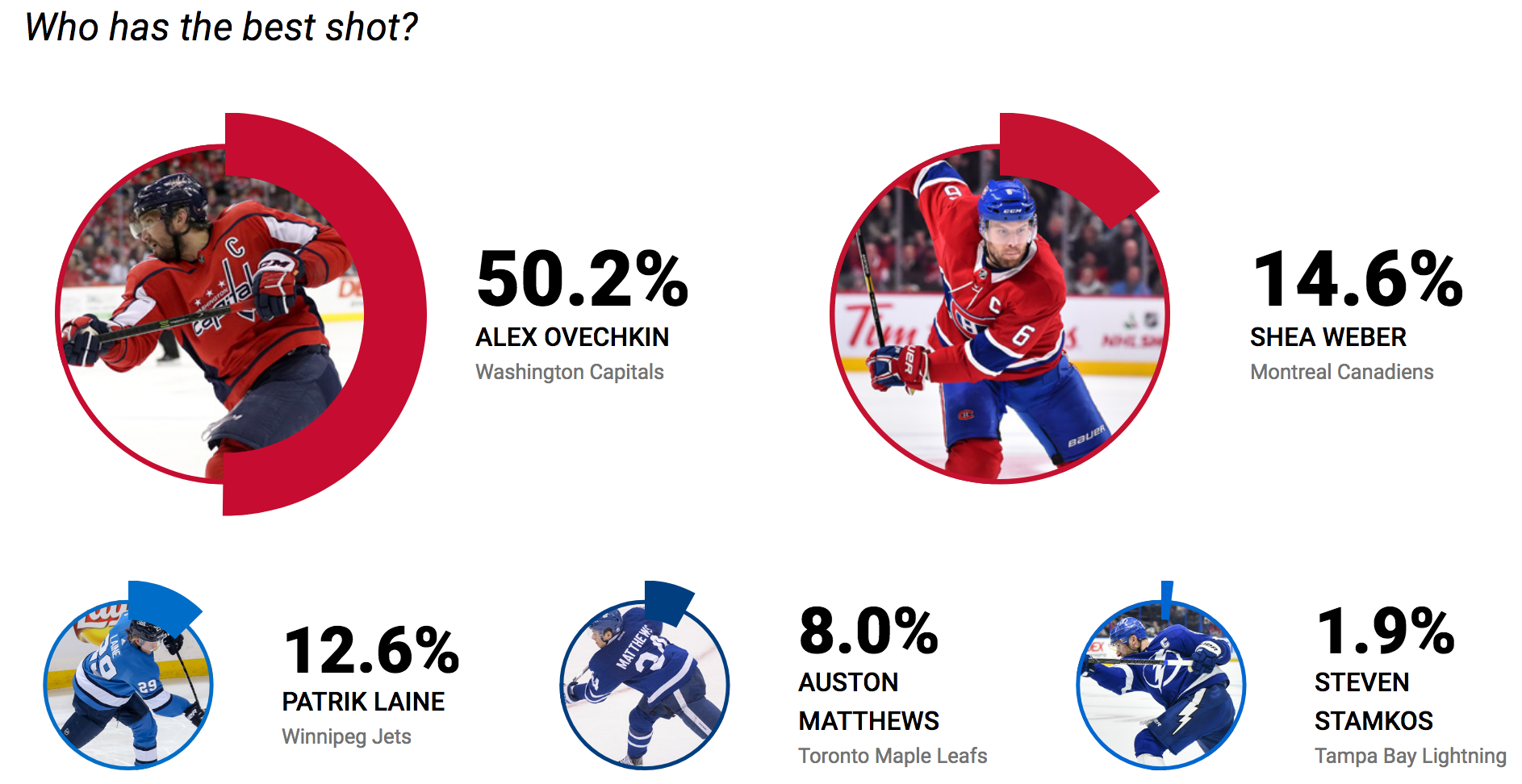 7. In other super-important poll results, Brad "Social Media Influencer" Marchand was curiously voted the league's both best and worst trash talker by his peers.
Second to Marchand in the best yapper category is Drew Doughty, who earned 11.8 per cent of the vote — and, unlike Marchy, avoided receiving a bunch of ballots for worst trash talker as well.
Doughty doesn't operate a public Instagram account. He hasn't tweeted since September, and that was benign comment about a charity event. He does all his chirping face to face.
"He's one of those guys whose mouth is always runnin', the entire game," says Jets captain Blake Wheeler. "For guys who haven't played a lot, he'll get under your skin for sure. They don't know how to take it. Us guys who've played against him a lot know how to take it. When he stops talking to you, that's when you have to worry."
Young Colorado stud Mikko Rantanen gets a kick out of Doughty.
"He's funny when he plays. He likes to chirp guys, so it makes the game a little loose," Rantanen says.
"It's good for the league that we have those guys who aren't so serious all the time but still play great."
8. On the topic of bringing edgy personality to the ice, I loved this salty celebration by Russia's Danil Kvartalnov at the 2019 FISU Winter Universiade.
Can't wait to see an NHLer bust this one out.
9. As the rumours surrounding the end of Ken Holland's tenure in Detroit intensify, the general manager did a nice job re-upping No. 1 goalie Jimmy Howard for one year at a reduced salary.
Howard, 34, will make just $4 million in base salary but could earn as much as $1.1 million in playoff bonuses — a long shot in the Stackedlantic Division.
Howard was the Red Wings' lone all-star this season despite playing behind one of the league's thinnest blue lines.
Depending how much long-term faith you have in Robin Lehner's bounce-back campaign, Howard would've been the safest goaltending bet behind Sergei Bobrovsky when free agency opens July 1.
Holland has overreached on term in the past. This is a shrewd move, especially with the younger Jonathan Bernier (7-17-5) failing to take Howard's spot.
When you think of the NHL expanding to 32 teams in the not-so-distant future, proven No. 1 goalies will be at even more of a premium.
10. We can't argue against the Maple Leafs' decision to keep AHL teenage phenom Rasmus Sandin down in the minors this spring, but Babcock's letting us know that the idea of bringing him up crossed his desk shows how dissatisfied the coach is with his defensive depth.
Babcock spoke with Marlies coach Sheldon Keefe, who's bullish on Sandin, pumping up the kid's minutes last weekend with AHL left shots Calle Rosen (foot) and Andreas Borgman (concussion) injured. (Both Rosen and Borgman returned to practice Friday and have been upgraded as day-to-day.)
"He's been really good. He's taken on a lot of responsibility here, and you're pushing him towards 30 minutes for three games in two-and-a-half days," Keefe said. "It takes a toll on any player, but as a young guy he's handled it extremely well.
"We haven't controlled play as much as we'd like to, but we didn't crack defensively a whole lot in terms of giving up real scoring opportunities, and that's a credit to our whole defence, but certainly Rasmus is leading the way."
Sandin put up three assists Sunday in his third game in three days, and is now rolling on an eight-game, 12 -point streak. He speaks positively about working with Keefe.
"He's pretty easy to talk to. He'll give me advice during games and after games as well. If I do something wrong, he'll come and tell me, and he knows I can do better," Sandin says. "Our relationship is good."
#LeafsForever prospect Rasmus Sandin is having a season unlike any other U19 AHL defenceman has ever had. Here is how he compares to other players in recent history. pic.twitter.com/FV3jXmVVgz

— NHL Prospects (@NHLPC) March 18, 2019
11. Only five NHLers have more goals this season than Chicago's Alex DeBrincat, who will hit 40 as a sophomore to little fan fare.
The five-foot-sevenx(!) talent scored more than Connor McDavid, Sidney Crosby, Johnny Gaudreau, Joe Pavelski, Jeff Skinner, Nathan MacKinnon, Auston Matthews, and on and on and on.
"He's just a smart player. Guys that size — you look at Kaner too — he was never one of the biggest guys, so he had to learn so many different aspects of the game that maybe guys with speed and size and strength didn't have to," Jonathan Toews says. "In the long run, it helps them. So they're here and they know how to make plays.
"The game's getting faster and faster. It's not about size anymore, so guys like Cat are fitting in well. He knows how to find those quiet areas. It's on his stick, it's off his stick. Sometimes he throws it at the net in traffic and it finds its way in. He knows how to score goals."
12. When Justin Williams wins this year's Mark Messier Leadership Award, he's totally going to orchestrate a Storm Surge on the Las Vegas stage, isn't he?