A quick mix of the things we gleaned from the week of hockey, serious and less so, and rolling four lines deep.
1. When I came home from the Toronto Maple Leafs' ultra-rare matinee Tuesday, my seven-year-old boy asked me what I wrote about: "Mitch Marner? The goal Nylander scored? The jerseys?"
He's never asked anything like that before. I've never heard him say the words "Marner" or "Nylander" before. He's never taken so much interest in a hockey game he's not playing.
Turns out, all the kids in his class were encouraged to wear Maple Leafs gear instead of their school uniforms that day, and he devoured the third period when he walked in the door. The home team scoring eight goals probably didn't hurt.
Typically, in our house, the boy is zonked after 20 minutes of a 7 p.m. game — if he cares at all.
The engagement of children for a 2 p.m. puck drop in Toronto spread well beyond the influx of kids at the rink. Maybe TV ratings take a small hit, but a couple of family-friendly start times over 41 home dates is a wise investment in future fandom.
"Personally, the day game was awesome. I wish we had more of those," said Tyler Bozak, who brought his own son, Kanon, to the ACC. "Now having a kid of my own, I know how important it is to be role models and stuff like that. To be able to put a smile on their faces and have them all cheering for us, it was a pretty cool atmosphere and a fun game to be a part of."
The Leafs should throw matinees more than once every 100 years. Especially in a Toronto market that has no issue selling out the building. Especially during Christmastime. If Dec. 19 is, as the mayor decried, Toronto Maple Leafs Day, why not throw a weekday afternoon game every year around that date?
Try one when the kids are off for March Break, too. Maybe it can't work everywhere, but the big, safe markets can handle it — and the players seem to have no issue.
"I don't think we were expecting all those kids to come out on the ice like that, but it's great," Mitch Marner said. "It's a lot of fun for them and a lot of fun for us as well."
Bozak said he wished the Leafs played more afternoons. Hey, schedule gods: Let's make it happen in 2018-19.
"It's just nice – you wake up, you eat and you just go to the rink and play," he explained. "I think it would be like if you were fully prepared for something and had to wait a whole day to do it, it's nice to just wake up and have at it. For me, personally, I thought it was awesome. I wish we had some more day games."
New century, new traditions.
[relatedlinks]
2. Bobby Ryan was a far cry from having his game in tact when he returned from another finger injury suffered from another blocked shot on Nov. 16. It took the Ottawa winger eight games to register a point.
At the time Ryan snapped his index finger, it was announced he'd be out at least a month. He returned to game action after 25 days, and that was rushing it. Maybe if Ottawa was winning, he would've taken a bit more time to heal.
"He came back because he wanted to be back with the boys, but he couldn't shoot, he couldn't pass, he couldn't do anything. He knew it wasn't dangerous, but it was more than annoying," said coach Guy Boucher. The Senators coach believes the legs come back first, then the hands, then the mind.
"It's a lot about the legs for Bobby. When he's got his legs, you know he's going to be great."
Ryan thinks his health turned a corner Dec. 9 in San Jose and he expects to be fully recovered after the Christmas break. But he's had enough of a setback that he'll miss Saturday's game.
"I'm getting more feeling back. Some of that initial jolt of pain that was shooting up my hand through my arm has subsided a little bit. It's still there, but we continue to treat," said Ryan, who added one extra pad on the side of his glove but has kept glove modifications to a minimum. "There's only so much you can do because you still need to feel the stick."
Ryan has four points in the Sens' past four games and was starting to resemble the dangerous player we gushed about in the post-season.
3. It took a while — and, with the Senators 11 points and four teams away from seizing third seed in the Atlantic, it's probably a case of too little too late — but Boucher believes Matt Duchene has delivered about seven strong games in a row for his new team.
For the first time all season, Ottawa has scored at least three goals in five consecutive games. Duchene himself has four points over his past four. Injuries, the trade, AHL call-ups… Boucher is just now feeling comfortable with his pairings and lines. Finally.
"We're definitely gaining chemistry-wise," the coach said.
4. As long as no general manger is such an Ebenezer that he fires his head coach in the next 48 hours, we can mark 2017 as the first year since 1998 that no NHL bench bosses got fired between opening night and Christmas.
Since the last lockout, the NHL as whole has seen more coaches fired in-season than the NFL, NBA or MLB. Hockey loves its tight leashes.
So why the lack of firings this season?
Well, look at the worst teams. Arizona, Buffalo, Florida, Colorado and Vancouver are all led by first full-year coaches (we're giving Jared Bednar a break since he had no off-season prep time heading into 2016-17).
Philadelphia's Dave Hakstol and Ottawa's Guy Boucher each had their hot seats cooled with public endorsements from their GMs.
Which brings us to Bill Peters and a Carolina Hurricanes breakout season that hasn't materialized.
Peters recently gave this wonderful speech about the features on his truck when asked if Ron Francis should look at replacing him:
5. The way the Washington Capitals exited the playoffs, and the way GM Brian MacLellan delayed his season-ending public address, led many to conclude that Barry Trotz was walking into 2017-18 on a tightrope.
Trotz is in the final year of his contract with the Caps and has had zero extension talks. His roster was hacked, and he's still led Washington to the top of the Metropolitan.
He's not the only coach in the so-called "lame duck" position.
According to CapFriendly.com — which, admittedly, tracks coaches' contracts with less accuracy than players' — St. Louis' Mike Yeo, the Islanders' Doug Weight, L.A.'s John Stevens, Florida's Bob Boughner, Dallas' Ken Hitchcock, Boston's Bruce Cassidy, New Jersey's John Hynes, and Buffalo's Phil Housley are also coaching for a job in 2018-19.
One would think Trotz, Yeo, Weight, Stevens, Cassidy, Hynes and Hitchcock are all in strong bargaining positions with the season nearly half over.
Trotz is reportedly making $1.5 million. The price of coaching has skyrocketed since he signed his last deal.
6. Take a few minutes to watch the Capitals' Christmas video. Sounds like Braden Holtby got his mom's singing gene. Fun stuff. I'm a sucker for turtleneck humour.
Capitals Tunes: Vol. 2 Available Now!
Happy Holidays, #Caps Fans! #ALLCAPS pic.twitter.com/1gWywrbYfH

— Washington Capitals (@Capitals) December 17, 2017
7. Much has been made about the Bruins' return to health as a catalyst for their ascension in the standings.
Another major factor is No. 1 goalie Tuukka Rask's return to all-world form. After Thursday's shootout victory over Winnipeg, Rask improved to 7-0-1 in his last eight decisions dating to Nov. 29 (1.50 GAA, .943 SV%, 1 SO). He struggled mightily at the beginning of the campaign, posting a 3-8-2 record in his first 13 appearances (2.91 GAA, .899 SV%).
Chicken? Egg? Who cares? Rask and the Bruins are surging.
8. The eye test matches the math.
Fighting is at an all-time low in the National Hockey League, as we're averaging just 0.21 scraps per game. Only 17.3 per cent of hockey games feature a fight. That rate has chopped the 2012-13 number (0.48 fights per game) by more than half and the 2003-04 stat (0.64) by more than two-thirds.
Also, the fighters — almost all of them — can actually play. It's hard not to appreciate Evgeni Malkin and Nick Foligno mixing it up.
Here's an interesting Gordie Howe hat trick counter via Hockeyfights.com. Ironically, the site's excellent research work is tracking its own path to irrelevance.
9. That feeling when the perfect photograph to match your headline arrives two weeks later…
— Terrance (@terrance_99) December 20, 2017
10. The hottest take I heard all week was that Brock Boeser faked the deep foot bruise that forced him to crawl off the ice in pain after absorbing a point-blank Mark Giordano shot.
Whoever argued that the rookie was exaggerating the injury has never taken a hard cold puck off the instep.
Incredible that Boeser not only played the very next game but picked a clean corner on a focused Carey Price.
11. Also incredible: that the Islanders are in playoff position despite operating with the worst save percentage in the league. The Isles' .891 save rate is .017 below the NHL average. No other team among the NHL's worst 11 in this category is positioned for the post-season, a testament to New York's high-powered offence.
The securing of a rink at Belmont Park certainly can't hurt the Isles' chances of re-signing John Tavares. But would solid goaltending make even more of an impact on his decision?
Bottom line: The guy wants to win a championship.
12. I've always been a heavy proponent of throwing the gender reveal party and the birthday on the same day.
Then I saw Erik Karlsson invite all his friends and family into his pristine garage and take a slapshot. The puck exploded into a cloud of blue dust, and some of that dust must've got into my eyes. All of the feels.
Watch Erik and Melinda get surprised here.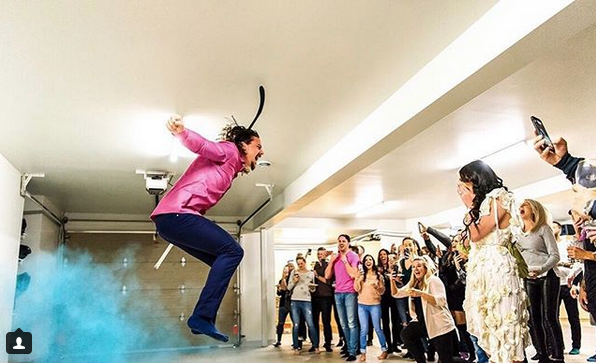 "We would have been excited no matter what [the gender]," Karlsson told reporters in Ottawa. "But I think the way we did it was pretty cool. Neither one of us knew. The only person who knew was the person who made the puck.
"It turned out pretty well."