A quick mix of the things we gleaned from the week in hockey, the serious and less so, always rolling four lines deep.
1. Nazem Kadri has never had a coach place as much emphasis on face-off wins as Mike Babcock does.
In his first season behind the Toronto Maple Leafs bench, Babcock elevated a 20th-ranked face-off team (the Leafs won just 49 per cent of draws in 2014-15) to the eighth-best (50.6 per cent in 2015-16).
Babcock charges his backup goaltender with jotting down the results of each centre's past two to four face-off results on sticky notes, so everyone is aware of their most recent success. With so many inexperienced forwards, Babcock's Leafs have slipped below average in this area. They sit 18th overall as a team, winning 49.3 per cent.
"It's a constant thing with him," Kadri explains. "It's not only the centremen. He's preaching to the wingers and the defencemen to jump in and help out."
Kadri has been battling extra hard to beat Tyler Bozak, the Leafs' dot king, in friendly yet competitive practice draws and says his face-off rates and those of his opponents are the first things he scans on the post-game score sheet. (His time on ice is up there, too.)
"I try to do everything I can to pick [Bozak's] brain to try to get better," he says. "Even when I'm not on the ice, I'm constantly watching the face-offs. Seeing what other guys are doing, trying to figure out what their tendencies are, especially those guys with high face-off percentages."
With Kadri being deployed as Toronto's shutdown man and still scoring goals, some have gone so far as to drop the S word. Please, pump the brakes on this one.
Kadri's ability in the circle has trended up since his 26.7 per cent success rate as a rookie, hitting a career high of 49.2 per cent in Year 1 of Babcock. But he's at 46 per cent this season, and that number doesn't fly in a discussion of the NHL's elite defensive forwards.
2. I asked Kadri to name the four best face-off men in the NHL. Off the top of his head, he immmediately rang off a quartet of guys who rank top-10 in the category this season: Antoine Vermette (league-leading 65.8 per cent), Patrice Bergeron (58 per cent), Jonathan Toews (60.3 per cent) and Jordan Staal (60.1 per cent). "Those are all bigger guys," Kadri said, "and they really bear down."
3. Toronto-based correspondent Sami Hoffrén and colleague Atte Husu wrote (in Finnish) about the different spots a couple of Rocket Richard Trophy threats, Patrik Laine and Sidney Crosby, scored their first 16 goals from. (Brief aside: Love that Wayne Simmonds — the hockey player's hockey player — is right on their heels with 15.)
Husu made this awesome chart. The differences are striking, both in location and method.
Crosby: five deflections, two backhanders, zero slap shots.
Laine: just two deflections, zero backies, four slappers.
This also underlines just how lethal Laine's shot is. But you knew that.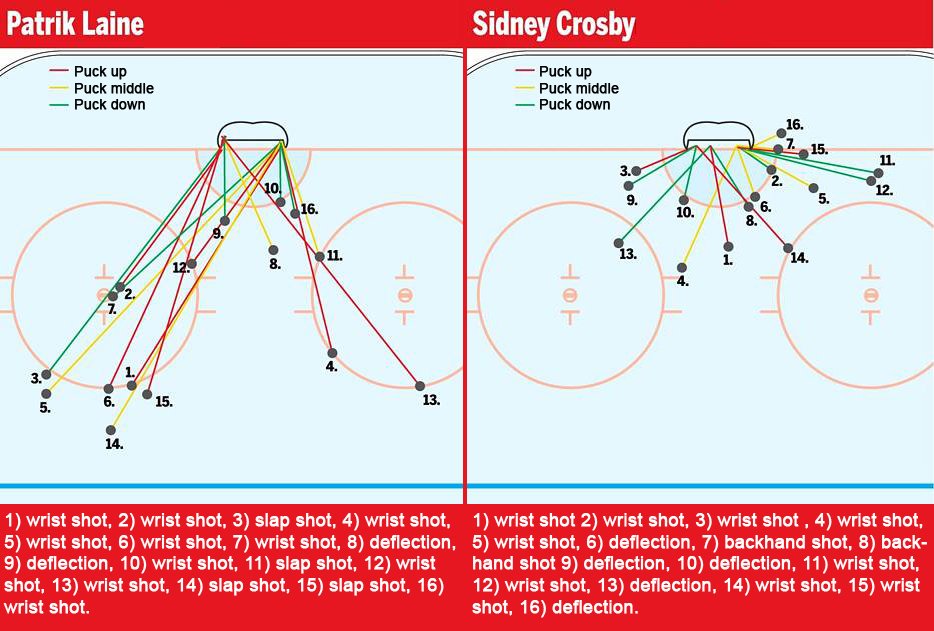 "I've never, ever seen somebody shoot a puck like that," said Jets coach Paul Maurice during a particularly strong appearance on Hockey Central at Noon. "He went on a run of scoring in practice… I've never seen anybody get it off his stick in different ways to get it to the net.
"It's shocking."
Maurice has been floored by his rookie's development the past couple of games, especially, with the now-healthy Bryan Little sliding in as his centreman. Maurice cites Laine's patience, how rapidly he won over the club's veterans and his embracing of "the idea he doesn't have to make something happen every shift."
Now we need a goal chart for David Pastrnak, please.
4. For this week's Power Rankings, I plucked out each club's best bargain player.
The handy CapFriendly.com has a filter that allows users to see exactly how much a team is paying for each player's goals, assists and points.
Some findings at the (roughly) 25-game mark: Laine is only costing the Jets $61,667 per tuck, while Connor McDavid is providing the Oilers with the NHL's cheapest assist ($40,217) and point ($27,206). Something tells me he'll make 'em pay eventually.
Arizona's Radim Vrbata ($62,500 per point) provides the best offensive value for old guys (35-plus), while Florida's Jonathan Marchessault ($39,474) is your early free agency value-buy winner.
It makes sense that having multiple smart-value players on your roster leads to success. The New York Rangers, Philadelphia Flyers — both in playoff positions — lead all clubs with six different players ranking among the top 100 in cost per point, and the Maple Leafs' youth movement is reflected with three in the top 16 and another three in the top 100.
Defence-first Minnesota is the only club that doesn't have a single player in CapFriendly's top 100 cost-per-point ranking.
Of concern: Anaheim (Nick Ritchie at No. 94), Washington (Andre Burakovsky at No. 46) and budget-conscious Ottawa (Ryan Dzingel at No. 24) only have one in the top 100.
5. A peek into Auston Matthews' confidence: The kid hadn't played an NHL game when he shot this viral commercial with Jonathan Toews over the summer in Toronto.
"It was a blast, especially working with him. He was one of my favourite players growing up, so that was my first time I met him. He's an unbelievable guy," Matthews says. "The video doesn't show it, but we were laughing the whole time. There were so many funny things going on behind the scenes."
The established and rising superstars were paired up because they share a super-agent in Pat Brisson. Love that Matthews felt comfortable enough to rib Captain Everything about his love of veggies.
"I know he's serious about nutrition," Matthews says. "I was kinda giving it to him a little bit there."
6. Serious question: Is it possible to be okay with the odd fight breaking out in a hockey game and still be all for the concussion spotters?
7. Shocked to learn that local boy Chris Stewart, a nine-year NHL veteran, had only played in Toronto twice before the Wild rolled into town Wednesday. Injuries, healthy scratches and a career mostly played out in the Western Conference had limited the former Leafs fan's homecomings.
Stewart arranged tickets for 20 friends and family and delivered with a sweet goal on a partial breakaway, throwing up a gloved 6 in celebration.
"These are the ones you dream about," he said. "I'll think about that one my whole life."
8. Montreal already won the trade, but we still find it pertinent that P.K. Subban scored his seventh goal for Nashville this week, surpassing last season's total of six. He's on pace for his first 20-goal campaign and is tied atop the Predators points leader board.
"One thing about this team since I've been here is [our forwards] use the D. It's something that I like to play with — forwards that like to use the defence," Subban told Adam Vingan of The Tennessean.
"It's easy for us to generate offence that way when they grind and cycle down low. It's hard work. It's not easy in this league to be able to come out of the corner with the puck and use your points. Our forwards do such a good job that when we get it, we just try to get it back in there and create something.
"We've got tremendous D here that can move the puck and create offence and can skate. It's only going to give our forwards more room and more space, and not only that, it'll make it easier for them because we've got guys back there that can make plays. When we use the D and stretch teams out, it's really hard to defend for them."
9. If the expansion draft was held today, the Vegas Golden Knights' first-overall pick would be Pittsburgh goaltender Matt Murray.
This will not happen in real life, of course. As a last resort, GM Jim Rutherford will buy out the protected Marc-Andre Fleury, but a trade or a waiving of his no-move clause are much more likely.
Since Murray returned to the Pens' lineup, he's been given 10 starts to Fleury's eight. In that time, Murray has significantly more wins (nine, including one in relief, to Fleury's three) and a sparkling .934 save percentage.
Fleury's been a good soldier, as always. But his save percentage while Murray was sidelined was .909. Since he's fallen into a rotation, it's dropped below .900. There has to be a mental aspect to this, with such an uncertain future.
We'd love to see Fleury move at the deadline and become a No. 1 on a playoff team again (Dallas?), but the Penguins know well the importance of goaltending depth and have a legitimate chance to repeat.
10. Erik Karlsson became the Ottawa Senators' all-time leading scorer among defencemen this week, but we're still shaking our heads over the fact he leads everyone in blocked shots with 2.89 per game.
Coach Guy Boucher has three of his defencemen clogging lanes with the zest of a six-year-old's bowling alley birthday party. Cody Ceci (2.37) and Dion Phaneuf (2.22) also rank among the NHL's top 10 shot-blockers.
11. A mere 14 points separate first place from 16th place in the Eastern Conference. No team is more than two points ahead or behind the teams sandwiching them in the points race. The loser point is working like a charm.
"That's expected. As a fan looking at the standings, it makes it that much more exciting," says Kadri. "It's going to be tight the whole year."
This is great for gate revenue in March, I suppose, but makes trades nearly impossible. Fans find those engaging, too.
Wild coach Bruce Boudreau disagrees with Kadri. He drew a nice parallel when looking at the divisional races this week.
He figures we're in Round 2 of a golf tournament, where everyone's bunched up. "By Round 3, the separation happens," he says. "Round 4? The cream rises to the top."
12.
I must remember to watch Wayne Gretzky on The Simpsons Sunday.
I must remember to watch Wayne Gretzky on The Simpsons Sunday.
I must remember to watch Wayne Gretzky on The Simpsons Sunday.
I must remember to watch Wayne Gretzky on The Simpsons Sunday.
I must remember to watch Wayne Gretzky on The Simpsons Sunday.
I must remember to watch Wayne Gretz