A quick mix of the things we gleaned from the week of hockey, serious and less so, and rolling four lines deep.
1. Great idea by Steve Dryden to bring back the Professional Hockey Writers' Mid-Season NHL Awards, announced today. (It just so happens to be Wayne Gretzky's birthday — hey!)
The PHWA used to do this in the 1960s, and it's an excellent tool for getting us thinking about our real votes early. The best part is weighing in on the races for the Jack Adams and Vezina, a couple of trophies the writers don't vote on.
The Rod Langway (defensive defenceman) and Comeback Player of the Year (which is intended to be different than the Masterton) awards are a couple of fun additions.
Here are the names I submitted based on half a season. Already I know my final ballot will look much different.
Hart Trophy: 1. Nathan MacKinnon; 2. Nikita Kucherov; 3. John Tavares; 4. Victor Hedman; 5. Steven Stamkos
Too many Lightning stars to ignore, and I chose not to punish them for having excellent teammates. MacKinnon and Tavares' Hart bids are dependent on the Avalanche and Islanders making the playoffs.
Norris Trophy: 1. Victor Hedman; 2. Drew Doughty; 3. Alex Pietrangleo; 4. Charlie McAvoy; 5. Roman Josi
If Hedman gets stuck on IR too long and Doughty's Kings don't make the playoffs, P.K. Subban and John Klingberg continue flying up this list.
Calder Trophy: 1. Mathew Barzal; 2. Brock Boeser; 3. Charlie McAvoy; 4. Clayton Keller; 5. Mikhail Sergachev
Sorry, Vancouver. You have every right to skip the rest of the article and go straight to the comments section.
Lady Byng Trophy: 1. Mark Stone; 2. Auston Matthews; 3. Johnny Gaudreau; 4. William Karlsson; 5. Will Butcher
Stone is one of the most underrated stars in this league, and his composure amidst the chaos is remarkable.
Selke Trophy: 1. Patrice Bergeron; 2. Brad Marchand; 3. Anze Kopitar; 4. Sean Couturier; 5. John Tavares
Bergeron should win a fifth Selke, snapping his tie with Bob Gainey for the most all-time. I submitted my vote before Marchand chicken-winged Marcus Johansson into a concussion. That's not good defence. He won't be on my final ballot.
Vezina Trophy: 1. Andrei Vasilevskiy; 2. Connor Hellebuyck; 3. Henrik Lundqvist; 4. Pekka Rinne; 5. Mike Smith
I can't believe Hellebuyck made this list, either. Good on the kid.
Jack Adams Award: 1. Gerard Gallant; 2. John Hynes; 3. Barry Trotz; 4. Bruce Cassidy; 5. Jared Bednar
This is the only trophy we should just hand out now.
GM of the Year Award: 1. George McPhee; 2. Steve Yzerman; 3. David Poile; 4. Jim Nill; 5. Joe Sakic
Is it too farfetched to think NHL execs might be willing to pay Seattle for the opportunity to GM an expansion team and McPhee their peers?
Rod Langway Award: 1. Victor Hedman; 2. Drew Doughty; 3. Alex Pietrangelo; 4. Ryan Suter; 5. Ryan McDonagh
A bunch of workhorses who are forever drawing the toughest assignments.
Comeback Player of the Year Award: 1. Steven Stamkos; 2. Claude Giroux; 3. Taylor Hall; 4. Dustin Brown; 5. Jonathan Bernier
Brown's comeback is the most improbable, Giroux's is the most necessary, but Stamkos's is the most impressive. Feels like every summer he's busting his rear end to recover from a devastating injury. Relentless.
2. Part of MacKinnon's incredible surge is due to the fact he's not always surging.
"You can't have one gear," the Colorado Avalanche star says. "I'm trying more changes of speed and slowing down in the neutral zone. With my linemates [Gabriel Landeskog and Mikko Rantanen], obviously those guys can skate, but when I feel like I can slow down the pace a little bit, it helps them as well and helps me.
"You can't be a one-speed guy. You're way too predictable like that, and I think when you're a little slower you can shoot through screens and things like that too so trying to mix that up."
MacKinnon's ability to shift gears, coach Jared Bednar says, has made him a more dangerous one-on-one threat.
"He's kind of mixed up his attack," Bednar explains. "Sometimes he'll drive the D deep into the zone and try to take it to the net. Sometimes he pulls up and then tries to cut into the middle of the ice and get into the interior of the ice to use his shot. We're seeing him shoot and use the D-man as a screen a little bit more."
Want to stress out Peter Chiarelli? Remind him that between 2018-19 and 2022-23, MacKinnon will count $6.2 million less against the annual cap than Edmonton's best player.
3. Noticeably absent from my awards ballot is Sidney Crosby. The Greatest Player Right Now said himself that he doesn't think he's deserving of an all-star nod after 41 games, let alone the Hart.
But Sid has just cracked the NHL's top-10 scorers list with a bullet. He has 19 points during the nine-game point streak he takes into the all-star break.
Don't bet against him for the Hart, the Art Ross or the Conn Smythe just yet.
"I stopped idolizing him a long time ago," says MacKinnon, who no longer hangs posters of Crosby on his bedroom wall. They're just friends.
"It's hard to get information out of him sometimes about those Cup runs and Cup wins," MacKinnon says.
"He doesn't like talking about himself. We'll talk about hockey… but he's not like, 'Did you see my Cup Final goal?' He's truly a humble guy. He's real, too. He's a very real human. He's not faking it."
Sidney Crosby: Very real human.
4. Of all the things I didn't expect to see this week, Zdeno Chara feeding street pigeons out of his generous palm cracks the top 10.
The Bruins' gentle giant posted just that on social media. Now that's what I call an Instagram feed! (*ducks*)
"I like to feed them once in a while," Chara writes. "Their trust feels very peaceful. It's on us how we embrace the trust of any animal. People sometimes misuse it. Shouldn't we value and enjoy it instead?"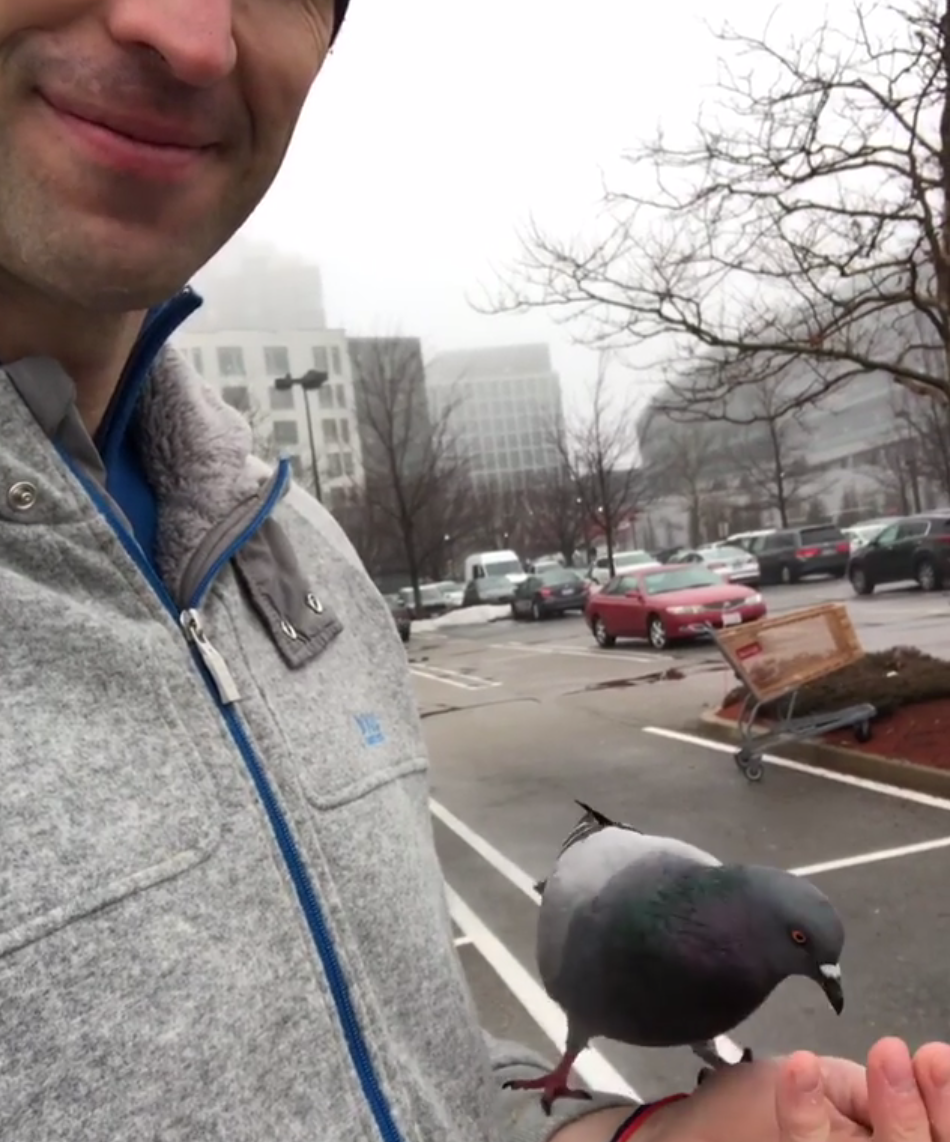 5. Speaking of animals chomping near a hockey player's bare hand, last Friday Ottawa's Mark Borowiecki had an incredulous chuckle showing a few reporters the finger that St. Louis Blues forward Kyle Brodziak sank his teeth into during a scrum.
"He had my blood all over his lips!" said Borowiecki, not the least bit angry.
The Senators defenceman said he, Brodziak and Chris Thorburn were all laughing at the incident. The conversation went something like this:
"What the [bleep] are you doing?"
"Well, your finger's in my mouth. What do you expect me to do?"
"Not bite it."
There is savagery in this game still.
Boro's damaged digit needed to be filled with glue so the skin would stick. He made it clear he wished no ill will on his attacker.
"I told him in the box after that, 'I'm probably the last guy in the league who should care about that stuff,'" Borowiecki says, smiling. "Not a big deal, and I really hope he doesn't get any calls or suspensions or anything."
6. Both MacKinnon and Bednar believe the Matt Duchene trade made a significant impact on the Avalanche's dressing room culture.
Here's what a thoughtful captain Gabriel Landeskog had to say about how things shifted on Nov. 5:
"I'm not going to call it a distraction, but it was a little bit. He didn't want to be here, so when that whole situation was all figured out, we just talked about, 'Let's move forward now, and let's make sure we take this upon ourselves to push for the playoffs.' Nate wants to be that offensive guy, that go-to guy, and he's proven that he is. It's been a lot of fun to watch him.
"Overall, we had a young group coming in this year, and we've come together well. That Sweden trip, we had some good team bonding. The way we've come together as a group, it feels like one of the better groups I've had in my time [here]. It's a real good dressing room, and everyone's pulling in the right direction."
7. The intent here isn't to pile on to Duchene, but rather to explain how hockey — more than any other sport — is so reliant on unity.
Dallas Stars coach Ken Hitchcock described this theme eloquently on Prime Time Sports this week in raving about Gallant's work with the Knights.
"Gerard, he did a great job in cultivating the cause. And any time you can have a cause you can fight for every day that's right out in front of you, it's visual, it's verbal, it's like gold," Hitchcock said.
"We always look for it, and the great coaches of the world like [Gregg Popovich of the San Antonio Spurs] and [longtime Manchester United manager Sir Alex Ferguson], they always found a cause."
Since Duchene moved conferences, I've seen more of games and have been especially impressed with his work with Bobby Ryan. A slow start, no doubt. Quietly, Duchene has nine points in nine games. Effort is being in questioned in Ottawa, but not Duchene's.
"He's gonna find ya," Ryan says. "He's great down low. He wants the puck down low, and it gives you an opportunity to get lost in the zone sometimes. You know when he's down there and he has a guy on his back, he's going to get the puck to the net. It took us a while to get used to each other, but with [sniper Mike] Hoffman we've added a different element and had success."
8. Ryan is one of my favourite quotes. In a conversation sparked by the Erik Karlsson trade speculation, Ryan reflected on the rumours that had him getting shipped off to Philadelphia when he was a young stud on a dangerous Anaheim Ducks squad.
"Back then I was [thinking], 'I've done well. I played well. Why am I the one to go?' You take the things said about you personally. But I've learned you have to take those things with a grain of salt," Ryan said.
"A couple of [Senators] have asked me about it. You have to do your best to put it away. For me, it took two years, two years of reading, and two years of being mad at the GM for no reason, two years of being mad at the coach for no reason, taking things personally."
When a cloud of rumours swirled over his head, Ryan said he would bottle everything up, silently miserable as he punched the clock in sunny Anaheim.
"I didn't learn the right way," he explained. "Back then I didn't talk to anybody. I just went to the rink and left. Sullen. Probably not listening to the coach as much as I should because I was pissed off. I wish I could take all that back.
"Now if I talk to the guys, I say, 'You gotta find a way to leave it at the rink. Go home to your life and separate the hockey side. There's other things in your life.' "
9. For the first time in nearly two months, the Vegas Golden Knights lost a hockey game in regulation time at home Thursday, to the Islanders.
The last team to accomplish the feat was the Stars, who smartly built their Nov. 28 match in Vegas around their annual fathers trip. Most young men party different with Dad in the room.
Columbus Blue Jackets coach John Tortorella tried a different tactic with his players this week in Sin City. "I want them to go out," Torts said. "I think playing guilty is a big part of being a really good player in the National Hockey League."
The Knights trounced Tortorella's bunch 6-3, and their 19-3-2 home record proves most players can't play guilty.
That a boy Torts pic.twitter.com/0J0ZxIOsnD

— Shane O'Brien (@ShaneOBrien55) January 23, 2018
Sources say, the Maple Leafs tried staying at the Red Rock Casino Resort, an upscale way out in suburban Summerlin, 30 minutes from The Strip. Didn't work.
On The Strip, the Lightning tried the Four Seasons. No dice.
Before their losses, the Coyotes and Blackhawks slept at the Bellagio, which hosts the annual Wayne Gretzky Fantasy Camp and is run by Peterborough, Ont.'s Randy Morton. Morton's hockey roots stretch all the way back to sharing minor hockey sheets with Hawks great Steve Larmer.
The majority of the Knights' other victims opt for the Mandarin Oriental at the south end of The Strip. The Mandarin is close to the arena, is smoke-free, and is that rare Vegas hotel that does not have a casino.
10. Adorable moment when Sens GM Pierre Dorion called rookie defenceman Thomas Chabot into his office last week.
"To be really honest with you, my first thought was, 'I'm going back to Belleville,' " said Chabot, who has spent 13 games on the farm this season.
Instead, Dorion told the 20-year-old to buy a house in Ottawa. He's not going anywhere.
"He's definitely earned that. He plays much beyond his years," says fellow D-man Dion Phaneuf. "What I see is a guy who moves the puck well and can work a power play very well from up top, quarterback it, and that's a tough job to do."
Guy Boucher says the Saint John Sea Dogs graduate is getting smarter with his puck possession and improves on every aspect of his game the coach asks.
"It's not like he'll take a step forward and two back. It gives you the indication that his progression should go on every day, every week," Boucher says.
In junior, Chabot could recover from his mistakes with his excellent skating.
"Here, when I make a mistake, guys are too fast, guys are too good," Chabot says. He names Auston Matthews and Vladimir Tarasenko in particular. "Even the third [and] fourth line has guys who are strong and fast. Every game is really hard, to be honest with you.
"Pierre told me straight-up, 'This doesn't mean you're never going back to Belleville.'"
11. Mitchell Marner got a kick out of the tweets that drew attention to the fact his beautiful toe-drag goal on Craig Anderson Saturday was a mirror image of the one the digital Marner scores in EA Sports' trailer for its NHL 18 video game.
Watch in fake life:
Watch in real life:

"I saw the trailer in the summer," Marner said. "Jake [Gardiner] made a great play coming up the ice and we had talked about how we were going to try and move ahead and look for me. Lucky enough, I got the puck with speed coming down and was able to make the move."
Leafs goalie Frederik Andersen showed Gardiner the clip with Marner's EA move.
"It could've been in the back of his head when he was doing it," Gardiner said. "Not many guys can do that. It was pretty impressive."
Here's the kicker. Back in when the trailer was released in the summer, Anderson's wife, Nicolle, tweeted about the unlikelihood of her husband getting deked that bad:
My husband said he would never be out of position like that! Lol @CraigAnderson41 https://t.co/GNNDoNBzl4

— Nicholle Anderson (@xonichollexo) June 8, 2017
12. Don't expect MacKinnon to get all tickly about his position on our Hart ballot. He was recently asked what the NHL First Star of Week honour meant to him.
"Nothing," MacKinnon said. "I don't really care. Awards aren't handed out in January. You might get Star of the Week, Star of the Month, it doesn't really mean a whole lot."
For such a young guy, MacKinnon is gaining great perspective. He admits he took winning for granted — that's all he's known. The Avalanche's disastrous 2016-17 made him feel like "there's no light at the end of the tunnel" when it came to hockey, and — not unlike a young Bobby Ryan — he couldn't take that feeling off with his gear.
"Any athlete kinda judges themselves as a human by how good they are at their sport. It's just the way it is. I don't think it should be like that," MacKinnon says.
"That happens a lot. If people feel they aren't doing well at their job, it affects their personal life and self-confidence."
In the words of Tyler Durden: You are not your job.