A quick mix of the things we gleaned from the week of hockey, serious and less so, and rolling four lines deep.
1. The inevitable trade of Erik Karlsson — which has gone from Dallas to Tampa to Dallas to nothing, from They're on the phone with the league right now! to seven days of tumbleweeds and cricket chirps — must only be completed, officially, by Ottawa in advance of the 2019 trading deadline. That's more than seven months away.
A better target for everyone involved? The day before training camp opens.
Ask the Colorado Avalanche about that. Better yet, take one glance at Matt Duchene's welcome-to-training-camp headshot from 2017. Now imagine that's your captain, your undisputed best player. If any franchise should be desperate to open 2018-19 with a clean slate, it's the one in Kanata.
"Certainly it's a lot easier if you are expecting the trade. If you're Erik Karlsson, you know you're probably going to get moved and you're ready for that," says Taylor Hall, the key to his own summer blockbuster in 2016. "For myself, I was ready to stay in Edmonton and stick it out. So there's different scenarios.
"The ultimate goal doesn't really change. It's just your surroundings and how quickly you can get used to that."
The sooner, the better.
As the rumours and distractions heighten, Pierre Dorion's return may weaken. More frightening: What if — knock wood — Karlsson suffers a pre-trade training injury? If his Frankenankle fails him?
Hall says "people have made a big deal" about his game and his approach changing simultaneously with his uniform.
"You get older. You mature. My game is a lot more relaxed. I come into the pressure of games a bit more relaxed," Hall explains. "That's just part of growing up. Maybe part of the frustration I had my first few years in Edmonton, I don't feel that anymore."
2. For all that Hall's Devils accomplished in 2017-18 — producing a Hart Trophy winner, quenching an agonizing playoff drought — the league MVP still had to sit and watch other teams play hockey for a month and half.
What he noticed about the Capitals and Golden Knights' endurance is the premium of lineup depth.
"It's the [Devante] Smith-Pellys. It's the Jay Beagles. It's those guys that really make the difference as games go on, as series go on. Hopefully as our team grows, we can have those [type of] guys on our team. We can add to what we have on our first line," Hall says.
New Jersey has done exactly not that.
Sitting out free agency, GM Ray Shero has $19.6 million in projected cap space, more than every team except Winnipeg (and the Jets will use its budget on locking up pricey RFAs Jacob Trouba and Josh Morrissey). New Jersey watched John Moore, Michael Grabner, Patrick Maroon and Brian Gibbons all walk.
"Those are big guys for us. Yeah, we're gonna have to find a way to make up for that. Those are guys who played key roles on our team, whether they were trade deadline [pickups] or guys who came into camp and surprised and made a huge difference for us," Hall says.
"I would love to see us add a couple more pieces, but at the end of the day, that's not my job. My job is to come into camp as healthy as possible, as committed as possible."
3. One more from Hall, who nailed his acceptance speech for the most hotly contested Hart in recent memory and now keeps a mini replica of his MVP award at home.
"I don't have the big one. Unless they're sending it to me," he says. Nudge, nudge.
"I had 130 messages and I replied to them the following day on the plane. I couldn't do it that day. I just wanted to relax and celebrate with my family instead of being on my phone the whole time. I had all my family there. A few of my close buddies, we had a little celebration when I got back home. It's a cool accomplishment."
A personal victory that gargantuan can make a man in his mid-20s reflect and reconsider.
"You want the recognition. You want the pressure. You want the accolades. All that," Hall says.
"But at the end of the day, it's about helping your team and winning hockey games. I was able to do that more often than not last year, and that's what made it so fun. I'm not after the points or anything like that.
"At the end of my career I want to be able to say I'm a Stanley Cup winner and I really had an impact on the teams I played on."
4. For four brilliant seasons, Logan Couture and under-ager John Tavares lit up the OHL together but separately, one in Ottawa, one in Oshawa. So when Sharks GM Doug Wilson told Couture he had a chance to suit Tavares in teal, Couture reached out to Tavares directly.
"I told him how awesome a place we have out in San Jose and how much fun we have," Couture says of his simple pitch. "The Sharks are pretty well-known around the league as a place a lot of players want to play in. We've been in the playoffs in 13 of the 14 past years. You give yourself an opportunity to win, and moving forward I think we're going to have a good team there."
We swooned over the Maple Leafs' centre depth, but imagine the Sharks rolling out Tavares-Couture-Thornton-Tierney. Not too shabby.
"He made the decision he thought was best for his family," Couture reasons.
Seeing Tavares' windfall and the annual scarcity of prime centres on the open market, we asked Couture if he was even the tiny bit tempted to peek behind the curtain in July 2019.
"No. Not at all," he Heisman'd. Couture agreed to an eight-year, $64-million extension more than a year in advance of his current deal expiring. "It's a place I've grown to love. We've been competitive every year. It was a very easy decision."
5. With Tyler Bozak and James van Riemsdyk leaving Toronto, Nazem Kadri wouldn't exactly be opposed to joining fellow centres Auston Matthews and John Tavares on special teams.
"We are trying to generate some chemistry between the three of us and hopefully look to be on that power-play together," Kadri says. "We'll see how it works."
As he is with most topics, Kadri was great in discussing the departure of a very rich van Riemsdyk to Philadelphia. What are the Leafs losing?
"A lot. A lot. He's a natural-born scorer and net presence, which is very annoying for other teams to play against. A great guy in the dressing room and a dear friend of mine. That'll continue," Kadri says.
"He was the full package. I couldn't be more happy for him."
On his way out, JVR joined Connor Carrick and Mitchell Marner in chirping Kadri on Instagram about his musical selections as the Leafs dressing-room DJ, dubbing his pal "Naz 'Same 7 Songs' Kadri."
"That is false," Kadri shoots back. "I'm the best DJ to ever come across the city of Toronto, and those guys in particular are not allowed to even come within the vicinity of the stereo."
6. I asked a couple of bejeweled Oilers from (arguably) the greatest NHL team to ever play and (less arguably) the greatest NHL team to ever party how Alex Ovechkin and the Caps' celebration stacked up.
"I guess I'm more of a people person, so I thought it was awesome," said four-time winner Mike Krushelnyski. "We were lucky enough that when I won the Cup, we had a block party. The Cup was on display in front of my garage. Six hundred people showed up. Everybody brought lawn chairs. Everybody got a picture with it. My seven-year-old, his friends came from 11 to one. The friends of my older boy came from two to four. I've always opened it up to everybody. It was awesome what [Ovechkin] was doing. Why not?"
Grant Fuhr agrees that Washington is doing the Summer of Stanley justice.
"It's kind of a throwback to the old-school way," Fuhr says. "We [took the Cup through the streets] all through Edmonton. When we celebrated with the Cup the first couple years, we went as a team everywhere. It looks like Washington is doing a lot of the same. We all travelled together; it wasn't done individually. Yeah, you had it for a day and you had friends over, but most of it was done as a team."
The images of Ovie making snow angels in public fountains and keg-standing the chalice will live in social-media infamy. What if camera phones existed in the '80s?
"They would've got a couple different kind of pictures," Krushelnyski chuckles.
"Put it this way: We would've got in trouble. I don't think those things were allowed back then."
7. Everyone has a theory as to what went awry with Edmonton's 2017-18 edition, alumni included.
"We went out there a couple times to watch the team. They seemed to be executing everything in practice, but come game time, they'd get down a goal and it was a whole different picture," Krushelnyski says.
"When I see that as a hockey guy, that tells me it's internal. What it is, I have no idea, but hopefully they'll get it straightened out."
Fuhr believes the 2016-17 group was boosted by several guys overachieving. That created unrealistic expectations, and a chunk of players underachieved in response. The true quality of the Oilers lies somewhere in the middle.
"You're going to have growing pains. Some guys will play well, some won't," Fuhr says. "So this year we'll see what the team really is."
A focal point, naturally, will be in net. Cam Talbot's save percentage fell 11 points year over years, to a career-worst .908. The pressure will only ratchet in his contract year.
"He's a great goalie," Fuhr says. "I mean, everyone was down on him this year because he was unbelievable last year. But he was good. He just wasn't great. I think he still played better than most, but everybody wanted great instead of good. He got some unfair criticism."
8. An NHLPA source says there is a 90 per cent chance the new, trimmer goalie chest protectors will be fully ready for the opening of training camp. If not, shortly thereafter.
Goaltenders are significantly more concerned about the impact of the slimmer chest gear than the tighter pants instituted last season.
"Goalies will always adjust. You can roll the edges, do what you like, and goalies will always adjust," says Fuhr, who sees a different solution.
"Make the equipment heavier. Goalies will make the equipment smaller by themselves. That's how you adjust that. The more weight you put in it, the smaller guys won't want to wear it. It's simple. We wore it small because it was heavy. If you put weight back in it, you'll see it shrink. I took a lot of stuff out of my equipment. You had to. Everybody did it."
9. A couple days before inking a healthy five-year, $29.25-million extension — nice cake for a 3C — with the Anaheim Ducks, I spoke to Adam Henrique about getting dealt from the Devils just as they started looking legit.
"Initially, it was difficult," Henrique said. "Going into the season, I knew in the back of my mind there was a chance of it happening. The way our team was heading, if you looked, I was probably one of the — if not the only — guy not protected from the past [Lou Lamoriello] era, and if a team was going to call for what New Jersey needed as an asset, it would take a player such as myself to get that asset."
Getting swapped for defenceman Sami Vatanen made sense as a hockey deal that should continue to benefit both sides. Who's to say if the Ducks even make the 2018 playoffs without a healthy Henrique striking nice chemistry with young wingers Ondrej Kase and Nick Ritchie on one of the NHL's best third lines.
"Until I joined the team I didn't know how bad guys had been injured. After settling in the first few days, I felt like I fit with the group right away," Henrique said. "Once I got past the initial shock, everything was great. Everybody kept asking me how Anaheim was, and I hadn't been there at all. We were on the road pretty much the whole first month after the trade. That helped. Being around the guys on a new team, getting to know everybody. The city there is amazing."
At only 28, Henrique felt like he'd jumped from a kid to one of the old guys in a suddenly young Devils room. He enjoys being in the middle of the pack, age-wise.
"I hadn't had that in a while. Going into a veteran team with all the leadership in the locker room, the team kinda just steers itself in the right direction. It polices itself," he said. "I really enjoyed it once everyone was back and healthy and we settled into our roles, and I figured where I'd fit."
Getting swept by the speedy Sharks in Round 1 of the playoffs, Henrique says the notoriously grinding Ducks now realize they must up their pace.
"So I think there will be some changes heading into camp," he says. "But our guys who play [a heavy game] have had success that way and will continue to have success. We have enough of both that we can almost play a two-system game."
10. I loved seeing Henrique openly root for former teammate Devante Smith-Pelly on Twitter during the Caps' Cup run. Thrice Henrique tweeted something to the effect of "DEEEEVOOOOO!!!!" when DSP scored another clutch goal.
"That was great. I was there for everything he went through in New Jersey," Henrique says. "We'd played together [in 2015-16, when Smith-Pelly put up 13 points in 18 games]. We were scoring, making some plays. Then next season it went the other way. He was in and out [of the lineup and finished a career-worst minus-19], had a tough time with some injuries. Obviously things didn't come along.
"I trained with him last summer and saw how much work he put in through the summer. And then in the season, he found that role in Washington and his playoffs speak for themselves. I was very happy for him to find that success, to fit in that organization."
11. Some quick, dry notes from union chief Donald Fehr, who met with 50-plus players this month and spoke on a range of topics at last week's NHLPA Golf Classic:
• Ongoing discussions between the NHL and the PA regarding the next World Cup of Hockey will be accelerating over next several months. "We'll know a lot more three or four months from now," Fehr said.
• On free agents loading up on signing bonuses to protect against a potential lockout: "You plan for the worst and hope for the best. It doesn't surprise me. I don't think it's that big of deal either. It's what I think anybody in the industry would've expected."
• On whether the next CBA may include weighting the salary cap by state tax: "It's not easy to resolve those kinds of things for any number of reasons, including what the tax rates are in various states and provinces don't necessarily tell you what they're going to be in 36 months. You have to figure that out."
• The PA feels no pressing need to formally discuss the legalization of marijuana in Canada and certain states with the league, but it has been a topic of internal discussion. "Things happen organically," Fehr said. No pun intended.
• It's too premature to speculate on the CBA re-opening option that awaits in the fall of 2019. "What are the players going to be thinking a year from September? What's the league going to be thinking a year from September? If this was July 2019, I might be able to hazard a guess, but we're way too ahead," Fehr said. "My experience is in this sport as well as with baseball players, a consensus develops over time and players turn their attention to it more closely the closer [the deadline] appears."
12. Keshia Chante, possibly the person who knew Ray Emery best, posted a series of photos and a raw tribute on Instagram this week. The two were set to get married before Chante broke off the engagement a year ago, a decision she also wrote about. Rest in peace.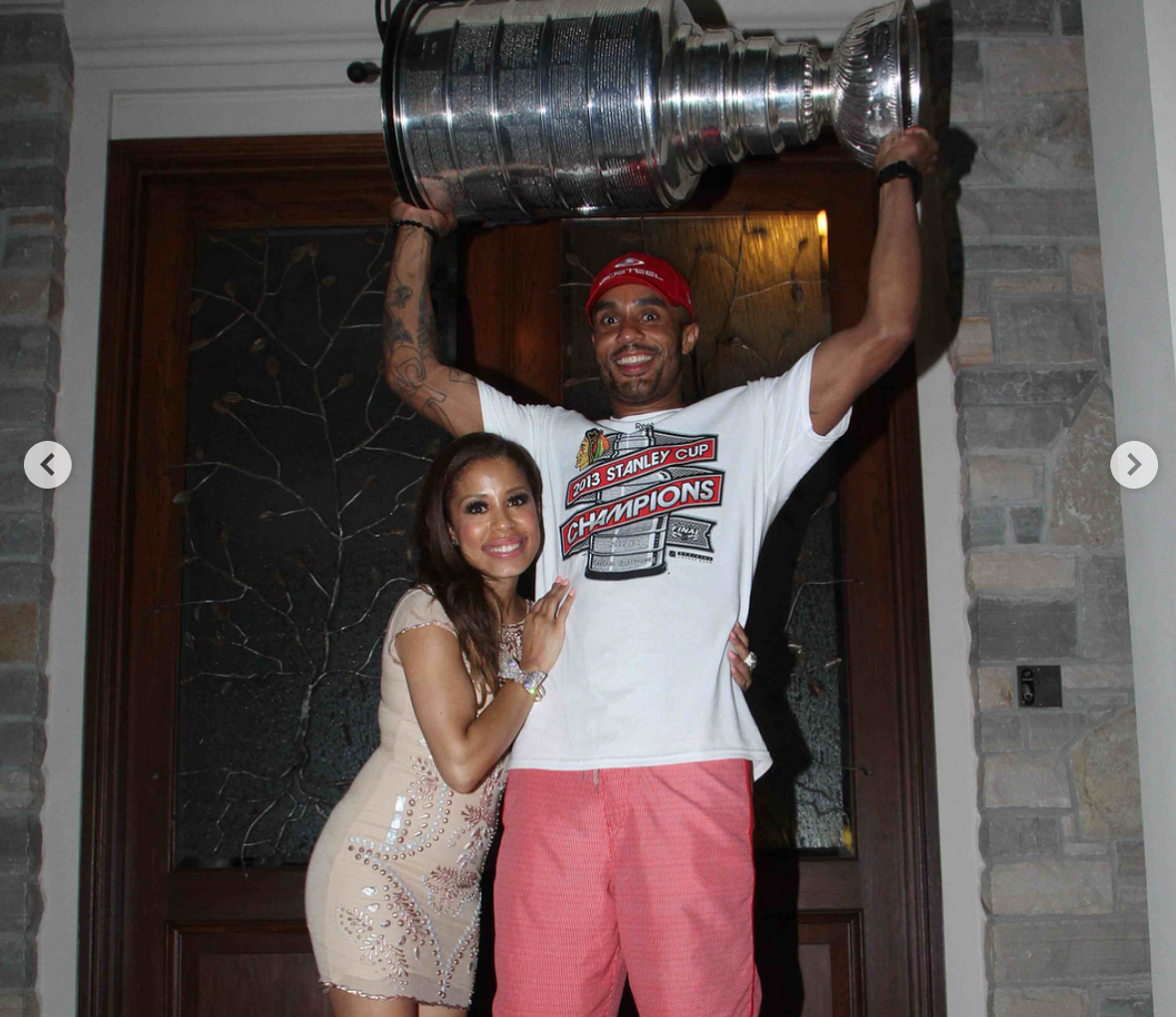 Here is what Chante wrote on social media:
Raymond Robert Emery (Sept 28 1982-July 15 2018) my heart is heavy. i am at a loss. distraught. obliterated. The love of my life, best friend, the man i was going to marry. U loved me with every fibre of ur being even though it overwhelmed me at times. U took care of me, protected me. So incredibly passionate, loving & affectionate. My cuddle bear. That smile.. the way u looked at me. U always made sure I knew how much u loved me. Even at the very end. Intelligent, hilarious, entertaining, giving, charismatic, a leader, family-oriented, a fierce competitor, good hearted, determined. U always amazed me. A hip disease where they said u wouldn't walk again. I watched u go from bandages, to walking, to skating, to playing pro hockey again then to winning a Stanley Cup like a King. A superhero I called u. Unfortunately my baby, u believed u were invincible in every way. U had demons u were fighting, ones that u felt u were too invincible to confront the way I wanted u to. God, I wish u would have, I wish I didn't need to walk away. Many nights I stayed awake worried about u not coming home. my biggest fear. ur lifestyle catching up with u. today is now the worst day of my life. The day u would leave this earth. 35 years is too young my love but God, did u ever live ur life to the fullest. U brought so many along with u, took care of many, loved to share, loved to laugh, a great story teller. Literally the life of any party. 7 years together & so many incredible adventures & memories I will hold onto forever. We lived in 6 cities & went through the good, bad & the ugly together. Sometimes we fought but we fought for each other more than anything. Thick & thin. U taught me so much. U gave me all of u & I'm so grateful to have had u in my life. No one knew u the way I did & it was an honor that u let me in that way. It was an honor that u asked me to marry u. We were inseparable, attached, a bond so rare. My heart is completely broken. Big Fella, I love u always.
My heart is with the Emery Family & everyone who loved him so prolifically. We will get through this together.