A quick mix of the things we gleaned from the week of hockey, serious and less so, and rolling four lines deep.
1. Why does Sidney Crosby lead the NHL with 14 goals in 14 games?
For one, he's shooting more.
Crosby is firing 3.64 pucks on net per game, making him the ninth most trigger-happy player in the league.
"Typically, I think you probably look to pass," Crosby told TribLive.com. "But when they're going in for you, without even thinking about it, you probably tend to put it at the net a little bit more."
Crosby's shot rate is still no match for Alex Ovechkin. The winner of the last four Maurice Richard trophies (and six total) is blasting 4.21 shots a night and just passed Jaromir Jagr to become the active player with the most career hat tricks (16).
Ovechkin annually ranks at the very top or near it in shot frequency. In this decade, Crosby has hovered between 11th and 26th in the category. The last season his stick was this prolific, Crosby and Steven Stamkos shared the Rocket, in 2009-10. He'd never say it, but you wonder if the man who's won everything wants a Richard title all to himself.
Maybe he's motivated to silence those questioning whether he's still the best in the world.
I think of Michael Jordan deciding to win a Defensive Player of the Year Award or making the investment to become a deadly three-point shooter. Personal challenges. Games within a game. Did Crosby look at his recent goal totals and wonder: Can I get that number back up to 40 again? Fifty?

"When you watch him shoot the puck, it's hard as his coach not to encourage him to shoot the puck," Mike Sullivan said. "He scores as well as anybody in the league."
In second place with 12 goals apiece are Ovechkin, Patrik Laine and Michael Grabner. Laine (20.7 per cent) and Grabner (25.5 per cent) are converting at hard-to-sustain rates, but so is Sid (27.5 per cent).
Despite coach Barry Trotz's plan to reduce his ice time and save his legs for the post-season, Ovechkin is still be the favourite to win this race.
Don't be surprised if Laine and Grabner trail off and shooters like Jeff Carter, Tyler Seguin, Jakub Voracek and Patrick Kane jump back into the conversation. That group keeps digging and is bound to strike more gold.
2. The success of 19-year-old Sebastian Aho, a seamless addition to the Carolina Hurricanes' top six, has been overshadowed by the deep crop of rookie forwards in media-heavy markets and because the go-to storyline with the Canes is its promising yet inexperienced defence core.
A 2015 second-round find, Aho went for a point per game as an 18-year-old pro overseas last season. Teammate Jay McClement told me Aho doesn't resemble a teenager on the ice.
"He's a skilled guy with good vision. He's going to be a good player for a long time in this league. He doesn't look out of place. He makes confident plays," McClement says.
The kid has 10 points so far, but linemate Jordan Staal points to a pass he made during the Canes' win over the Capitals that didn't result in a goal — even though that line combined for 11 points that night.
"Against Washington, he hit me for a breakaway. The move he made and how quick he made it, to put it right on my tape, he does things so quickly with the puck and he's so smooth," Staal raves. "He's a fun guy to play with because he's always creating offence out of very little. He's matured throughout the first quarter of the season, and he's only going to get better.
"There may be a few bigger bodies leaning on him every night, but he played in the Finnish league last year against grown men, so he's got some of that in him. He's been doing just fine coming over here."
3. Not surprised the Toronto Maple Leafs haven't named a captain this year, but I did expect the NHL's other C-free squad, Carolina, to crown top D-man Justin Faulk or anoint former captain Eric Staal's brother, Jordan, the next leader.
Instead, they've gone with the four-alternate approach, known to slowly tear apart galvanize such teams as the 2014-15 Montreal Canadiens and 2015-16 Edmonton Oilers. Jeff Skinner and underrated Victor Rask join Staal and Faulk with an A on their chest.
Coach Bill Peters said this interesting thing about removing Eric Staal — now leading the Minnesota Wild with 14 points — from the room.
"The guy that it's impacted the most is Jeff Skinner. From the trade deadline on last year, Jeff Skinner's been a better player—a big part of what we're doing. He's dangerous offensively each and every shift. He's grown into that leadership role. It feels like Skinny's been in the league forever, but he hasn't. He's still a young guy, still getting better as he goes. He's more competitive. He's stayed healthy, which is important. He's a guy we lean on. We need him and his line to generate offence."
The 24-year-old Skinner plays on the top line, always gets his power-play minutes, and skates what Peters terms "a bump-up shift" immediately after a killed penalty.
He leads his team in goals, assists, shots, and power-play points. If Staal was going to inherit the C from his older brother, he'd have it already. I've changed my bet to Skinner.
I pressed Skinner about what Staal's absence means for him.
"There's a bit of an opportunity, I guess," is the furthest he'd go. "Any time you take a guy that's meant that much to the organization, to the city of Raleigh, that's done as much as he has in his career, there's going to be a big void in the locker room and on the ice. One person is not going to fill that."
Smart answer.
4. ICYMI, the New Jersey Devils hired designer Anthony Zych (formerly of the Columbus Blue Jackets) to create awesome game-day posters for every home game.
Wednesday's was beautiful.
The Movember-themed piece takes a not-so-subtle jab at the clubs' new facial hair policies: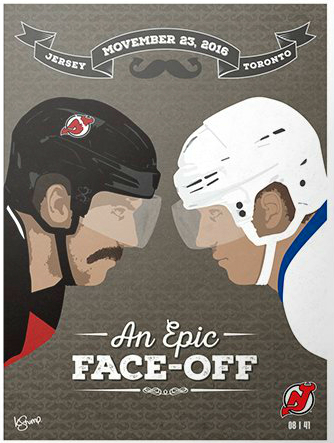 We like to imagine Leo Komarov sticking up one of these babies in Lou Lamoriello's office for a laugh. But then Lamoriello would track down who did it and have Uncle Leo whacked and it would stop being funny.
5. Think Canucks fans are excited for next weekend's rematch of Vancouver's 171-penalty minute tilt versus the Maple Leafs? (via imagur)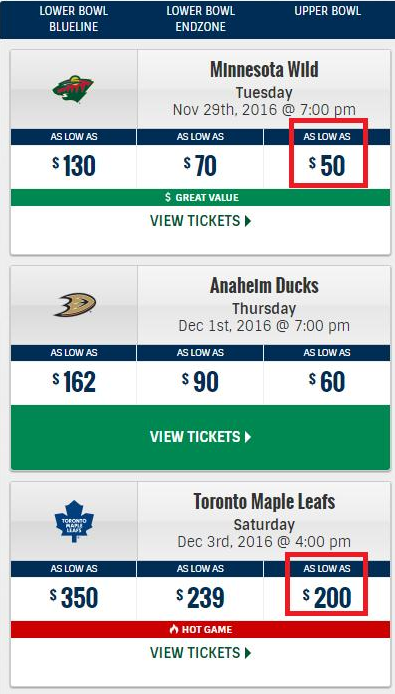 6. Last season, head coach Bruce Boudreau operated the stingiest defence in the NHL: the Anaheim Ducks (2.29 goals allowed per game).
This year, Boudreau is running the stingiest defence in the NHL: the Minnesota Wild (1.89 goals allowed per game).
Good hire.
7. OK, one more Hurricanes thing and I'll stop writing about the team with the fewest ticket-buying fans. (Hey! They were the hottest team in hockey until Carey Price decided otherwise. They're relevant.)
Bill Peters may be the best coach to talk to, and there are a few. Peters' charm, honesty and potent quotables would make him a major personality were he doing his job in a showtime market.
In Toronto this week, he took a friendly jab at mentor Mike Babcock for flipping wingers just to earn his gaudy paycheque and delivered this timeline for concussed backup goalie Eddie Lack: "We're all day to day. Don't take it for granted, boys. We're day to day."
Then Peters goes to Montreal and unravels this little yarn about Price, whom he worked with at the World cup of Hockey:
Peters is just as good when things are going sideways. In February, Toronto's Nazem Kadri ended Hurricanes forward Andrej Nestrasil's season with this check:
I asked Peters about the hit post-game.
His response? "Take that out of the game and you got rec league."
8. Jhonas Enroth must feel like the least connected Maple Leaf not named Stephane Robidas, Joffrey Lupul, Frank Corrado, Jared McCown, Milan Michalek, Colin Greening, Brooks Laich or Nathan Horton.
The goaltender didn't land his one-year deal to back up Frederik Andersen until late August, despite being available for weeks. He made just his third start Wednesday in New Jersey and ended up on the losing end after his team staked him to a 3-0 lead.
Jersey's tying goal would've probably been called back on account of Nick Lappin's goalie interference, NHL director of hockey operations Colin Campbell told Hockey Central, but Leafs coach Mike Babcock had already burned his timeout.
So Enroth, who only got the start because it was a back-to-back, took his third loss and saw his save percentage drop to .866. Not only is the guy cold, but his confidence must be taking a hit with UFA goalie Karri Ramo practising with the team.
Bizarre situation. Anyone believe Enroth lasts till April?
9. The hockeyest thing to happen this week? This year?
Columbus Blue Jackets depth winger Matt Calvert takes a clapper to the face. The puck opens up a horseshoe gash above his right eye that requires 36 stitches to close. He returns to score the game-winning goal and is all smiles looking like Frankenstein's monster. He was placed on IR Friday morning.
10. Vegas Golden Knights owner Bill Foley gave a nice, detailed explanation of why he named his expansion team such on Prime Time Sports.
I'm backing the logo. Always been a fan of subtly incorporating letters into a team's mark, as this one does with the V. The old Milwaukee Brewers logo remains the high-water mark for this image-initial mashup style.
The name I only sort of like. That they officially ditched "Las" irks me. Just as the Red Wings and Blue Jackets get their colours dropped in casual conversation, I'm sure many will refer to them as simply the Knights. Foley said the OHL's London Knights owned the nickname in Canada but he could've worked something out with them had he pushed.
"Vegas Aces" sings like poetry, but the NHL nixed all gambling references. "Las Vegas Knights" would've been punchier, but I'll get over it.
11. On the topic of aesthetics, the Maple Leafs and Red Wings' Centennial Classic sweaters are just OK. I was lucky enough to be at the 2014 Winter Classic and seeing a royal blue side versus a red side against an all-white backdrop was gorgeous. The rare double-dark game. (Not to be confused with the even rarer double-white game.)

For New Year's Day, Detroit is wearing white. Should've been red. Missed opportunity.
Seriously. Soak in this snow-globe level of picturesqueness: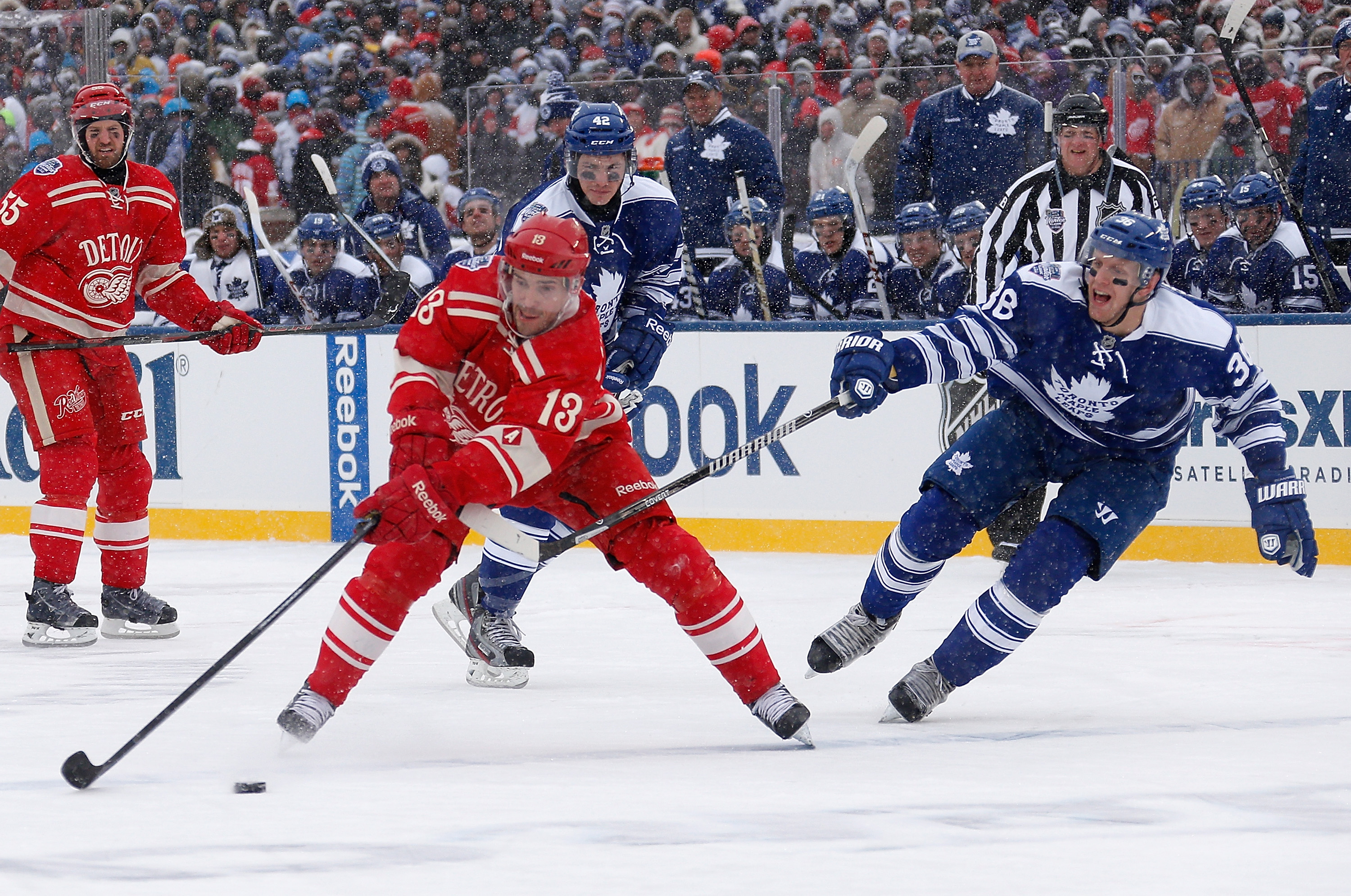 12. The (NSWF) trailer for Jay Baruchel's Goon sequel dropped. Retired enforcer George Parros makes a cameo and delivers a great fourth-wall-breaking joke about Princeton. Check it: