A quick mix of the things we gleaned from the week of hockey, serious and less so, and rolling four lines deep.
1. Matt Martin is a healthy scratch Friday at Carolina for the first time in his Toronto Maple Leafs tenure, as the club's forward-line roulette wheel keeps spinning.
Ironically, Martin's benching comes on the heels of his look-see alongside Auston Matthews and Mitchell Marner, who both rave about how their big, tough friend has nicer hands than he gets credit for.
I sat this week for a little chat with Martin, who's always generous with his time.
SN: Does it ever bother you that you get slapped with the enforcer tag and put into a box?
Martin: "It all depends what role you're given. You see the same thing when Team Canada plays in the Olympics. You see John Tavares go from MVP-calibre player to a fourth-line checker that kills penalties. When I'm on the fourth line, I obviously don't get as much ice time, so you're not in the flow of the game as much. Up the lineup, you're making plays, you feel good, you know you're getting other opportunities to make plays. You want to make plays when they're available, but as a fourth liner, you want to get pucks in and be responsible. That's what the coaching staff wants and expects. Top lines are relied on to score."
Did your half-game in Montreal on the Matthews-Marner line open eyes to your offensive skills?
"I make that [backhand] pass to Mitchy — he picks it up. Not every player in this league can pick up a pass that's behind them. I know I struggle with that. That changes the way you think. Those are smart guys. They find positions where it's easy to make plays to them. I wanted to make the most of that opportunity."
How were you used differently on the New York Islanders?
"We played 12 minutes even strength every night. Me, Casey [Cizikas] and [Cal] Clutter[buck] often got matched versus the other teams' top lines. I don't think here we've gained that trust yet [as a fourth line]. You gotta think: That was something we earned over time on the island. We were together for three years. That kind of comfort level takes time."
Marner describes you as "terrifying to play against." When did you realize you could strike fear into your opponent?
"As a defenceman it's not easy to go back for pucks. Even when I'm first back for a puck, I'm looking around to see who's coming and how I can prevent myself from getting hurt. I'm aware if it's a more physical guy or a smaller, skilled defenceman who's not gonna come at me.
"Once you start thinking about that as opposed to making a play to your D partner or winger or centreman, that's when turnovers happen. Your mind's on the wrong thing. That's in the backs of their minds — they always know when you're on the ice. Look at a guy like Ryan Reaves in Pittsburgh now. Everyone knows when he's on the ice. Zac Rinaldo on [Arizona] — he's a physical player. So you communicate. You have to be aware of who's coming after you. I've caused some trouble for defencemen who are aware they're going to get hit. They try to avoid being hit, or protect for being hit, or try to rush a play — it causes confusion and that's when turnovers happen."
Over the course of a game, you know when you've gotten into a D-man's head, then?
"For sure. It's a tough job for defencemen back there. They make a lot of great little plays that go undervalued. It's never easy being last man back, retrieving a puck, staring at the end boards and making a play the other way. Sometimes they slow up and let you get the puck first. A lot of times you'll see them rim the puck when they're not under pressure. There's a lot of things going through your mind at once, and to solve that equation is not easy."
If it's not necessary to crush a guy, I've seen you use the bear hug. Is that something that was taught to you? Or is that just staying loyal to the code?
"I came in the league at an interesting time where they're were still a lot of the old-school tough guys. There was still touch icing. It's made a huge transition over the past eight years. No more touch icing, which is a lot safer. When I hear the whistle, I'm never out there to hurt anybody, especially on an icing play. It's a dangerous situation, and on a dead play there's no reason for it. So I just grab him like that."
2. The pre-tax salaries of NHL players are public knowledge, but calculating the dollars skaters actually pocket takes work. Thankfully, the good folks at Gavin Management did the math.
The results tweak the way you perceive the league's top earners.
The first table below lists the 15 most handsomely paid players in 2017-18, ordered by gross salary; the second ranks them in terms of actual take-home pay.
Florida man Steven Stamkos, who's earning every penny this season, jumps from 14th to seventh after you consider his state's soft tax hit — a factor well publicized as he approached free agency in 2016.
Dallas star Jamie Benn leapfrogs Chicago's twin gross leaders, Patrick Kane and Jonathan Toews, for top spot in the net chart. Don't mess with Texas' capitalism.
Florida's Aaron Ekblad, Chicago's Brent Seabrook and Pittsburgh's Phil Kessel ($9 million cap hits, all of 'em) don't make the top 15 gross but fly their way into the top 15 net.
The only player on a Canadian team cracking the top 15 net is Montreal's Shea Weber, who falls from fifth to eighth due to taxes, and he signed that deal when he was with Nashville.
Difficult to scan this list and not wonder if tax rates will become a small factor on the decision of an impending free agent like John Tavares. New York's state income tax for those hauling more than $1.06 million annually is 8.82 per cent.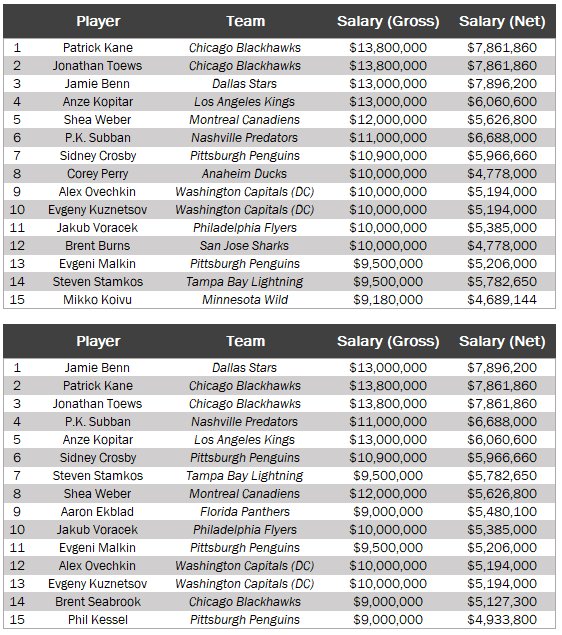 3. A trip through Eastern Canada is just what the Arizona Coyotes team doctor ordered. The NHL's last-place team beat Montreal, Ottawa and Toronto back-to-back-to-back.
This teaches us that the Yotes aren't as bad as you thought. It also reminds us that the Atlantic Division is the weakest. Here are the four divisions' combined head-to-head records:
Central vs. other three divisions: 64-31-13 (.653 PTS %)
Metropolitan vs. other three divisions: 71-49-18 (.580 PTS %)
Pacific vs. other three divisions: 60-57-11 (.512 PTS %)
Atlantic vs. other three divisions: 55-54-17 (.504 PTS %)
Combined, the Atlantic clubs sport a minus-29 goal differential. That figure drops to minus-70 when you remove top seeds Tampa Bay and Toronto.
If the Lightning and Maple Leafs don't finish 1-2 in a division where the Detroit Red Wings' playoffs chances are real, it's a blown opportunity.
4. A very brief oral history of the Toronto Maple Leafs attending the CFL East final, which featured Marner's Toronto Argonauts defeating Mike Babcock and Tyler Bozak's Saskatchewan Roughriders 25-21.
Auston Matthews: "I was pretty tired so I went home [early]. Morgan [Rielly] and Freddie [Andersen] and I, we all went home and then the game turned into an absolute barnburner … probably should have stayed around for that last quarter.
Marner: "When I walked in today, Babs and Tyler were together at the table, and I walked in wearing my Argos hat, hands up celebrating."
Matthews: "Mitch and Bozie made a bet. I don't know if he made a bet with Babs. I wouldn't make a bet with Babs." [smiling]
"I still haven't gotten my bottle of wine from last year's world juniors [bet, in which Team USA defeated Canada]. You're out of luck if you're betting with him. I don't think he pays up."
Babcock: "It was cold. I took a different route with the fans instead of in that secure suite there watching on TV [with Marner & Company]."
5. "I love that fast, north-south style," says Rick Tocchet.
A portion of Arizona's early struggles can be attributed to goaltender Antti Raanta's injury, but another portion rests with a complete systematic and philosophical overhaul in how to play the game.
I've asked a few NHLers how long it takes to adapt to a new coach's scheme, and they say at least a month. You want it to sink in faster, but with rest so valuable and practice time so limited over the 82-game grind, some times it can take even longer.
"[Dave] Tippett had us playing a more defensive game. Tocc wants us to defend, too, but it's more about playing with speed and going the other way," Oliver Ekman-Larsson explains.
"It's more straight-up with Tocc than Tip. We played with the puck a little more under Tip's system. This is more north-south. That's the big difference."
6. A change of scenery doesn't always equate to an uptick in performance, but when does Matt Duchene's lack of productivity in Ottawa become a concern?
Through six games, the assumed "best player in the deal" has zero points and is a minus-8. Nashville's Kyle Turris has five points in the same number of games.
Ottawa tinkered with chemistry. Let's see Duchene partnered with the red-hot Mark Stone to get him rolling.
7. Legendary Sabres enforcer turned analyst Rob Ray spoke highly of Evander Kane during a radio interview on Calgary's Sportnset 960 this week.
Buffalo is in disarray, but Kane has raised his rental stock through the roof with his performance: 12 goals and 21 points through 22 games. That the 26-year-old winger can finish is no revelation, but Ray went off on Kane's excellent leadership skills and responsibility. That's new.
With Jack Eichel's contract kicking in at the beginning of 2018-19 and four other forwards — Jason Pominville, Kyle Okposo, Matt Moulson, Ryan O'Reilly — already making $5 million or more next season, Buffalo cannot justify keeping Kane even if he wants to stay.
The Sabres don't have a goaltender under contract for 2018-19.
Boomer in the Morning
Sabres have the talent, so why don't they have the points?
November 22 2017
8. Keith Kinkaid is the closest facsimile the NHL has to The Emoji Movie, except he's funnier. (The nine per cent Rotten Tomatoes rating is generous.)
After each victory, the New Jersey Devils backup goaltender tweets a happy game summary so flush with emoticons, you may need a decoder ring:
Gritty win from #njdevils. OT specialist comes Big. flood gates are open w/ another G. Big game from w/ 1G-2A! w/ his 1st G of year. great 33SV win! is a killer! Back to the rock

— Keith Kinkaid (@Blockaid1) November 21, 2017
Win is a win for #njdevils. PP stays . Congrats on ! Congrats on 200 PTS & on 400PTS both w/(1G-1A)! w/ 1G-2A tn. big GWG! ,,,,& all w/ 1! Now that's a (280) character win

— Keith Kinkaid (@Blockaid1) November 13, 2017
#njdevils back in W column! PP & PK were ! on the board 1st. w/ GWG PPG laser. w/ 2 pad stack blocked shot & w/ great game 32 SVS!

— Keith Kinkaid (@Blockaid1) November 12, 2017
Kinkaid was recently gifted with a locker full of plush emojis from the Devils mascot. Fittingly, his thank-you tweet included more than just text:
Thanks for the presents @NJDevil00 ! pic.twitter.com/4yMC4VNR7s

— Keith Kinkaid (@Blockaid1) November 22, 2017
9. The Coyotes have a good room of talkers, which is all a reporter can hope for. I was blown away by and appreciative of Ekman-Larsson's candor Monday. He didn't back away from discussing sensitive and personal subjects in the midst of a loud, crowded game-day visitors' room.
With the Argonauts having just advanced to the Grey Cup hours earlier, Max Domi got chatting about father Tie's cameo as an Argos placekicker.
Max has seen the photo (right) of Tie in cleats booting a 1996 charity field goal for the Argooooooos in pre-season — wearing No. 28, no less — but isn't convinced Dad converted the kick, as the Domi household tale goes.
"Anyone could take that photo. It was a pre-season game, some charity kick. He claims he was a really good football player. I don't know if he made it or not," the younger Domi said, smiling. "I need to see video. We need to research that one."
10. Following Monday's skate and ahead of his team's 4-1 upset of the Maple Leafs, Domi made a Clayton Keller prediction: "You guys are in for a treat watching him tonight."
Bang on.
Of all the young, stud forwards in that game, Keller was easily the one who drew your gaze. He drew two penalties — and should've drawn a third when his summer golf partner, Matthews, got away with a trip. He set up two goals while running the point on the top power-play unit, and was generally creating every shift.
"He's got the puck a lot, right? He wants the puck. He doesn't throw it away. That's what I love about the kid — he doesn't throw pucks away," said Tocchet, explaining Keller's knack for drawing minors. "He's in the corner, he comes out with it, and then someone will get a stick on you and you get tripped up."
Keller is listed at 5-foot-10 and 168 pounds, measurements likely taken when he was soaking wet on stilts, but he plays a huge game.
"Spectacular. I mean, what he can do with the puck and the confidence he has as a young player is remarkable," Domi said. "He wants to make a difference. Whether we're down a goal or we're going into the third period and it's a power play, he wants to be the guys hopping over the bench. It's rare to see a guy like that. We're really happy to have him."
Ekman-Larsson all but stopped short of anointing Keller A New Hope.
"He's already a top player in the league, and he's going to get even better. That's the best thing about it," Ekman-Larsson said. "When you struggle as a team, you look around this room and you feel you have enough players to turn this thing around."
The question is, considering his size and penchant for offence, can Keller develop into the No. 1 NHL centre so sorely needed on this team (real talk: Derek Stepan is a No. 2 on a contender) or will he always be an excellent winger?
11. One of the main reasons I believe the Maple Leafs will try to add a defender before the trade deadline passes is because Ron Hainsey and Nikita Zaitsev are being relied on too heavily to kill all the penalties. The duo has logged 210:55 of combined short-handed ice time, which projects them to finish the season at 719:52.
Curious where that would rank historically, the kind folks at SN Stats did the math for me.
In the past decade, no duo has put in that kind of kill time. Look back 15 years, and only two PK duos spent more time on ice than the Hainsey-Zaitsev pace.
Detroit's Nicklas Lidstrom and Chris Chelios logged 851:05 on the PK in 2002-03 and 863:39 on the Babcock-coached 2005-06 team. The two Hall of Famers bolstered a top-six PK unit in both those seasons.
The Islanders' Brendan Witt and Tom Poti logged 748:13 in 2006-07. That PK finished 18th overall. The Leafs' PK ranks 14th at 80.8 per cent.
12. As much as the Coyotes bungled their goodbye to franchise icon Shane Doan — there is still no jersey retirement ceremony on the calendar — the club was wise to keep healthy its relationship with career grinder Paul Bissonnette.
In his first season as Arizona's local colour analyst, BizNasty still travels on the team plane and lives the NHL life, minus the bag skates. He's also started a fun, personality-driven series of videos to help showcase the current Yotes. Check out Road Trippin' with Biz….