A quick mix of the things we gleaned from the week of hockey, serious and less so, and rolling four lines deep.
1. As the Toronto Maple Leafs prepare to face the Arizona Coyotes Saturday, let's share an interesting contrast between the two youngest GMs in the league regarding how soon they will dissect Saturday night's game with their head coach.
John Chayka refuses to open the door to Rick Tocchet's office after the final buzzer.
"I know it's about sharing that experience, but I just found that it's so emotional," the Coyotes exec explained during a recent talk to students at the Ivey Business School, his alma mater in London, Ont.
"You lose, and everyone's no good. Everyone should be traded. 'Our team's no good!' Then you win the next day, and you're going to the Stanley Cup. And it repeats. The guy you were willing to trade, he's like, 'No. Hold this guy. He scored. He's good.'"
Coaches are wired differently than general managers. Win the day opposed to five-year plan.
So, Chayka respects the line.
He knows how much easier it is to coach from the comfort of the press box. The NHL's youngest GM finds it more productive if both sides sleep the emotions away, meet for breakfast and then go over last night's game. Tactics. Player usage.
"They play the game behind the bench, there's no doubt about it. [Dave Tippett] was that way. He was exhausted after a game," Chayka said.
"My coach [now] is Rick Tocchet. I don't know if you've seen Rick Tocchet, but he's not a guy you want to get in too much conflict with. He's intense. He's intense. He's in it."
Kyle Dubas does walk into Mike Babcock's room post-game. He mostly listens and nods. He agrees with Chayka: Leave the on-ice strategy to the expert; the next morning is best for a deep discussion; and the scoreboard doesn't always align with how well the team played.
"There are games where we don't play well and we win that aren't pretty," Dubas said. "One of the things I've been most impressed about is how [Babcock] handles losses."
Dubas said he and Marlies coach Sheldon Keefe would occasionally engage in blowups post-game, and they were both fine with it because of their long working history and an inherent understanding that both men were working toward the same goal.
As long as GM and coach are on the same page when communicating with players and no one is going around the other's back, it's all good. Things get ugly when the messages are mixed.
"That's when the organization starts to crack," Dubas warns.
2. The thing Babcock most liked about the blip that was the Jake Muzzin–Morgan Rielly top pairing was having Ron Hainsey on Travis Dermott's right shoulder and in the rookie's ear. A minus player at the time of the Muzzin deal, Dermott went plus-7 in those games predominantly paired with Hainsey.
"The biggest difference you see is suddenly Dermy is even," Babcock said. "So, that's getting to hang out with Ron and him telling you what to do. It's probably a pretty good deal."
Hainsey says there is "lots to like" about Dermott — all but guaranteed to take over Jake Gardiner's puck-moving role in Toronto's top four starting 2019-20.
"A real brave player going back for pucks. He's elusive back there when he gets it. He can avoid the forecheck and get it out fast. The communication has been really good and continues to improve," said Hainsey, reminding that Demott has only been a full-time NHLer for 13 months.
"He continues to get better and better, and he's got a great future if he continues doing that."
Muzzin gives Babcock more pairing options, and the six-man puzzle remains a project in progress with five of them being lefties.
But the way Babcock speaks so vaguely about his D corps convinces us Toronto is still hunting for another blue-liner: a right shot who can't kill penalties.
"I would say there's different options. We've talked a lot about them," Babcock said. "We just try to be as patient as we can right now, and we're going to continue to do that. You know, you always have different scenarios in your mind you can get to."
Hmmm…
3. Two-way centre Kevin Hayes and fan-favourite winger Mats Zuccarello will, rightly, horde all the attention when it comes to New York Rangers trades over the next 10 days, but solid, boring defenceman Adam McQuaid could represent a nice under-the-radar pickup for a contender.
Could he be this winter's Michael Kempny, who delivered far more value to the Capitals than the third-round pick they surrendered?
McQuaid has scored a couple goals recently, and his five points already gives him more than all of last season. But it's the 32-year-old's work in his own zone that's impressive. He's a plus-3 on a minus-27 team that calls on him to start more than 60 per cent of his shifts in the defensive zone.
McQuaid is a right shot who does all the ugly stuff. He blocks shots, makes hits, kills penalties and can gobble 18 minutes a night.
The Rangers, however, could be tempted to hold McQuaid for the positive influence he's having on his young, skilled partner.
"Brady Skjei has by far played his best hockey of this year," coach David Quinn told reporters. "Boy, he's defending hard. I think he's making really good decisions with the puck. There's a lot to love about Brady right now. I'm really happy for him and proud of the strides he's made.
"I think Adam's had something to do with that, but I also think one of the reasons Adam's playing well is because he's playing with Brady. I think they've both fed off each other."
4. No team in the Eastern Conference is less likely to scrap this season than the Maple Leafs (five fighting majors). So it's always a shock when anyone in a Toronto uniform drops the gloves, as Zach Hyman did with Neal Pionk Sunday at Madison Square Garden — retribution for a perceived iffy hit on undersized star Mitch Marner.
The Leafs' M.O. is to avoid the rough stuff, and their 6:23 per game in penalty minutes marks the fewest in the league. It's telling that the NHL's scrappiest team, Ottawa (21 fighting majors), is also its worst.
While hardly a heavyweight, Hyman, who plays the worker-bee role on the Leafs' top line, owns three of the club's last six fighting majors.
"As long as he doesn't hurt his hand, I don't care at all," Babcock says.
"He's a good player and obviously he can do that. I think it's important to stand up for one another, but also I want him healthy and playing."
5. Here's John Tavares's diplomatic take on the Carolina Hurricanes' post-victory celebrations:
"You know what? When I played in [Bern] Switzerland during the lockout, there was a lot of that stuff. People over there really embraced it, and the fan bases, it was something they really appreciated. Something unique and different," Tavares says.
"Around the league, the most common thing is saluting the fans. I'm not against it or for it. It's up to each fan base and organization. It makes each team unique; they have their own things with their community and their fans.
"I think trying to think up something different every game is kinda difficult. I'd like something similar."
So, you're not lobbying for a post-game round of duck-duck-goose in Toronto?
"Changing it up would be too much for me," Tavares smiled.
Come for the @NHL action, stay for the postgame Duck Duck Goose pic.twitter.com/KelIvnp6Tq

— Carolina Hurricanes (@NHLCanes) February 2, 2019
6. The recent trend of scooping up another team's backup goaltender, via trade or free agency, because he looked so darn good over a small sample size is providing an anthology's worth of cautionary tales.
Scott Darling (formerly of Chicago) in Carolina has had the roughest go. He went 2-4-2 with a .884 save percentage before being demoted to the AHL and now requesting a break for his mental health, which must come first.
But Darling is far from alone when it comes to stellar backups who've stumbled given a chance to seize the No. 1 role.
Amidst Carter Hutton's struggles in Buffalo, Sam Reinhart said, "We can't expect to win hockey games 6-5, 7-6. We need more from our goalies and we need it from the start of hockey games. It's frustrating."
(Maybe Arizona's Antti Raanta is the exception, but he's been too injured too often to know for sure.)
These shaky 2018-19 numbers should give GMs pause before giving too rich a contract to someone else's backup this summer. Every one of these goalies signed a deal lasting at least three seasons with their new club.
Carter Hutton, Sabres: 15-16-3, .910
Jonathan Bernier, Red Wings: 6-13-2, .898
Cam Talbot, Flyers: 10-15-3, .893
Philipp Grubauer, Avalanche: 9-7-3, .890
Scott Darling, Hurricanes: 2-4-2, .884
7. I love the edge with which Evgeni Malkin plays, but it's difficult to understand how wildly swinging a stick at another guy's head only costs you one game.
The intent here is medieval and has nothing to do with the flow of play, so he gets off lightly because his weapon only resulted in a glancing blow? The point of punishment is to deter future incidents like this. Not sure one game does the trick.
8. Auston Matthews' father, Brian, was heavily involved alongside his agency as the Leafs star completed his second contract. William Nylander, too, leaned on his dad's counsel.
So it was interesting to hear retired star Keith Tkachuk, appearing on Sportsnet 590 The Fan's Starting Lineup, distance himself from his eldest son's upcoming RFA negotiations with the Calgary Flames. Keith said he hasn't been involved.
"This is Matthew's gig. I'll be here to support him any way possible. It's not for me to come out and say what he should do. This is his life; I've lived my life. If you talk to Matthew, he's a pretty sharp kid. He understands things," Keith said.
"I talk to him, but I don't ask him if there's negotiations. But if he wants to talk with me, we'll talk."
Keith Tkachuk on sons Brady & Matthew, leadership, and Maple Leafs
February 06 2019
9. Panthers GM Dale Tallon once joked that he felt sorry for the plight of Montreal's Marc Bergevin.
"Sometimes you have more media at the game than we have fans at the game," Tallon quipped.
Tallon's designs on being a major player in free agency this summer must have something to do with the tumbling attendance numbers, which have fallen from bad to worse to yikes as the Panthers are about the miss the post-season for the 16th time in the past 18 seasons.
It's a tough look:
The last good year was 2015-16, when Spacey in Space hoodies were tasteful and Jaromir Jagr captained an all-star squad and the Cats won the Atlantic with 103 points. Florida ranked a respectable 24th league-wide in attendance, filling 15,384 seats per night. BB&T Center was at 90.3 per cent capacity.
Since then, we've watched the attendance numbers plummet with the results:
2016-17: 14,620 (85.8% capacity, ranked 26th)
2017-18: 13,851 (81.3%, 28th)
2018-19: 13,061 (77.3%, 30th)
10. Perhaps Panthers game operations should look into bringing back pop star Ariana Grande, owner of the No. 1 song on Billboard and survivor of two hit-by-puck incidents at Cats games.
Incredibly, by age 5, Grande had already been struck twice by a pucks at NHL games. She was the first person to be hit by a puck in the Panthers' new rink, regularly sitting front row behind the penalty box.
First in the right wrist, then in the left wrist. Nothing an first-aid ice pack and a free Zamboni ride couldn't cure.
"What are the odds of this happening," father Ed Grande-Butera said at the time.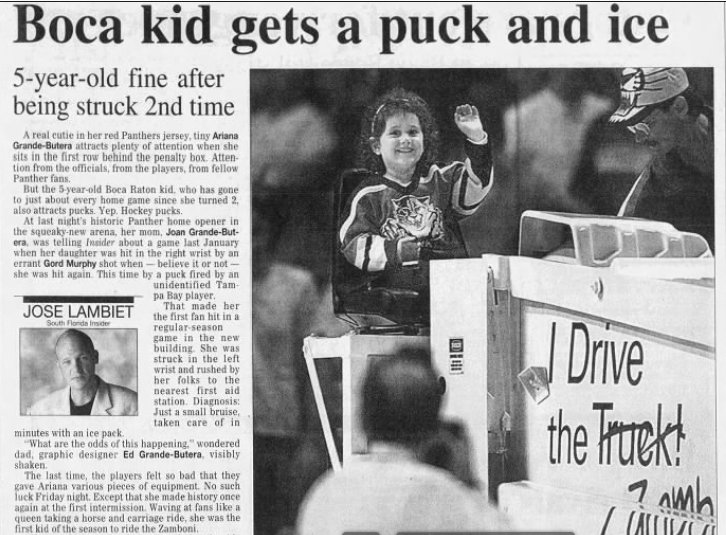 11. The greatest thing about Kendall Coyne Schofield's Fastest Skater lap during all-star weekend is that it wasn't just a talking point for 48 hours.
Those 14.346 seconds have inspiring effect that has the power to endure.
Watching the U.S.-Canada rivalry series Thursday, my eight-year-old son kept asking me to point out Coyne on the screen and begged me to call up the YouTube clip of her race.
Then there's this:
Amazing! You can't be what you can't see…Keep up the great work Demie!! https://t.co/b1xRxi8C5U

— Kendall Coyne Schofield (@KendallCoyne) February 11, 2019
12. Here's wishing your weekend flows as smoothly as a Wayne Gretzky one-handed putt at Pebble Beach. Stay casual:
"You miss 100% of the shots you don't take." – @WayneGretzky#LiveUnderPar pic.twitter.com/t64ORlcoXf

— PGA TOUR (@PGATOUR) February 10, 2019