A quick mix of the things we gleaned from the week of hockey, serious and less so, and rolling four lines deep.
1. The egg laid by the Toronto Maple Leafs during John Tavares' return to Nassau Coliseum Thursday will fuel all the usual panic points for fans of the team, many of whom are waiting for 2018-19 to go pear-shaped:
We should've rolled with Curtis McElhinney at backup instead of Garret Sparks!
Even with Jake Muzzin, our blue line isn't good enough!
Why didn't they add some grit at the deadline?
Why are full-60 efforts so few and far between?
Hmmm… maybe we do need one captain.
The Bruins are gonna crush us, aren't they?
After the Leafs' most emotional moment of the year unraveled into their worst loss of the season, three of Tavares's teammates stood before the cameras to explain it: Patrick Marleau, Zach Hyman and Justin Holl.
God love Hyman, but when the recorders come out, the player has a reputation for keeping his quotes as workmanlike as his shifts.
So it was surprising and refreshing and enlightening that Hyman was the one who called the thing like it was: an embarrassment.
Yeah, the rink was loud and hostile, but Hyman argued that he preferred it that way. Reminded him of Montreal's Bell Centre. You're supposed to get up for events like this, not hang your goalie out to dry and let your most consistent player eat it, again, against his former team.
"I feel bad that we didn't show up. We didn't play. We wanted to win this game for him, and we didn't even give ourselves a chance with all the turnovers and the nonsense that we had. Everybody was included in that. Everybody was at fault," said Hyman, the lone goal-getter.
"You can't out-skill your way in games. You can't turn the puck over. You can't out-score."
If the first time was a punch in the gut, this one should be a slap in the face.
"Better to learn now than a month from now," Hyman said.
Being around this group of players for many a post-loss scrum, it's rare to see these flashes of public emotion.
Frederik Andersen, another soft-spoken member, did the same thing about a year ago in Philadelphia, and it served as reality check, a turning point.
Some prickly conversations were had in room that had gotten a little too cozy.
Good on Hyman for standing up. Someone had to.
[relatedlinks]
2. I find it interesting that, to propel himself with outside negativity, Tavares refers back to a 109-year-old speech by Theodore Roosevelt.
In "The Man in the Arena," the former President railed against cynics who sneered at the men trying to make the world a better place:
Roosevelt's powerful words have a history of inspiring athletes. Before the 1995 World Cup, Nelson Mandela gave a copy of "The Man in the Arena" to South African rugby team captain Francois Pienaar — who led the underdogs to victory over New Zealand's All Blacks.
Mike Babcock offers his own abbreviated, Sasky version of the famous passage: "I always say in my family: If your knees don't hit the kitchen table, your opinion probably doesn't matter."
3. Matt Martin is always an insightful interview, and the former Leaf spoke about more than just Tavares's homecoming Thursday.
Reflecting on how his time in Toronto ended in a string of healthy scratches, he said he'd look at the quiet plight of seldom-used Josh Leivo and bite his tongue.
"I'm not going to go and start complaining about my issues when it's been a couple years of him going through the same thing," said Martin, who struggled to find that balance of venting his frustration but not throwing a pity party.
"I talked to my dad a lot, and family and friends. You find ways to be positive, and when you're not having great days, you get out of the rink a little earlier so no ones knows.
"Things don't run smoothly in life, as you guys know. In your careers, I'm sure you have ups and downs as well. You just try to bring your best every day."
Under Barry Trotz, Martin is once again thriving alongside Casey Cizikas and Cal Clutterbuck, playing that physical shutdown role. No question, Martin's relationship with his new coach is better than it was with his former one.
Martin says Trotz, the Jack Adams front-runner, excels in identifying each individual's strengths and giving him a role he can succeed in. Trotz, he says, understands all 22 guys have a unique personality and loves to roll four lines.
The coach is quick to spot which line has it going on any given night and gives a little ice-time bump.
"You know what you're gonna get from him every night," Martin says.
So, what message did GM Lou Lamoriello send to the Islanders room by standing pat at the trade deadline?
"He didn't want to make a move that would destroy the dressing room," Martin says.
"I don't think they wanted to damage the chemistry and relationships that are in here. People expected us to be dead last this year, and that hasn't been the case. Everyone was worrying about us adding a goal scorer, but at the end of the day, we don't have to score the most goals in the league. We have to score more than the other team on any given night. That's our mindset."
Martin explains the Isles' surprising jolt from worst to first in goals-against as a top-down buy-in to the message and a chip-on-the-shoulder effort.
"It's the mentality the coaching staff brings and Lou brings, as you know. That underdog mentality. We work hard every day. We're detailed. There's nothing in our meetings that goes un-talked about," Martin says.
"If you're not doing your job right, that's on you. No surprises."
4. Mitch Marner will serve as a groomsman at Martin and Sydney Esiason's wedding this summer.
5. Once the accolades for Hockey Hall of Famer Willie O'Ree start to rain, they pour.
Legislation to award Mr. O'Ree with the Congressional Gold Medal will be introduced in Congress in the coming weeks, Rep. Mike Quigley, D-Ill., announced during a Black History Month celebration Wednesday.
"As a lifelong hockey fan and player and chair of the Congressional Hockey Caucus, it is a pleasure to recognize the extraordinary hockey player, historic barrier breaker, and dedicated activist Willie O'Ree," Quigley told NBC News.
"He deserves fierce admiration for his achievements both off and on the ice, which is why in the coming days, the Hockey Caucus is excited to introduce the Willie O'Ree Congressional Gold Medal Act to formally recognize his outstanding career and life's work."
Awesome.
The Congressional Gold Medal is regarded as "the highest expression of national appreciation for distinguished achievements and contributions," according to the Office of the Historian and the Clerk of the House's Office of Art and Archives. In order to earn the award, O'Ree must be co-sponsored by two-thirds of the House of Representatives.
Jackie Robinson is already an honouree.
6. Great to see Buffalo's Kyle Okposo return to action this week after suffering what he described as mostly a head/neck injury from his fight with the Rangers' Tony DeAngelo. Scary situation considering Okposo's concussion-laden past.
"I think there's a psychological component too. You get hit. You know my history," Okposo said. "Am I OK? You start second guessing. You have to find a balance. Be in tune with your body and your mind and find a balance. Be honest with yourself about how you feel. I feel great now."
Does he regret dropping the gloves, then?
"No," Okposo said. "I probably should. It's part of the game.
"I didn't think we were playing really well, and I tried to give a spark. It is what it is."
7. Between watching the Flyers give Wayne Simmonds the player of the game helmet after his final appearance in black and orange and seeing Henrik Lundqvist break down when asked about the Mats Zucarello trade, this deadline carried some extra emotional juice, didn't it?
Veterans like Eric Staal, Niklas Kronwall and Alex Edler all could've helped contenders, but they didn't want to endure that kind of upheaval.
"You don't really want to go there mentally to think about Zooks being gone," Lundqvist said at all-star weekend, when the rumours were flying. "First of all, he's a close friend now. He's been such a big part of this team for so many years. I appreciate him as a player, as a person and as a teammate.
"I hope he'll stick around for many reasons."
8. On the human element of these business deals, I asked Babcock if he recalled a player departure that hit him on a personal level.
His example surprised me.
"These guys are all great people that try real hard. You always want them to be successful. I thought when [Michael] Grabner was here [in Toronto], he was fantastic," Babcock said.
"I thought he could have been a Leaf for a long, long time. In the end, we made that decision because we were trying to get someone else in the off-season, but there's lots of players over time that leave."
Grabner walked in the summer of 2016 as the Leafs signed Martin and graduated a few kids from the Marlies.
"D.J. Smith, who's running the penalty kill, was begging to keep him."
9. What makes the Bruins' dressing room so strong, sturdy enough to earn points in 15 straight games despite David Pastrnak's thumb injury, is an internal leadership that hasn't wavered in years.
"It was a group thing. It was eight or nine guys who were leaders, who weren't afraid to say what needed to be said," former Bruin Milan Lucic said this week.
"That's what made us a championship team, that we had that leadership. And I think that's what continues to make them a good team — a lot of that leadership is still in that room. If it wasn't for Tampa, they'd be right there at the top of the standings. It carried us into champions."
Lucic got a kick out of watching 41-year-old captain Zdeno Chara fight Evander Kane.
"It was something to see. Being able to be teammates with Big Z for eight years, knowing him personally," Lucic said. "He's definitely someone I wouldn't want to tangle with.
"That just goes to who he is: He's a competitor. He dosen't back down from anybody. It's emotionally lifting when a guy like him does something like that."
10. A genuine moment between Carey Price and a young fan after the Habs' morning skate in Toronto last Saturday went viral. The power just a few minutes of a superstar's time can have…
This is everything — this young fan, Anderson, met his idol @CP0031, after his mother passed away due to cancer. She had promised him that she would do everything in her power to help the two meet and it happened. This right here is hockey. #OurGreatGame

(FB/ Tammy Whitehead) pic.twitter.com/ww6jLM2yoF

— NHL (@NHL) March 1, 2019
Here is young Anderson's backstory: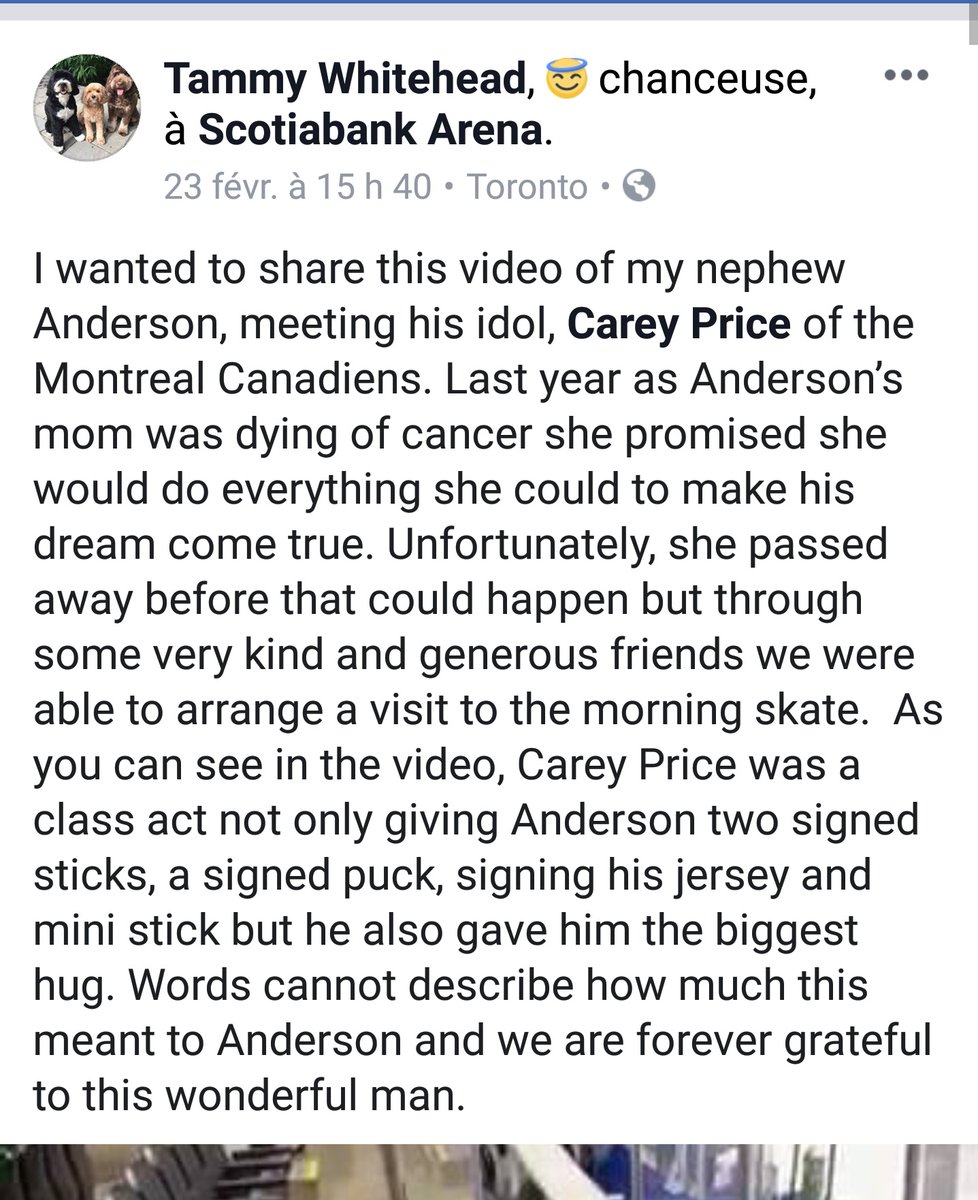 11. Considering each of the past four Cup winners have relied on two goaltenders to help them win the 16 necessary playoff games, I liked the Blue Jackets' low-key rental of New Jersey's Keith Kinkaid.
Getting more exposure than usual this season, Columbus backup Joonas Korpisalo hasn't exactly instilled tremendous confidence (.896).
Kinkaid didn't cost much at all (a fifth-rounder in 2022), plus he has some experience carrying a heavy NHL workload and should look much better behind the Jackets' defence than the Devils'.
12. If you're checking out open houses this weekend, you might as well tour Ilya Kovalchuk's $18-million fairytale castle. It's for sale. Wowzers.