A quick mix of the things we gleaned from the week of hockey, serious and less so, and rolling four lines deep.
1. Ryan Lacey will never have himself a Black Friday like this one.
It began with the random hockey fan throwing on his Columbus Blue Jackets sweater and cap and stalking out the Toronto Maple Leafs at the downtown Hilton.
It ended with young Ryan stirring Leafs Nation into a frothing mess, awaiting a 5 p.m. William Nylander update that never was.
Incredibly poetic that this silly sideshow of the social-media age took place on the same day #HockeyTwitter became official.
"Come on Mr. Dubas, 1 hr left, don't make me look like a liar please! All I was trying to do was help. Don't want leafs nation to hate me considering I have a lot of respect for them," Lacey tweeted after his initial missive gained traction.
Poor Ryan was feeling the same anxiety actual insiders experience regularly, according to my anonymous sources.
Thing is, Lacey was just relaying something he heard and adding to a plume of Nylander smoke that began around midnight with Marc Savard's tweet and grew with Mike Babcock's "confident, hopeful" optimism expressed after Friday's morning skate.
This is what happens when a deadline nears. Rumours ramp up. Soon, planes will be tracked. A photo will be snapped at an airport.
Everyone with a phone can get a scoop, or make you fall for one. It's part of the joy/agony of being a sports fan in 2018.
A buzzer beater has been launched, and Toronto has six days or less to stare and gape and listen for a swish.
On a serious note, the signs are positive for those hoping Nylander re-signs for something that will make him rich and starts with a 6:
• The trade scuttlebutt has quieted.
• There has not been any legitimate threat or overseas report of an impending KHL or SHL signing, something that would not be out of ordinary this deep into a stalemate.
• Both sides have been remarkably civil and the only tangible issue is money. We haven't heard any mongering about Nylander having a rift with the room or the coach, or a desire to play a different position.
• The Leafs' party line has always been that they want Nylander signed, and Dubas brought both his assistant GM on this week's road trip to work on a solution.
Silence, in this case, is golden. The rest is noise for our entertainment.
"Just know that I was just the messenger from what Dubas told me and have no control in what actually goes on with the Leafs and Nylanders camp," Lacey tweeted after his breaking news morphed into a broken promise. "This wasn't a ploy to gain followers or anything like that….
"So yes there are a lot of angles to this situation but I do strongly believe a deal of some sort is very close."
Me too, Ryan. Me too.
2. As the Flyers touch down in Toronto Saturday, UFA-in-waiting Wayne Simmonds ranks second for the club lead in goals (nine) and tops all in penalty minutes (36), but after a 2017-18 in which he soldiered through more maladies than the Operation guy, Simmonds' perfect number of games played (22) is probably his favourite stat.
The power forward endured heavy rehab this summer, with less time on-ice than usual, to return game-ready for his contract year.
"I gotta get healthy first and foremost and show I am the player that I was two years ago [31 goals, 54 points in 2016-17]. For being injured, I didn't have a bad season last year, but it's still not the best to my ability," Simmonds said when we spoke to him in late August.
Simmonds figured an impending payday at age 30, after six years as a bargain $3.975-million cap hit, would not impact his mindset. How much does he need to prove to the 31 GMs this winter?
"To prove? I dunno. I played 10 years in this league. I've put together some pretty good years, so I don't think I have much to prove other than being the player that I am," Simmonds said.
Despite Simmonds' agent and Flyers GM Ron Hextall holding preliminary extension talks over the summer, we look at the pricy off-season addition of James van Riemsdyk, plus the fact Philly now has three forwards making a minimum of $7 million for at least three more seasons after this one, and wonder if Simmonds' money might be better spent on the back end.
"Reemer's played in the league for eight, nine years now, so you learn a lot. He's a more well-rounded player, and he's going to put the puck in the back of the net. He's a great addition for us," Simmonds said.
"He's probably got one of the best set of hands in front of the net."
The Flyers have one of the lowest winning percentages in the East, goaltending questions abound (again), and another round of "Fire Hakstol" whispers has stirred.
Imagine the bidding war Hextall could drive for Simmonds as a deadline rental. What playoff team wouldn't shell out a nice price for all that heart and skill and experience Simmonds would bring to the most grueling time of year?
3. What do the long-term, big-ticket contracts belonging to the Winnipeg Jets' locked-up core — Dustin Byfuglien, Blake Wheeler, Bryan Little, Connor Hellebuyck, Nikolaj Ehlers and Mark Scheifele — all have in common?
Not a single penny in annual signing bonuses is coming their way. Translation: they all took non-lockout-proof deals.
GM Kevin Cheveldayoff describes signing bonuses as a "nonstarter" in Jets' player negotiations. Compare that to, say, John Tavares, who will fetch an incredible $70.89 million of his $77 million from Toronto in July 1 lump sums.
(We're not saying that's the reason Tavares inked with the Leafs, but it certainly didn't hurt.)
"When you sign a player and they get a signing bonus, they essentially get it at the beginning of the summer. That money becomes theirs, regardless of what's going on. It's just been more of a philosophy within our organization that we haven't given them. And that's something we've been steadfast on," Cheveldayoff said.
"I may have individual circumstances that pertain to me, the Winnipeg Jets, that Team X or Team Y don't."
A theory as to why Jets owner Mark Chipman may be hesitant to dole out these player-friendly bumps: Winnipeg is a middle-of-the-pack NHL club in terms of revenue.
The franchise ranks high in gate dollars but low in corporate revenue, meaning it depends on that steady attendance income to balance the books.
Dishing out giant paycheques on July 1 before a potential work stoppage isn't smart business.
Something to keep in mind with studs Patrik Laine, Kyle Connor, Jacob Trouba and Tyler Myers all needing new deals with an uncertain CBA lurking in the weeds.
4. John Tortorella has a new nickname for the NHL: the FAW.
"Find A Way to Win League — that's what this is," Tortorella explained when the Blue Jackets rolled through Toronto this week.
"There are a ton of mistakes. It's so different from what it used to be. As a coach, you cannot try to correct all the mistakes. You have to find a way to win at certain times of the game, no matter how bad you were or how good you were, there's certain situations in the game when you can win a hockey game. That's what the league's about right now."
The coach believes you can draw a dotted line between the influx in mistakes and the declining age of the average player.
"There's some really good things going on with the youth, but holy crap, it's just a game filled with mistakes," Tortorella went on. "That's the adjustment coaches have to make. You can't correct this all the next day, because you're playing another game the next day. You try correcting all the mistakes, and you're going to paralyze your team. So it's about finding a way to win."
There is a specific type of mistake Torts will correct: those stemming from weak effort.
Defenceman Zach Werenski, 21, says his coach will harp on him when he's passive. But if he makes a gaffe as a result of being decisive and aggressive? No big deal.
"It's a different athlete, and you have gotta be real careful about how much information you give him," Tortorella said. "What's the point of harping on them? Get back out there and rectify it."
Captain Nick Foligno agrees that with so much data and the ability to dissect every sequence via video, the Information Age can be overwhelming. He's noticed a shift in Tortorella's fourth season behind the bench.
"We know it's a two-way street and we have to show him things in order for him to pull back," Foligno said.
"So he tries to really dumb it down for us and let us go out and play. He wants us to feel good about ourselves, go out and play, have some flow, have some swagger, as he always talks about, and I think it works for this group. And we appreciate it."
5. The callback:
Can't believe they would pose with all that #nottheonlyone pic.twitter.com/Ubsa1sR2K1

— Evander Kane (@evanderkane_9) November 22, 2018
6. A few weeks before taking the reins from Todd McLellan in Edmonton, Ken Hitchcock gave a great interview to Vancouver's Sportsnet 650, sounding exactly the opposite of a man retired (listen below).
Surveying the Canadian landscape, before he became part of it, Hitchcock saw Winnipeg and Toronto as the teams trying to make the leap from good to great.
"And that's a big challenge," Hitchcock said. "But to get to be good, which is basically a playoff team, is not as hard as people think it is."
That and the fact the Pacific is softer than a Peter Cetera song lead us to believe the Oilers can make the dance. The makeover, Hitch said, begins with a solid checking base.
"It usually shows up in penalty killing and defensive zone coverage, where there's a lot of hesitation or improper layering," he said. "Or there's a lot of what I call 'check and re-checking.' When you see that early in the year, it's going to be a slow start."
The Oilers' PK ranked seventh worst in an off-the-rails 2017-18 (76.7%) and fell to fifth-worst (74.2%) before McLellan was fired.
During that October radio appearance, Hitchcock explained how he could tell that Bill Peters had already successfully sold his concepts to his new club, simply by watching the Flames' pre-season games.
"It wouldn't surprise me at all that Calgary gets off to a really, really fast start. You can see the thinking and you can see the processing of the players. There's a lot of automatic in their game right now. There's no hesitation," Hitch said.
Sure enough, Calgary leads the Pacific.
Hitchcock devoted his first summer of "retirement" to studying the culture of teams in other sports, fascinated by the architecture of winners in baseball, football and soccer.
He was particularly impressed by Andy Reid's Kansas City Chiefs (9-2), and another model franchise from Missouri.
"There's a reason the St. Louis Cardinals are a top team all the time," Hitchcock said.
Hitchcock: Media should 'shut up' about Pettersson
October 03 2018
7. As everyone predicted, the NHL's most dangerous team in November is the New York Rangers, led by red-hot rookie Filip Chytil. The city's other team, those scorned Islanders, are also off to a respectable start.
While American Thanksgiving has long been regarded as a reliable measuring point for how teams finish, we still see the Metropolitan Division as the domain of three experienced cores that have been together for years: Columbus, Washington and, yes, Pittsburgh.
I'm not bothered that Matt Murray is injured or that the Penguins' dipped to last in the East. Never bet against Sid.
Overall, the Atlantic has overtaken its Eastern counterpart as the stronger division. The Sabres, Lightning, Maple Leafs and Bruins each have a better points percentage than any team in the Metro.
But I'm not yet a believer in the Metro's feel-good underdogs. Comrades Ryan Dixon and Rory Boylen invited me onto their Tape II Tape podcast Friday to predict the changes we see unfolding as the season rolls on. Listen here:
Tape to Tape NHL Podcast: Surprises and disappointments at the quarter mark
November 23 2018
8. Since Tom Wilson's ban has been lifted, the defending champs are 5-1, and the right winger has three goals and five assists, better than a point per game. (Also: Since fighting in his first game back, Wilson has gone five games penalty-free, something he hasn't done since December 2017.)
Washington's top line feels right again, and that's a scary thought.
Wilson's six-year, $31-million contract extension came under heavy criticism this summer and inspired one of my favourite tweets of the year:
But the guys in the Caps' room are passionate about the controversial player's place in the game.
"He earned it," Devante Smith-Pelly told us of that juicy contract. "He's the perfect fit on that top line with Ovie and Backy or Kuzy. He's super effective at what he does. People don't realize, he's got more skill than most people realize. What'd he have, [15] points in the playoffs? Just because you're playing with those guys doesn't mean you're going to get points. You have to be involved. You have to make plays.
"We love it, obviously. It helps us win. When you dump it in, and D-men have to look over their shoulder, it causes mistakes."
Fans who note that Wilson has never amassed more than 35 points in a season should know he's never played a full season on the top unit.
"He didn't play on that line the whole year last year. That's his line now. And you're going to see his scoring and his goals come up, especially as he gets more comfortable. There's not a lot like him. There's only a couple. One or two," Smith-Pelly said, throwing Simmonds into that category as well.
"Wayne may score a bit more, but Willy may be more physically intimidating. Those two guys are the most unique, and they're pretty similar.
"He has a massive impact on every game."
But he still has his haters…
The Capitals are 17-4 in their past 21 regular-season games with Wilson in the lineup.
"If your first line doesn't have the sandpaper, there's going to be third and fourth lines that can play against that line nowadays. You have to have every element or it's just not going to work," Wilson said. (We know Zach Hyman just danced through Leafs fans' heads.)
"If you ask Kuzy, he'd rather me go get the puck so he can do things with it. If he's going to get the puck, arguably he's taking two hits and he's not coming out with as much energy, as much poise. So you have to find the balance."
9. Are they at the level of the Avalanche's dominant Gabriel Landeskog–Nathan MacKinnon–Mikko Rantanen star trio?
No. Not yet.
But the Blue Jackets' first line of Artemi Panarin, Pierre-Luc Dubois and Cam Atkinson is like the Big 3 in Colorado or Boston in that the club's top-three scorers all hop the boards at once.
Through 22 games, the Dubois unit has combined for a total of 65 points and rank 1-2-3 in Jackets' scoring, yet they are seldom discussed in terms of the most formidable combinations in hockey.
They blend size with tenacity and skill. (Dubois, who has some nasty to his game, also leads the club with 32 PIM.) They relish the cycle game and are still fun to watch.
Atkinson now has goals in six straight, and this Panarin sneak attack from Monday is hilarious:
"Remember, a couple weeks ago Cam was a minus-8 or minus-9. He's a plus-4 now. He's playing in all situations. Their centre-ice man [Dubois] has been a really good player," Tortorella says.
"I don't care about the talk about the top lines in hockey or whether they get enough respect. We just go about our business in our locker room and try to be the best we can be."
Adds Zach Werenski: "They're a great line in this league, and I don't think they get enough credit they deserve. I think if they keep playing the way they are, they'll start getting more credit, but I don't think they care about that either."
10. I was a big fan of Jason Botterill's work in Buffalo over the summer, but even I didn't see a .696 points percentage 23 games deep, or a winning streak of eight games (and counting).
Jeff Skinner is clipping along at a 61-goal pace, co-leading the NHL with 17 goals (David Pastrnak). No impending UFA has a better plus/minus rating than Skinner at plus-14.
Skinner and Botterill plan to tiptoe into extension talks in December, but if you're Skinner — 26 years old, playing the best hockey of your life — why not wait to late June just to see your other options?
If Botterill's club is still in playoff position at the deadline, it sure would be bold to trade Skinner if he doesn't sign early.
The Sabres faithful have waited seven years to make the playoffs, the second-longest drought in the league. Subtracting a star won't go over well.
No wonder Skinner's reported initial asking price is so high:
Welcome to the @TreWhite16 Goalie Academy of Louisiana. pic.twitter.com/5UIJbLFSlB

— Buffalo Bills (@buffalobills) November 15, 2018
11. Every once in while, we learn something new about the unique personality that is Nazem Kadri. He loves his cat. He's the in-house DJ.
Kadri recently revealed that he played a lot of goal as a street hockey fiend.
"I was the No. 1 goalie in the neighbourhood," Kadri said. "Quite unorthodox. I didn't have the technique down pat, but my effort was certainly there. I loved Patty Roy and his style. He played for the Canadiens when they were lights-out. I just tried to improvise and make the highlights.
A young Naz would most definitely be the type to throw in an extra windmill flourish in making a glove save.
"I'd be flashing it for sure," he smiled. "I'd always leave the glove side open, that way I'd get the opportunity to do that. That's my style."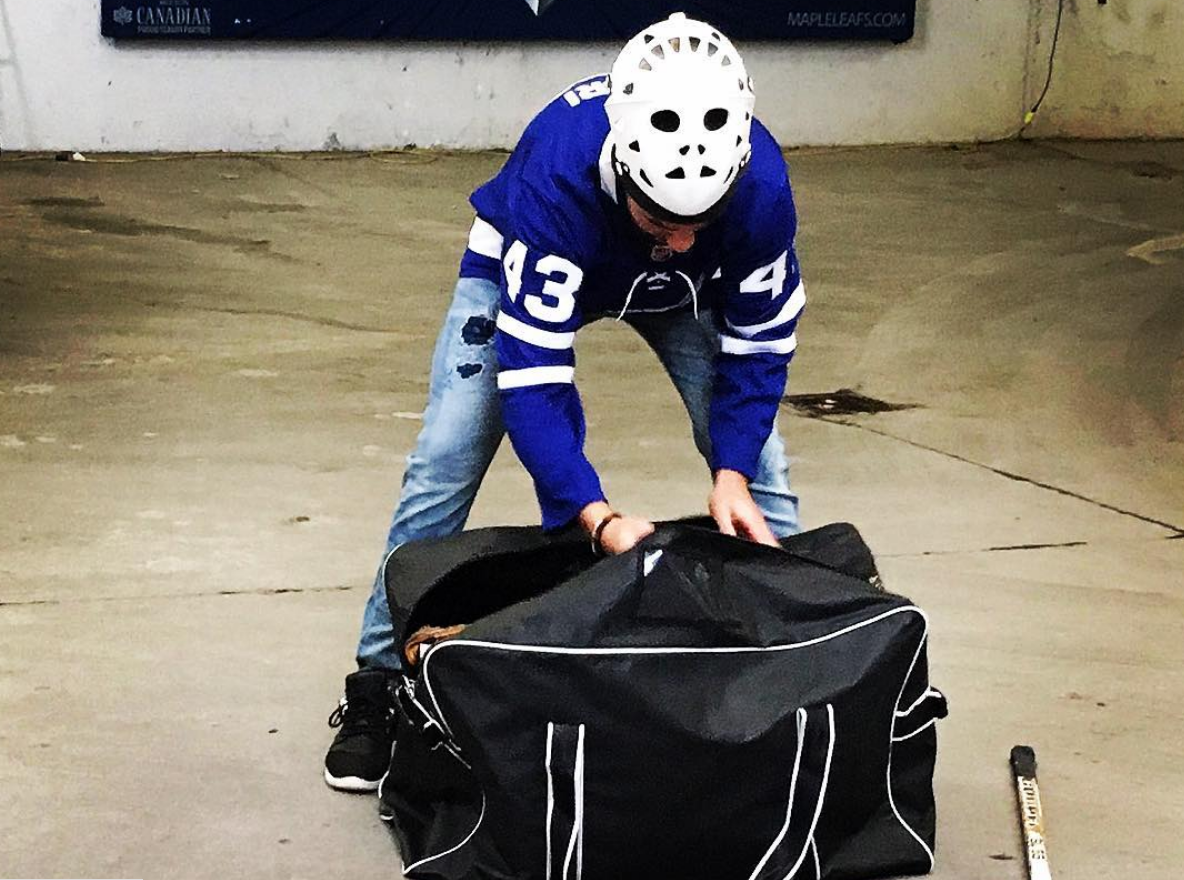 12. Can't believe I forgot to include this photo in last week's thoughts on the Eric Lindros Celebrity Hockey Classic.
So these two friends, Louis Didomenici (left) and Brian Lidster, attended the charity tournament in 2017 and got a photo with Big E strapping them in a double headlock.
They returned a year later and snapped a photo of Lindros putting them in another headlock while holding signed prints of Lindros putting them in the first headlock.
They plan to do the same thing with this new photo (below) in 2019 and get a third pic.
I obtained this photo, naturally, by taking a photo of the photo (and have since stuffed the print inside a set of Russian nesting dolls).
Yes, you have just been Inception'd.