When the consensus No. 1 pick in the 2019 NHL Draft charged into the corner with his mini stick at four years old, Quinn Hughes leveled his younger brother from behind. Jack Hughes' head smashed into the wall and split open.
"The blood was coming down his eyes. I remember it like it was yesterday. Blood coming down, he looked around and tried to punch me. He was so mad. That was just him. He's so competitive," says Quinn, then five, now 18.
"Super competitive. It was crazy. There were holes in the walls from us playing mini sticks for sure. A couple injuries."
Consider all those brotherly battle wounds accrued in the dirty areas of the Hughes' basement and in the streets of Toronto — "That's where we grew our passion for the game," Quinn says — an investment in a promising and lucrative future for the Hughes boys, set to get drafted top-10 in back-to-back Junes.
"He's going to come support me this year in Dallas, and I'll be in Vancouver next year supporting him," says Quinn, who has long evolved from Jack's fiercest destroyer to his most fervent hypeman.
Don't get him started on the 17-year-old centre who averaged a goal and more than two points per game in 18 contests with the U.S. National Under-18 Team this season.
"He's probably going to be the first-overall pick. Patrick Kane, he's won three Stanley Cups and done a lot of things, so I can't compare Jack to him yet, but Jack put up better numbers than him this year at the program. Clayton Keller maybe. His speed is like [Connor] McDavid's. I won't compare him to McDavid—McDavid is unbelievable—but their skating is pretty similar, I'm not gonna lie," Quinn gushes.
"He's unbelievable. Even if you ask any of these guys who've played with him, he's so dynamic. I'm excited to see what he can do next year, and everything coming his way he deserves."
[relatedlinks]
Hockey runs in any blood trickling down a Hughes' forehead.
Youngest brother Luke, a 14-year-old defenceman, is also making noise in major bantam. Mom Ellen was inducted into the New Hampshire Athletics Hall of Fame for starring in hockey, lacrosse and soccer at the collegiate level.
Quinn and Jack were born in Orlando while father Jim served as an assistant coach with the ECHL Solar Bears and moved to Toronto at an early age when Jim landed a gig as the Maple Leafs' director of player development. A star at Providence College, Jim also worked as an assistant for the Boston Bruins and Toronto Marlies and a head coach for the AHL's Manchester Monarchs and KHL's Dynamo Minsk.
"I grew up in a hockey family, so I kind of felt like I knew what I was walking into. Teams have asked me at the combine like, 'How did you prep for the interviews?' " Quinn says.
"I've been telling them I've been prepping my whole life."
Know all this, and you won't be so arrested with Quinn's unique comfort with the hype and hoopla surrounding an elite prospect.
Revealing himself a Leafs fan growing up, he qualifies, "But there wasn't much to root for back then." Astutely, he motions at a Montreal reporter he just met. "I'm sure you know that—and let 'em know every chance you get."
The kid is just as quick on the ice.
[snippet id=3816507]
Scouts describe Quinn, an offensive defenceman, as a dazzling skater with elite vision, nifty puck-handling, and a wicked point shot. He sloughs off questions about his size (five-foot-nine, 170 pounds soaking wet in heels) confident he'll grow; he dismisses holes in his D-zone play certain he'll do everything in his power to improve.
In 2016-17, rooming with Brady Tkachuk, Quinn racked up 26 points in 26 games from the U.S. National Development Team's blue line.
He kept his production rolling into 2017-18, posting 29 points in 37 games as a University of Michigan freshman competing against grown men who posed a physical and mental challenge.
"It helped me mature a bit—not that I needed it," Quinn quips.
Quinn looks at Duncan Keith as the blueprint for success.
"He's so fun to watch. I think his offensive game is awesome. I don't have to tell you how good he is in that zone. His D-zone is just as good," says Quinn. What he most desires, however, is Keith's intensity. "I want to get to that point, for sure."
Quinn sampled a small taste of Keith's life in May when put up a couple points during Team USA's bronze-medal run at the IIHF World Championship. Quinn was thrilled to find his locker right next to Kane's.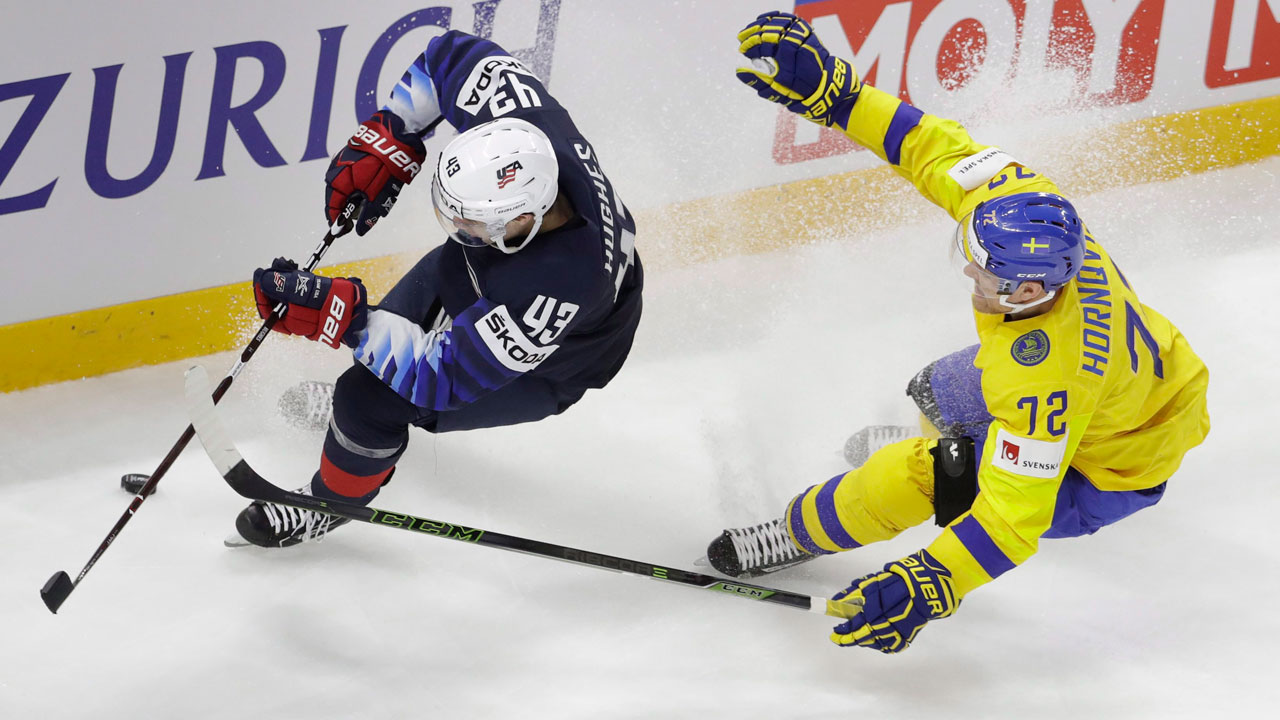 "It was unbelievable. I can't say enough about the experience," Quinn says. "He's probably the best American-born player ever, and just to have someone like that in your ear is really nice. And obviously the coaching staff was really awesome, and let me play my game, and really brought me along nicely.
"I did a really good job at the world championships showing I can play against stronger and more physical guys. I feel confident with my game and how it was over there, so there aren't any doubts or questions at this point. But still lots to improve on, for sure."
After the Buffalo Sabres claim Rasmus Dahlin at No. 1 on June 22, a trio of forwards—Andrei Svechnikov, Filip Zadina, Brady Tkachuk— are projected to follow. A deep wave of D-men clutters the five-10 range, and Hughes' fate will be bouncing around with those of Adam Boqvist, Noah Dobson, Evan Bouchard.
Detroit (sixth pick), Vancouver (seven) and Chicago (eight) are all strong possibilities. Hughes says he earned Red Wings/Team USA head coach Jeff Blashill's trust over those two weeks in Denmark, enough that Johnny Gaudreau was trying to set him up for one-timers on the second power-play unit.
Hughes also interviewed with Montreal; the Habs are hunting D and may opt to trade down from the No. 3 slot.
"There's probably some interest [from Montreal], but I have no idea what they're doing. I felt a lot of interest from certain teams, and other teams I didn't," says Hughes. "Wherever I go, I'll put a smile on my face and be real excited."
[snippet ID=3322139]
As self-assured Quinn appears at such a critical juncture of his life, he insists younger brother Jack is even more prepared for the stage that awaits.
"He's been No. 1 his whole life," Quinn explains. "Now, it's just normal for him. Even in Toronto, he was always the best player and everyone was trying to go after him. I guess it's just a lifestyle for him. He's awesome with it. He just loves hockey, so that's the only thing he's worried about."
Jack will be part of an entourage of up to 30(!) friends and family making the trek to Dallas to see which team drapes an NHL sweater over Quinn's head on Friday.
"I got a lot of cousins," Quinn says.
Any of them need an agent?