There might not be a sweeter job in hockey than riding shotgun on the wing of Sidney Crosby. Just ask Conor Sheary and Jake Guentzel.
Both players were full-time AHLers only two seasons ago, and are now contributing members of the defending Stanley Cup champion Pittsburgh Penguins.
Sheary, who established himself in the NHL last year, and Guentzel, who made his big-league debut on Nov. 21, have considerably better possession numbers while playing with Crosby.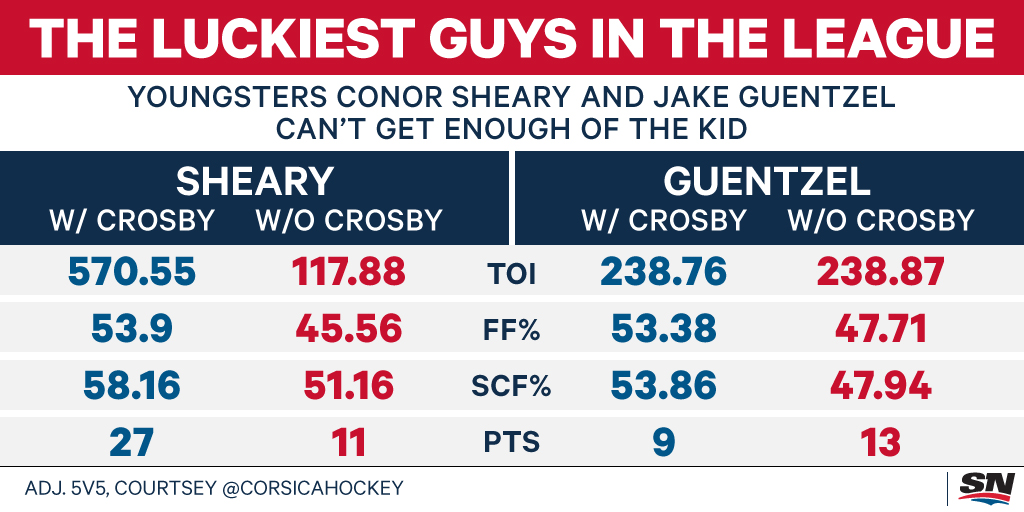 When you're a team built around a few key superstars the way the Penguins are, it helps to find cheap depth to fill out your roster, and it appears general manager Jim Rutherford has himself just that in Sheary and Guentzel.
The Penguins brought Sheary onto their AHL affiliate in 2014, before signing him to an entry-level contract in 2015. The 24-year-old will be a restricted free agent this summer.
Guentzel was drafted in the third round (77th overall) in 2013.
Both players will be lined up with the NHL's leader in goals when Pittsburgh faces the Buffalo Sabres on Tuesday.