A couple of Reilly Smith's buddies fired him the link as soon as they saw it on television. The Toronto boy getting props for his modest and fantastic bounce-back season from Don Cherry on Hockey Night in Canada.
That — like defeating your older brother's team, the Detroit Red Wings, in your first NHL playoff series — is the stuff of a hockey nut dreams growing up. Cherry calls him a "good Canadian boy" twice in the clip and a "good-lookin' boy" once, for good measure.
"I think I was one of the only names he got right in the last year. It's tough to mix mine up. It was pretty funny to see. Always good to see that," Smith says, smiling as he talks to Sportsnet. "When you're a kid, you always want your name to be dropped in that little segment."
With Smith's feel-good Florida Panthers armed with the tools to make a deep run in the Stanley Cup Playoffs, starting Wednesday, expect to see more praise for Smith.
Smith's next goal will give him 25 on the season, enough to match his age and give the Panthers four 25-goal scorers for the first time in franchise history. Hanging 25 points in his 34 games since Jan. 22, Smith is in the throes of his greatest season.
He credits the mix of fit and opportunity in Florida — a cocktail that eluded him in both Dallas and Boston.
"There's a lot of young skill in this locker room, and the older guys have done a great job with their leadership. It's definitely a fun locker room to play in, and when you're winning, everything is easier," Smith says. "I'm playing four or five minutes more than I was last year. That's definitely a big factor."
Smith became an oddity: a skilled sniper with a 20-goal season traded twice before his 25th birthday, which he celebrated on April Fools'. The Stars, who drafted him 69th overall out of Miami University in 2009, shipped him off to Beantown as a side piece in 2013's Tyler Seguin–Loui Eriksson blockbuster. Two summers later, the Bruins sent Reilly (and Marc Savard's contract) to their divisional rival for Jimmy Hayes.
The speedy Smith has racked up 20 more points than Hayes this season. He's a left shot playing his preferred side on a nasty second line that features Jussi Jokinen and Vincent Trocheck.
"I played both [wings] growing up, but I've had my most success on the right wing," he explains. "You can see the ice a little more and you're able to cut in [to the centre] easier, especially over the offensive blue line. It just suits me better."
Jokinen raves about Smith's all-around game and consistency from autumn through spring.
"First guy there in the forecheck and always coming back for the backcheck," says the Finn. "It's really fun to play with him."
So… why did the Bruins get rid of Smith?
"If I had the answer, maybe I wouldn't have been traded twice already," Smith laughs.
"To play on three teams in your first four years is something you don't expect. I think I've had good fits in the places I've been traded. I love being able to play in South Florida and being part of this team. It's awesome."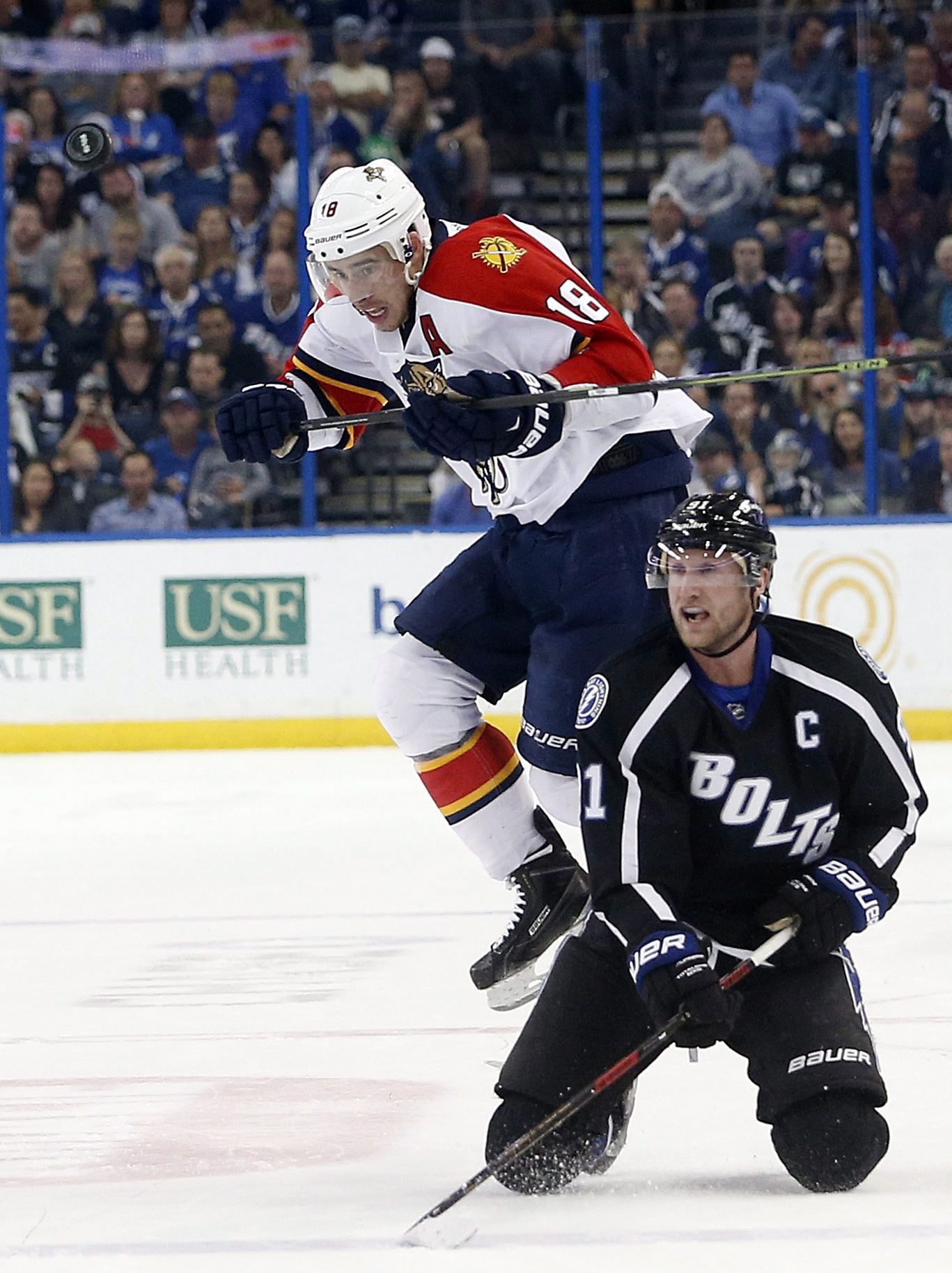 Panthers analyst Denis Potvin has a theory why Smith got traded. The player put up 20 goals and 50 points in 2013-14, then responded with just 13 and 41 in 2014-15, when Boston whiffed on the post-season.
"That's where people thought, 'Well, maybe he's had his best hockey.' The Panthers never felt that way. They gave up a good player. Jimmy Hayes scored 19 goals for the Panthers. The Panthers wanted to go more with speed. They already have a lot of size when you think of the centremen the Panthers have in [Aleksander] Barkov and [Nick] Bjugstad. They're all well over 200 pounds," says Potvin.
"In comes Reilly Smith, and right from the beginning he was scoring and playing solid and killing penalties. He and Derek MacKenzie have got to be one of the top two penalty-killing forward pairs in the league—on top of the offence he offers. So they're very happy with his development."
With the Atlantic title locked up, the Panthers are very happy to have home ice for the first two rounds of the playoffs. Should they make it to Round 2, it's possible we see a Smith brothers rematch or a chance for Reilly to show up the team that didn't want him.
"I played my brother [Detroit defenceman Brendan] my first playoff. That was a surreal feeling. Just having your family there, and being able to capture that experience with them," Smith says. "If we end up playing the Bruins, it won't be downplayed anymore than it was when I played my brother."
Like a good Canadian boy, Smith is quick to qualify that the Panthers need to make it that far first. He places an emphasis on entering the dance feeling good, being ready to make an impact with NHL team number three.
"Look at Dallas with Seguin—they didn't develop him," Potvin says. "All of a sudden, boom, there's a trade. You shake your head. Fact is, the Panthers and Tallon identified the type of player they needed, and he became available.
"Every now and then, it's like striking gold."
(AP/Brian Blanco photo)