DETROIT – A fourth straight appearance in goal for the Toronto Maple Leafs. This used to be normal for James Reimer.
But this is the season where normal got turned upside down – at least as it pertains to the 26-year-old goalie – so Tuesday's game against the Detroit Red Wings looms as a big moment. The Leafs crease is finally Reimer's again, for the time being anyway, and he wants to make the most of his first opportunity to appear in four straight games this year.
Reimer didn't hit the ice at Joe Louis Arena for an optional morning skate on Tuesday and chose not to speak with reporters afterwards. But in recent days he's talked about wanting to keep the team in a good position with Jonathan Bernier on the mend.
The Leafs are currently in a holding pattern with Bernier, their No. 1 man, who hasn't been on skates since suffering a groin strain in Los Angeles last Thursday. The team is calling him day-to-day, but the recovery time for this type of injury tends to be unpredictable.
Toronto must also try and strike a balance between short-term and long-term thinking. As much as they need to continue racking up points right now to make the playoffs, they will also want to have Bernier as healthy as possible should they get there.
"There's always going to be that push to get your people back," Leafs coach Randy Carlyle said Tuesday. "The bottom line is the player makes a decision. All we can do is treat him medically, provide him with the right environment and give him the opportunity to test his injury if he's good enough to go.
"We'll make a decision based upon input from him, the player."
This game will bring an end to a five-game road trip for the Leafs, although there will be no rest with Wednesday's test against Tampa looming large as well. Toronto has slipped to the first wild card position in the Eastern Conference and could determine how comfortable the playoff race is down the stretch based on how it fares in these tight divisional games.
In Detroit, they will face a battered and bruised opponent.
The Red Wings have a remarkable 11 players out with injuries and planned to use defenceman Brendan Smith on left wing. He last played forward as a teenager with the Toronto Marlboros when he was on a line with John Tavares and Sam Gagner.
The biggest losses are Henrik Zetterberg (back) and Pavel Datsyuk (knee), and neither is close to a return. When you add it all up, Detroit is in awfully tough as it tries to extend its playoff streak to 23 straight seasons.
"As a player, you've just got to stay in the present," veteran winger Daniel Alfredsson said. "You can't worry about things we can't control. … We're still in the thick of things and it's going to be a race until the end for us."
They certainly won't get any sympathy from Toronto. Carlyle bristled when he was asked about Detroit's predicament – "I'm not here to blow smoke up the Red Wings chute here," he said – before pointing out that his team has dealt with its share of absences as well.
With Bernier out, it's Reimer in net again for Toronto on Tuesday. He'll go up against Detroit's Jimmy Howard.
PROJECTED LEAFS LINEUP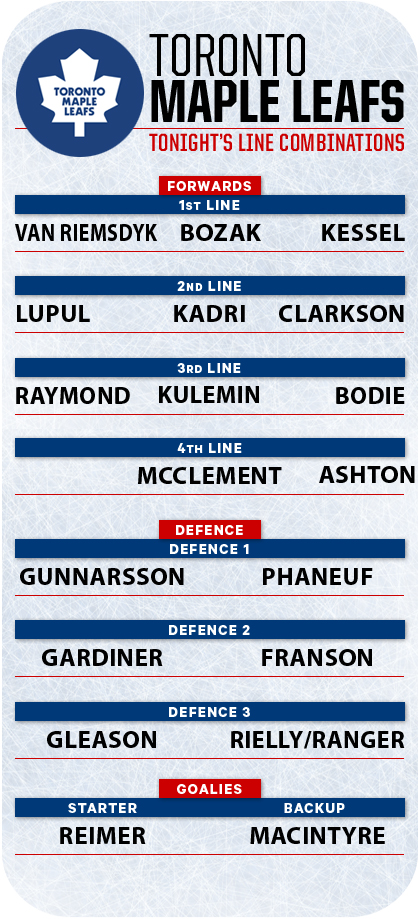 —
ONE-TIMERS
The Red Wings last missed the playoffs in the 1989-90 season and have appeared in 50 playoff series since then … The Leafs are 25-7-4 when scoring a power-play goal … Kessel remains second in NHL scoring with 73 points – 15 back of league leader Sidney Crosby … Detroit has lost 13 games in overtime or the shootout … Five Toronto forwards saw at least 20 minutes of ice time in each of the last two games: Kessel, James van Riemsdyk, Tyler Bozak, Joffrey Lupul and Nazem Kadri … Red Wings winger Daniel Alfredsson has one assist in his last seven games … Toronto has won 25 games when leading after two periods and just two when trailing … The Red Wings need to win 10 of their last 15 games to give coach Mike Babcock his eighth 40-win season in Detroit … Leafs backup goaltender Drew MacIntyre has four career NHL appearances – all in relief. The 30-year-old made his debut with the Vancouver Canucks on Dec. 13, 2007.
—
QUICK QUOTES
"We're in no position to take anybody lightly, no matter who we play." – Leafs coach Randy Carlyle.
—
"They've got outstanding forwards – that top line with Kessel and van Riemsdyk, they've got Lupul, Kadri – I mean they've got some really talented guys up front. A lot of times they must not be needing those extra shots. They make the most of the shots that they have." – Red Wings defenceman Nicklas Kronwall on the Leafs tendency to get outshot.
—
"You can watch in our pre-game skate – the puck was like a hand grenade. The guys that are real good players aren't scared of the puck and want it and the guys that are nervous have got to go back (to the AHL) for more time." – Red Wings coach Mike Babcock on his call-ups.