In 2010, to celebrate our first wedding anniversary, my wife and I drove California from Crescent City to San Diego. She's not a golfer, so when we got to Pebble Beach, we asked the marshals if we could simply walk the course.
They were gracious enough to say yes. As we walked down one fairway, a golf cart came up next to us, and a voice yelled out, "What are the chances?"
It was Steve Montador.
We had a short conversation — after all, you don't want to be accused of slowing down play — then he said, "Watch a professional at work."
He blasted his approach into the water as everyone started laughing.
My wife said, "He's good-looking."
I said, "Time to go."
---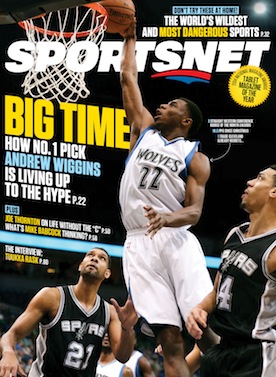 ATTENTION Rogers and Shaw customers.
Already enjoying Sportsnet ONE? Now get access to digital editions of Sportsnet magazine at no extra cost.
---
I don't propose to know Steve Montador better than anyone who actually shared a dressing room with him, but if you read the many tweets, quotes and statements made in his honour on Sunday, you know that was him: a popular and funny teammate. A guy who loved making people laugh.
We first "worked together" on Mother's Day 2004, covering the Western Conference final between the Calgary Flames and San Jose Sharks. Montador scored the overtime winner on Mother's Day, so he was the Hockey Night in Canada post-game interview. I asked him his mother's name.
"Donna," he answered.
So we opened the interview with something like, "So this is for Donna in Toronto?" and he played along.
Less than 24 hours later, we did a little story for the off-day between Games 1 and 2 and asked to speak to his road roommate. Peter Hanlon, Calgary's excellent media-relations liaison, smiled and politely declined.
"That's the thing," he said. "It's Jarome. We prefer to keep that quiet."
Iginla, through a Colorado Avalanche spokesman, said, "I feel a lot of sadness. Steve was a great teammate, a friend, and he played hard every game."
It says everything you need to know about Montador that a guy who played 87 NHL games over three seasons to that point was the captain's road roommate.
Sometime during the 2013-14 season my phone rang, the call coming from an unlisted number. You never know if you should answer these, but I'm glad I did.
That season, Montador played 11 KHL games with the Croatian team in Zagreb. He was vacationing in Turkey and had walked into some kind of demonstration where police were using tear gas. He was taking photos and asking if he should send them to me for CBC News.
"That's really nice of you, but don't you think you should get out of there?" I said.
In this instant-reaction, social-media age, everyone jumps to conclusions about sudden tragedies like this one, and someday we'll learn not to guess until we have a clue.
Police say this was not a suicide, and we won't really know more until an autopsy is completed. Montador was honest about his issues with depression, as concussions threatened his NHL career two years ago.
Before that, we had a lengthy conversation during his time in Buffalo. I walked into the Sabres dressing room as Montador changed out of his gear. He was ripped, in great shape. He said he didn't take care of himself off the ice as he needed to earlier in his career, and he'd re-dedicated himself to it. He declined to discuss it publicly, but we'd contact each other periodically to see how things were going.
It was hard for him in 2013. Montador skated almost every day during the lockout, as he was an injured player and, therefore, still being paid. Once play resumed, he was limited to just 13 AHL games while the Chicago Blackhawks won their second Stanley Cup in three years. He would be bought out after the season.
"He almost felt guilty because he wasn't playing," an emotional Darryl Sutter, Montador's former head coach in Calgary, told The Orange-County Register. "He had a contract, but he couldn't play."
On Saturday, the Toronto Star's Curtis Rush wrote about Corey Hirsch, who recently joined Sportsnet after losing his coaching job in St. Louis. Hirsch and I worked Sunday's Pittsburgh-Chicago game with Daren Millard, and the Montador news hit seconds before the broadcast began.
Montador was interested in broadcasting, too. We'd talked about it, even met in-person about it, but hadn't finalized anything. He'd moved from California back to the Toronto area. He appeared on Calgary radio many times with former teammate and close friend Rhett Warrener, who co-hosts a successful morning show there. Last summer, he emceed the NHLPA golf tournament.
The transition was not easy, though, just as it wasn't for Hirsch. For most us, 35 is the prime of our lives. We're just getting started. For elite athletes, 35 is the end — if you're lucky to play that long.
The thing you've lived and breathed every day your entire teenage and adult life is taken away; it's hard to find something to replace that companionship and competition.
We spoke last Wednesday. He asked me to check in on something, and we made plans to reconnect this week. I'm in shock knowing that conversation will not happen. But that pales in comparison to what his teammates, friends and family are feeling.
All the best to his father, Paul, and mother, Donna. May God give you the strength you need.