Fans love watching a winner… unless that winner is in Anaheim.
Television ratings for this season's National Hockey League games in 21 U.S. regional markets were published by Sports Business Journal Monday, and the numbers reveal some interesting swings in key hockey markets.
Across the board, seasonal NHL ratings on regional networks dropped seven per cent from puck drop through All-Star weekend, a dip SBJ attributes to the nation's tuning in to the presidential election race. Ratings have rebounded from their slow start and should reach last year's levels.
Nine U.S. clubs have received increased viewership, led by the blue-collar Columbus Blue Jackets, whose 16-game win streak propelled them to a 110 per cent rating increase. The New Jersey Devils (now with 100 per cent more Taylor Hall) have benefited from a 58 per cent ratings hike, and the Florida Panthers, Minnesota Wild and Philadelphia Flyers all made significant gains. This despite underwhelming on-ice performances from New Jersey (22-21-10) and Florida (23-19-10).
Twelve teams saw a ratings decline. None more so than the last-place Colorado Avalanche, whose local rating plummeted 58 per cent. Declining interest in Detroit Red Wings (-28%), New York Islanders (-31%) and Dallas Stars (-33%) games can be attributed to poor performance.
The Anaheim Ducks (-46%) have taken a significant ratings hit in the Randy Carlyle era. Despite remaining in the thick of the Pacific Division title race, the Ducks have the worst rating of any team surveyed (0.21), down an alarming 46 per cent from 2015-16.
Broadcast on MSG, the Buffalo Sabres (not a playoff team) supplanted the 2016 Stanley Cup champion Pittsburgh Penguins atop the ratings heap a year ago and are holding onto their title despite a five per cent dip.
Ratings in the Midwest are strong, as St. Louis, Minnesota and Chicago all rank among the top five, but the Blackhawks' regional viewership is down 20 per cent.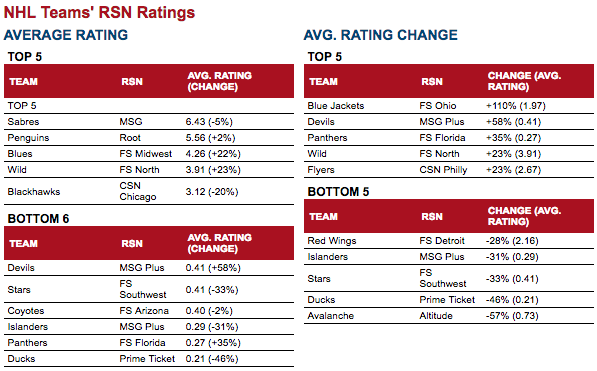 *NOTE: SBJ did not obtain regional ratings for Nashville, Carolina, or the seven Canadian clubs.