After a somewhat slow dispatch last week, things pick up in Episode 4. If this week has a theme, it's realness: the genuinely funny and truly terrifying (trust me, brace yourself), authentic friendships and a relationship that looks, from the outside, genuinely troubling.
 
George Parros loses his domestic mind for our entertainment
This week's episode contains by far the funniest sequence of the show thus far. Tiffany and George Parros are leaving in a matter of hours for Las Vegas (it's unclear which of the murder-mansions they acquiesced to living in) and all their worldly goods are supposedly jammed into the U-Haul trucks and ready to go. Then George starts to look around more carefully, and George does not like what George finds. 
"Oh no," he murmurs as he opens a kitchen cupboard to find it still full of bottles, boxes and cans. "Tiff, come on. You're killin' me."
There's a special kind of animal rage that only moving day can inspire, and what follows is quick-cut footage of George Parros, feared enforcer of the NHL, descending deep into that hellscape: 
"What the f***?" he yells as he looks into one room.
"Unbelievable," he mutters into another.
Then he really starts to lose it: "COME ON."
Finally: "F*** off. This is stupid." And he stomps out of his empty garage, a broken man.
 
Real girlfriends who will do shots with you
There's always a question mark around the authenticity of reality TV friendships, and a lot of scenes of "the girls" hanging out on Hockey Wives have looked like awkwardly forced set-ups. But it seems Tiffany Parros, Kodette LaBarbera and Brijet Whitney actually are friends in real life.
In this episode, Kodette brings her boys to Scottsdale to visit Brijet, and Tiffany joins them just before she and her family move away from L.A. There's a scene in Brijet's palatial bathroom where she's clomping around in a pair of high-heeled black boots.
"What'd you have to do for those?" Kodette asks archly. "Just be a good wife," Brijet chirps, to which Tiffany replies. "LIES."
Later, the three head out to a bar, where a server presents them with absurdly adorable lemon drop shots in miniature Mason jars, proving that Booze Pinterest should be a thing.
Tiffany says that when you go out with Kodette, you know she'll be the person dancing with a stranger next to the bar five minutes after you arrive. This reveals a buoyancy we haven't seen from serious, earnest and frequently tearful Kodette, and it makes her difficult situation—a young son with autism and a family separated across the continent during the hockey season—that much more poignant.
The three women talk about how they're all in the same situation, lacking the social support network that comes with their husbands having steady jobs with a team. Brijet confesses she feels like she can't ask Ray too much about retirement, narrating to her friends the thoughts she can't spill to him: "I'm tiptoeing around your emotions right now because I'm really worried about what's happening," she says. "The truth is, this is happening to me too. For 23 years, this has been my life too, and I don't know if you realize how much it not being here is affecting me, too."
 
One of Maripier Morin's friends needs to have a serious talk with her
Even keeping in mind that reality TV editing torques things into barely recognizable versions of themselves, Maripier Morin and Brandon Prust seem like the couple you'd watch with a furrowed brow if they were in your social circle.
On the show, their relationship appears to be an endless spiral of passive-aggression: Maripier complains of some way in which Brandon is brushing her off; Brandon doubles down, wearing the sort of open-mouthed look of adolescent scorn that must drive substitute teachers to drink oceans of wine; Maripier pouts, trying to put a sassy spin on what looks like genuine hurt; Brandon grudgingly offers a tiny crumb of affection while finding one last way to take a shot at her.
Early in this episode, Maripier talks about how excited she is to spend a whole day with Brandon since their schedules don't often allow it. Then you wonder why. In the car, they tussle over a sweater she bought him that he hates. To be fair to him, it looks like it belongs to Cousin Eddie from National Lampoon's Christmas Vacation, but that's beside the point: it's just one more petty battleground between them.
Then, as Maripier gets out of the car to head to the gym, Brandon smirks, "Have a good workout. Get that ass tight." The line stands alone, so icky and controlling and mean-spirited that it's hard to imagine how even the most misleading editing could have changed the intent. We've seen preview clips of an upcoming episode in which Tiffany gives Maripier some relationship advice, and you have to hope it's either bracingly blunt, or that the unhappy high-school relationship presented on the show isn't their reality.

 
Noureen DeWulf has an "Indian baby shower"
As she prepares for her baby shower ("The only thing I can be sure is going to happen today is 40 middle-aged women trying to feed me curry and touching my belly."), Ryan Miller's wife talks about growing up in one of the few Indian families in Stone Mountain, Georgia. I was distracted by the fact that Kenneth Parcell, the page on 30 Rock, hails from the same town, which I assumed was fictional because it sounds exactly like a 30 Rock joke. Apparently Stone Mountain is real.
In any case, in the middle of an on-camera monologue, Noureen abruptly switches to a honey-dripping Georgia drawl by way of acting out her teenage years: "Come on, girls, we gotta go to mosque, we're gonna be late! Are you gonna wear that to mosque? It's not very conservative." It's entertaining but seriously weird the way she just puts on another personality like a hat. It must be exhausting to live with an actor.
Anyway, all of this is merely a prelude to the most important and terrifying thing to happen so far on Hockey Wives. There's a baby shower game in which Noureen and a guest compete to diaper a doll with their eyes closed. But LOOK AT THESE DOLLS. I do not understand what they are or why they look like the demented offspring of ThunderCats and Cabbage Patch dolls, but I do know that I hope never to come into contact with one again, because they are surely here to consume our immortal souls.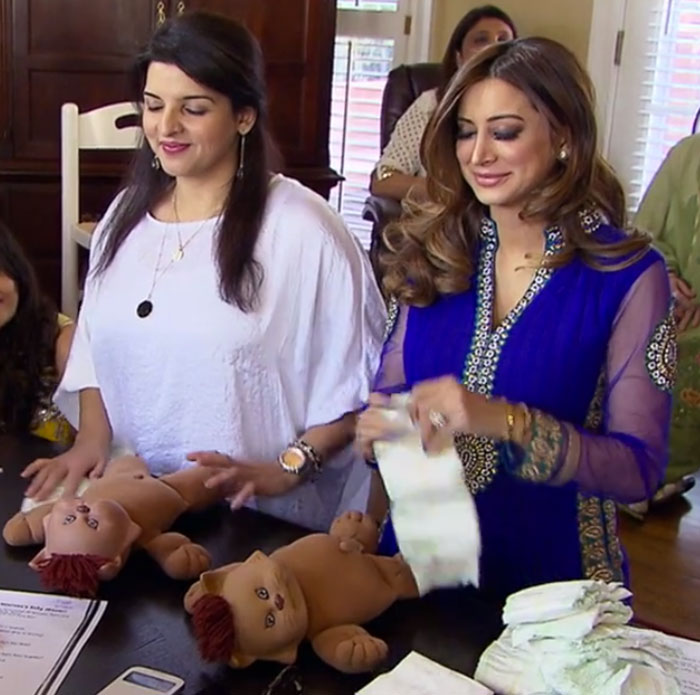 Ice Chips
• Brijet continues to offer up legitimately astute life advice that goes well beyond the context of the show. We see her teaching a tap class and she explains how she feels "so overjoyed" when she's dancing.
"You kinda put yourself on the backburner, being a mom," she says. "But you have to keep finding a place for yourself, no matter what it is—something that gives you a little fire. You have to nurture it. You don't want to get lost living in someone else's world."
• Once again, Tiffany gives us a glimpse of the awfulness of a few hockey wives. When she returned to the "wives room" (I'm picturing one of those plexiglass enclosures in a pet store window, only stocked with pashminas, nail polish and mimosas served in those nozzled water bottles guinea pigs use) after several months away when her twins were born, one woman who didn't recognize her tried to get security to kick her out. Tiffany uses the c-word to describe the woman, which is both a completely fair description under the circumstances and a hilariously pointless use of the censor button.  
• The greatest lost opportunity on Hockey Wives will go down as this: ending Episode 4 before we got to see George Parros launch himself out the window of his wife's Fisker white-socked feet first, after driving it onto a trailer where he was trapped in the driver's seat. Thanks for nothing, producers.