While P.K. Subban was the undisputed star of Epix's Road to the Winter Classic premiere last week, with Zdeno Chara the runner-up, Episode 2 gives us more of a peek into some of the depth players on Montreal Canadiens and Boston Bruins.
We get some strong between-periods language from both captains, a great look at the Hayes hockey-mad family, and a better understanding for how painful a slump like the Habs' futile December (they've won one of their last 10) can be. Watch the full episode in the video player above.
---
Missed Episode 1 of 'Road to the Winter Classic'? Watch here
---
To borrow my favourite quote from this week's show: Lotsa chatter, let's get at 'er.

Here are the highlights of the Episode 2 of the four-part series, which aired Wednesday night.
Brad Marchand does Symphony Hall
When you think of a classy performance at Boston's century-old Symphony Hall, you immediately think Brad Marchand, right? Even though it takes "a couple shots of whiskey" and a few read-throughs the Little Ball of Hate gamely recites 'Twas the Night Before Christmas alongside the orchestra, kicking off Episode 2 with one of those things we'd never thought we'd see.
P.K. Subban is for the children
Subban, who memorably made a $10-million commitment to the Montreal Children's Hospital at the top of the season, leads the charge as the Habs players hand out toques and teddy bears and pose for photos with the sick kids: "Fromage!"
"Sometimes I think people forget to count their blessings every day," says Subban to the camera. And the defenceman, whom we learn makes a visit weekly, is a natural with the youngsters.
Brendan Gallagher has a man-crush on Andy Dalton
In one of those presumably prearranged meetings between pro athletes of different sports, Montreal's injured Gallagher Facetimes the injured Andy Dalton, of the Cincinnati Bengals — Gallagher's favourite NFL team.
Nervously chatting with his idol, Gallagher comes off "cute" during the awkward exchange, as one teammate puts it.
Chips another during the athlete-to-athlete chat, "I don't think he knows who Gally is." Ha.
The small talk ends on a positive note. "Get healthy, dude," advises Dalton.
Gallagher, still recovering from his busted hand, returns to the ice but admits to feeling choppy. He's still a ways off.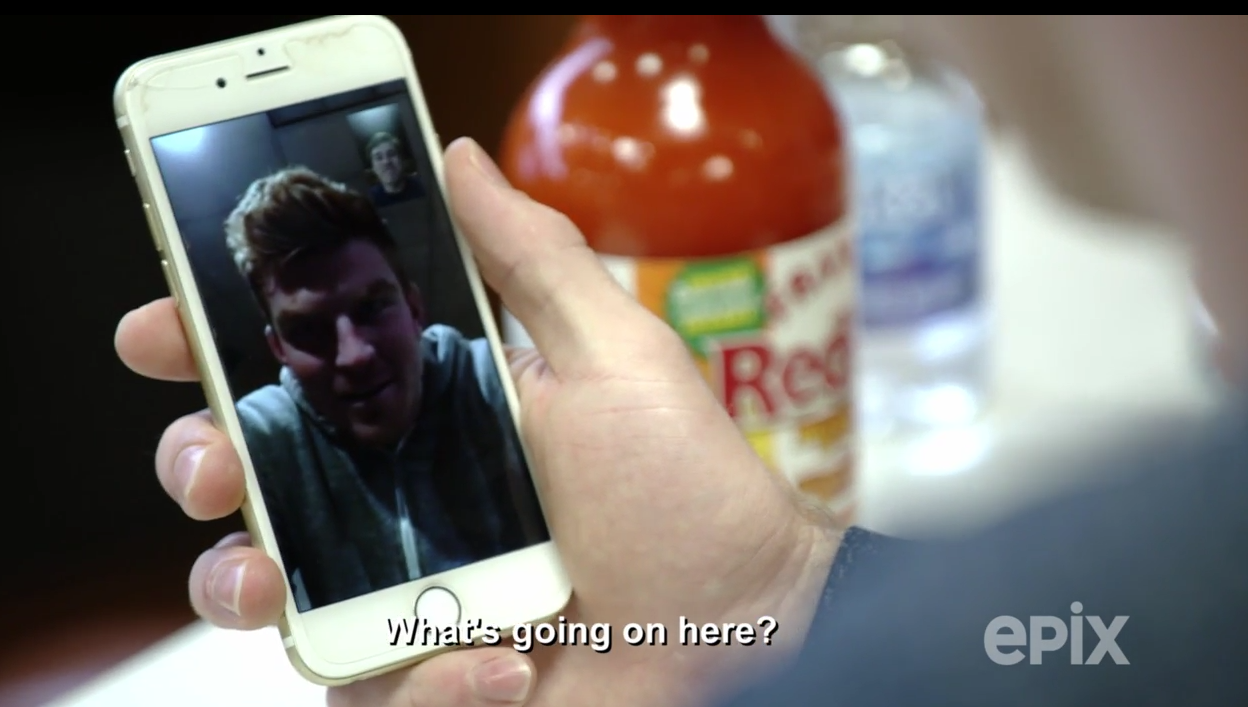 Daddy Hayes got a plan
In my personal favourite vignette from the second episode, Kevin Hayes Sr. breaks down how he manages to root for both of his NHL-playing sons, Kevin (in New York) and Jimmy, who moved back home to Boston to play for the Bruins this season.
Dad has crafted a single Bruins-Rangers mashup sweater and is considering stacking two flatscreens on the wall so he can give equal play to both his sons. He also has a cheering strategy. He roots hardest for whichever son's team is lowest in the standings, in hopes that they both make the playoffs.
Coincidentally, immediately after we meet the Hayes clan, Jimmy pots his first goal in 17 outings, Dad all smiles in the stands. Perfect.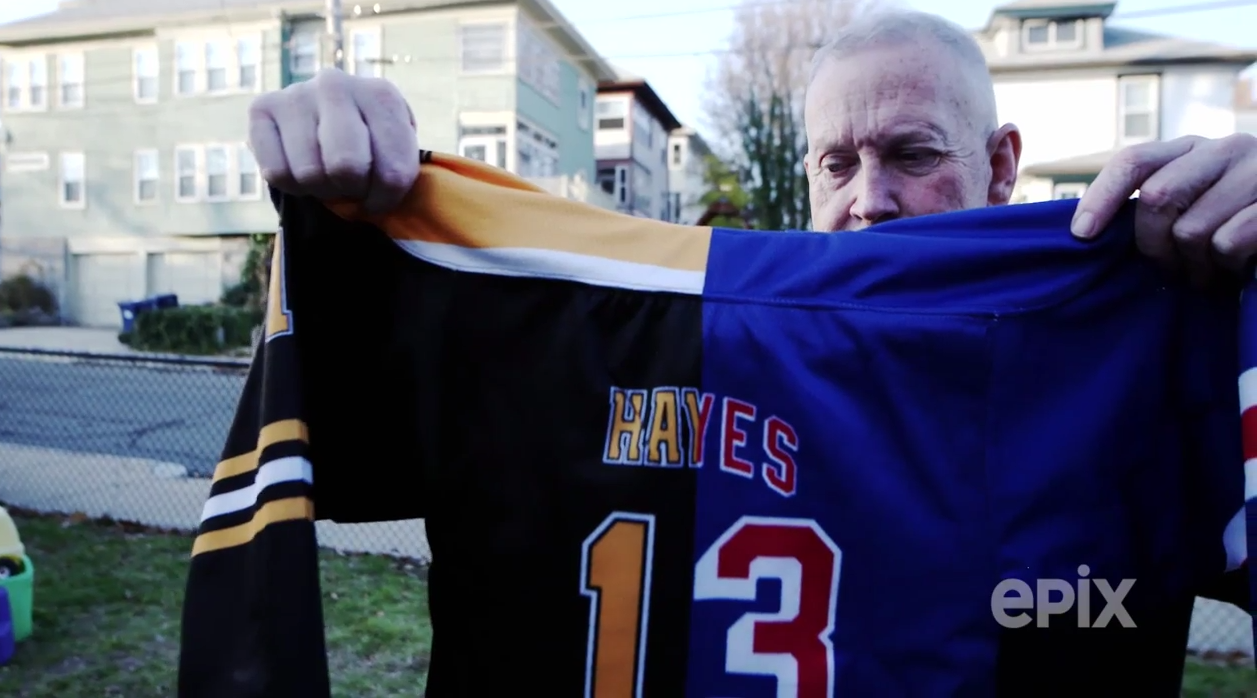 Stitches in 15 minutes or less
When Bruins defenceman Adam McQuaid takes a puck in the face versus the Penguins, we get to follow him into the dressing room for repairs.
The doctors sew up his chin with 12 stitches and he's back on the ice within 15 minutes of real time.

We got a hot one here
In case you believe that you, the viewer, is seeing everything unfiltered in this miniseries, think again.
Here's this bit of dialogue near the Habs' bench between goaltender Mike Condon and a referee.
Ref: "Watch what you're saying. I got a mic on."
Condon: "I do, too."
Parking Lot Marc
Time and again, some of Road to the Winter Classic's more interesting characters are not players or head coaches but, rather, the individuals on the outskirts of the game: a goalie guru, an organist, a hockey dad.
This week we meet the Bell Centre's Marc Archambault, who greets each Canadiens player as he drives up and shoots the breeze with the players before parking their rides. Marc seems particularly fond of Subban and the new suit he sports to nearly every home game.
"He likes to be told he looks good," says Archambault.

Penguins reinforce their reputation as whiners
In a humorous bit during the Pens-Bruins tilt, Max Talbot delivers what the ref deems a clean hit to Pittsburgh's Ian Cole. Cole, 26, pleads for a penalty and chirps Talbot, 31, calling him an "old man." But the official isn't hearing it.
These snatches of in-game banter are gold — much better than the arranged one-on-one interviews, for which the players' guards are up.

Max Pacioretty is fed up
The best slice of filmmaking comes during a tense intermission in the Canadiens' room. The Canadiens are in Dallas and about to lose their eighth game in 10 attempts. They aren't scoring, their puck luck has depleted, and the captain is miffed.
The camera pans, grabbing blank looks from silent, dejected players.
Frame Pacioretty, drenched and frustrated.
"Finish every f—–' check this period," he barks. Then spits on the floor. "Play with some f—–' pride."