TORONTO — This hockey season, Canadians across the country will get to experience the game they love with the ones they love, along with one of Canada's favourites – Ron MacLean – as Rogers today unveiled the 25 communities that will be part of the inaugural Rogers Hometown Hockey Tour presented by Scotiabank and Dodge.
Each week during the 2014-15 NHL season, the Rogers Hometown Hockey Tour will roll into a different community across the country with a weekend of free outdoor hockey festivities for all ages, culminating in an outdoor viewing party of an NHL game broadcast every Sunday, with MacLean hosting live onsite from the Sportsnet Mobile Studio (see full list of locations below).
---
Rogers Hometown Hockey:
Full site | On Twitter | On Instagram | On Facebook | MacLean: 'I was born into Hometown Hockey'
---
"The passion for hockey in this country is unrivaled. Every Canadian has a connection to the game – it is part of our DNA, it is part of our communities," said MacLean. "We're excited to share in this season-long celebration of Canada's favourite pastime, help grow the game and bring to life those great hockey stories every Sunday."
Rogers Hometown Hockey Tour Locations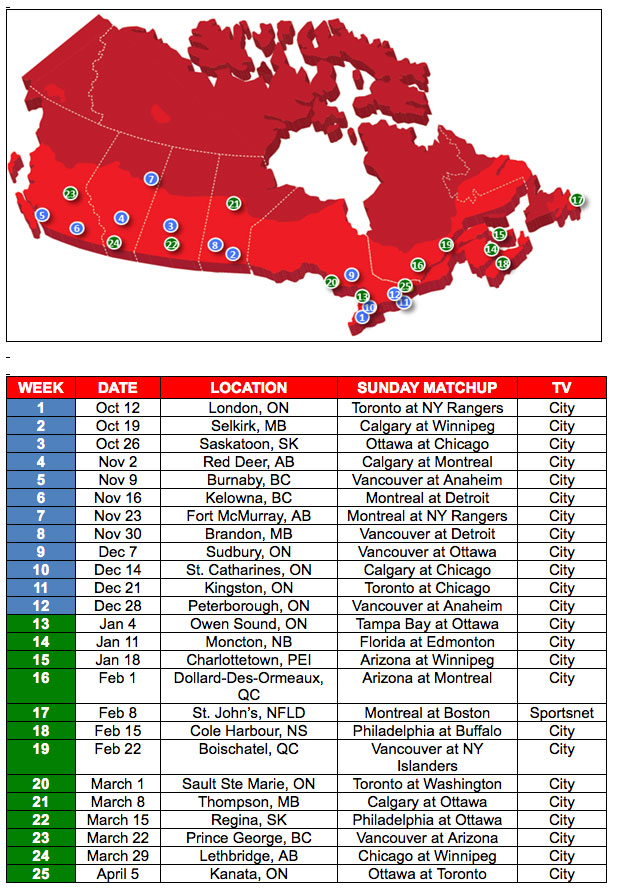 Each Weekend of the Tour
Kicking off in London, Ont., on Oct. 11 and 12, the Rogers Hometown Hockey Tour will bring together a community with deep hockey roots and deliver a jam-packed weekend of interactive games, activities and entertainment for the whole family, celebrating all things hockey in the heart of each town, including:
Meet and greets with NHL Alumni, local hockey heroes, and celebrities
Family outdoor viewing parties on both Saturday (Hockey Night in Canada) and Sunday (Rogers Hometown Hockey)
KidsZone filled with hockey-themed games and activities for all ages
Interactive experiences inside the Rogers NHL GameCentre LIVE Tech Truck
Skills and drills competitions
Winter Market showcasing local culinary culture and hometown food trucks
Local bands and entertainment from main stage throughout weekend
Ticket and merchandise giveaways
Other onsite Rogers Hometown Hockey Tour partner activations from Scotiabank, Dodge, Samsung, Xbox, McDonald's
Rogers Hometown Hockey – Sunday Night Broadcast
· Each Sunday – the newest national night for hockey – City will air a half-hour pre-game show hosted by Ron MacLean live from the Sportsnet Mobile Studio, leading into an NHL game broadcast. MacLean, along with other Sportsnet personalities, will also make appearances during the intermission and post-game show
· The broadcast will include interviews with celebrities, NHL alumni, and special guests with connections to the community, including features on local NHL players and grassroots stories
· The first Rogers Hometown Hockey broadcast will feature the Toronto Maple Leafs vs. N.Y. Rangers on Sunday, Oct. 12 at 6:30 p.m. ET/ 3:30 p.m. PT on City
This season, the NHL on Sportsnet will deliver more than 500 national and regional regular-season NHL games across nine networks, including CBC, City, Sportsnet (East, Ontario, West, and Pacific), Sportsnet ONE, Sportsnet 360 and FX Canada.
Sportsnet has exclusive Canadian broadcast coverage of the Stanley Cup Playoffs, Stanley Cup Final, NHL All-Star Game, NHL Draft Lottery, NHL Draft, and the NHL Awards. Rogers NHL GameCentre LIVEwill deliver more than 1,000 regular-season games on tablet and smartphones for the upcoming season.
Sportsnet is also the official regional television broadcast rights holder for the Vancouver Canucks, Edmonton Oilers, Montreal Canadiens, Toronto Maple Leafs (including radio rights on Sportsnet 590 The FAN) and Calgary Flames (including radio rights on Sportsnet 960 The FAN).