TORONTO – It's pricey, it's flashy, and it's about to see a ton of action.
With Rogers set to air a mellow 554 National Hockey League games this season — starting with full-slate puck drop on Oct. 8 — all that hockey television needed a new broadcast home.
On Monday, fresh Hockey Night in Canada host George Stroumboulopoulos and the movers and shakers at Sportsnet unveiled a state-of-the-art studio at the CBC building in downtown Toronto.
"I've been on a bunch of sets in my life," Stroumboulopoulos said of the space that will be used seven days a week throughout the hockey season, "and there's nothing like this."
Hockey Central's 11,000 square foot, 360-degree studio allows cameras to shoot at any angle, as up to three live broadcasts can be shot for three or more networks simultaneously. In other words, everything is happening.
We highlight 10 things about hockey's new headquarters you should know.
1. This bad boy cost $4.5 million. (You know how many Torey Krug's you could buy for that?) The bill was footed entirely by Rogers, which leases the 10th-floor studio space from CBC. Scott Moore, president of Sportsnet and NHL, Rogers Media, called it the most expensive studio he's ever had the chance to construct. The company spent $5.2 billion to secure the NHL rights for 12 years, so investing so much to air those games was a simple choice, said Gord Cutler, senior vice president of NHL production.
"You don't invest in a high-end Ferrari and have a kid try to drive it," Cutler said.
2. "Goliath" could probably break David's orbital bone. The focal point of the space is the largest high-resolution monitor ever installed in a Canadian television studio. Nicknamed "Goliath" by the crew and shaped like a muffin top, the monitor stretches 38 feet long and 11 feet high. Composed of 170 individual panels, it promises four times the resolution of a high-def monitor.
"Me and (Jeff) Marek watched Big Brother on this, and it was awesome," Strombo quipped.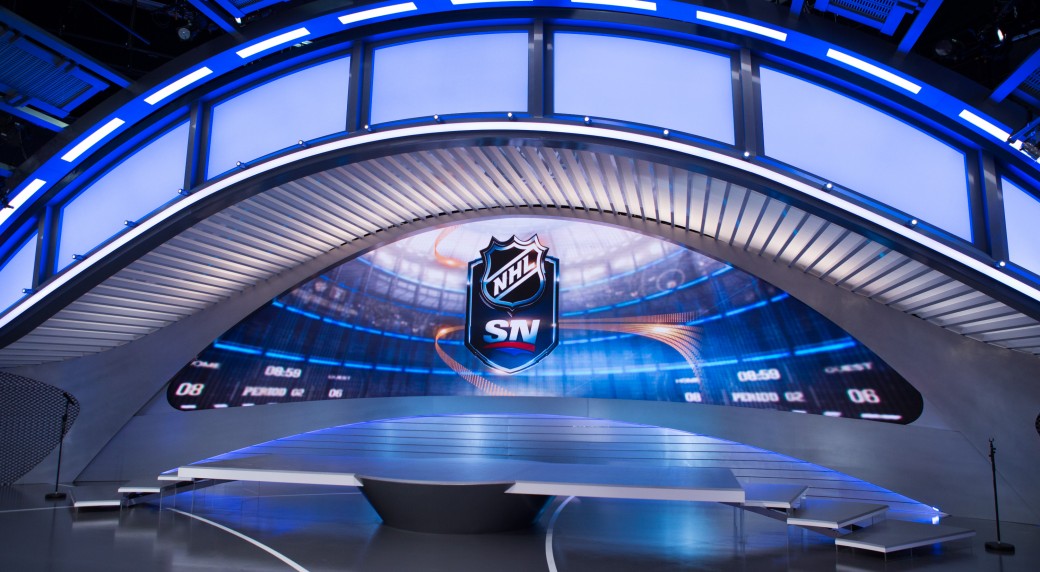 3. The studio's puck wall is very Star Trek. All 30 teams are represented by a logoed puck on twin see-through display walls, one for each conference. When an analyst wants to discuss a certain team, he or she simply plucks the club's puck from the wall and places it in a circular holster, attached to a computer. Some science happens, and the selected team's stats and notes appear on the screen. Watch a demo:

4. Hockey Night in Canada has a new intro. As Canada's most iconic television program enters its 62nd season, Sportsnet is giving the intro graphics and music a little facelift. Alberta music teacher Colin Oberst's "Canadian Gold" has been touched up and re-recorded by a 50-piece orchestra for Saturday night's new main theme. (The media was also given a sneak peek at the Wednesday Night Hockey intro, which updates the Hockey Central theme music.) Fun fact: St. Catherines, Ont., native Stephan Moccio, who composed the "enhanced" HNIC theme also co-wrote this Miley Cyrus hit:
5. Rogers' presentation of the NHL has a specific focus. Moore and NHL commissioner Gary Bettman both stress that the 12-year union is a partnership. To that end, Sportsnet's presentation this season will focus on bringing high-quality storytelling — specifically through mini-doc features on its Hometown Hockey broadcasts — and pumping up the league's stars. Star players are the focus of the intro for Scotiabank Wednesday Night Hockey, which Moore has positioned as the evening geared toward the hardcore hockey heads, and fans should expect to see more in-studio sitdowns with the game's best players. So…
6. Strombo has his own interview nook.
Former Hockey Night in Canada host Ron MacLean (now host of Hometown Hockey) told us that one of Stroumboulopoulos's greatest strengths is his interview skills. Well, the new studio has carved out a special den for Strombo to conduct his Q&As in red leather chairs, giving a more laid-back feel to the conversations. Strombo, of course, will only speak to other humans if they are sitting on red leather.
7. Some items on the studio's stat line are mind-boggling. Hockey's new national digs will make use of nine distinct sets, seven kilometers of LED light tape, 24 wireless microphones, 14 cameras, 52 screens, 500 studio lights and 40,000 feet of electrical tape. (Reports of Dr. Dre bringing out the Nick Kypreos hologram, however, are unfounded.)
8. The entire project, from catwalk to puck wall, was whipped together in eight months. Watch a time lapse because who doesn't love a time lapse?
9. We can just see Doug MacLean slew-footing Daren Millard now. Kitty-corner to Goliath is a large monitor wall that backs an LED floor, built to display graphics and video. As the floor lights up to depict, say, a goaltender's crease, this will serve as a demo area for analysts to break down plays.
10. The studio has an Olympic touch. Though built in Canada, the project was designed by Jack Morton PDG, the U.S.-based company that designed Canada's Olympic Broadcast Media Consortium sets for both Vancouver 2010 and London 2012.
Bonus learning: All good press events hand out appropriately themed cookies.