VANCOUVER—There are valid reasons why an NHL player might prefer pursuing his career in the east.
The massively reduced travel demands of playing in the Eastern Conference as opposed to the Western Conference would be at the top of the list. The league's headquarters are based in New York and Toronto, and so you could also easily argue playing in the east gives a player far greater exposure to media and commercial opportunities. An endless refrain is that eyeballs in the east are closing for the night just as games in the west are beginning.
Well, just don't count Ryan Johansen as one of those eastern-loving souls.
Being back in the west suits him just fine.
He played junior hockey with the Penticton Vees of the BCHL and then with the WHL Portland Winterhawks, and began his NHL career, lest we forget, with the Columbus Blue Jackets as a dues-paying member of the Western Conference before the Jackets and Detroit Red Wings moved to the east to start the 2013-14 season.
Now, three weeks after being traded back west to become a member of the Nashville Predators, Johansen was positively exultant on Tuesday about being once again closer to his home in Port Moody, B.C, and a more frequent visitor to the area.
"That's a big bonus. I get to come home and see friends and family a lot more often, and play a lot more in the west, so it's easier for them to travel and see me," he said on Tuesday morning prior to a game against the Vancouver Canucks.
"That's one thing that stunk about being in Columbus. It's a really difficult place to get to, a long way to go, and expensive to get to. We only came out here once a year with Columbus and then if I had a day or two around Christmas break, that was it.
"Now I've already had an opportunity to come out here, and I'll get another chance (March 12) before the season's over. It's pretty cool to be back here more often."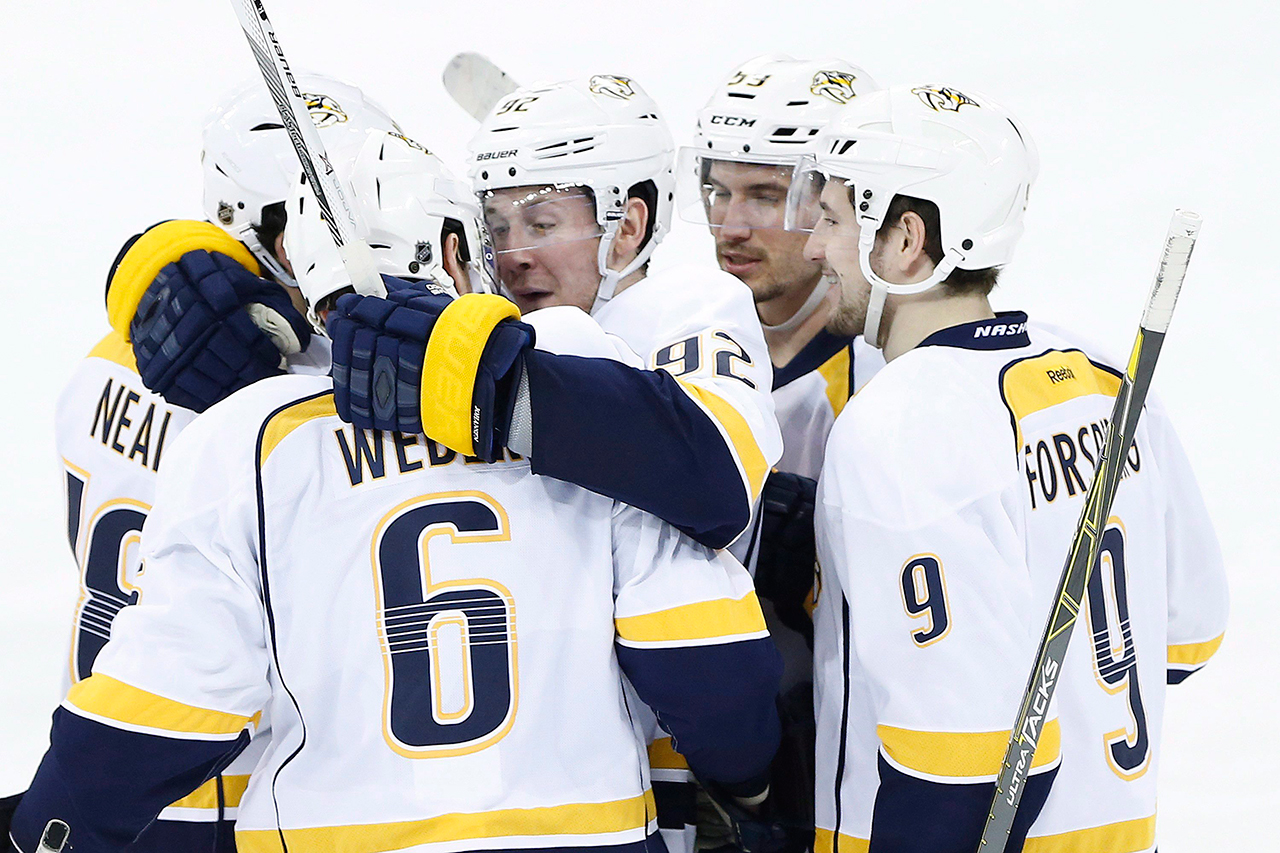 Johansen strikes you as a player who needs to be happy and comfortable to produce, and after a rip-roaring conclusion to last season in Columbus and then a terrific exhibition season last fall in which he and linemates Nick Foligno and Brandon Saad looked poised to tear up the league, it sure seemed like the happiness was drained from his game when the team got off to a horrible start and head coach Todd Richards was replaced by John Tortorella.
Now, he's still getting used to being a Predator, but the general consensus seems to be he's looking like himself again. Paired with winger James Neal, he had nine points in eight games going into the Canuck game after struggling in 38 games with Columbus, producing only 26 points.
"I've been a playmaking type of player my whole life. I've always been a pass-first guy, looking for my teammates in scoring areas," he said. "So I feel like I haven't played with a player like (Neal) for a long, long time. I had (Nino) Niederreiter on my wing for two years in Portland, and then over the years it was a lot different in Columbus, so it's great to be back with that type of player. (Neal) is so dangerous with the puck on his stick in those scoring areas. If you keep finding him, he's bound to find the back of the net."
It hasn't been a perfect fit all the time. Johansen and Neal didn't have a good night as a line in Edmonton on Saturday night when Mike Ribeiro made up the third member of the unit after youngster Kevin Fiala had been given an opportunity.
All in all, Nashville was 3-4-1 since the trade going into Tuesday's game, but 16 goals scored in the last five games could mean that GM David Poile's dreams of turning the Preds into a more offensively productive group by adding a true No. 1 centre are starting to be realized.
It's going to be a long, long time before there's a final verdict on the Johansen-for-Seth Jones trade, and right now both teams aren't where they want to be, with Columbus dead last in the east and the Predators sitting out of the playoff picture in the west. Johansen will be evaluated almost exclusively on the points he produces, while Jones will have to be watched to see if he develops into a true No. 1 blueliner.
Johansen said he always thought he'd be a member of the Blue Jackets for years to come, and still seems a little shocked by how what seemed perfect in September ended up being so bad he's now playing in Nashville.
"Sometimes you wake up and think, 'How did this happen?' It's kind of crazy, you know? Even if somebody had a crystal ball they'd have been pretty surprised, I think," he said. "The way the last two years went, they had a lot of confidence in me and my ability to help the team win there. Then some struggles early on (this season) and not the best half-year of hockey for me and things changed, and changed quickly. They felt like they really needed a defenceman and took a chance on giving me away and bringing in Seth. I hope it works out for both teams.
"I'm getting back to where I want to be at and how I want to play. I still need to add a step or two the rest of the stretch here and then the playoffs. There's a lot of things from the first half of the year that I'm not happy with or would like to change, but I'm here now."
Tortorella clearly seemed unhappy with what he saw in Johansen, particularly his conditioning, and the relationship never seemed to recover. Johansen said not having the summer to have the usual coach-player conversations and then not being in training camp together made it difficult for he and Tortorella to understand one another.
"It got to be a bit of a mess," said Johansen. "It wasn't easy for anybody."
Now, in Peter Laviolette, he's on his third coach since September.
"They're all very different coaches," he said. "Just touching on (Laviolette), I feel like he's my type of coach. Whenever you have that, you want to make the most of it. Having someone who believes in you makes coming to the rink every day a lot of fun."